This post will walk you through hiding sensitive photos and videos on the new 3rd generation special edition iPhone. Here's a quick guide to hide a photo on iPhone SE 3 2022 and other iPhones running on iOS 15 and later versions.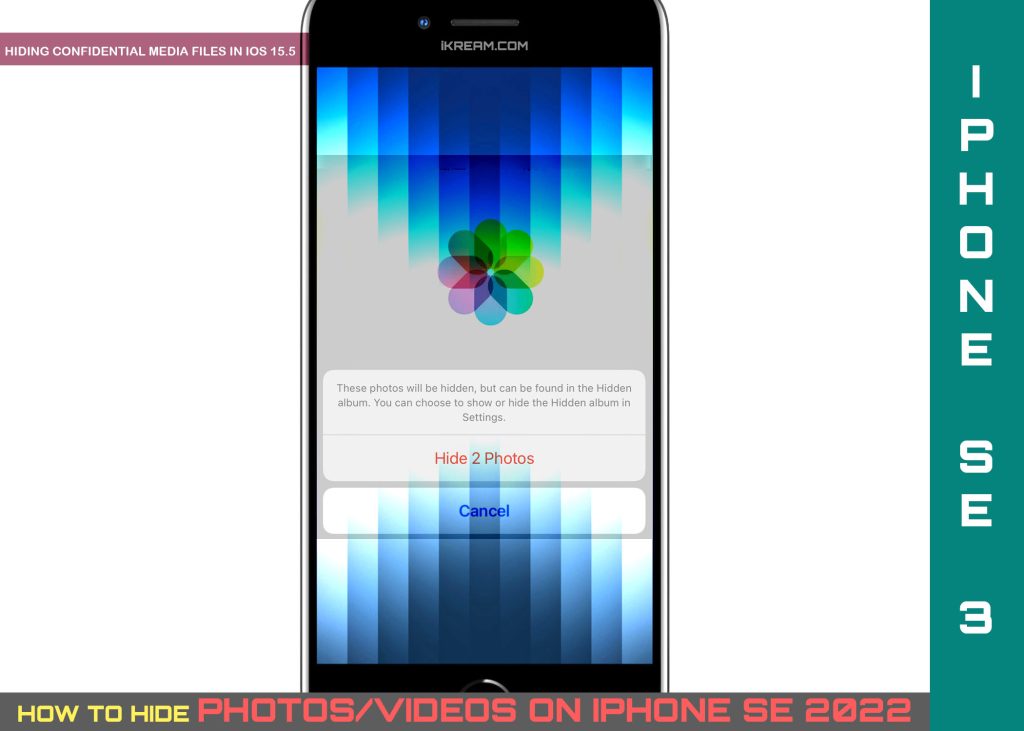 Hiding Photos and Videos in iOS 15.5
Apple devices running in iOS 14 and later versions allow you to place confidential images and videos in a hidden folder and thereby prevent anyone who uses your device from viewing them without your permission. Such is an inbuilt feature on the new Photo library of an iPhone. With this feature, you have full control of which photos or videos to hide or show on your device.
One advantage of hiding photos on your iPhone is that you would still be able to access your hidden photos without having to scour other media storage. More importantly, you can access your hidden photos straight from your iPhone system anytime you want.
Hidden photos and videos on the iPhone are automatically placed in the Hidden album by default. The Hidden album is located in the Photos app, particularly under the Utilities section.
There is also an option for you to make the hidden album totally invisible and inaccessible from anywhere in the system. All you have to do is turn on a relevant feature from the Photos app settings.
If you're wondering how to access and manage these features on your new iPhone SE 3, feel free to refer to the step-by-step walkthrough as follows.
Steps to Hide a Photo on iPhone SE 3 2022
Performing the following steps will take you to the iOS 15 settings where you can access the inbuilt function to hide photos and videos from the iOS Camera, Photos or the iPhone SE 3 Library.
These steps are also applicable when hiding photos on other iPhones that have the same iOS version with that of the iPhone SE 3 device.
Feel free to start whenever you're all set to manage the photo album and library of your new iPhone and conceal images that you don't want others to see from your device.
Step 1: Open the Photos app to get started. Just tap the Photos icon from the Home screen of your iPhone to launch the app.
Step 2: While in the Photos main screen, find and then tap to select a photo that you'd like to hide.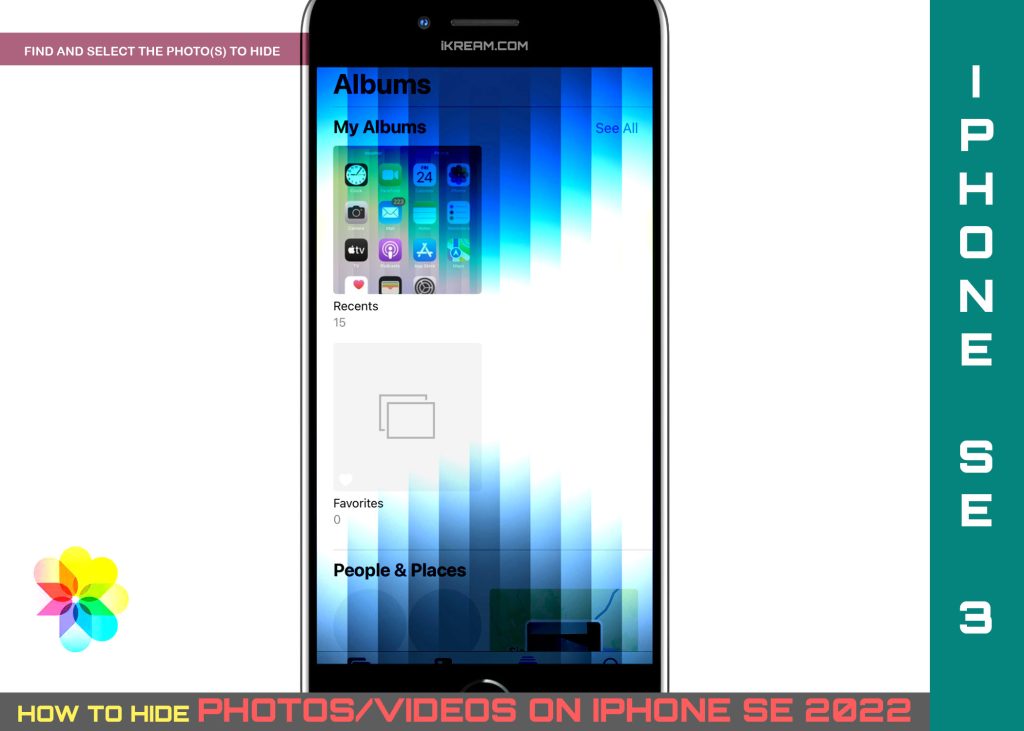 Step 3: After selecting the desired photo(s), tap the Share icon.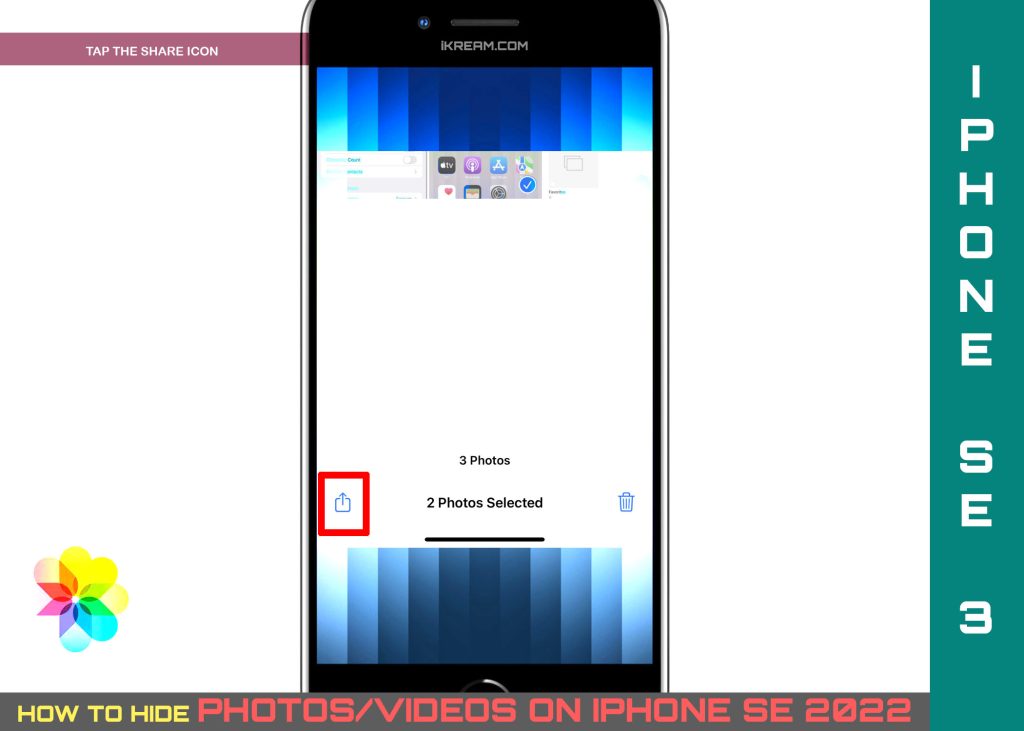 Step 4: Scroll down and select Hide from the list of menu options.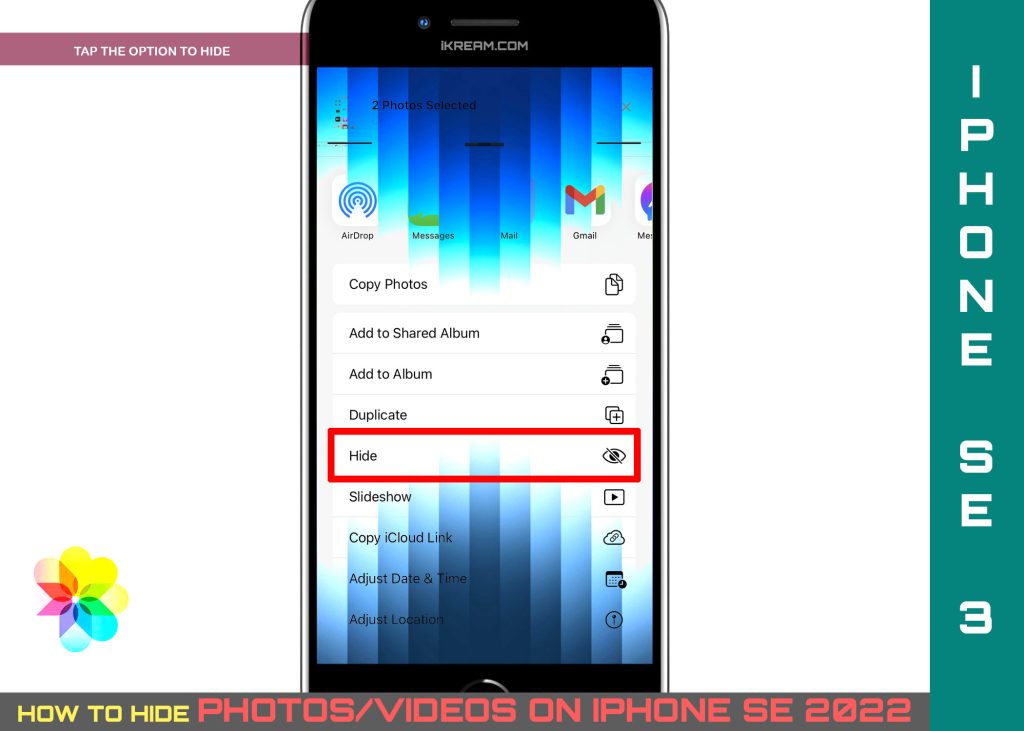 Step 5: Read the message prompt and then tap Hide Photo confirm.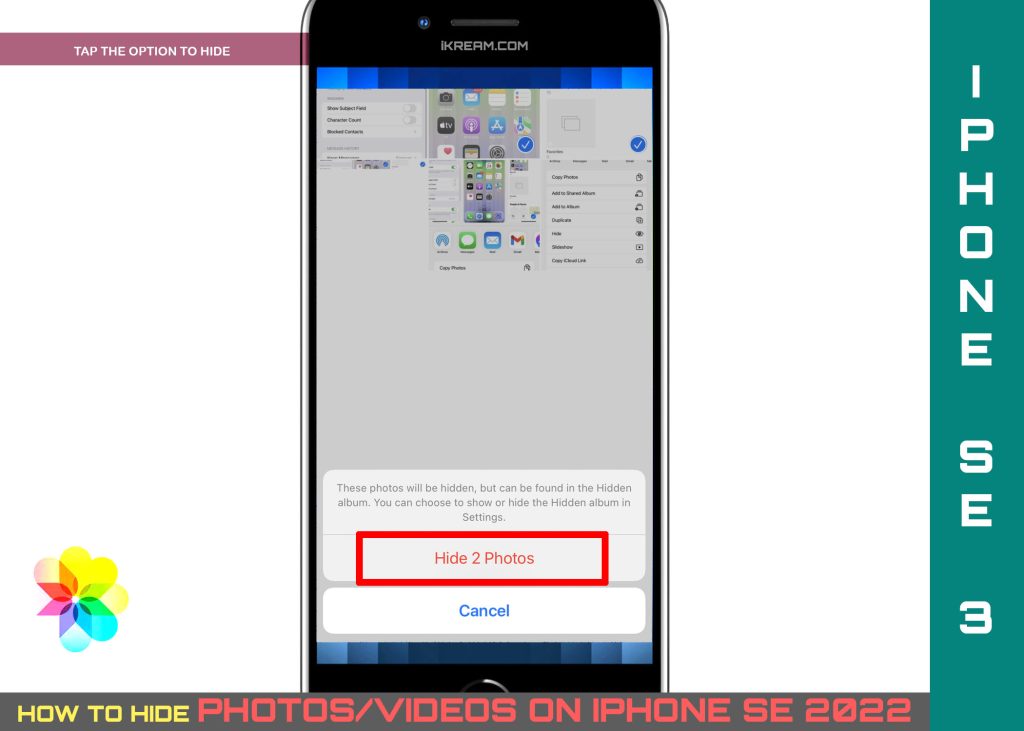 All selected photos will then be removed from the current photo directory and then transferred to the Hidden folder/album.
While hidden photos and videos will not appear in your widgets or Photo Library, the Hidden folder isn't private or password-protected as you can't actually make the album totally hidden or locked. This denotes a good chance for other people who look through your photos to find the hidden photo folder on your iPhone.
To augment security and privacy, hiding the Hidden album on your iPhone is recommended. In order to make this happen, you will need to turn off the Hidden album so it does not show up in Albums.
To do this, simply head over to your iPhone Settings-> Photos menu and then turn off Hidden Album.
After turning off the Hidden Album switch, the album will no longer appear in the Utilities section of the Photos app.
To unhide the album, just toggle to turn the Hidden Album switch back on. By then you should be able to access the hidden photos and videos in the Hidden folder from the iOS Utilities.
Other ways to secure confidential photos and videos on the iPhone SE 2022 is to lock them in the iOS Notes app. The built-in Notes app has a lock function that keeps sensitive files inaccessible without entering the correct unlock password.
And that's how to hide a photo on the new 3rd generation special edition iPhone device.
Please keep posted for more comprehensive iOS tutorials and troubleshooting guides on this site. Or you can check out this YouTube channel to view more comprehensive tutorial and troubleshooting videos including recent iOS devices.
You Might Also Want To Read: