This post will walk you through fixing the iPhone SE 2022 camera that's not working and instead, only showing a black display. Read on to learn what to do when your iPhone SE 3 camera is stuck on black screen.
Having a hefty iPhone with a defective or dysfunctional camera is truly a bummer. Nonetheless, unexpected camera issues may occur at some point. But on a positive note, there are a number of simple tweaks that you can do on your end to fix the problem without paying extra bucks for service. Just scroll down a bit if ever you need a little help finding your much needed camera fix.
What causes the iPhone camera black screen issue?
New Apple iPhones are highly reputable when it comes to camera specs. Thus, having any of these new iOS smartphones is definitely good enough for capturing special occasions and fun events or other scenes.
Sadly, just like other devices, iPhones are also not perfect. That said, bumping into some random camera glitches is inevitable.
One of the common problems faced by iPhone users is on the Camera app's black screen issue. This is when the app gets stuck on a black display instead of showing/focusing on the subject.
Contrary to what many have speculated, the black screen issue with the iOS camera app isn't always due to some damaged hardware. In fact, several instances in which the iPhone camera gets stuck on black screen have been attributed to random software glitches including, faulty updates, corrupted media files including downloaded photos and videos that are open and edited through the iOS camera.
Other factors that are linked to this issue are settings conflicts and storage problems like when the iPhone storage is running low.
Performing basic solutions to eliminate these software-related culprits is therefore recommended before taking a trip to a service center.
Troubleshooting iPhone SE 3 Camera stuck on black screen
Performing the following solutions will help you deal with software-related camera problems including black screen camera apps on the new 3rd generation special edition iPhone device.
Before you begin, make sure that nothing is barring the rear and front camera of your iPhone. If you're using a third-party iPhone casing or accessory, make sure that it doesn't block the camera.
You can remove the case temporarily and see if the black screen continues without the iPhone case installed. If the camera still shows a black display even when you remove the case, then you may go ahead and try any of these outlined tweaks to rule out software-related culprits.
Solution #1: Force close the camera app.
Random glitches that cause minor flaws with the iOS camera app resulting in the app being stuck on black screen are usually rectified by giving the app a quick restart. Minor in-app glitches like this usually happens when something (errant apps and services) has interfered with the camera app's normal operations.
Thus, the first recommended solution is to end or force close the Camera app and then relaunch it.
To do this, simply open the Apps switcher or Multitasking view by swiping up from the bottom-left side of the Home screen. Find the Camera app preview and then swipe on it to close/end the app.
If you see any other apps that are left running in the background, end them too so none of them would interfere with the Camera app the next time you run it.
Solution #2: Restart the phone (soft reset).
If the first method doesn't do any good and the camera remains stuck on black screen, the next suggestion is to reboot the iPhone. Rebooting can help fix various types of system errors that are causing random problems with any of the system apps including the camera.
You can do a soft reset or force restart depending on the status of your iPhone system. If your phone is still able to respond properly despite having the camera app being stuck on black screen, you can do a soft reset. Here's how:
Press and hold the Side button on the top-right edge and then release when the Power off slider appears.
Drag the Power Off slider to the right. Doing so powers off the device.
After a few seconds, press and hold the Side button until the Apple logo appears.
If your iPhone ends up being frozen as the camera app gets stuck, performing a force restart would be necessary. Here's how:
Press and quickly release the Volume Up button then press and quickly release the Volume Down button.
Finally, press and hold the Side button until the Apple logo appears.
Both soft reset and force restart don't affect any user data from the iPhone storage so nothing will be deleted. What it clears out are errant system cache and corrupted residual data including those that ruined the iOS camera app.
Solution #3: Install new firmware updates.
System updates released by Apple periodically may also contain essential patches that are programmed to get rid of widespread bugs and malware.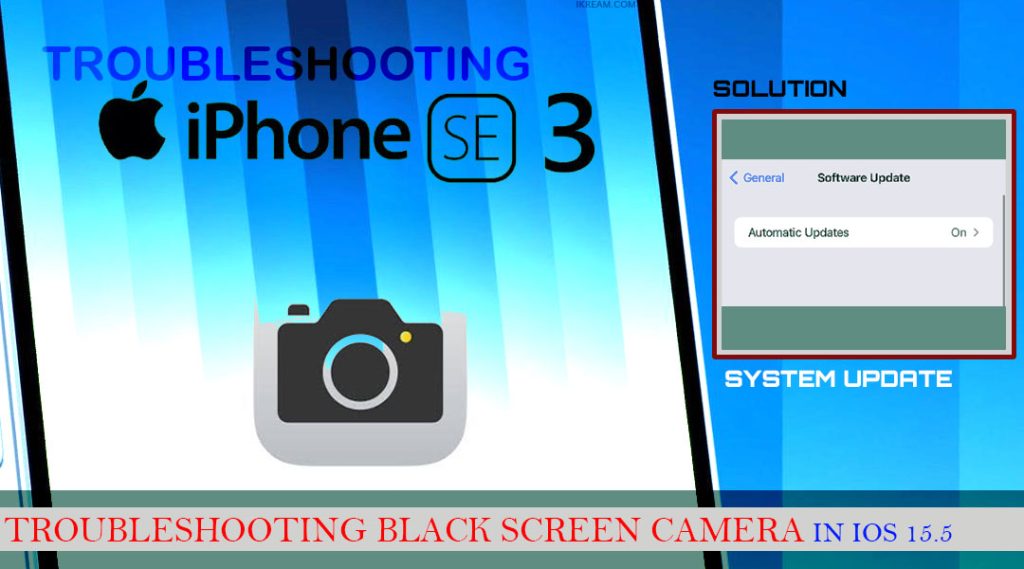 If you haven't enabled automatic updating on your system, manually checking for, downloading and installing new iOS updates would be necessary.
To do this, just open the iPhone's Settings app then tap General. On the next screen, tap Software update. Wait for the phone to scan for new updates and then follow the rest of the onscreen prompts to update the system (if available).
Be sure to keep your device turned on and connected to the internet while updating to ensure successful updating.
Also ensure that the phone has plenty of available storage space to allocate the new update file.
If necessary, free up some space by deleting old and unwanted contents including old messages, videos, photos, and other documents that you no longer use.
Solution #4: Manage Restrictions for Camera app.
Like any other apps, the Camera app may likewise be unable to load up properly if it's restricted. That being said, review your iPhone's content and restriction settings and make sure that there are no restrictions applied to the Camera app.
This is highly recommended especially if Screen Time is enabled on your iPhone.
To access and manage content and privacy restrictions on the iPhone SE 3, just go to Settings-> Screen Time menu then tap Content & Privacy Restrictions. On the next screen, tap Allowed Apps then see if the Camera switch is enabled. If it isn't, toggle to turn the Camera switch ON.
That should allow the Camera app to run without any sort of restrictions.
Solution #5: Reset all settings on the phone.
Resorting to iOS resets is usually regarded among the last options when dealing with recurring system problems on an iPhone.
Among the available reset options, resetting all settings is usually the recommended potential solution to various types of system errors including post-update bugs that could not be rectified by prior procedures.
To reset all settings on the iPhone SE 3, go to Settings-> General-> Transfer or Reset iPhone-> Reset and then tap Reset all settings on the succeeding menu. Read the reset details on the next screen and then tap Reset settings to confirm.
Unlike a factory reset, resetting all settings does not affect any saved information from the iPhone storage including downloads and saved documents. That said, all of your files are safe and intact.
After the reset all default options for app preferences, permissions, keyboard and network configurations are restored.
This means the need for you to re-enable and set up Wi-Fi/Cellular data connections to get back online and use the internet.
Is your iPhone camera still stuck on black screen?
Common software-related factors that cause conflicts with the camera app are usually addressed by any of the above solutions. If the black screen continues and your camera still doesn't work as it should, you can try these additional workarounds.
A. Disable Voice Over feature
VoiceOver is a gesture-based screen reader system available in new iPhones. This feature usually comes in handy when you cannot see the screen while using your iPhone.
With VoiceOver enabled, audible descriptions of what's on the iPhone screen will be given as your device speaks and describes whatever component you touch on the screen or drag over with your finger.
For some reason, some iPhone users have managed to fix camera issues including black screen by turning the VoiceOver feature OFF.
Should you wish to give it a shot, just head over to your iPhone Settings-> Accessibility menu and then turn the VoiceOver switch OFF.
Alternatively, you can turn off VoiceOver using Siri, through the Control Center, or by doing a triple-click on the iPhone's Home button.
B. Switch between the front and rear camera
This simple tweak has also been proven by many to work wonders when dealing with random glitches that make the camera app suddenly stop working and get stuck. All you have to do is simply tap the Rotate icon on the camera app's main screen to switch between front and back view, and thereby activate the rear and front cameras.
C. Disable Preserve Camera Settings
Sometimes, the camera gets stuck when attempting to reload the preserved settings especially when the system gets flawed. That said, disabling all preserved settings for the camera app may likewise fix the problem.
To access and manage this information, just go to Settings-> Camera menu then tap Preserve settings. On the next screen, toggle to turn off preserved settings for Camera mode, Creative Controls, Exposure Adjustment, Night Mode and Live Photo.
After making changes, exit settings then relaunch the camera app to see if it's already working.
D. iOS Restore (optional)
A drastic solution to complex and recurring iOS problems including camera black screen issues that's tied to fatal system errors is an iOS restore.
There are different ways to restore an iPhone but all methods yield one same result that is wiping everything from the system and restoring the default options.
Should you wish to proceed, be sure to back up all important files and apps you've downloaded and saved on your iPhone. This way you'd still be able to retrieve your files after restoring the system.
Once you've secured your backup files, you may go for a factory reset via settings or restore your iPhone in iTunes via recovery mode or DFU mode restore. The last two methods are often used when dealing with fatal system issues that result in a totally unresponsive iOS device. Both methods will require the use of iTunes on a Windows or Finder on a Mac computer to be completed.
iPhone Camera Repair Service
If none of the given solutions is able to fix the camera black screen problem, then there's a good chance that the iOS device's camera or any other relevant hardware components is damaged.
At this point, taking your device to the nearest Apple Genius bar or any authorized iPhone repair service center for hardware assessment and/or repair is recommended.
Please keep posted for more comprehensive iOS tutorials and troubleshooting guides on this site. Or you can check out this YouTube channel to view more comprehensive tutorial and troubleshooting videos including recent iOS devices.
You Might Also Want To Read: