This post will walk you through configuring the iOS settings to turn off personalized ads on the 3rd generation special edition iPhone. Here's a quick guide to stop/limit personalized ads on iPhone SE 3 (2022).
Are targeted ads swarming on your new iPhone? That is because a lot of publishers aggressively deliver personalized ads on your device and many iPhone users are also complaining about it.
Good thing Apple makes a way to let iPhone users control or opt out of these targeted ads. All you have to do is activate a privacy feature on your phone settings to limit ad tracking. Just keep scrolling for more detailed instructions.
What are Personalized Ads?
Formerly known as interest-based advertising, personalized advertising (targeted advertising) is a contemporary marketing tool that's designed to enhance advertising relevance for users and thereby augments the advertisers return of investment. These are the ads that are popping up on your iPhone screen when using a certain app or browsing online contents.
As you notice, most of the ads shown on your phone are based on your likings and interests. Ads catered by different websites, advertising companies, developers and publishers are based on the previous sites you've visited, searches, activities, demographic information, App Store downloads, purchase history, location data and iPhone apps you've used.
For example, when you use social media apps on your device like Facebook, Instagram and Messenger, Facebook gathers all of the information that you generate and then creates your ad profile (advertising ID). The generated ad profile (advertising ID) will be assigned to your device and then serve as the basis for Facebook to cater interest-based ads whenever you use the platform.
While these ads are generally designed to cater information about certain products and services, getting massive amounts of this information may eventually become a nuisance.
To diminish such nuisance, Apple integrates a dedicated privacy feature that would limit the display of personalized ads when using any of its mobile devices.
In order to use this feature on your iPhone SE (3rd generation), you will need to enable it from the iOS settings. Just keep reading to learn how to get this done on your new iOS device.
Steps to Stop/Limit Personalized Ads on iPhone SE 3 (2022)
The following procedure is also applicable when turning off personalized ads on other iPhones that are running on the same iOS version with that of the iPhone SE 3.
Please note though that the user interface of every device may slightly differ as screens and menu items likewise vary between device models and wireless service providers.
To make sure that all main features and options are available, keep your iPhone software up-to-date.
Feel free to start whenever you're all set to configure your iPhone and change its default privacy settings.
Step 1: To get started, tap Settings from the Home screen to launch the iOS settings app.
Step 2: While in the main settings app menu, scroll to find and then tap Privacy.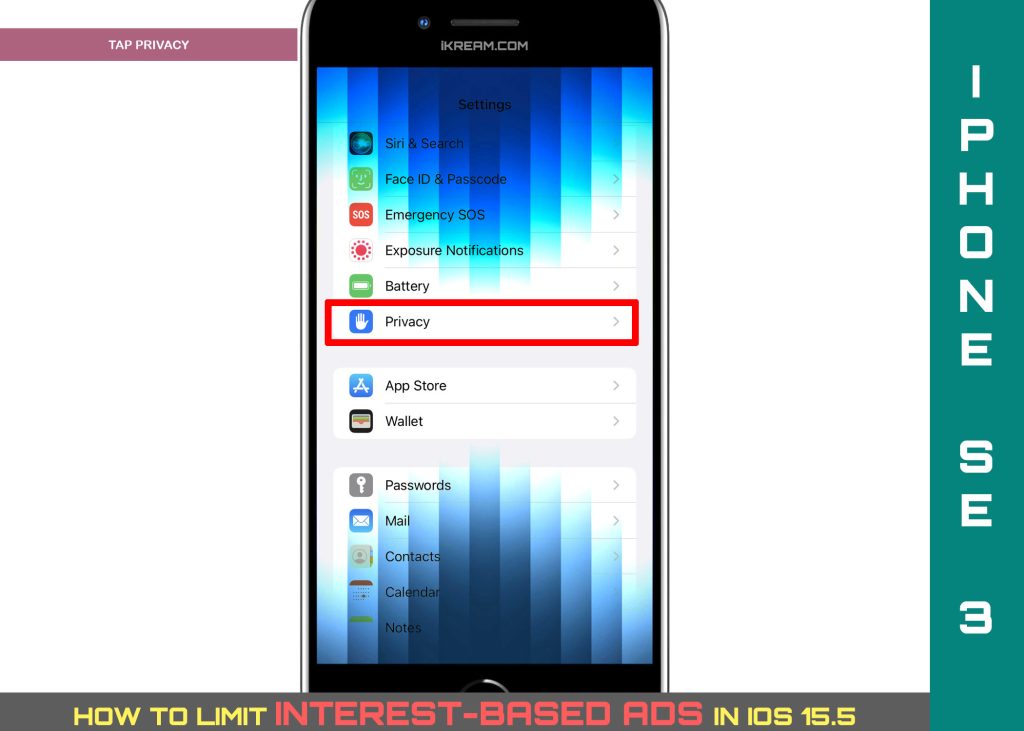 Step 3: Another menu opens with a list of inbuilt privacy features. Find and then tap Apple Advertising to continue.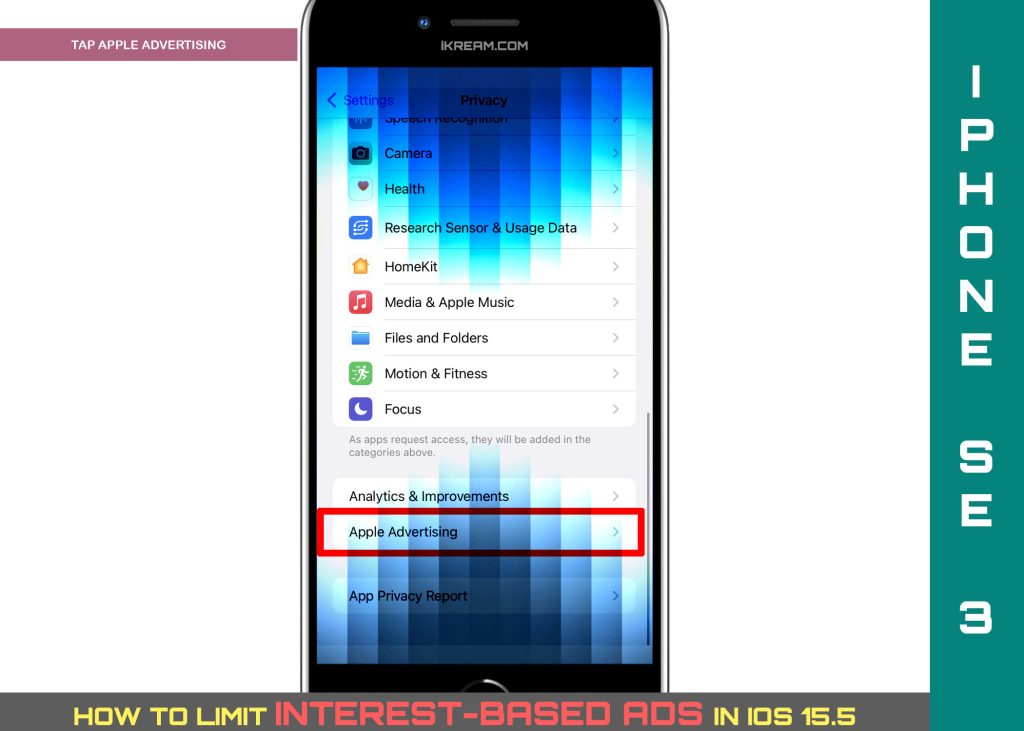 Step 4: On the succeeding window, find Personalized ads and then tap to turn its switch OFF.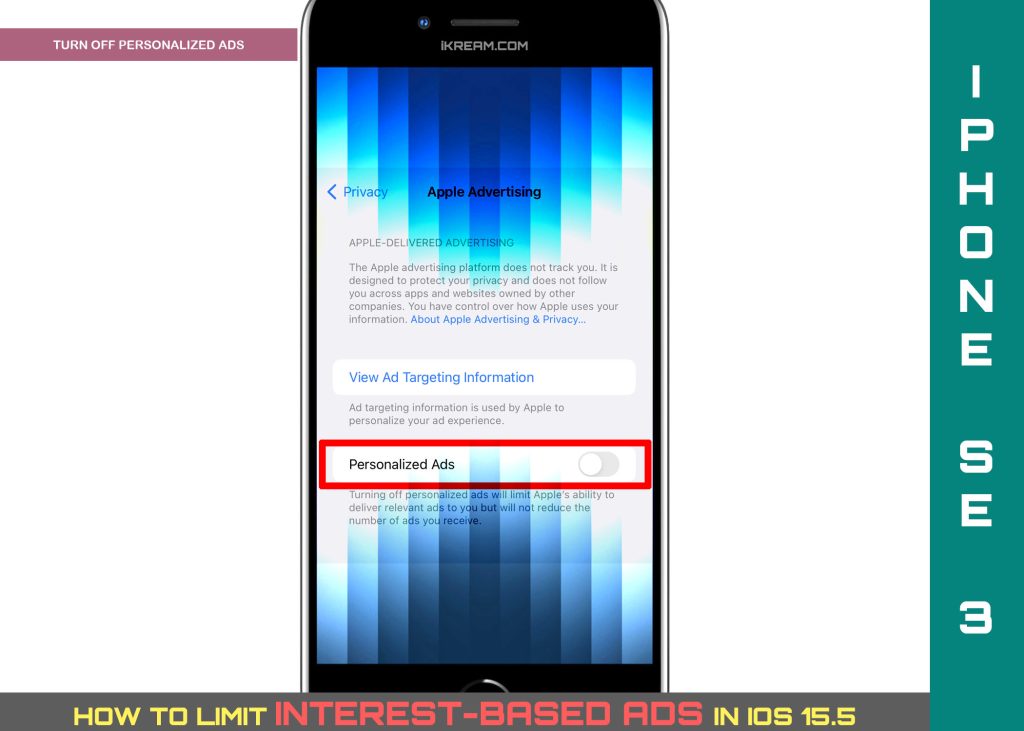 That should prompt the Apple system to limit the delivery of relevant ads to your device and will then be limited but the number of ads served to your iPhone may not be reduced.
Other Ways to Limit Ads on iPhone
Aside from disabling personalized ads, you can also make use of the iOS tracking feature to deny apps' requests to track. Doing so will help reduce ad tracking from all recently downloaded apps on your iPhone.
To access and activate this feature, just go to Settings-> Privacy-> Tracking menu. Then, toggle off the switch next to Allow to Request to Track.
There is also an option for you to limit tracking on existing apps. This option can be found on the same Tracking menu. Just turn off the switch next to the existing app that you don't want to track you.
Other preloaded iOS apps like Safari also have integrated features that limit ad tracking from different web-based services and sites you've visited using the Safari browser on your iOS device.
To access and activate this feature, just go to Settings-> Safari menu and navigate to the Privacy & Security section. From there, tap to turn off the Block all Cookies switch and turn on the switch next to Prevent Cross-site Tracking.
With this switch enabled, advertisers and other third party publishers are limited from tracking your site visit activities.
You can always revert these settings back to the previous configuration when needed.

And that's how you limit personalized ads serving on the Apple iPhone SE 3 (2022) smartphone.
Please keep posted for more comprehensive iOS tutorials and troubleshooting guides on this site. Or you can check out this YouTube channel to view more comprehensive tutorial and troubleshooting videos including recent iOS devices.
You Might Also Want To Read: