This post will help you deal with a known iOS error that occurs when updating and restoring an iPhone through iTunes. Read on to learn what to do if you encounter the iPhone SE 3 2022 "Unknown error 56."
What is iPhone Unknown Error 56?
There are a number of iOS error codes that you may encounter when attempting to update or restore an iPhone in iTunes. One of these is the "Unknown error 56. Cannot Update iPhone" or "Software update failed" error.
The occurrence of this iTunes error is tied to a faulty connection between the iOS device and the computer, faulty USB connections, system conflicts, security software and unstable internet connection.
Generally, the root cause of the problem could either be from within the iOS or the computer's operating system.
If by any chance you would bump into this error message while attempting to update or restore your iPhone SE 3 in iTunes, then you will need to rule out every possible culprit. This likewise denotes the need for you to troubleshoot both the iOS device and the computer that it's connected to.
To give you some input on how to troubleshoot this problem on the iPhone SE 3 2022, I've mapped out a few simple yet effective solutions as follows.
Troubleshooting iPhone SE 3 2022 "Unknown Error 56"
Performing the following solutions will help eliminate common factors that might have triggered the "unknown error 56" to occur while restoring or updating your iPhone SE 3 in iTunes.
While these are just generic solutions, they too offer a higher chance of correcting the error unless hardware damage is present on either the computer or iOS device.
Feel free to start whenever you're all set to troubleshoot your computer and your iPhone SE 3.
Solution #1: Reboot the iPhone and computer.
Just like any other errors, the Unknown error 56 may likewise occur among other random errors triggered by minor system glitches either in iOS or the computer's operating system.
Should this be just a random system glitch, restarting the device will likely fix it. That said, rebooting the iPhone and the computer is the first recommendation.
To reboot the iPhone, just to the usual restart procedure that's a soft reset, if the iPhone is responding properly or force restart if unresponsive.
To soft reset the iPhone SE 3, just follow these steps:
Press and hold the Side button on the top-right edge and then release when the Power off slider appears.
Drag the Power Off slider to the right. Doing so powers off the device.
After a few seconds, press and hold the Side button until the Apple logo appears.
To force restart the iPhone SE 3, follow these steps instead:
Press and quickly release the Volume Up button then press and quickly release the Volume Down button.
Finally, press and hold the Side button until the Apple logo appears.
Both of these methods do not affect any user data from the iPhone storage so NONE of your downloaded apps and files will be deleted.
After rebooting the iPhone, reboot your computer. This is imperative to clear out any errant programs and services that might have caused conflicts with iTunes and eventually triggered the error.
The restart process may vary between computer models and operating systems. Just carry out the usual reboot procedure on your computer.
After rebooting both devices, retry connecting your iPhone to the computer, launch iTunes or Finder again and see if the error is gone.
Solution #2: Update devices to the latest software version (if available).
Software bugs and malware can also trigger random errors to occur when restoring or updating an iPhone through iTunes. To keep such bugs at bay, updating the device software to the latest version available is highly recommended.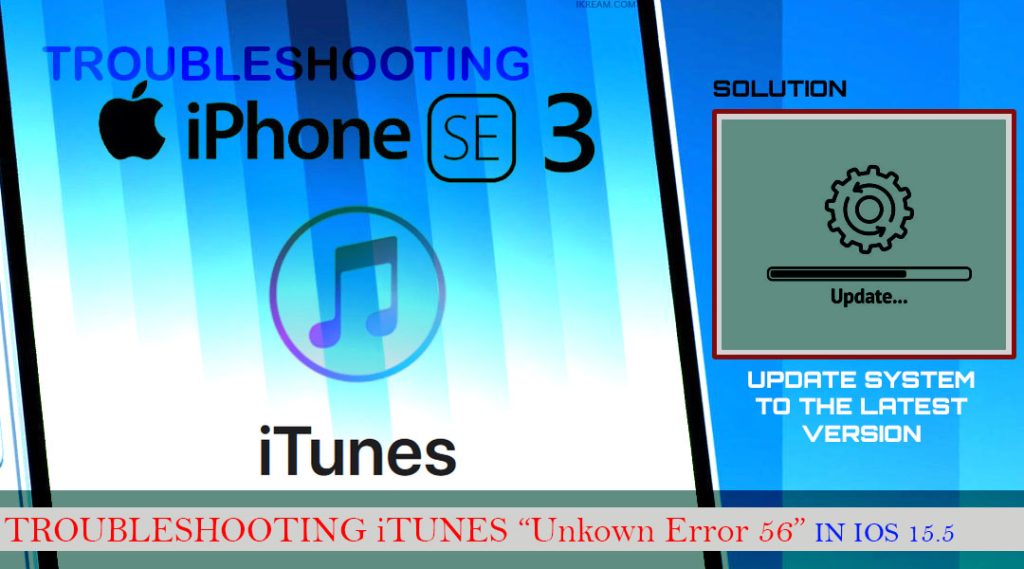 Software updates usually contain security patches that are programmed to get rid of known software bugs and malware that are causing system conflicts.
You can try checking for new updates on your iPhone SE 3 manually through settings since iTunes isn't working.
Just make sure that your iPhone has a stable internet connection preferably via Wi-Fi network. Ample storage space and sufficient battery life (at least 50%) are also needed to ensure updating will be completed.
Do the same on your computer to eliminate any bug/malware-inflicted system conflicts that trigger the iTunes error.
Solution #3: Disable the antivirus/firewall on your computer temporarily.
An activated antivirus software or firewall may also block the connection between the iPhone and the computer especially if it detects some security threat the moment you connect your iPhone to the computer via USB cable.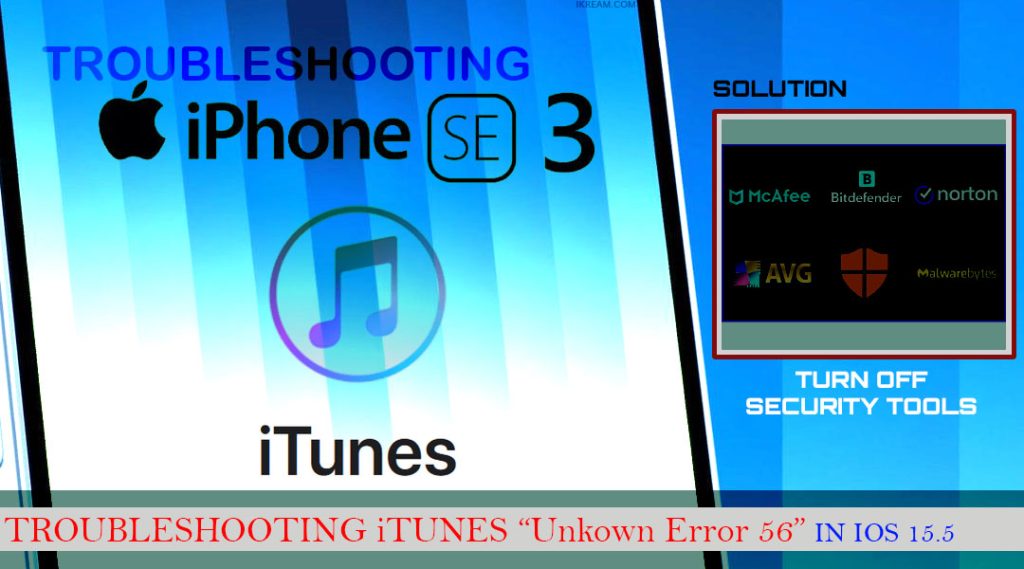 As a result, iTunes couldn't detect your iPhone even when it's plugged in or it may be able to recognize it but with limited access.
To clear this out, disable the firewall or antivirus on your computer temporarily and then retry connecting your iPhone to the computer via USB while the security software is disabled.
If the error doesn't occur, then that confirms the antivirus or firewall was the main trigger. In this case, you can keep the security software disabled on your computer until you're done restoring or updating your iPhone in iTunes. You can just re-enable it afterwards.
Configure the security settings on the computer may vary between antivirus software or firewall, OS versions, and computer models.
Just do some quick search for further instructions on how to access and manage this information on your computer system.
Solution #4: Reset all settings on the iPhone.
Sometimes, custom settings in the iPhone system may also cause conflicts and result in your iPhone not recognized in iTunes.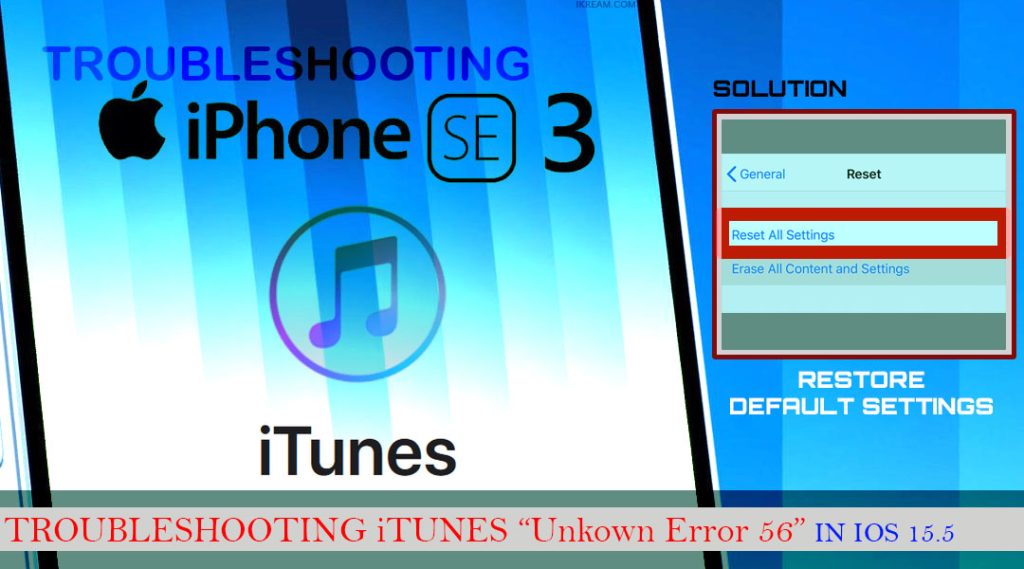 Should this be the case, restoring the default options and settings on your iPhone SE 3 will likely solve the problem. That said, resetting all settings can be regarded among the last options for you to try on.
Unlike a factory reset, resetting all settings does not delete any user information such as downloaded apps and files from the iOS device. All it deletes are the recent changes made to the system such as custom networks, app permissions and preferences.
This denotes the need for you to set up your Wi-Fi network or Cellular data connections afterwards in order to get back online and use the internet.
In addition, you will also need to re-enable features that are disabled by default to use them again on your device.
Setting up default apps to process certain file types and data protocols is also needed just like the first time you open a downloaded image file or document over the internet.
Still getting an unknown error 56?
The above solutions are often deemed useful when ruling out software-related factors that might have hindered the iOS update or system restore through iTunes. If none of the given solutions worked and you're getting the same error code 56, you can try these additional tweaks to rule out other possible causes.
1. Remove the SIM card.
Some iPhone owners who encountered the same error have managed to get rid of it by removing the SIM card from the iOS device and then updating or restoring the iPhone without the SIM card installed.
This might work for you as well, especially if the error is triggered by a corrupted SIM card data that's causing conflicts with the connection between the iPhone and iTunes.
Should you wish to give it a shot, be sure to power off your iPhone completely before removing the SIM card from its tray. Also use the provided SIM ejector to pop the tray out of the iPhone. If you don't have the SIM ejector, you can use a small to medium (bent) paperclip instead.
2. Switch between USB ports/cables.
As mentioned earlier, a faulty USB connection could also be the underlying cause of the problem. To clear this out, try plugging your iPhone into a different USB port on your computer or use a different USB cable that's compatible with your iPhone and computer. Be sure to use the original USB cable that came with your iPhone to ensure compatibility.
Also care to check the cable cords and edges for any visible indications of physical damage.
Normally, you'll see a pop-up message on your iPhone screen asking to Allow access to the computer on your iOS device the moment it's plugged into the USB port. If you don't see this message, then it's possible that the USB connection is flawed or unstable. This therefore could result in unexpected iTunes errors as the iOS device keeps disconnecting from the computer due to a faulty USB connection.
3: Use iPhone Repair solutions.
Some iOS errors are only transpiring in iTunes. That said, using other iOS repair/restore software could likewise be a potential solution.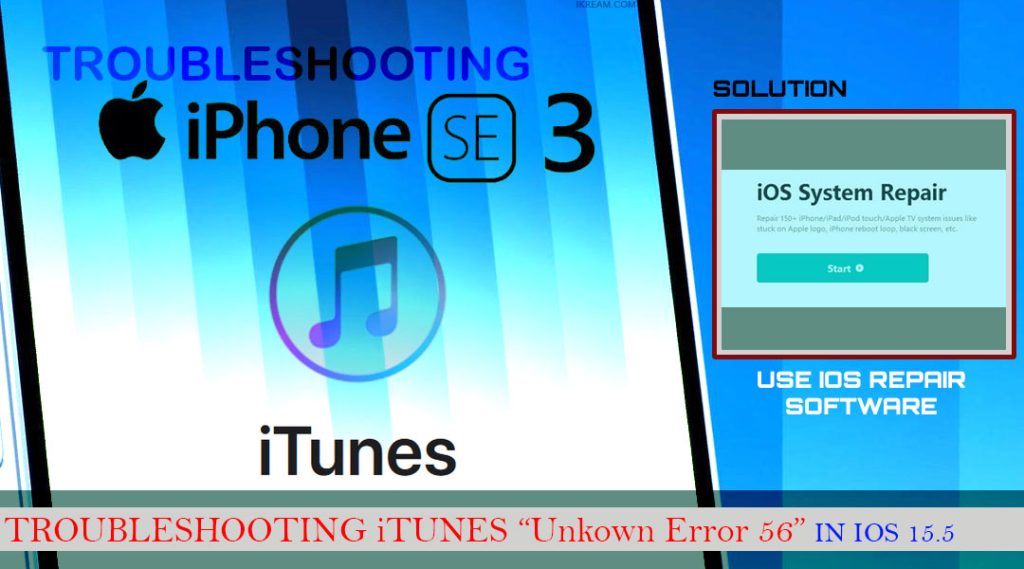 To see if this works, try to download and install a compatible iOS repair app on your computer. Once the app is installed, reconnect your iPhone to the computer then launch the recently installed third-party iPhone repair/restore software.
Use the built-in command to access your iPhone system and then try updating or restoring iOS. If the error prompt doesn't show up, then that clearly denotes something is wrong with iTunes, resulting in failure to update or restore your iPhone SE 3.
4. Repair Options
If you've already tried all applicable solutions but to no avail, you can take your iPhone to the nearest Apple Genius bar in your place and ask help from an authorized technician to check and/or fix your device.
Seek More Help
You may also opt to escalate the problem to Apple Support for further assistance, especially if the error started from an iOS update and it persisted. Should this be found to be a post-update bug, Apple would be obliged to develop the required patch that's usually pushed in the form of minor update.
Please keep posted for more comprehensive iOS tutorials and troubleshooting guides on this site. Or you can check out this YouTube channel to view more comprehensive tutorial and troubleshooting videos including recent iOS devices.
You Might Also Want To Read: