This post highlights potential solutions to the iPhone SE 3 2022 no sound issue. Read on to learn what to do if your new special edition 3rd generation iPhone doesn't render audio or sound outputs even when not muted.
iOS 15 No Sound problem
Audio problems in mobile devices aren't always due to hardware damage. In fact, various types of audio-related issues emerged after installing a software update. This notion likewise applies to the iPhone with no sound problem.
There are many possible reasons as to why your iPhone doesn't ring or produce sound when using an app or playing audio files. Among the common culprits include enabled features like mute, focus, call blocking, silence unknown callers, ringtone issues and system issues like an iPhone being stuck on a headphone phone.
Even some software updates can cause the iOS audio system to glitch or stop working at all, making your iPhone totally muted.
In the hardware aspect, your iPhone is not ringing or rendering audio because of a broken speaker.
Before rushing to a service center, there are a few tweaks you can do on your end to clear out common software-related culprits. Just refer to the outlined solutions below for more detailed instructions.
Troubleshooting iPhone SE 3 2022 No Sound Issue
Highlighted below are helpful workarounds that can help clear out common factors that might have prevented your iPhone from rendering audio or sound. These solutions are also applicable when dealing with other sound-related problems on the iPhone SE 3.
You can use any sound-enabled apps after performing each solution to determine whether or not the problem is solved.
Feel free to start whenever you're all set to troubleshoot audio problems with your iOS device.
Solution #1: Flip the ringer switch.
Many iPhone users who have faced the same problem wherein their iPhone suddenly lost sound or audio managed to fix it by simply flipping the ringer switch or mute button on the side. This simple tweak might likewise be the key to fixing your iPhone SE 3, so it wouldn't hurt to try it first.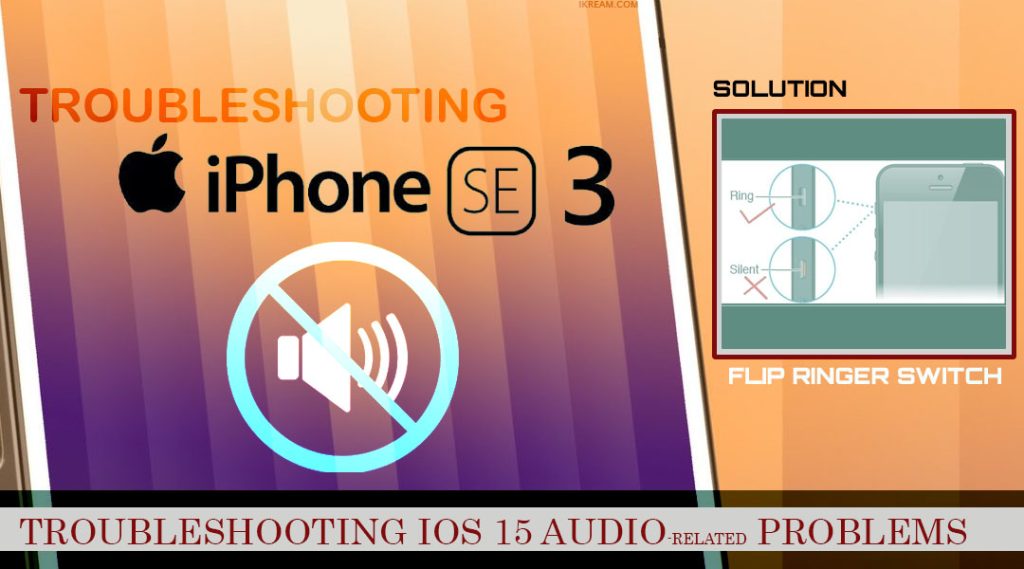 For starters, the Ring/Silent switch is located on the left-hand side of your iPhone.
Just flip the switch to the Silent side and then flip it back to the Ring side. You'll know when it's flipped to silent mode if you see a small orange line.
To make your iPhone ring, you'll need to flip the switch to the opposite direction to hide the orange line.
Solution #2: Reboot the iPhone (soft reset).
If this is just the first time that your iPhone's audio is gone, then it could be just a random glitch on the iOS audio system.
A simple yet very effective solution to random system issues like this is a soft reset or iPhone reboot. Restarting the iPhone is often needed if the iPhone got stuck in headphone mode.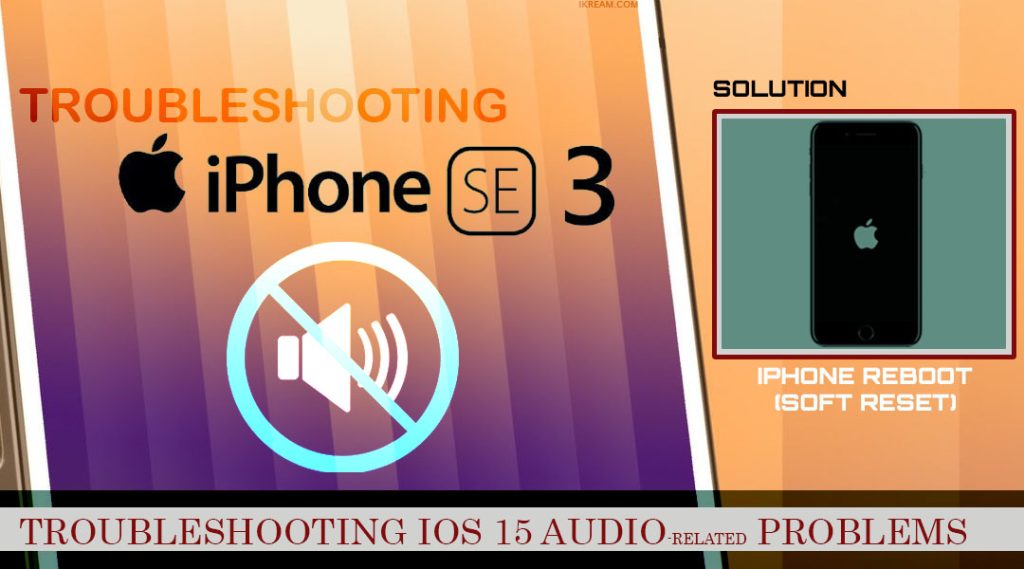 That said, rebooting the iPhone is the first recommended solution that you should try on. It does not delete any important information from the iPhone storage so all your downloaded apps and files are safe.
Just follow these steps to soft reset/reboot your iPhone SE 3:
Press and hold the Side button on the top-right edge and then release when the Power off slider appears.
Drag the Power Off slider to the right. Doing so powers off the device.
After a few seconds, press and hold the Side button until the Apple logo appears.
After rebooting, test your iPhone's audio system either through a test call, text or simply by playing an audio file or using any sound-enabled applications.
Solution #3: Disable Do Not Disturb.
When your iPhone is in Do Not Disturb mode, chances are that all sounds for message alerts, incoming calls and other notifications are muted unless you've set some exceptions.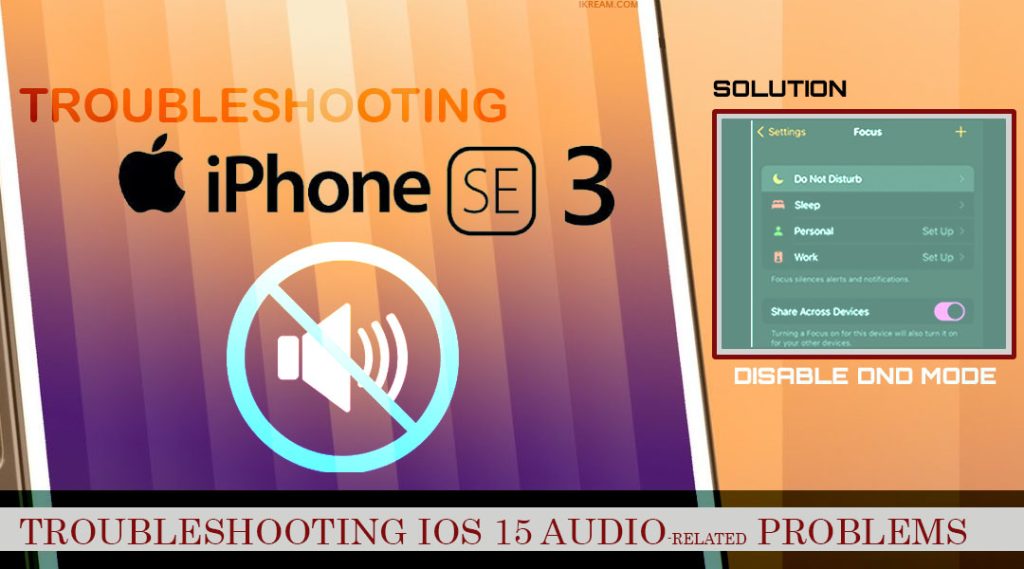 To make sure this isn't the underlying cause, try turning DND mode off on your iPhone SE 3.
Just follow these steps to disable DND mode on your iPhone SE 3:
Open the Settings app.
Tap Focus.
Tap Do Not Disturb then turn it off.
Alternatively, you can turn OFF Do Not Disturb from the Control Center.
To do so, simply open the Control Center on your iPhone SE 3, tap Focus then tap Do Not Disturb.
You can always put your iPhone back to DND mode after testing.
Solution #4: Disable Bluetooth.
With Bluetooth enabled on the iPhone, it's possible that your iPhone thinks that it's currently paired with a Bluetooth audio device and therefore routes the sounds to whatever device it's connected to.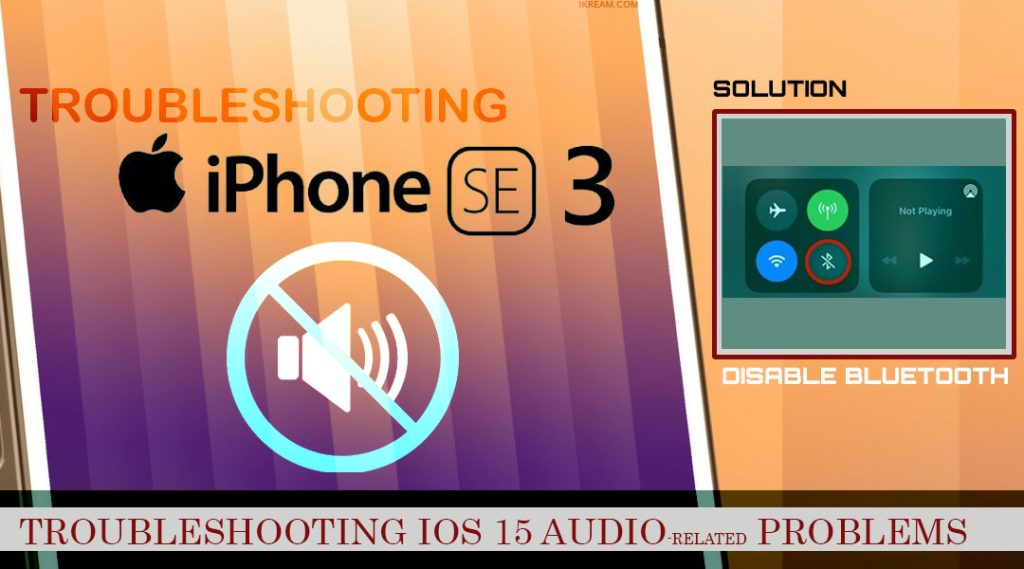 To clear this out, turn off Bluetooth on your iPhone temporarily and see if that brings the audio back.
To access and manage Bluetooth settings on your iPhone SE 3, just go to Settings-> Bluetooth menu and then toggle the Bluetooth switch OFF.
Alternatively, you can turn Bluetooth on and off from the Control Center.
To do so, pull up the Control Center and then tap to disable the Bluetooth icon.
If the icon turns gray, it means that the feature is disabled. Otherwise, the icon will appear in color blue.
Solution #5: Disable Turn off unknown callers.
If the problem only occurs for incoming calls from unsaved, private or unknown numbers, it could be because the iOS feature to Turn off unknown callers is enabled on the phone.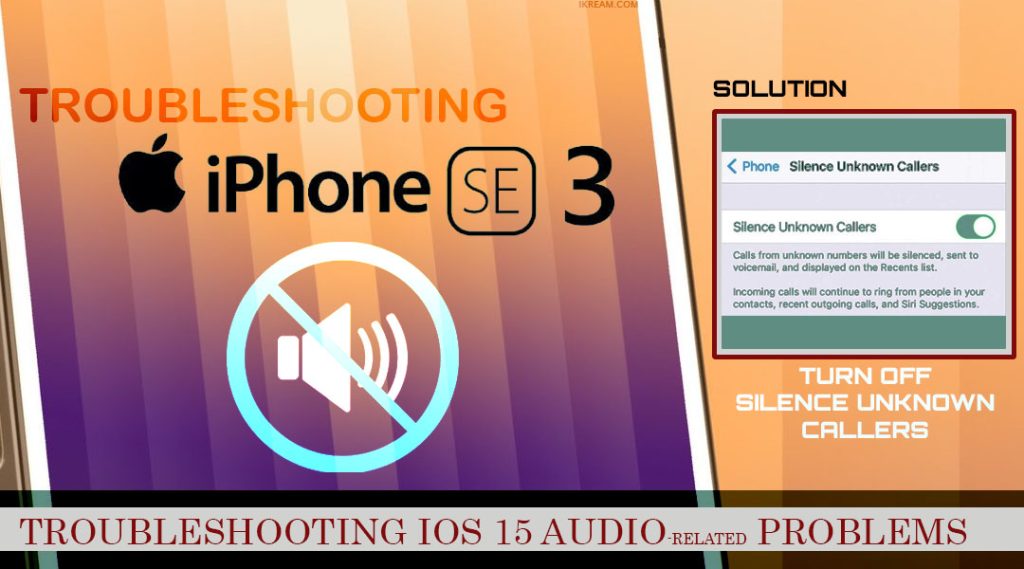 As the name implies, this feature works by muting all incoming calls from unknown numbers and routing the call straight to your voicemail. That said, you won't hear your iPhone's incoming call alert.
To clear this out, head over to Settings-> Phone menu and then toggle the switch next to Silence Unknown Callers to disable the feature temporarily.
After turning this feature off, try to place a test call to your iPhone SE 3 using a different device and see if the call rings.
Solution #6: Reset all settings
To eliminate system glitches from invalid settings, resorting to iOS resets, particularly reset all settings can be regarded among the last options. Performing this reset is also deemed a potential solution to post-update system flaws.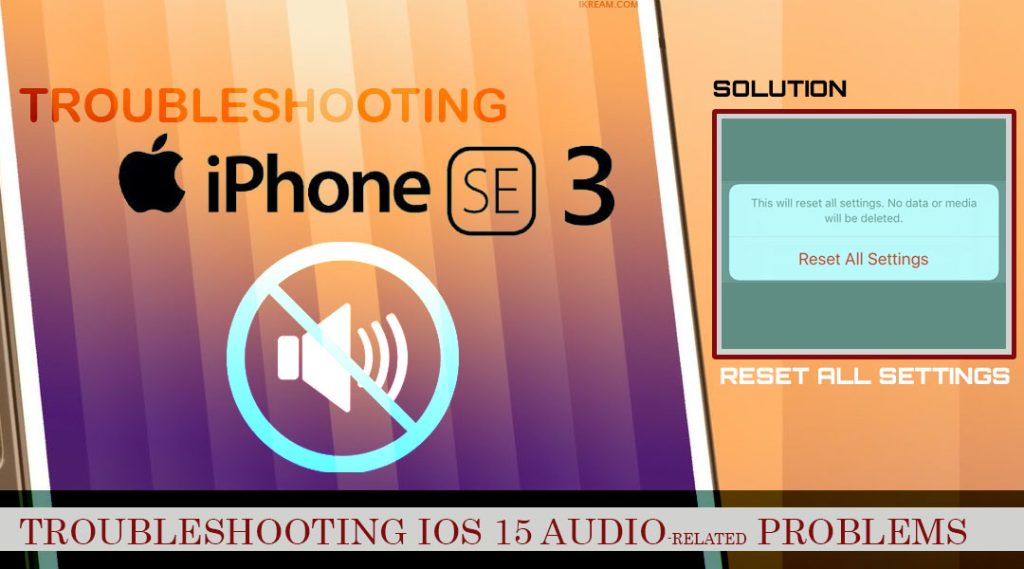 Unlike a factory reset, resetting all settings on your iPhone does not delete any user data and therefore keeps all your files in the same location where you saved them first.
All it erases are the custom settings for apps, networks and other system services like location, restrictions and permissions among others.
Should you wish to give this reset a try, just follow these steps:
Open the Settings app.
Next, tap General.
Tap Transfer or Reset iPhone on the next screen.
On the next screen, tap Reset to continue.
Select Reset All Settings.
Read the reset details then tap Reset settings.
On the final warning prompt, tap Reset settings to confirm.
After the reset, the phone reboots automatically and then loads up all the default system settings and options.
This denotes the need for you to reconnect to Wi-Fi and re-enable other features that are disabled by default.
Setting default apps for certain file types or data protocols is also necessary as your previous app preferences are nullified.
Still no sound coming from your iPhone SE 3?
Installing the latest iOS update is also recommended to optimize system features and services. Software updates released by Apple may likewise embed a critical patch to clear out any existing bugs including those that might have caused the iOS audio system to become flawed.
Other suggested workarounds that you can try if the above solutions failed to fix the problem are as follows.
Increase the Volume
There are certain instances wherein the sound is just not audible when using a certain application. This happens if the app was originally programmed to utilize an audio rendering protocol that doesn't coincide with the iPhone's built-in audio features.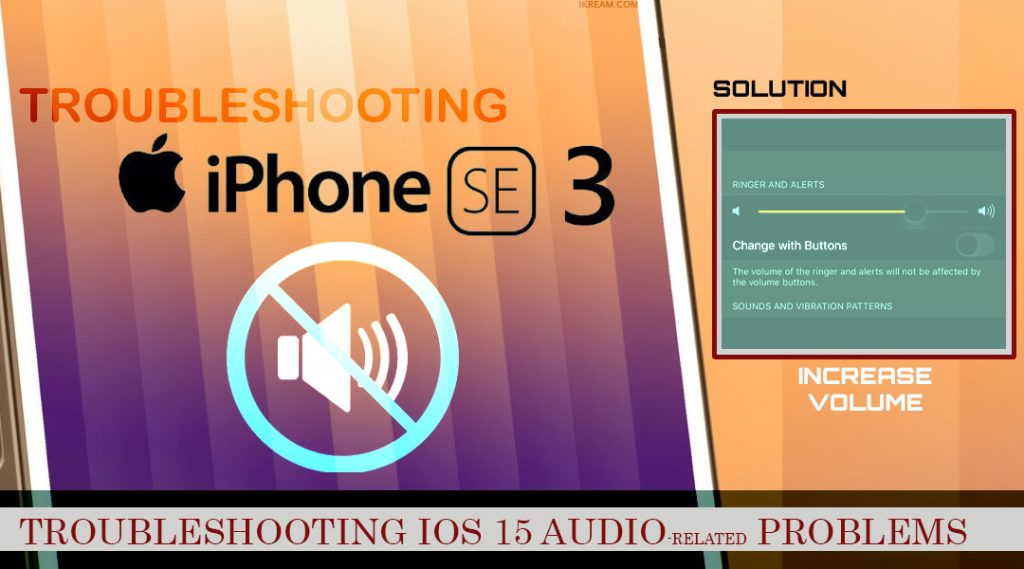 Should this be the case, increasing the volume level on your device would be necessary. If necessary, set the volume to the maximum level.
You can also use a Bluetooth-audio device like a speaker or headset for better and louder sound output when using that app. Just pair your iPhone with your Bluetooth device beforehand.
Remove any protective casing
If you've installed an iPhone case, try removing the case and see if that would make a difference.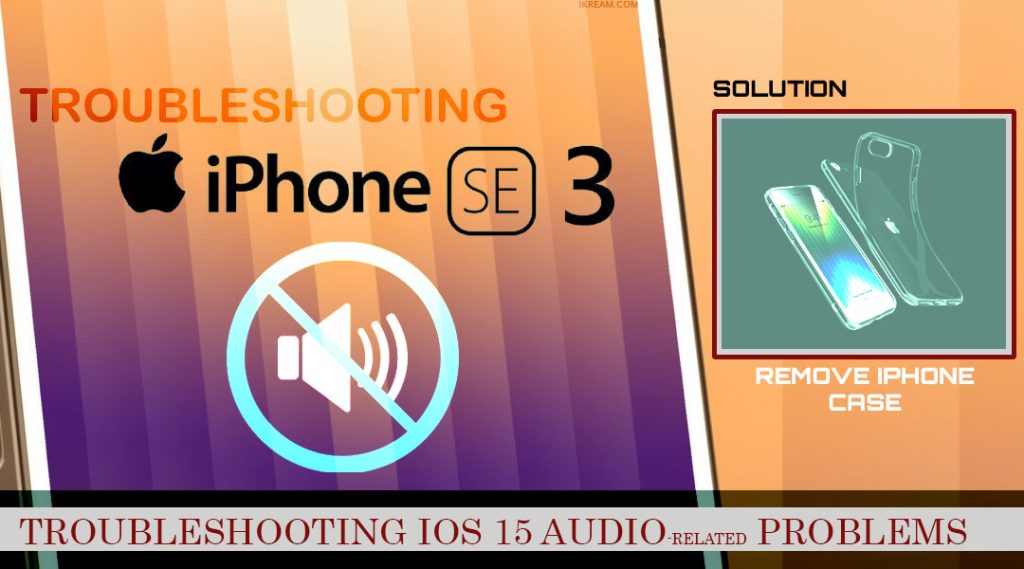 Some iPhone cases made by third-party manufacturers don't actually fit the iPhone. As a result, they can obstruct the physical outer buttons including the ring/silent switch and speaker.
Take your iPhone to a service center
Random system glitches that caused the iPhone no sound issue are usually cleared out using the above solutions unless hardware damage is present on the device.
If this happens following a system update, you may escalate the problem to Apple Support so they can look into it. Should this be found and confirmed as an iOS bug, Apple would be obliged to develop the required patch.
If you suspect that your iPhone has obtained some sort of physical or liquid damage from prior incidents of accidental dropping or liquid exposure, then you better take it to an Apple authorized service center for proper hardware assessment and repair, if needed.
Please keep posted for more comprehensive iOS tutorials and troubleshooting guides on this site. Or you can check out this YouTube channel to view more comprehensive tutorial and troubleshooting videos including recent iOS devices.
You Might Also Want To Read: