This post will walk you through activating an iOS feature that mutes incoming calls from unknown numbers. Here's a quick guide to silence unknown callers on iPhone SE 3 running on iOS 16.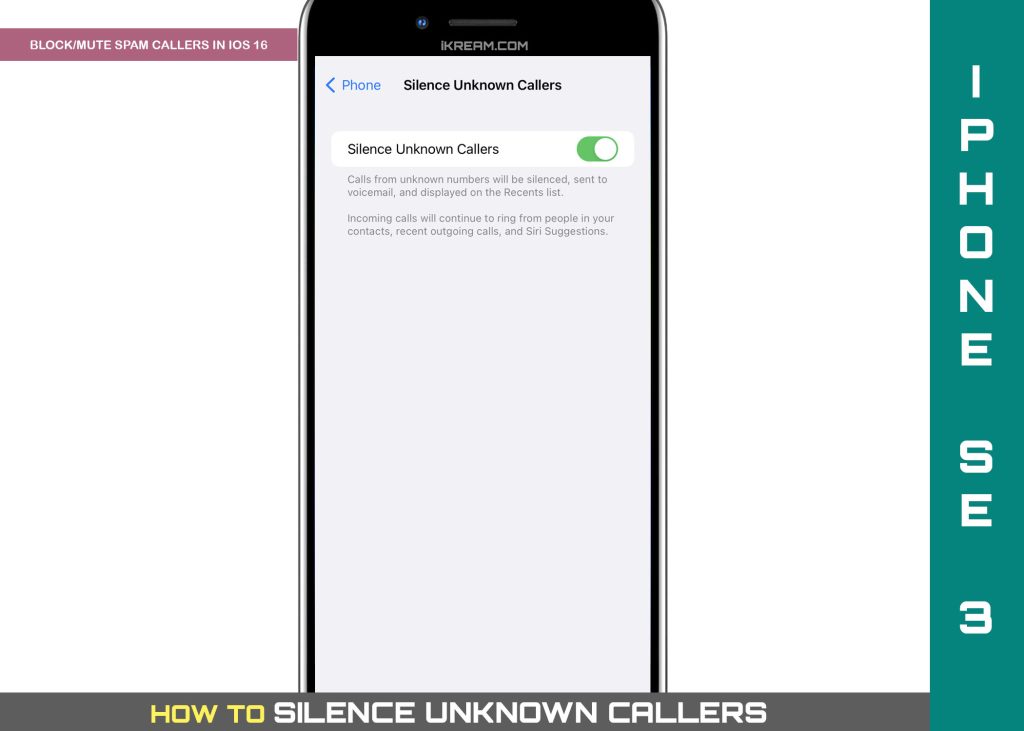 Muting Spam Calls in iOS
Getting nuisance calls from scammers is inevitable these days. While some of these calls, particularly those coming from legit telemarketers are sensible, the majority of them are purely scams.
A common indication that an incoming call is a scam is a random phone number showing up as the caller ID of the caller.
In an effort to safeguard individual user's privacy and security, Apple rolls out an iOS upgrade that's designed to halt spam and scam calls in later iPhones. Thus a feature called Silence Unknown Callers.
When enabled, this feature blocks phone numbers that you've never been in contact with or those that aren't stored in your contacts. Such is an effective way to avoid getting phone calls from people you do not know.
Phone calls from your contacts as well as to the ones from someone you've previously texted with or has shared their phone number with you via email are exempted and therefore will go through.
Another exception is when an emergency call is placed as this feature will be temporarily disabled for the next 24 hours, making your iPhone reachable during those times.
In order to utilize this feature, you will need to activate it on your iPhone settings, particularly on the Phone app.
But before you do, be sure to save all phone numbers from your important contacts so that you won't miss any important phone call from them.
While the call will still be available on your voicemail and show up in your recent calls list, being unable to get an incoming call notification often leads to missing it.
Steps to Silence Unknown Callers on iPhone SE 3
The following steps are based on the updated interface of the iPhone SE 3rd generation. If you haven't already, update your iPhone to the latest iOS version available, particularly iOS 16 or later. This is highly recommended to ensure that all key features and menu options are accessible on your device.
Once you've got everything set, you may go ahead and proceed with these steps:
Step 1: Launch the iOS Settings app to begin. To do this, simply tap on the Gear/Settings from the Home screen or Apps Library of your iPhone.
Step 2: While in the main settings menu, scroll to find and then tap Phone. Another menu opens with a list of features and options associated with the iOS Phone application.
Step 3: Find and then tap Silence Unknown Callers from the given options to continue.
Step 4: On the following screen, tap to turn ON the switch next to Silence Unknown Callers.
Doing so enables the iPhone's automatic muting function for unknown calls.
What exactly happens with Silence Unknown Callers enabled on your iPhone?
Keeping this switch turned on will silence all calls from unknown numbers and send them straight to your voicemail. Muted calls will also be displayed on the Recents list.
Incoming calls from people saved in your contacts will continue to ring. The same thing with calls made by those from your recent outgoing calls and Siri Suggestions.
Other Ways to Manage/Filter Unwanted Calls on iPhone
New iPhones, particularly those running on iOS 13 and later models are also capable of detecting and blocking spam calls.
Aside from muting unknown callers, you can also configure your iPhone to filter and detect spam calls using a third-party application.
All you have to do is download a relevant app from the App Store that supports this feature. You can do a quick search to find out which app to use.
Once you've got the desired app installed on your iPhone, head over to Settings-> Phone menu then tap Call Blocking and Identification. Navigate to the Allow These Apps to Block Calls and Provide Caller ID then turn on the Call Identification App that you'd like to activate and do the job.
You can set multiple apps to silence junk callers. Just rearrange or reorder the apps according to your priority.
Once you've got these apps activated, the incoming caller's number will be scrutinized and compared to the list of phone numbers in your third-party spam apps. If the number matches, your iPhone will label it as spam. By then, you may choose to block the phone call automatically or manually.
Please note though that not all carriers support a Call Blocking & Identification feature that's mainly used to silence calls that are identified by your carrier as a potential fraud or spam.
Talk to your carrier for more information about the availability of this feature in your current plan or subscription.
You can also make use of the in-built iOS command to block phone calls, FaceTime calls and messages from unknown callers, scammers, telemarketers and spammers.
And that's how you mute calls from unknown numbers on the iPhone SE 3rd generation smartphone. 
Please keep posted for more comprehensive iOS tutorials and troubleshooting guides on this site. Or you can check out this YouTube channel to view more comprehensive tutorial and troubleshooting videos including recent iOS devices.
You Might Also Want To Read: