This post will walk you through resolving an internet connectivity issue on the iPhone 13 Safari app that cannot open a webpage in iOS 15.4. Read on to learn what to do if you cannot open webpage in iPhone 13 Safari iOS 15.4.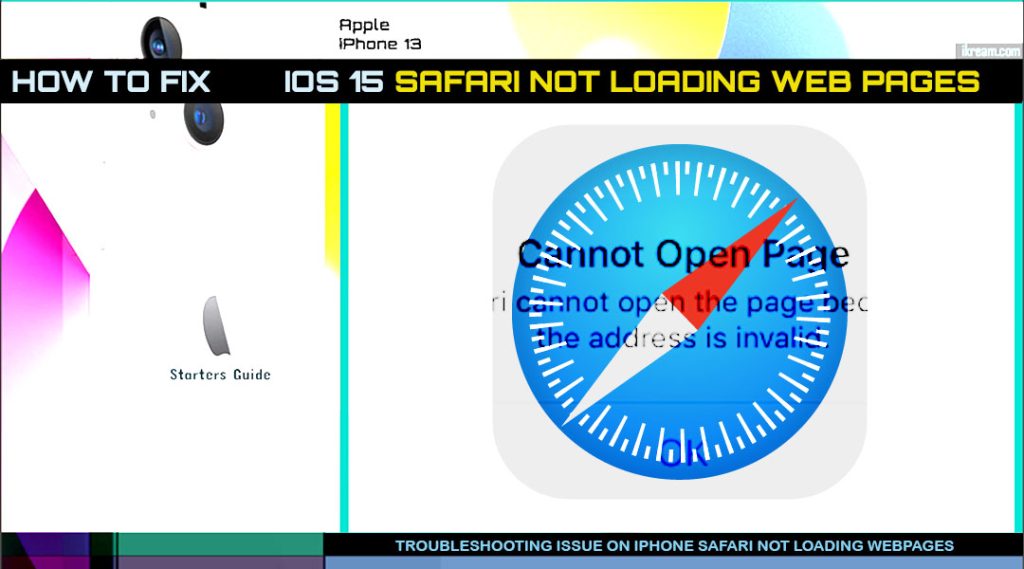 Is your iPhone 13 Safari app not opening a webpage or not working as intended? If so, then these quick fixes might be able to help you. Keep scrolling to view more detailed instructions.
What causes Safari browsing issues on iPhone?
A lot of factors must be considered when it comes to internet problems in mobile devices. Oftentimes, unexpected technical difficulties from the internet service provider's main server are the root cause of the problem. This is when network outages are occurring.
Aside from network outage, software-related factors such as in-app glitches, settings conflicts, faulty updates, data corruption and malware are also among other possible causes.
There are also some cases where a faulty modem or router in use is to blame. Just like other electronic devices, network equipment like modems and routers may also succumb to random firmware glitches resulting in system impermanence. When this happens, all devices within the network are likely to experience internet issues from slow internet, internet connection or no internet connection, depending on the underlying cause.
Generally, internet problems are software-related unless hardware damage is present on the device or outside internet line issues transpire.
Outlined below are a few helpful workarounds that are tagged among other basic solutions to common internet problems on an iPhone including slow browsing issues with the iOS 15 Safari browser.
Feel free to try these solutions before escalating the problem to your internet service provider.
[Troubleshooting] Cannot Open Webpage in iPhone 13 Safari iOS 15.4
Performing the following procedures will help eliminate common factors that can cause slow internet browsing issues on the iPhone 13 Safari and other browser applications. The depicted steps are actually based on the latest iPhone 13 series with iOS version 15.4.
Actual screens and menu options may vary between device models and carriers so seeing some slight differences on every device's user interface is viable.
Don't forget to test-browse after applying each solution to determine whether or not the problem is fixed.
Once everything is set, you may go ahead and start troubleshooting and rule out software-related factors that might have caused problems when browsing the internet on your iPhone 13 with the Safari app.
Solution #1: Terminate all background apps then restart Safari.
Similar to other apps, Safari may likewise experience random hiccups. When this happens, things don't work as intended and being unable to open a web page is among the many symptoms.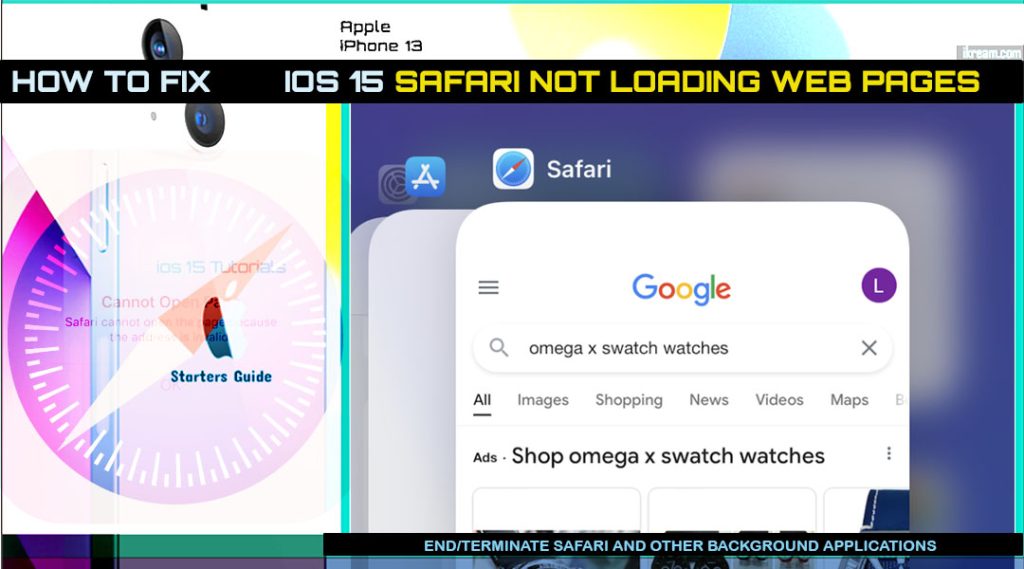 If this is the first time that Safari app is acting up on your iPhone, restarting the app will likely fix it.
To end the application, just swipe up from the bottom-left corner towards the middle of the screen to launch the multitasking view. Here, you will see the app cards or preview of the apps that are left open and running in the background.
Swipe up on the Safari app card/preview to end/terminate the application. Do the same to the rest of the running apps so that none of them would cause conflicts when relaunching the Safari app.
After ending/clearing out all background apps, open the Safari app and retry loading a page.
Solution #2: Reboot your modem/wireless router and the iPhone.
To rule out random firmware glitches and errors transpiring on the modem or wireless router in use, try to reboot or power cycle the network equipment.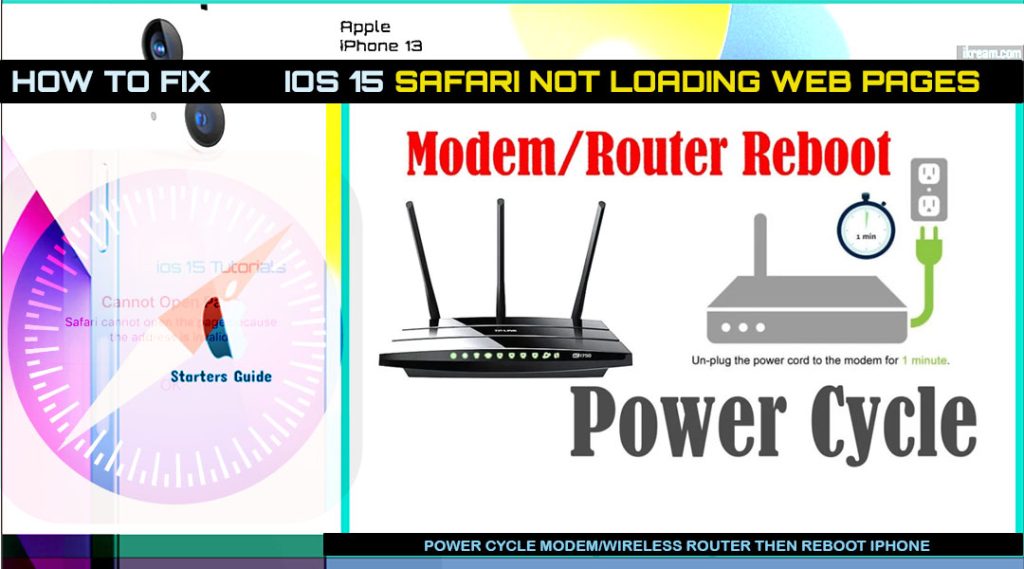 Different types of wireless internet issues are resolved with this tweak so this may likewise resolve the website loading errors with your iPhone Safari.
To power cycle the modem/wireless router, just follow these steps:
Power off the modem/router and then unplug it from the power source. Keep it unplugged for about 30 seconds to 1 minute.
After the elapsed time, plug it back in and wait until it's finished rebooting.
Restart the phone and give it enough time to re-establish wireless connections and connect to the Wi-Fi network.
Once the connection becomes stable, launch the Safari app and then retry loading the web page to see if it works.
This (modem power cycle) tweak however is only applicable to those who have a Wi-Fi setup. If you're on cellular data, performing other tweaks like reinstalling the SIM card or turning cellular data off and on might help solve the problem.
Solution #3: Clear browser cache, cookies and browsing history.
Temporary internet files including browsing history, website cookies and other cached files in the Safari app may likewise cause conflicts especially if any of them gets corrupted. Regularly clearing of the browser cache and data is therefore recommended to prevent such adverse instances from transpiring.
If you haven't already, clear the Safari browser's cache, cookies and browsing history with these steps:
Open the Settings app.
Tap Safari.
Scroll down and then tap Clear History and Website Data.
Read the warning prompt then tap Clear History and Data to confirm.
All temporary files, internet cookies, and other browsing data will be deleted from the browser's storage.
After clearing cache and website data, exit Safari and then launch it again to see if the problem is gone.
Solution #4: Optimize your iPhone's internet connection.
Random internet problems are the next thing that you should consider ruling out if the problem continues.
Your iPhone might have encountered unexpected network problems resulting in slow or intermittent internet browsing with Safari. To clear this out, optimizing the device's wireless internet features might help.
So here's what you can try doing next:
Disconnect from the Wi-Fi network then reconnect. Minor internet flaws that occur on the iPhone randomly are usually rectified by disconnecting from and reconnecting to Wi-Fi. To do this, simply turn the Wi-Fi switch off for a few seconds and then turn it on again. This is by far the simplest way to refresh Wi-Fi internet services in modern Wi-Fi devices.
Perform the Airplane mode tweak. Many iPhone users have managed to deal with various internet connection issues including webpage loading errors by performing the Airplane mode tweak. Performing this tweak simultaneously restarts and refreshes all wireless features and relevant services on the device. Any transpiring network conflicts affecting wireless internet services are likewise resolved in the process.
Forget then re-add Wi-Fi network. If the problem is affecting all other web pages regardless of the browser in use, it's possible that the Wi-Fi network is the underlying cause. This is often the case if the Wi-Fi network gets corrupted. To fix the problem, deleting the problematic network is recommended. This will pave a way for your device to connect to Wi-Fi like the first time.
If optimizing the iPhone's internet services doesn't solve the problem, resorting to more advanced solutions including network reset is the next suggestion.
Solution #5: Reset network settings.
Resetting the network settings can help resolve various types of network problems on an iPhone. As the name implies, this reset deletes all current network settings including automatic settings overrides from recent software updates that might have caused some unknown internet bugs.
After the reset, all network defaults are restored, allowing you to reconfigure the Wi-Fi network from scratch and connect to the internet like the first time.
A network reset does not delete any user data so there's no need to back up files from your iPhone storage.
Just follow these steps if you wish to proceed with this reset:
Open the Settings app.
Tap General.
Scroll down and then tap Transfer or Reset iPhone.
Tap Reset then select Reset network settings from the given options.
If prompted, enter your device passcode.
Read the final warning and then tap Reset settings to confirm.
The phone will then start erasing all current network configurations including saved Bluetooth connections, Wi-Fi networks, cellular data preferences, APNs, VPNs and other relevant information.
When the reset is finished, the phone reboots on its own. Just wait for it to finish rebooting so you can reconnect to the Wi-Fi network and get back online like the first time.
Still having trouble loading pages on your iPhone with Safari?
Normally, browsing and other internet connectivity issues on the iOS Safari app are addressed and rectified by the above solutions. If the problem continues, then it's very likely that you're dealing with a complex system issue that requires more advanced solutions.
If you're seeing an error prompt, read the error message as it often tells you what went wrong and what needs to be done to correct it.
Go back to basics…
Check the URL. Verify and ensure that the URL you've entered is correct. Safari won't be able to load the site if the URL you've entered is incorrect or invalid.
Refresh the page. Websites and pages would experience  random hiccups. Thus, retry loading or refreshing the page two to three times and see if the next attempts are successful.
Try loading a different website. This will help you determine whether or not the problem is isolated to a certain web page. If other sites are loading properly, then apparently it's an isolated problem and there's nothing to fix on your iPhone or Safari.
Use a VPN. If the problem occurs only when accessing a specific website, it's possible that the site is blocked in your area or access to the site isn't allowed for your IP address. Should this be the case, using a virtual private network (VPN) might help.
Change DNS server. Configuring the DNS server may likewise fix the problem in loading web pages. That said, try using the Google DNS servers 8.8.8.8 or 8.8.8.4. To access and manage the iPhone's DNS servers, just go to Settings-> wi-Fi and then tap the information (i) icon next to the Wi-Fi network. Tap the option to Configure DNS then select Manual. Finally, add either of Google's DNS server.
Try using another browser. Some websites aren't compatible with or supported by Safari so they won't load up on your iPhone. In this case, you can try using other alternative browsers like Google Chrome, Microsoft Edge, Opera Touch and Firefox Focus. These browser apps can be downloaded for free or via one-time purchase in the App Store.
Seek more help
If none of these works and you still cannot open the page or website in Safari or any other browser app, then this is the point where you should escalate the problem to your Internet service provider. Just let them know exactly about what happens and what attempts you've made to resolve the problem on your end.
You can ask your service provider to refresh or reset your modem/router remotely, if you suspect that the problem is due to a problematic network equipment.
Please keep posted for more comprehensive iOS tutorials and troubleshooting guides on this site. Or you can check out this YouTube channel to view more comprehensive tutorial and troubleshooting videos including recent iOS devices.
You Might Also Want To Read: