This post highlights potential solutions to software-related display issues on the new iPhone 13 series, particularly on random fading. Read on to find out how to deal with the iPhone 13 brightness that keeps dimming in iOS 15.4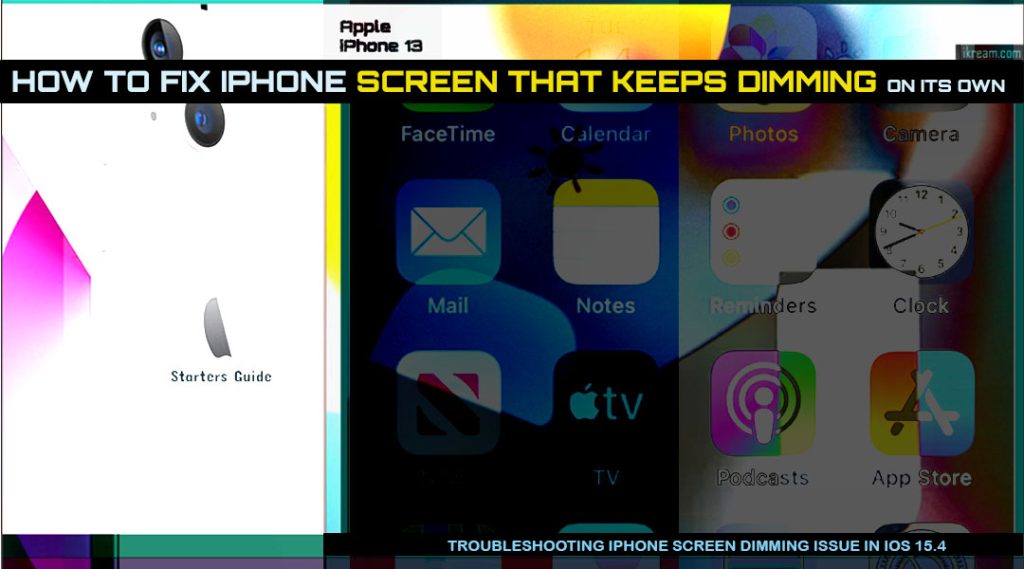 Is your iPhone screen dims on its own? If it does, then there might be some settings that you need to adjust. Keep reading to view more detailed instructions on how to deal with this problem on the new iPhone 13.
What causes iOS 15 Display Issues?
Oftentimes, random display issues particularly errant screen behaviors in iOS devices are tied to display settings conflicts.
Among the identified root causes include auto-brightness, scheduled night shift and true tone that's enabled on the phone.
That being said, making necessary adjustments to these settings will likely resolve the automatic dimming issue unless physical or liquid damage is present on the phone.
To give you some input on how to deal with this issue on your new iPhone 13, I've mapped out some helpful workarounds for your reference.
Troubleshooting iPhone 13 brightness that keeps dimming in iOS 15.4
Performing these subsequent procedures will help eliminate common software-related factors that can ruin the iPhone's screen brightness feature resulting in unexpected dimming. Try these methods before taking a trip to the nearest Apple service center.
Before you begin, make sure that your iPhone is fully or sufficiently charged.
Solution #1: Disable auto-brightness feature.
When enabled, this feature prompts the device to automatically adjust the screen's brightness depending on the ambience.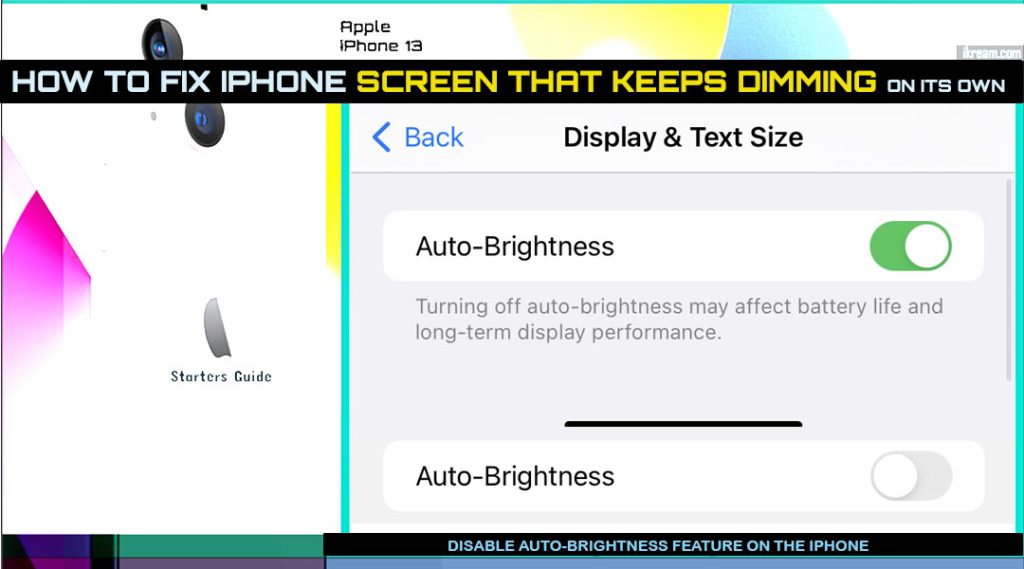 To make sure that this isn't causing the sudden dimming on your iPhone's display, turn off Auto-Brightness from your iPhone settings.
Just follow these steps:
Open the Settings app.
Scroll down and then tap Accessibility.
Tap Display & Text Size.
On the following menu, scroll down to the bottom and then turn off the Auto-brightness switch.
Now that auto-brightness is disabled, you can manually adjust the screen brightness through the control center or settings menu.
To manually adjust the screen brightness, just go to Settings-> Display & Brightness menu and then drag the Brightness slider left or right accordingly.
Solution #2: Manage Night Shift feature on the phone.
When enabled, Night Shift automatically adjusts the colors of your iPhone display to the warmer end of the spectrum to make the screen easier for your eyes.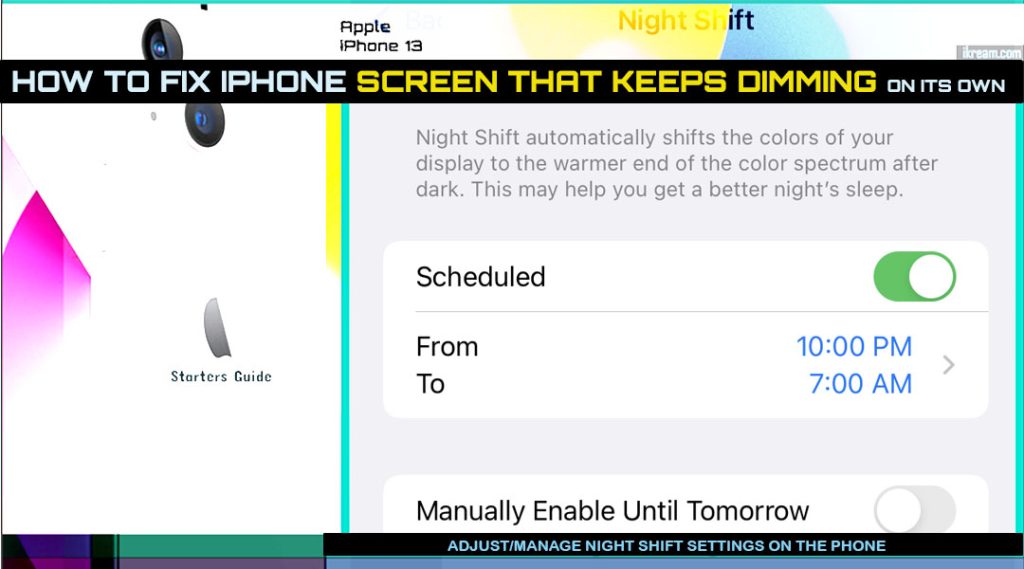 This feature works based on the phone's current time and location. When it's sunset in your area, the phone automatically switches the color of the display to warmer colors and then switches again in the morning.
To make sure that this isn't inflicting the automatic dimming on your iPhone screen, disable Night Shift through settings. Just follow these steps:
Open the Settings app.
Tap Display & Brightness on the next screen and then tap Night Shift.
Select Scheduled and then drag the Color Temperature slider to adjust the color balance accordingly.
You can choose a Custom Schedule to set your preferred times for Night Shift to turn on and off.
Solution #3: Adjust the phone's Reduce White Point feature.
Some iPhone users who encountered this problem managed to correct it by adjusting the Reduce White Point settings on the device.
To access and manage this feature on the iPhone 13 and other iOS 15 or later devices, just follow these steps:
Go to Settings-> Accessibility->Display & Text size menu then turn on Reduce White Point.
After turning it on, adjust the Reduce White Point slider and set it to 25%.
Check your iPhone's display after applying the recent changes and see if that solves the problem.
Solution #4: Restart the phone (soft reset).
If everything was working perfectly fine and then suddenly your phone screen dims, it could be just due to a random glitch on the iOS display. To clear this out, restart or perform a soft reset on your iPhone.
A soft reset or iPhone reboot can help fix various types of software glitches that trigger random issues on the device.
It doesn't affect any saved data stored in the iPhone storage for as long as it's done correctly.
For starters, performing a soft reset or iPhone reboot is carried out through these steps:
Press and hold the Power/Side button and either Volume buttons for a few seconds and then release when the Power off slider appears.
Then, drag the slider to turn your iPhone completely off.
After 30 seconds, press and hold the Side button again until the Apple logo appears.
Allow your device to finish rebooting and then see if the problem is gone.
Solution #5: Install new software updates available.
Installing the latest iOS version available is also deemed among other potential solutions, especially if the dimming issue is inflicted by some software and malware. Software updates typically embed essential fix patches alongside new features and security enhancements.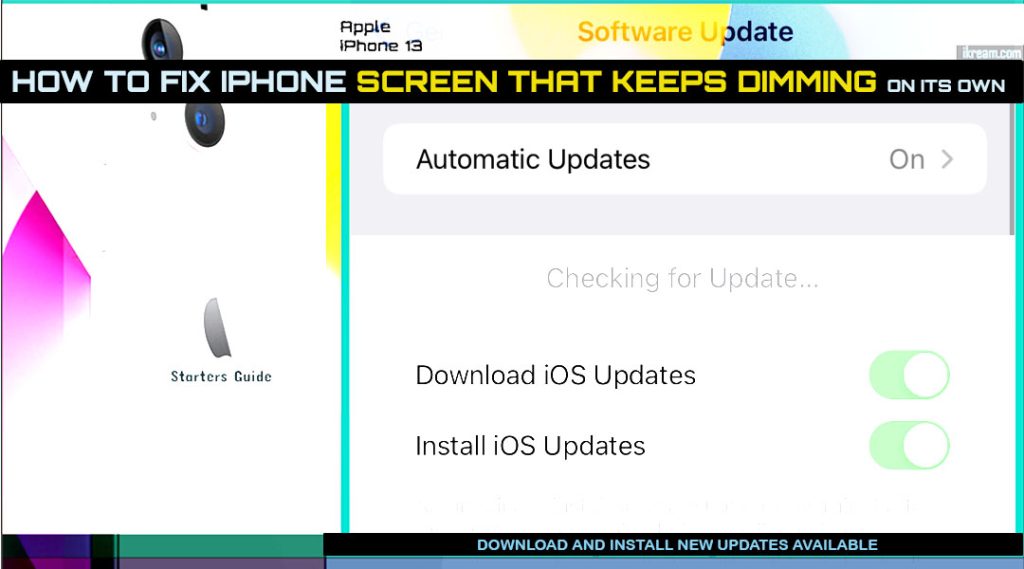 If you haven't enabled automatic updates on your device, manually check for new updates to download and install.
Just follow these steps:
Go to Settings-> General-> Software Update menu.
Allow your phone to check for new updates.
If a new update is available, tap Download and Install.
Be sure to keep your iPhone connected to a stable Wi-Fi network with ample storage and battery life.
Solution #6: Reset all settings.
Restoring the default settings is often necessary when resolving iPhone issues tied to settings conflicts. If the phone started to show the dimming symptoms after making a series of settings alterations, chances are that the recent settings caused some conflicts on the display system.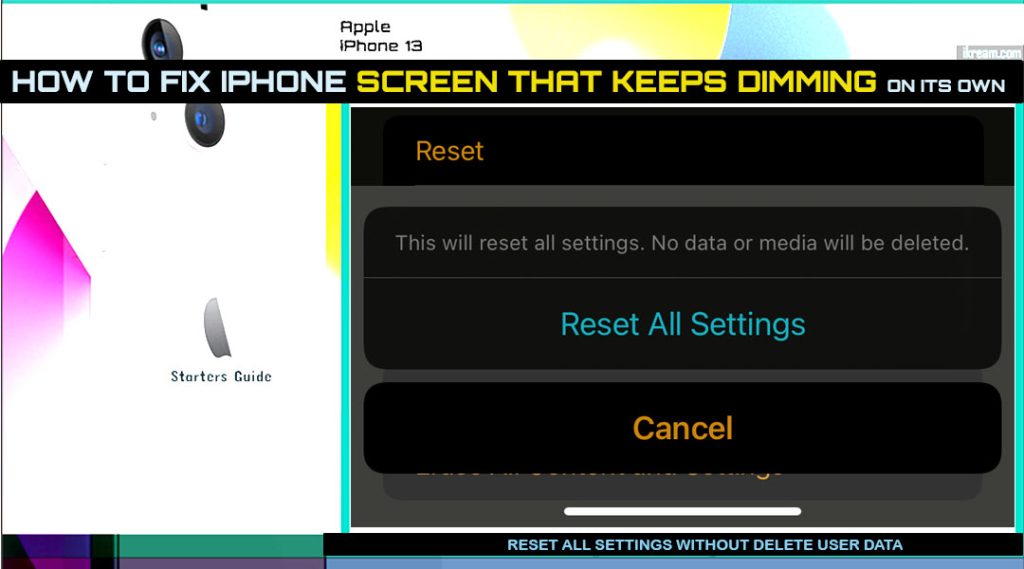 To clear this out, resetting all settings on the iPhone is recommended.
Performing this reset does not affect any user data that's stored on the iPhone's internal storage. That said, you won't lose any important files even without backing them up.
Just follow these steps if you wish to proceed with this reset:
Tap Settings from the Home screen to open the Settings app.
On the settings menu, tap General.
Tap Transfer or Reset iPhone to continue.
On the next menu, tap Reset.
Then, tap Reset all settings from the available reset options.
Enter your device passcode if prompted.
Read the final warning then tap Reset settings to confirm.
All recent settings changes made on the phone will be deleted and then default values are restored.
After the automatic system reboot that follows the reset, you can start re-enabling necessary features that are disabled by default.
Is your iPhone screen still dimming on its own?
Adjust the Auto-lock interval.
Another helpful workaround is to adjust the phone's auto-lock interval.
Typically, the phone's screen automatically dims, turns off or locks itself when idle for a specific period of time. Before the screen turns off, it usually dims.
If the screen dimming happens frequently, extending the time for the iPhone screen to lock might help.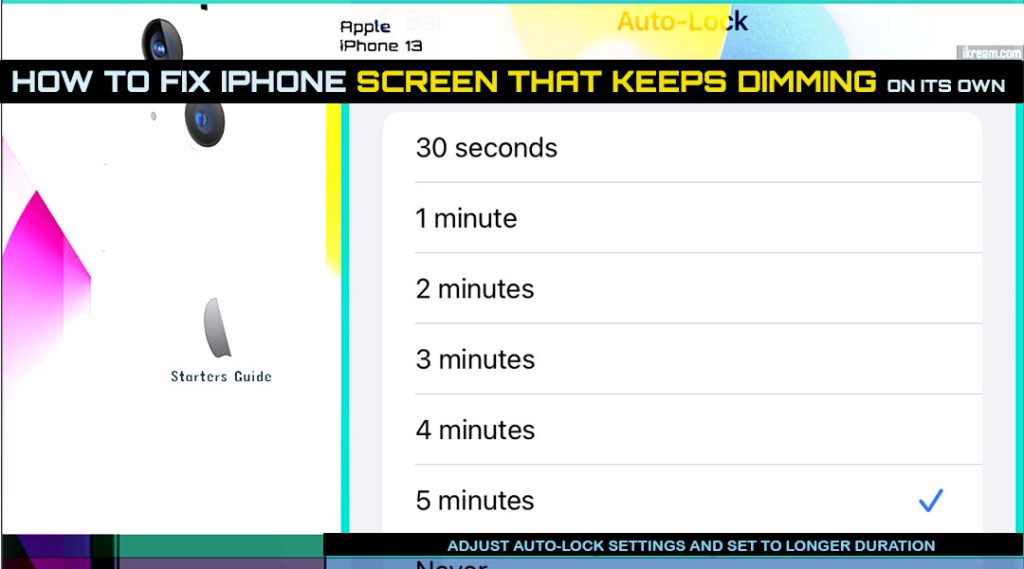 To adjust this setting, go to Settings-> Display & Brightness and then tap Auto-lock.
On the succeeding menu, set the Auto-lock period to a longer duration or choose Never to prevent the display to turn off or lock on its own.
Factory Reset/Master reset iPhone.
If the problem continues after applying all the above solutions, complex system errors are more likely the underlying cause.
At this point, your next option would be to perform more advanced reset commands including a factory reset or full system reset.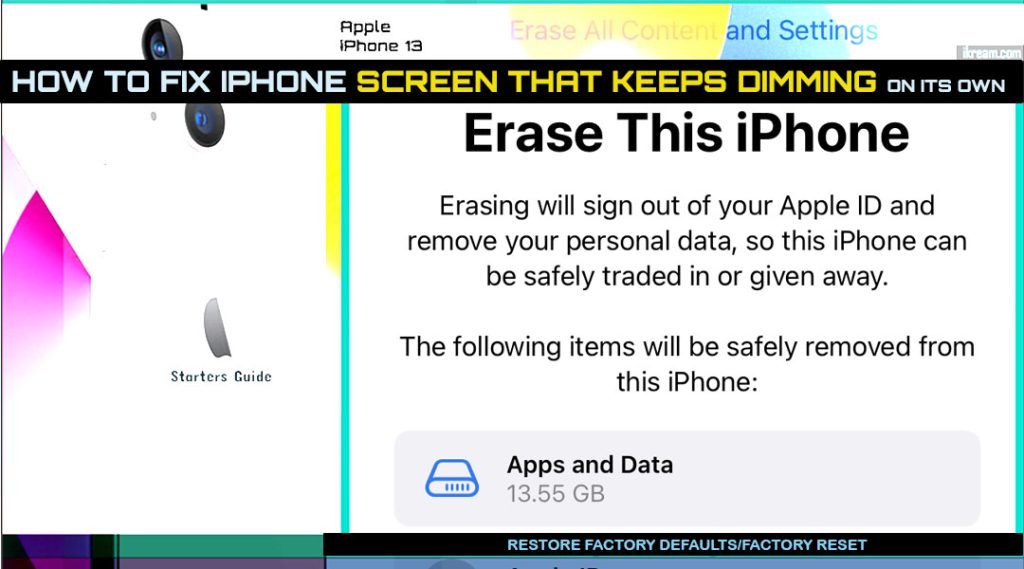 Performing this reset will wipe all data from the iPhone system including downloaded apps and files, saved photos, videos, music and documents. That being said, creating backups of all important files from the iOS device is highly recommended. You can back up files to your iCloud account or to a computer drive through iTunes.
On a positive note, a factory reset clears out stubborn software bugs and malware including those that might have ruined the phone's normal display functions.
After the reset, all the settings are stored to defaults and the phone will restore to its factory state and runs like the first time it's turned on, free from any type of errors and glitches.
You may opt to set up your iPhone as new or restore from a previous iOS backup. The latter is recommended if the problem started after installing a new software update and persisted after performing all applicable tweaks.
Repair Options
Have your iPhone checked by an authorized technician if nothing else works and the screen dimming is already intolerable. This is imperative to rule out any potential damage screen components from the possible causes. Should it be confirmed a hardware issue, then repair would be necessary.
If your iPhone is still covered by warranty, then you better avail warranty instead. Talk to your device carrier (service provider) to learn more about how to get iPhone service warranty or new unit replacement, whichever is applicable.
Please keep posted for more comprehensive iOS tutorials and troubleshooting guides on this site. Or you can check out this YouTube channel to view more comprehensive tutorial and troubleshooting videos including recent iOS devices.
You Might Also Want To Read: