This post will walk you through configuring the iPhone settings to automatically or manually adjust screen brightness based on the ambience. Here's a quick guide on how to enable/disable auto-brightness on iPhone 13 in iOS 15.4.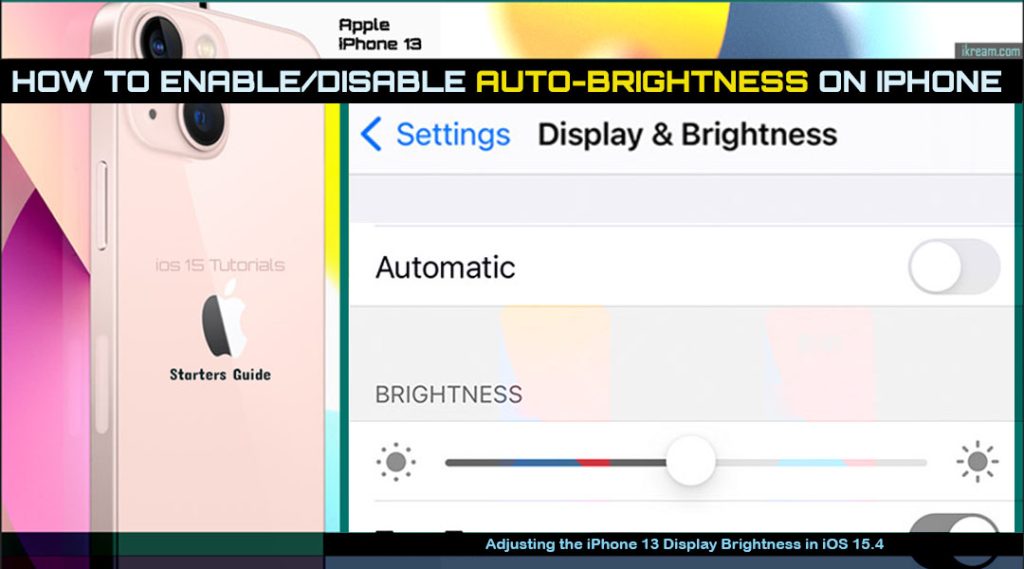 iOS Auto-Brightness Feature
Modern smartphones have a dedicated ambient light sensor that measures the ambient light along with the control software that increases and reduces the screen brightness based on the light level output. In many smartphones, this sensor is entrenched in the right bezel right next to the screen or other nearby display segments.
This sensor works conjointly with the auto-brightness feature in new smartphones including Apple's latest iPhone series.
When auto-brightness is enabled, the iPhone sensor will detect the ambient light in the surroundings.
If the environment is dark, the sensor dims the screen and brightens when in an area where ambient light is ample. As light levels increase, the brighter the screen gets in order to thwart the decolorized nature of screen images inflicted by glare. In short, the iPhone screen automatically darkens under bright lights and lightens in the dark. This therefore results in decreased sensitivity of your eyes to brightness.
If you're not yet familiar with iOS 15. 4 platform and need some input on how to access and manage this feature on your new iPhone 13, this post outlines a step-by-step walkthrough as follows.
Steps to Enable/Disable Auto-Brightness on iPhone 13
The following procedures are also applicable when turning auto-brightness on or off in other iOS devices with the latest iOS version including the iPhone 13 Pro, iPhone 13 Pro Max and earlier iPhone models running on the iOS 15.4 platform.
The subsequent steps are based on the updated user interface on the iPhone 13. Actual screens and menu items may vary between device models and carriers.
Feel free to start whenever you're all set to adjust auto brightness settings on your new iPhone 13.
Step 1: Tap Settings from the Home screen to open the Settings app.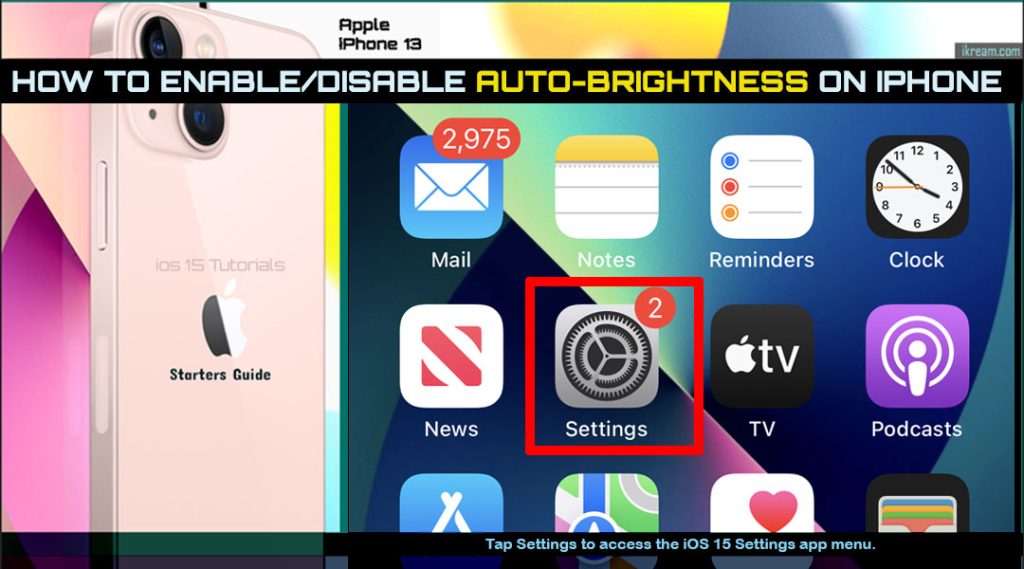 Step 2: On the Settings app menu, scroll down and then tap Accessibility. Another screen will launch, highlighting the preloaded accessibility features and options.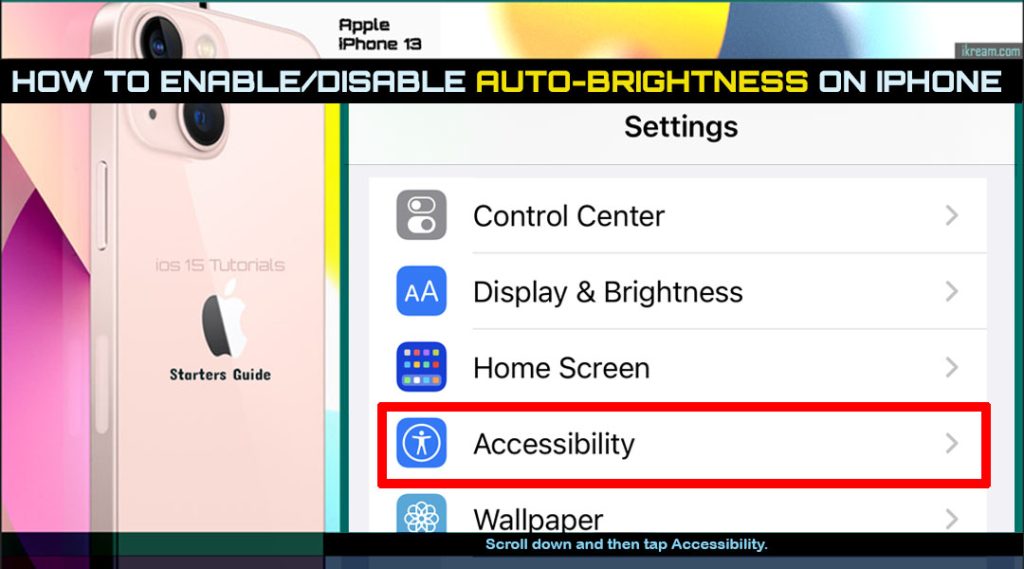 Step 3: Find and then tap Display & Text Size to continue.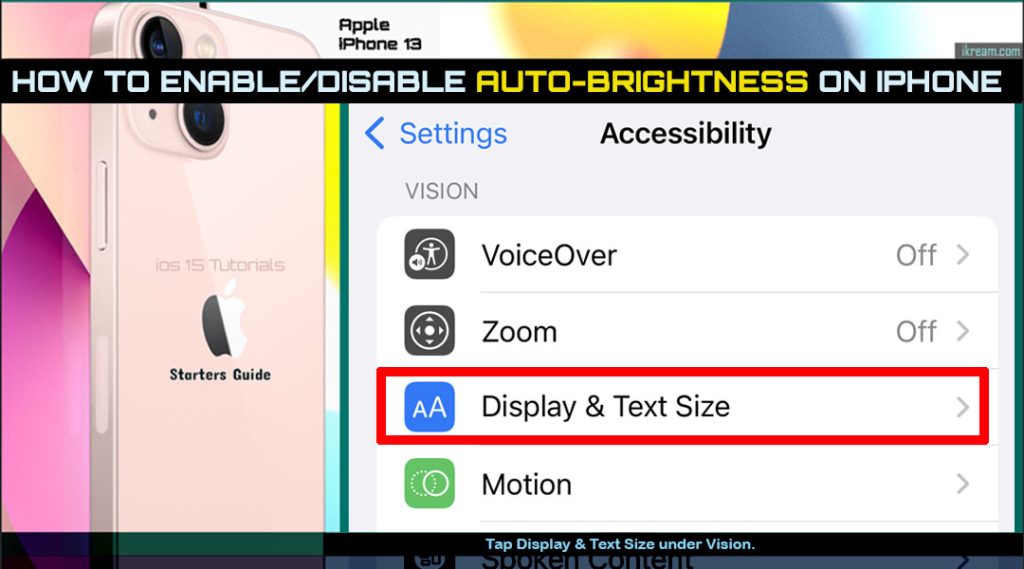 Step 4: On the succeeding menu, scroll down to find Auto-Brightness and toggle the switch next to it to enable and disable auto-brightness feature on your iPhone.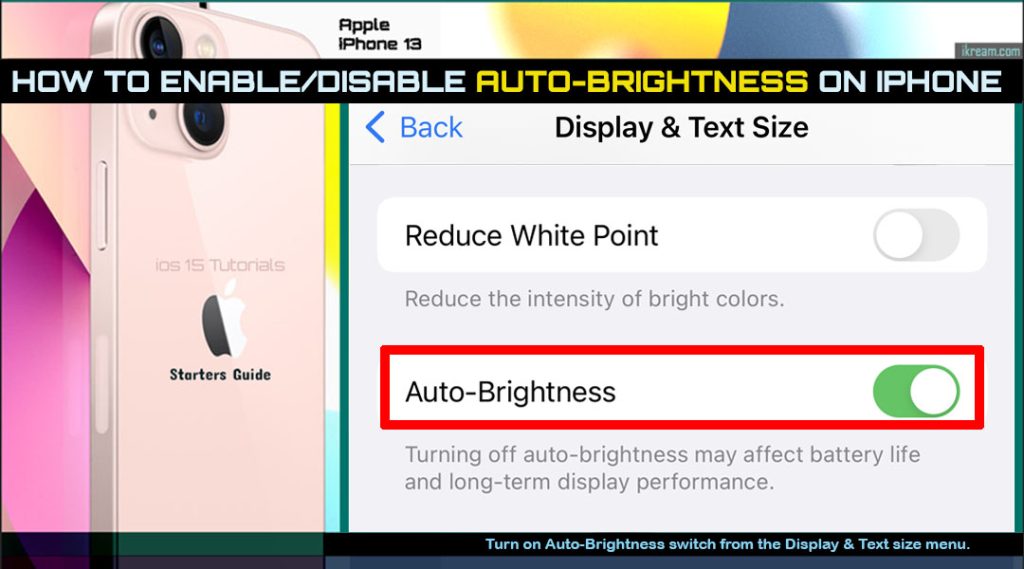 To enable auto-brightness, toggle the switch ON and tap to switch it OFF to disable the auto-brightness feature again.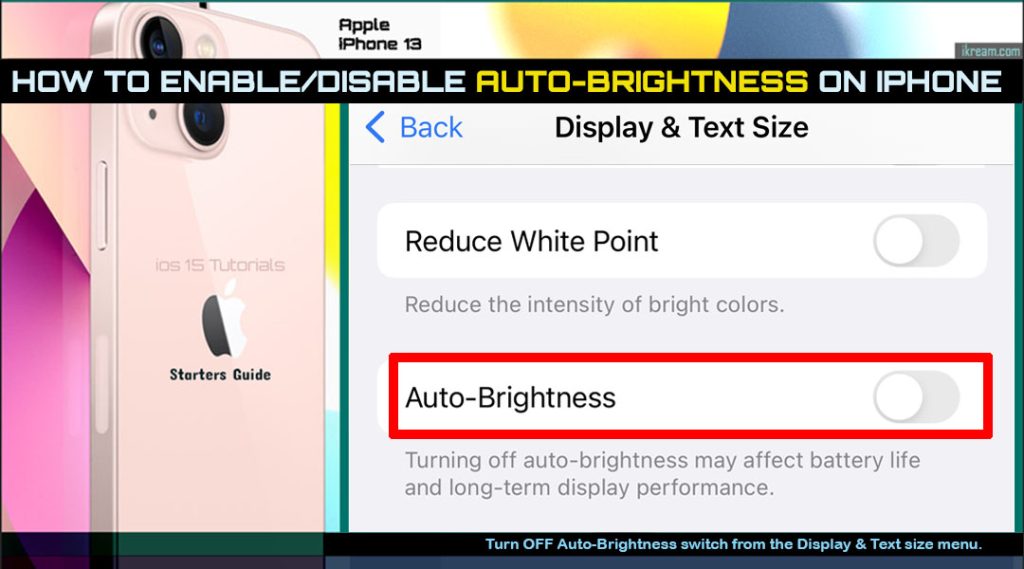 Instant changes on the iPhone screen brightness will become visible when using the device in an open area or dark room.
With the auto-brightness enabled, the iPhone will automatically adjust the brightness of the display based on the surroundings. While this may offer convenience, it can also drain the battery faster.
Disabling this feature will do the opposite so you'll need to manually adjust the screen brightness by dragging the brightness slider left or right to make your iPhone screen dimmer or brighter.
When to Enable Auto-Brightness on  your iPhone?
Aside from ocular benefits, adjusting auto-brightness can also aid in preserving battery.
For as long as auto-brightness is working properly, you can be assured that your phone won't be utilizing more battery power as screen brightness will automatically be adjusted based on the current environment.
This therefore yields extended battery life, which also denotes longer usage period for your iPhone before the next recharge.
Adjust Brightness via iOS 15 Control Center
Should you prefer to have auto-brightness disabled, then you can manually make the iPhone screen dimmer or brighter by dragging the screen brightness slider from the Control Center.
To do this, swipe down from the top-right corner of your iPhone display to access the Control Center.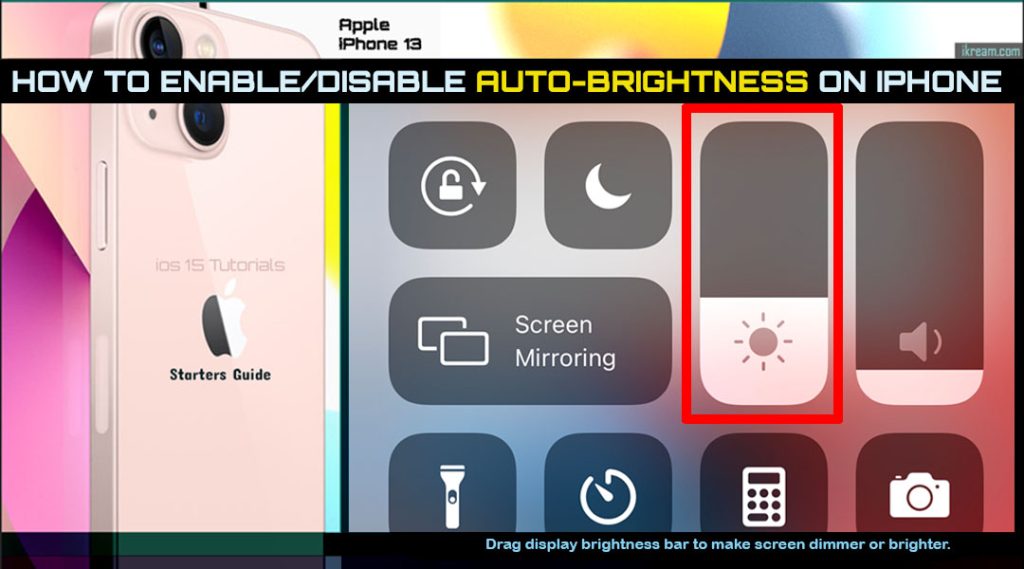 On the Control Center, look for the brightness bar and drag it up or down to adjust the brightness of your iPhone's display. Dimming the screen can help save power and therefore extends the iPhone's battery life.
You can also manually adjust screen brightness by heading to the iPhone Settings-> Display & Brightness menu.
There, you should see a slider that you can drag left to right to make the screen dimmer or brighter accordingly.
Auto-brightness not working?
If you think auto-brightness is not working as intended like when the display brightness doesn't change when using the phone in an open and dark room area, try to remove any protective files or screen protectors if you have one installed.
Also ensure that auto-brightness is enabled on the accessibility settings menu of your device.
Restarting the iPhone can also help clear out any transpiring minor software glitches that might have caused conflicts to the auto brightness setting, making the sensor unable to adjust brightness accordingly.
If you want your iPhone's display to automatically adapt on the ambient lighting conditions and make colors appear consistent in different environments, you can turn on True Tone instead.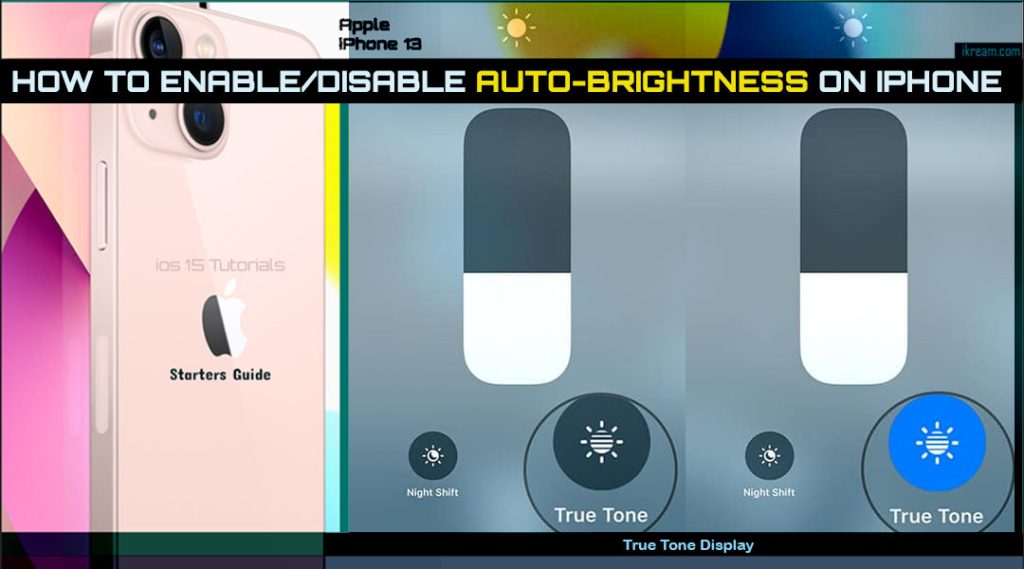 Other built-in dark screen features including Dark Mode, True Tone, Night Shift, Smart and Classic Invert are also available for you to activate when necessary.

And that's all about enabling and disabling auto-brightness on the Apple iPhone 13 in iOS 15.4.

Please keep posted for more comprehensive iOS tutorials and troubleshooting guides on this site. Or you can check out this YouTube channel to view more comprehensive tutorial and troubleshooting videos including recent iOS devices.
You Might Also Want To Read: