Overheating issues in mobile devices are often linked to power and battery problems. In several cases, the problem is accompanied by other relevant symptoms including freezes, lags, and quick battery drain. Based on prior reports, overheating appears to be among the most prevalent issues affecting various iOS devices including the Apple iPhone 6s handset.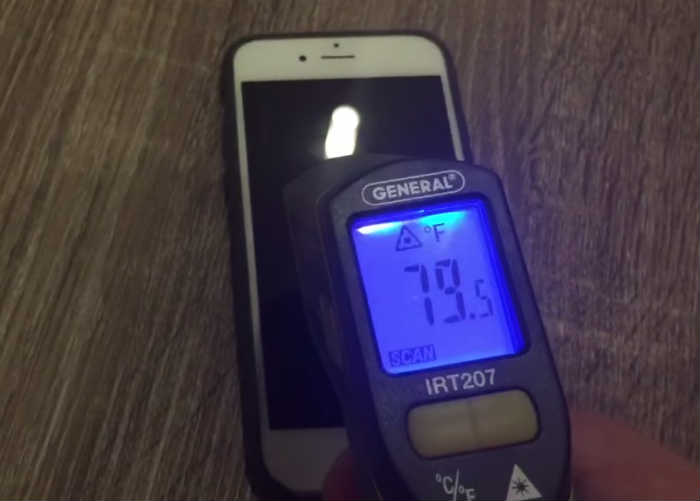 Many of the reported cases were accompanied by another symptom which is on the battery that drains so fast. Some issues concerning overheating problems and quicker battery drain have also occurred after iOS update installation. If you are one those who have been plagued with the same issue on your iPhone 6s that is overheating so often as well as quick battery drain, then I encourage you to read on to learn why this happens so as to diagnose and resolve the underlying cause.
Power issues affecting the iPhone 6s like overheating and quick battery drain have something to do with the processor or CPU. Every input command and task the iPhone carries out means a new workload for the processor to complete. From the time your iPhone boots up to iOS until the moment you shut it down, the processor is doing its job. Although the iPhone 6s embeds a powerful processor, it still has limitations. And the more tasks it performs, the higher the chances of the CPU to overload. As an outcome, your iPhone gets warmer and warmer to the extent of overheating. And when this happens, your battery is more likely to die fast.
But before we jump right into our troubleshooting, if you have other issues with your iPhone, make sure you drop by our troubleshooting page because we've already addressed a lot of issues reported by our readers. Find issues that are similar with yours and use the solutions we suggested. If they don't work for you or if you need more help, fill up our iPhone problems questionnaire and give us more accurate information about your problem so we can give you the best solution.
Highlighted below are other factors that can trigger your iPhone to become extremely hot aside from CPU overload.
Extremely hot ambience. Generally, iPhones are designed to operate between 0 and 35 degrees. That is its normal operating temperature. Using the iPhone below or beyond the normal operating temperature range can lead to possible occurrences of unusual symptoms. With a temperature beyond 35 degrees, your iPhone can become prone to overheating and faster draining of the battery especially when you use it extensively. The same thing can happen when leaving your iPhone inside a car for hours.
Poor network coverage or signal issues. Your device keeps trying and trying to get a good network signal, especially with network features enabled. The more it searches for available network, the more it pushes the processor to work. Eventually, your device can get warmer over time.
Software issues. Majority of overheating issues on an iPhone are software-related. In short, the root cause of the problem lies within the software. Some apps, especially from third-party developers can inflict similar problem to arise on your iPhone. There might be some conflicting settings or the app's system structure won't just blend well with the iOS platform. In fact, a number of software-related issues have been tied to a faulty third-party application running on the device. This can also be the case in your iPhone 6s battery that is draining so quickly and overheating.
Aside from third-party applications, software updates can also cause your device to become warmer than usual especially during the installation process. The main reason why this happens is because your iPhone processor is working and attempting to get all software packs downloaded and installed in your device. So you should expect your iPhone to become warm especially when trying to download and install updates in huge file size. This is often the case when performing a major update to iOS, which usually can take hours or even a day or two for everything to complete.
The good thing about software-related issues is that there are available workarounds you can use to remedy the transpiring symptoms. All these will be tackled in the resolution part of this content.
Faulty hardware. In worst cases, overheating can be a sign of a more serious problem concerning the iPhone's hardware. You will probably know that the problem is due to hardware damage if the main symptom starts after an incident of dropping or liquid exposure on your iPhone. Just like with what other users have noticed on their iPhone that overheats, not charging or quick battery draining after the phone was hardly dropped or got wet. Apparently, in these cases, a faulty hardware is to blame. This then denotes a need for iPhone repair so as to get the problem fixed.
How to fix iPhone 6s overheating and quick battery draining problems?
Once you are prompted with the message saying that your "iPhone needs to cool down before you can use it" and that the surface of your device is getting extremely warm, it denotes an unusual condition and therefore must heed the given recommendations.
Proper diagnosis is a key to finding ultimate solution to any transpiring problems on your mobile device.
Step 1. Lighten up workload on the CPU.
The best way to start is by lightening the workload on your iPhone as much as possible. As what we've emphasized earlier, overheating usually occurs when the CPU is so busy or revved up completely. That being said, you can start by closing out unused apps that are running in the background. There's no need to keep them running if they're not in use anyway.
To close out your apps, double tap the Home button and then swipe each app off the top of the screen.
Step 2. Disable network services (if applicable).
If you are using your iPhone in areas with weak or poor network coverage, then you might as well consider disabling its network features so as to save battery and prevent overheating problem to occur. In cases like this, you can enable Airplane mode to temporarily disable other iPhone features that require network connectivity including Bluetooth, GPS, Wi-Fi, and Cellular Data.
Step 3. Check for some faulty apps.
Sometimes, faulty apps can trigger your iPhone to overheat. So try to ask yourself when did your iPhone first start to overheat? Was it right after downloading and installing a new app? If so then, you can go ahead and verify if the recently installed apps is to blame. To do so, head over to Settings-> Privacy-> Diagnostics & Usage-> Diagnostic & Usage Data. On the next screen, you should see a list of everything that has been crashing on your iPhone.
Seeing a few entries in the list might just be normal because log files would usually end up in this directory. However, if you are seeing the same app listed over and over again, then it means that there's a problem with that app.
If this is what you're seeing, try to delete the faulty app and then re-install it from the App Store. To delete an app, press and hold on the app icon until it starts to wiggle, and then tap the black X that appears on it. Once the app has been completely deleted, head over to the App Store and then download the app again.
Step 4. Update iOS.
If you suspect that the overheating issue on your iPhone is triggered by some software bugs or faulty apps but not sure which app is to blame then you could just go for an iOS update instead.
Apple is issuing updates for its iOS devices periodically. If you haven't yet updated your device, then most likely an update is available for your iPhone. To check for available updates, go to Settings-> General-> Software Update.
Generally, software updates are rolled out to address issues that arise including those that can cause certain apps to misbehave and your device to become extremely warm. If an update is available, then try installing it and hopefully it will fix your problem. You may go for OTA upgrades or through iTunes. But before you proceed, be sure to back up your device and ensure that your iPhone has sufficient storage space for the update. If necessary, delete all unwanted contents to free up some space and proceed with the update download and installation.
Step 5. Reset All Settings.
If none of the above steps is able to fix the problem, and that your iPhone 6s remains very hot, then you might as well consider resetting all settings. To do so, head over to Settings-> General-> Reset All Settings.
The process will erase some information including Wi-Fi passwords, and other settings configurations as settings will restore it their defaults within the Settings app. Nevertheless, any of the data on your iPhone will remain as is or won't be deleted in the process.
Step 6. Restore your iPhone 6s.
This should only be considered as your last resort, if all else failed to fix the main problem. If you've reached this point and the problem persists, there is a higher chance of it being caused by a major software problem that needs to be wiped out. Just be sure to back up your device before you opt to start as they will all be deleted in the process. Once you've backed everything up, you may go ahead and restore your iPhone using iTunes or iCloud. To restore your iPhone to factory settings, using iTunes is highly recommended. In this process, you will need to connect your iPhone to a computer with the latest version of iTunes installed.
Step 7. Give it more time to rest and cool down completely.
If your iPhone 6s is still overheating after performing a system restore, try to give it more time to rest and cool down. Just turn it off for a few hours and use it again once it cools down. However if it persists to overheat after that, then more likely a faulty hardware is triggering it. You may take your device to a nearby service center for hardware check or repair, if necessary. Otherwise, contact Apple Support or your device carrier to escalate the problem and ask for further assistance and other options.
Connect with Us
If you have other problems with your iOS device including iPhone 6s, you may visit our Troubleshooting Page or complete and submit this form to get further assistance from our support team. Just be sure to provide us with all necessary information, such as your iOS device model, as well as more details about the issue you have with your device. For example, when did the problem start to occur or what you did before the problem shows. This way, it would be easier for us to determine the main cause(s) and help you towards finding the best possible solution available.