Snapchat, one of the most popular social media applications, has a fascinating feature known as Snapchat Emojis. These small icons or digital illustrations represent various emotions, objects, places, types of weather, and lots more. Not only do they enhance communication by adding fun and emotion to your stories and chats, but they also serve an expressive language of their own.
Traditionally, emojis on Snapchat have a dual role: they can be included in messages for expressive purposes and show up next to friends' names as friendship emojis, indicating the level of interaction between you and your friend.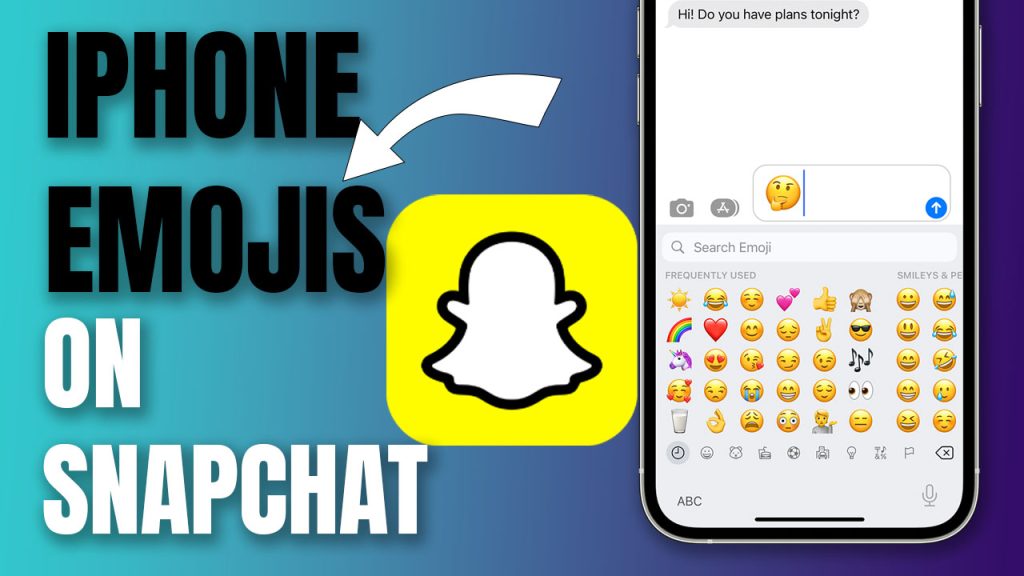 The nature of the emojis displayed can depend heavily on the device used. For example, iPhone users will see iOS emojis, while Android users will see emojis that correspond to their specific Android devices, such as Samsung or Google Pixel style emojis.
One popular demand among Snapchat users is how to get iOS emojis on an Android Snapchat application. If you are an Android user and want to use iPhone Emojis on Snapchat, follow the steps below:
Get iPhone Emojis on Android Snapchat Application
Step 1: Download an Emoji Keyboard
To get iPhone emojis on an Android device for use on Snapchat, you'll first need to download a third-party emoji keyboard that offers iOS-style emojis. There are countless apps available on the Google Play store that offer this functionality. Some include Gboard – Google Keyboard, Emoji Fonts for FlipFont 10, or iMore Emoji Keyboard.
After the successful installation of your chosen emoji keyboard, you need to set it as your default keyboard. To do so, navigate to "Settings"> go to "System"> select "Language & input"> then tap "On-screen keyboard" (or "Virtual keyboard"). Here you should find a list of installed keyboards – Choose your desired one.
Step 2: Enable the Emoji Keyboard
Once you've installed the desired emoji keyboard app, enable it within your system settings for access whenever you open the app in which you wish to use them – such as Snapchat. This is usually accomplished by navigating your phone settings menu.
For most Android devices,
Open "Settings"
Locate and click on "Language and Input."
Select "Current Keyboard."
Then select the name of your newly installed keyboard.
Remember to grant all necessary permissions requested by the keyboard when prompted during setup. They typically need full-access permission in order to function properly.
Step 3: Using iPhone Emojis On Snapchat
After setting up the default font, aka 'emoji keyboard,' proceed to the Snapchat app.
Open the app
Start a chat with anyone (friend or group).
Click the smiley face beside the chat box.
You'll now see a variety of iPhone style emojis instead of your Android's previous version.
With these steps completed correctly, you'll be able to add snaps with iPhone-style emojis via your Android device.
Using WhatsApp as an Alternative Method
While using third-party apps remains one of the easiest means of accomplishing getting iOS emojis for Android Snapchat users directly within the app itself, another creative method involves utilizing WhatsApp — another platform famously known for its extensive collections of iPhone-style emojis.
Through WhatsApp, Android users can access these visually appealing sets by following these steps:
Ensure that WhatsApp is installed on your phone.
Compose a message using WhatsApp's built-in emoji selection
Long press and highlight the entire text along with the added emoji(s)
Copy (CTRL+C/mouse Right click + copy), then navigate back to your Snapchat.
Paste (CTRL+V/mouse right click+paste) into any chat field or add it into any snap just like in normal text form.
Although this may seem like a more arduous process compared to directly having them in-app via third-party keyboards — It does present an attractive alternative approach, especially for those reticent towards installing additional apps due specifically for this purpose alone.
Whether using third-party keyboard installations or leveraging other platforms like WhatsApp, it's entirely feasible for Android users seeking out how to get iOS-like experience in terms of using favored iPhone emoji selections when communicating across the Snapchat platform all from their Android devices. However, always consider privacy implications whenever granting comprehensive permissions required by these apps, ensuring they align with individual comfort levels in regards to ensuring data security & personal privacy concerns — As always, make sure always update any applications regularly, ensuring up-to-date security protocols remain active throughout every usage instance.
FAQs
How do I use emojis on Snapchat?

You can use emojis on Snapchat by tapping on the emoji icon next to the text field while composing a snap or a chat message. This will open up a menu of emojis that you can choose from.

Is Snapchat available on Android?

Yes, Snapchat is available for Android devices. You can download it for free from the Google Play Store.

Can I use iPhone emojis on Snapchat?

Yes, you can use iPhone emojis on Snapchat, even if you are using an Android device. However, the exact steps may vary depending on your device and the version of Snapchat you are using.

How do I get iOS emojis on Android?

To get iOS emojis on your Android device, you can use a third-party keyboard app that offers iOS emoji support. You can download such keyboard apps from the Google Play Store.

Can I use iPhone emojis on Android in Snapchat?

Yes, you can use iPhone emojis on Snapchat even if you have an Android device. However, the appearance of the emojis may vary slightly from the original iOS versions.

Can I use iOS emojis on Android devices?

Yes, you can use iOS emojis on Android devices by installing a keyboard app that provides iOS emoji support. This will allow you to use iOS emojis in various apps, including Snapchat.

How do I get iPhone emojis on Snapchat Android?

To get iPhone emojis on Snapchat Android, you need to obtain the iOS emojis on your Android device first, either by using a third-party keyboard app or through other methods. Once you have the iOS emojis available on your Android device, you can use them on Snapchat.