Due to the pandemic, a lot of people around the world including celebrities resort to vlogging as a way to share information or convey ideas to their followers. But unless you've already built a big follower base on social media, we all know that vlogging can be difficult because you won't be able to earn much from it especially when you're still starting up.
It's a good thing that some companies developed vlog editing software that they offer for free. Today, we already have a lot of options to choose from on what software to use to edit short vlogs. If you have a smartphone with a decent camera, you won't find it hard to edit your videos anymore.
If you're a Mac user and are thinking of starting your own channel, then continue reading as we will list down the best free vlog editing software for Mac in 2023.
Best Free Vlog Editing Software for Mac
The first on our list is the VideoProc Vlogger, which is available for both Windows and Mac. Its user interface is simple and intuitive and it's best for beginners who don't have a background in video editing.
Most of the time, for vloggers who are still starting out, basic editing is required to produce a decent content. It includes splitting the video, changing the speed, cropping, changing the motion dynamics, and adding texts and backgrounds, etc., which VideoProc can do without a problem.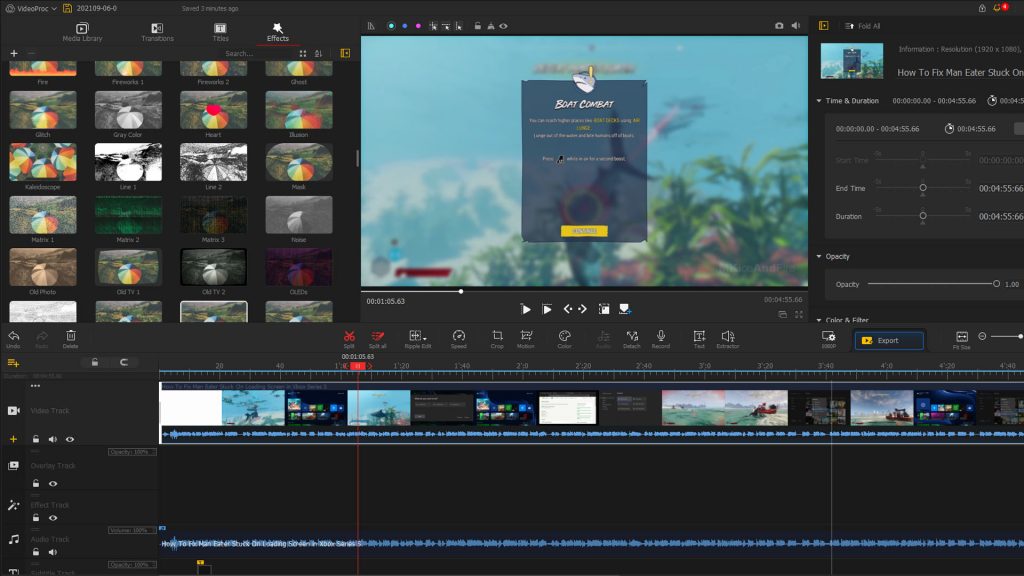 When it comes to transitions, VideoProc Vlogger has 64 built in transitions which include the famous Fade and Fade to black. Other commonly used transitions are Dissolve, Dreamy, Glitches, Blurs and Wipes are also included.
Adding texts and tiles is also not a problem with this solution. In fact, doing it is easier than other software. There is a Text icon just below the preview window, which you simply have to click to add overlay texts anywhere on your video. You may also add credit titles and subtitles using VideoProc Vlogger's templates. It also has 50 built-in filters and you can choose from to make your content cooler.
Another thing that makes VideoProc Vlogger stand out from the crowd is that it allows users to export watermark-free videos in various aspect ratios without quality loss. Who would want to degrade the video quality if they are in awesome 8K, 4K, or 1080p. And it would just take a few minutes to export the video thanks to the GPU hardware acceleration.
Download it Now: VideoProc Vlogger
2. iMovie
If you've been a Mac user for months or years, then you already know that Apple also has a free video editing software for users who are still trying to learn how to create amateur content.
It also has a pretty intuitive, easy-to-learn user interface and controls that even grade schoolers can master in an hour or two. You can start by recording videos on your iOS device and do light editing on it and then continue your project on your Mac computer.
It has a green screen effect like any other video editing software with masking controls and strength adjustments that let you fine-tune the effect for maximum believability. Aside from that, you can also create effects like picture‑in‑picture, or split screen and play them back instantly. It is available for Mac and iOS users.
Download it Now: iMovie
Another amazing free, open-source video editor is OpenShot. Available for Mac, Windows and Linux users, it's designed to be an easy to use and quick to learn editor with hundreds of built-in features you can enjoy and use without spending a dime.
Among the most intuitive features while editing videos is its capability to drag and drop video, audio, or images from your file manager into OpenShot. You can quickly trim down your videos, and find those perfect moments with its Trim & Slice controls. Or you can fade, slide, bounce, and animate anything in your video project using its powerful animation framework.
It is available in more than 70 languages so it won't be a problem where you're based, and you can add as many layers as you need for watermarks, background videos, audio tracks, and more.
Download it Now: OpenShot Video Editor
4. Shotcut
Shotcut has been around for 10 years now and it's one of the open-source video editing software that many content creators have been using for years. If you're looking for a software you can practice on before moving on to premium software, then Shotcut can give you a lot of knowledge and experience in video editing.
It comes with a bunch of necessary video and audio effects you can use for your videos, offers wide video format support including 4K resolution, and makes basic video editing even easier with its easy to learn editing features, which includes trimming on source clip player or timeline with ripple option, append, insert, overwrite, lift, and ripple delete editing on the timeline and many more.
Download it Now: Shotcut
5. Blender
If you're into 3D modelling, visual effects and animation, then Blender is for you. It comes with a built-in video sequence editor that allows you to perform basic actions like video cuts and splicing, as well as more complex tasks like video masking or color grading.
It might require more in-depth knowledge in visual editing and modelling but it's one of the powerful tools you can find and download from the Internet for free. Aside from that, it has an awesome community of developers and creators you can get support from if ever you need to learn more.
Download it Now: Blender
It's all up to you which of these software you want to use to start vlogging. We hope that this post can help you one way or the other.