iPhone On Silent But Still Makes Noise? There are times when a device would suddenly act weird for no apparent reasons. Just like what some iPhone owners have encountered with their respective iOS device. One of the uncommon and most peculiar issues faced by random iPhone users is on the notification sounds that are still playing even when the phone is set to silent mode or in Do Not Disturb (DND) mode.
Apparently, it's a system inconsistency that may not be big deal to many but to others, must be remedied. In case you'd bump into the same dilemma with your new iPhone device and that you feel the need for corrections and resolutions, then this post may be able to help you. Read on to learn what options to try on when dealing with the iPhone notifications sounds that would still play even when silent mode or DND is enabled.
Before going further, if you found this post because you were trying to find a solution to iPhone On Silent But Still Makes Noise problem, then try to visit our troubleshooting page as we've already addressed most of the commonly reported issues with the phone. We've already provided solutions to some of the problems reported by our readers so try to find issues that are similar with yours and use the solutions we suggested. If they don't work for you and if you need further assistance, fill up our iPhone issues questionnaire and hit submit.
Fix An Apple iPhone On Silent But Still Makes Noise
When your iPhone is set to silent mode but still produces sound, it can be frustrating. To resolve this issue, there are a few troubleshooting steps you can try. First, check your device's settings to ensure that the ringer switch is indeed set to silent. Sometimes, the switch may be accidentally toggled back on, causing the phone to make noise. Additionally, restarting your iPhone can help reset any software glitches that might be causing the problem. Finally, keeping your device's software up to date is essential, as software updates often include bug fixes and improvements that can address issues like this. By following these steps, you can restore the silent functionality to your iPhone and enjoy a quieter experience.
First solution: Toggle silent/ring mode then restart your iPhone.
The ringer switch (hardware) is located on the upper-left side of your iPhone. If the switch is in red position, that's when Silent Mode is enabled and your iPhone sound should be turned off. Otherwise, the phone is set to Ring Mode and sounds are enabled. If it's in Ring Mode, simply flip the switch downwards to switch to turn Silent Mode on and turns off sound on your device.
After flipping the Ringer switch and setting it to Silent Mode position, reboot your iPhone to clear and refresh its memory. For starters, you can do a soft reset or force restart on your iPhone. Both these methods are effective in terms of eliminating minor software errors that caused random device issues.
To soft reset an iPhone , simply follow these steps: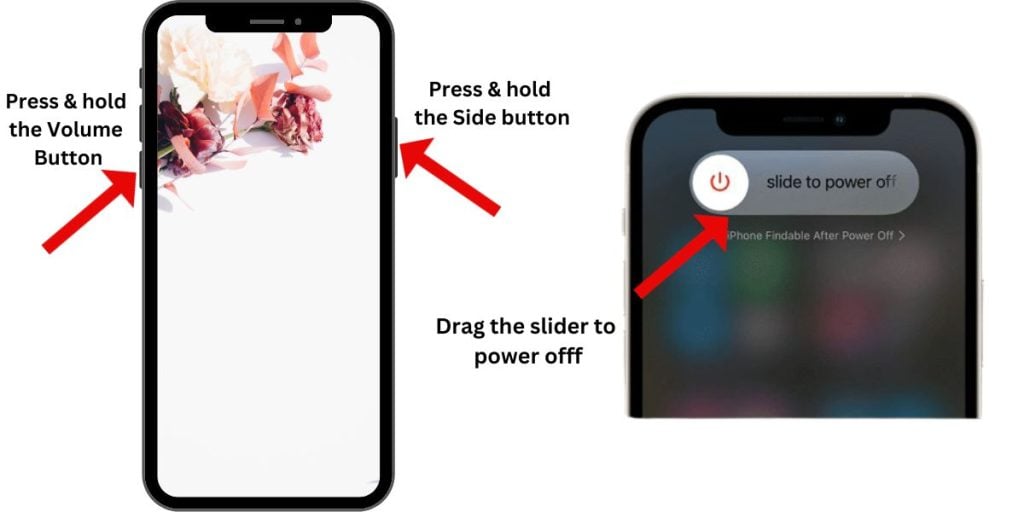 Press and hold the

Side/Power button

and either

Volume buttons

simultaneously for a few seconds.

Release the buttons when the

Slide to Power Off

command appears and then drag the power off slider to the right.

After 30 seconds, press and hold the

Power/Side button

again until the phone reboots.
To force restart an iPhone, refer to these steps: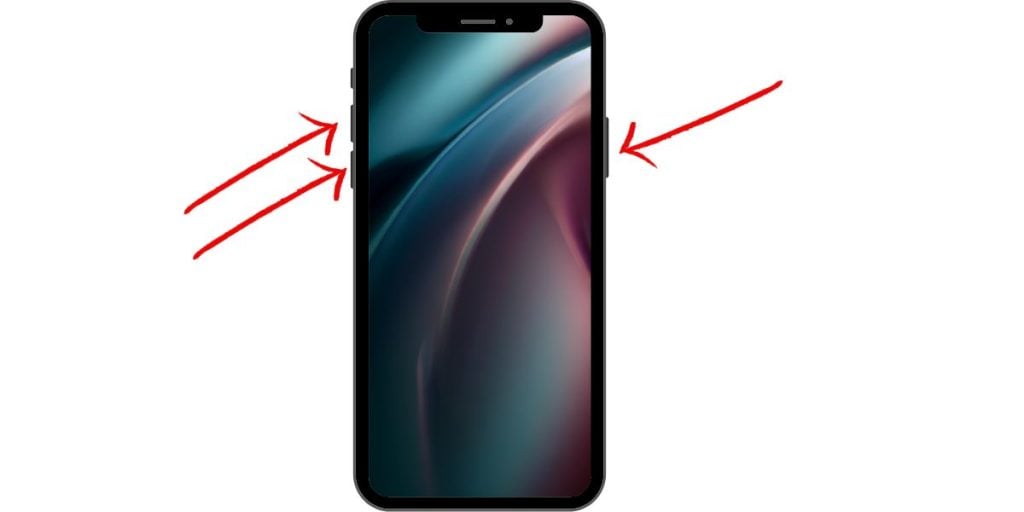 Press and quickly release the

Volume Up button.

Press and quickly release the

Volume Down button.

Then, press and hold the

Power button

on the side of the phone and then release when the phone restarts.
Wait until your phone boots up and then try to see if the notification problem is already gone.
Second solution: Turn on or manage Do Not Disturb feature on your iPhone.
If your iPhone  notification alerts still sound with DND enabled, then you may haven't configured some exceptions properly. To rule this out, check and manage your iPhone's DND settings and make necessary changes. Here's how to access Do Not Disturb settings on an iPhone: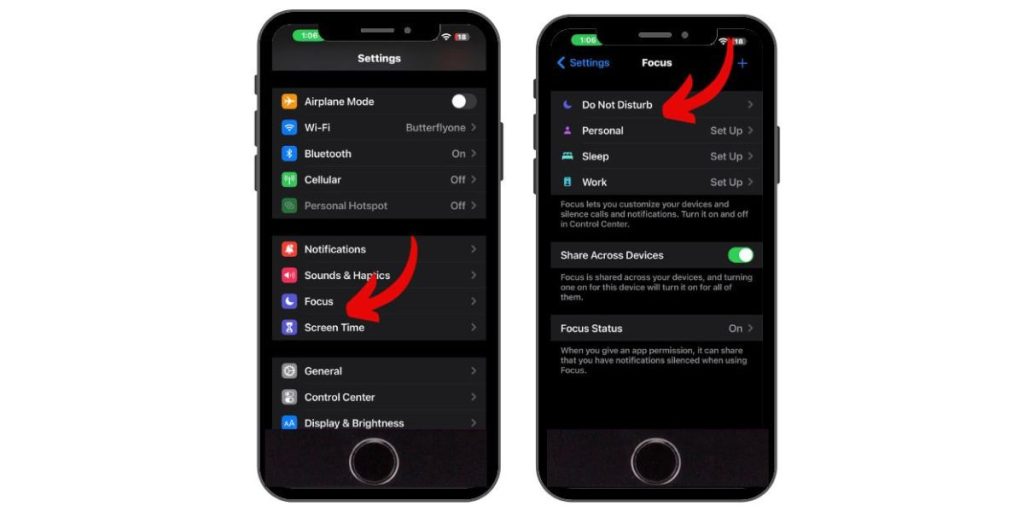 Tap

Settings

from your Home screen.

Select

Do Not Disturb.

If you want to enable

Do Not Disturb

completely, then simply toggle the switch next to

Do Not Disturb

to turn

ON

position.
Be sure to manage your DND exceptions if you've set some exceptions for DND to take effect. Your iPhone may still sound for notification alerts even if DND is enabled due to some exceptions. For example, you might have turned ON Do Not Disturb only while the iPhone is locked. In that case, you need to set the Silence option to Always.
Also verify and ensure that the date and time on your iPhone are set correctly. The date and time must be correctly configured because they're among the attributes to consider when Do Not Disturb feature is set to activate on schedule (certain period of time and date). If necessary, set the date and time to Automatic so that the phone will use automatic date and time information based on your current location timezone.
Third solution: Reset all settings.
If the problem started after installing a new update, then it could potentially be remedied by resetting all settings on the phone. This reset will wipe all customized options and then restores the original values and configuration. Any invalid or improper customization that directly or indirectly affects the iPhone's notification functions will likewise be eliminated. Unlike a factory reset, this reset does not affect any saved information on the phone, thus there's no need for backup creation beforehand. Should you wish to give it a shot, then simply refer to these steps: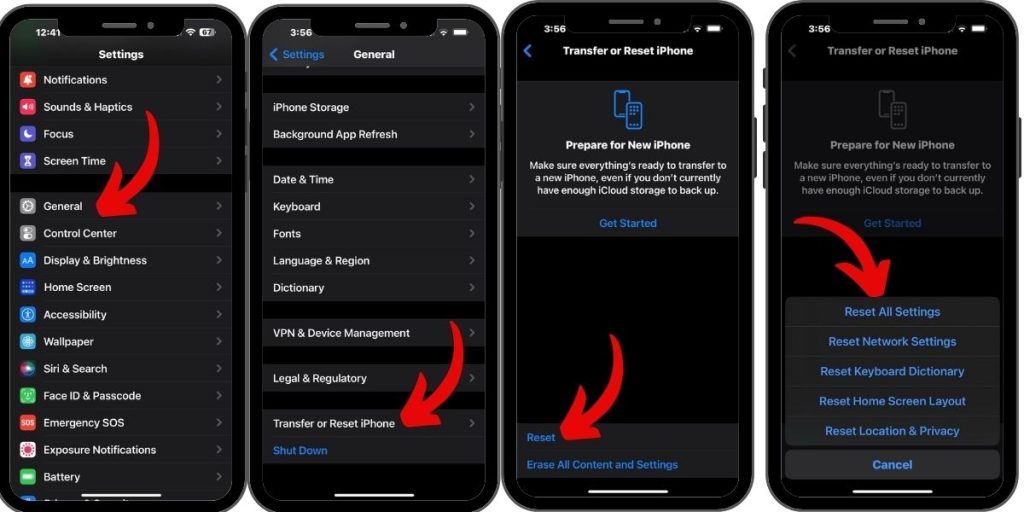 From your Home screen, tap on

Settings

.

Select

General

.

Select Transfer or Reset iPhone

Scroll down to and then tap on

Reset

.

Select the option to

Reset all settings.

If prompted, enter your passcode to proceed.

Then confirm settings reset.
Your device will then instigate the reset process and then restarts automatically when it's finished. After it boots up, check and make sure that Silent Mode or Do Not Disturb is enabled. Then try and see if all notifications are now silenced or muted.
Fourth solution: Install new updates.
For sound problems including notification errors that are attributed to malwares and software bugs, installing new updates can also be regarded among the potential solutions. Updates usually embed some fix patches that are programmed to eliminate bugs that might have ruined the audio system, particularly the notification functions of the phone. If your iPhone can connect to Wi-Fi internet, then check for new iOS update to download and install on your device via over-the-air (wirelessly). Here's how: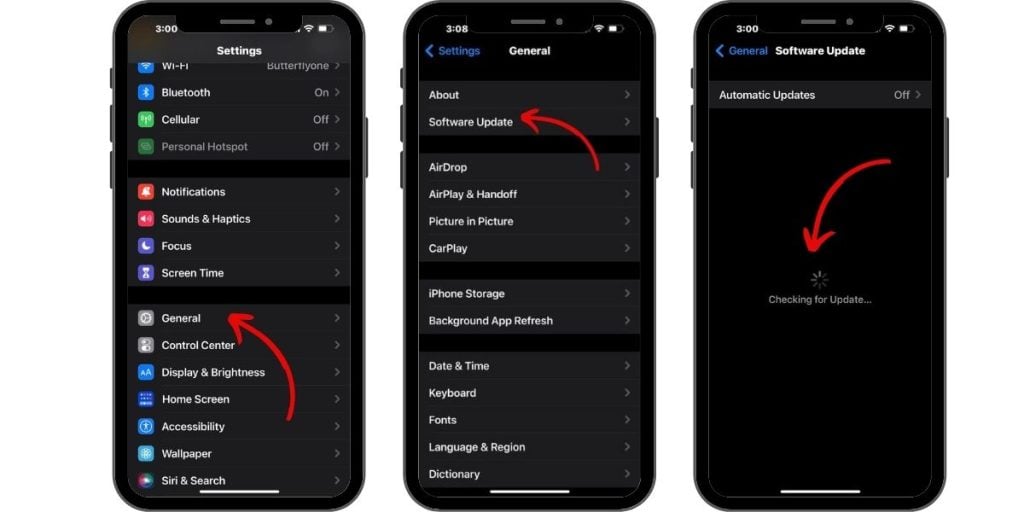 Tap

Settings

from the Home screen.

Select

General

.

Tap

Software Update.
If a new update is available, your device will prompt an update notification containing the software version, its features and bug fixes offered. Just follow the onscreen instructions to download and install the update on your phone then.
After updating, reboot your iPhone, check and ensure it's muted and then see if notification sound errors are already fixed.
Fifth solution: Reset and restore factory default settings (master reset).
If none of the prior methods work and your iPhone continues to play notification sounds even when in silent mode, then you're likely dealing with a complex system error, if not a defective audio component. To rule out major system errors, you may resort to performing a master reset to wipe everything from your phone system including tough bugs that might have corrupted the audio system and caused it to fail. But before you do so, don't forget to back up all your important files so you can just recover them after the reset. Note that this reset will affect all your saved contents, thus backing up of files is required to prevent permanent data loss. Once you're all set, you can proceed with these steps to reset your iPhone  to its factory default settings via settings menu: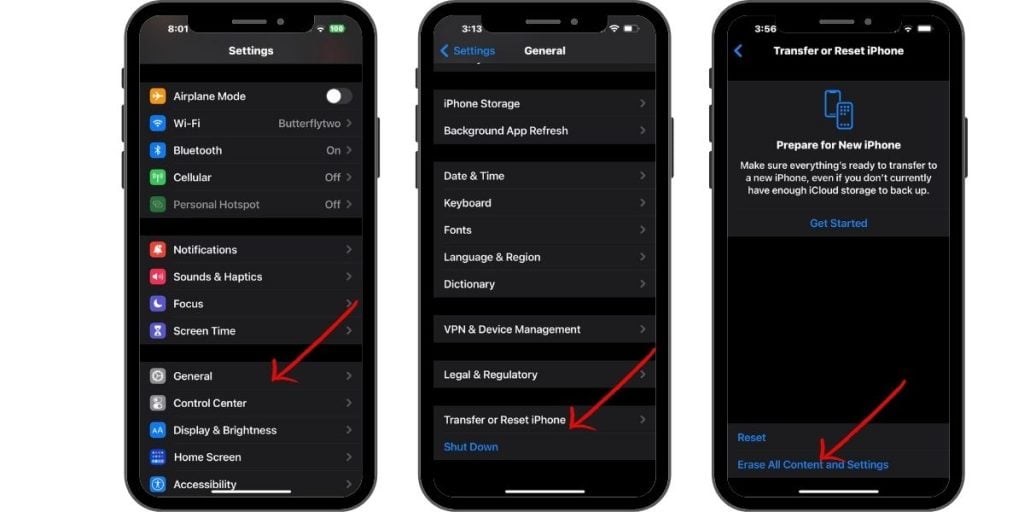 From your Home screen, tap on

Settings

.

Select

General

.

Select Transfer or Reset iPhone

Select the option to

Erase all contents and settings.

If prompted, enter your passcode to proceed.

Then confirm full system settings reset.
After the reset, you may proceed with the initial setup process and set up your device as new. Then test if notification alerts are already muted when the phone is set to silent mode.
Other options
System restore.

You may opt to troubleshoot further if you think you're dealing with more complex system errors. In this case, your remaining options would be either a recovery mode restore or DFU mode restore. Both these restore methods are carried out using iTunes on a computer. Be sure to use the latest version of iTunes and that your computer must be running on an operating system that's compatible with that of your iOS device. Once everything is set, you can proceed with an iTunes restore either via recovery mode or DFU mode. A more detailed walkthrough on how each of these restore methods is carried out can be found on this site's tutorials section. Feel free to visit the iPhone troubleshooting page to access this information.

Service. If you doubt that it's a software-related issue, then you can also take your iPhone to the nearest Apple service center in your area and have it thoroughly assessed by an authorized technician instead. While this could be a rare occurrence, some sound problems transpiring on an iOS device are attributed to a bad hardware or audio component. Should that be the case, then your iPhone needs service. You can also talk to your iPhone provider so you can avail for service warranty or unit replacement, if you're iPhone is still covered.
I hope that we've been able to help you fix iPhone on silent but still makes noise problem with your device. We would appreciate it if you helped us spread the word so please share this post if you found it helpful. Thank you so much for reading!
RELEVANT POSTS: