So you're trying to log into your Facebook account but are faced with an error saying that "An unexpected error occurred. Please try logging in again." You tried again but still getting the same error prompt. Apparently, something went wrong and needs to be fixed. Read on to find out what to do whenever you encounter the same Facebook login error on your iPhone SE 3 2022.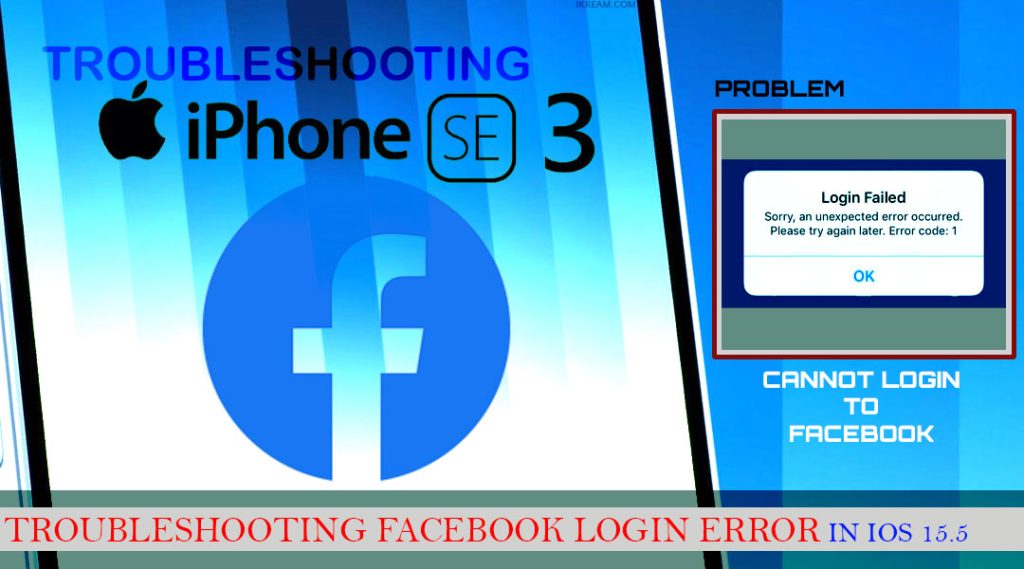 Why do Facebook Login errors occur?
Logging into Facebook is fairly simple for as long as you've got the registered account information. However, bumping into random errors while using online apps and services is just inevitable as they can be triggered by many different factors.
A very obvious reason as to why you aren't able to log into your Facebook account is because the credentials you've entered were incorrect. This typically happens when you mistype the username or password.
Apart from incorrect account information, software-related factors can also trigger random errors to occur while using Facebook. Ruling them out is therefore a key to obtaining the ultimate solution.
Among the common culprits that you should consider ruling out are minor software glitches, settings conflicts, faulty updates, data corruption and some malware. Network-related problems as well as memory issues on the device are likewise deemed among the underlying causes.
Some Facebook errors are also attributed to ongoing service outages tied to a scheduled server maintenance or unexpected technical difficulties.
Generally, the underlying cause is software-related and therefore possible to fix by end-users.
Outlined below are simple tweaks that are deemed useful when resolving unexpected Facebook problems on an iPhone including login errors. Feel free to try any of the given solutions whichever you think is applicable to you.
Troubleshooting Facebook Login error on iPhone SE 3 (2022)
Before you begin, verify and ensure that your iPhone is connected to the internet. You won't be able to sign in and use Facebook if there's no internet. The same goes when the internet connection is unstable and very slow.
If the internet is working fine, then you may go ahead and start troubleshooting Facebook app problems on your iOS device.
Don't forget to retry logging into Facebook after applying each of the given solutions to determine whether or not the error is gone.
Solution #1: Quit then restart Facebook app.
If you were able to use Facebook on your iPhone before without having trouble logging in and then suddenly here comes this error, then it could be just a random in-app glitch.
To clear this out, restarting the Facebook app on your iPhone should suffice. Thus, the first suggestion is to terminate and then restart Facebook.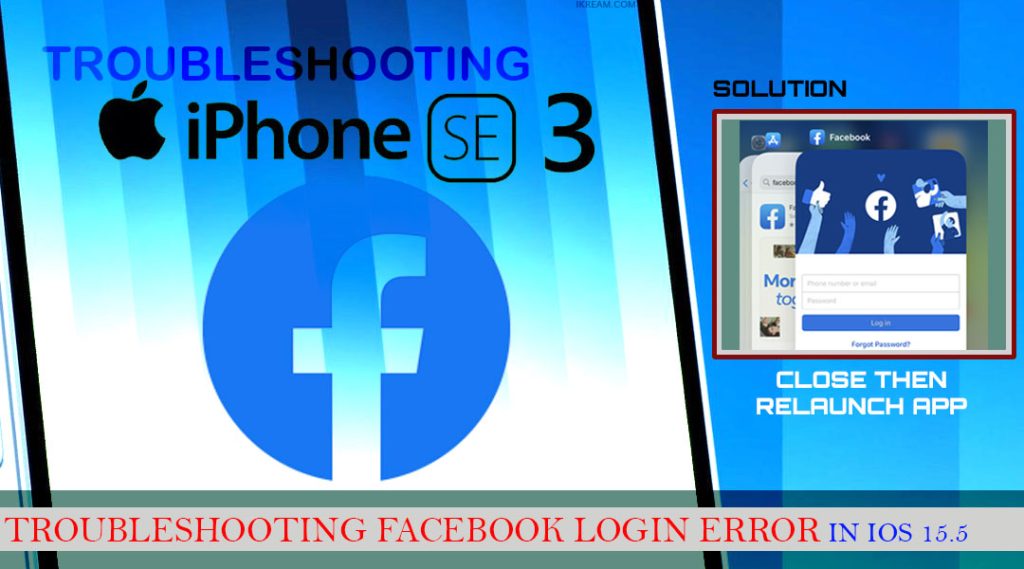 So here's what you should do first:
Open the multitasking view by double-pressing on the Home button.
Swipe right or left to locate Facebook app's preview and then swipe up on it to close the app.
Do the same to other recently used apps that you've left open and running in the background so none of these apps would interfere with Facebook the next time you launch it.
Solution #2: Refresh your iPhone's internet connection.
Refreshing the iPhone's internet connection is also recommended to clear out minor network flaws that might have resulted in some conflicts with online apps and services like Facebook.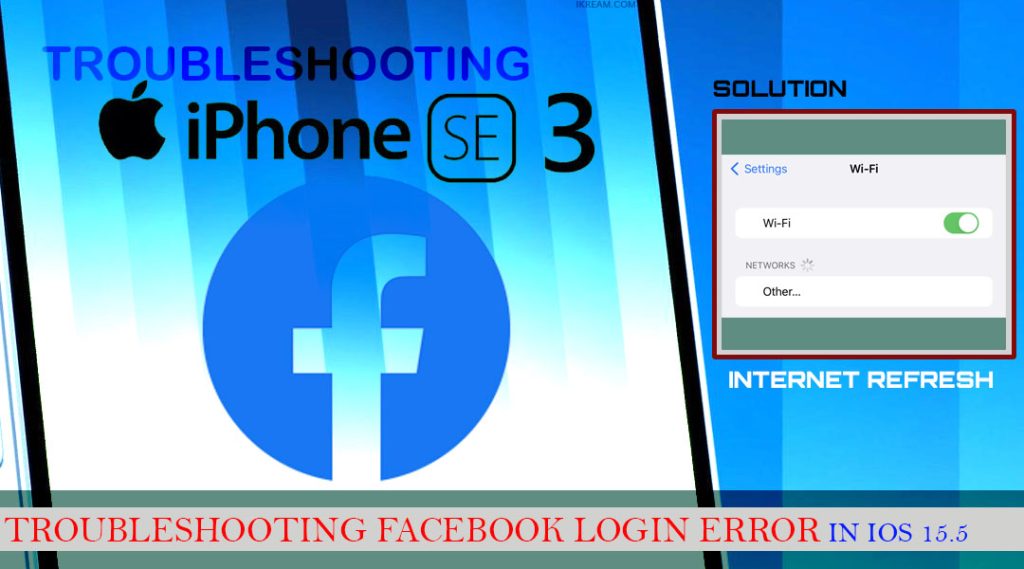 There are many ways to do this on your iPhone.
If you're on Wi-Fi, turning the Wi-Fi switch OFF and ON through the settings menu or from the Control center is the first recommendation.
If you're on Cellular data, turning the cellular data switch off and on through settings or control center could be the solution.
You can also carry out a simultaneous internet refresh using the Airplane mode tweak that's done by heading over to Settings-> Airplane mode menu and then turn the switch ON and OFF.
Turning Airplane mode on simultaneously disables all wireless features of the phone including Bluetooth, cellular and Wi-Fi connections. Turning Airplane mode off again will reverse the process and turn all wireless features of the phone back ON at once.
Surprisingly, performing this tweak also clears out any minor flaws transpiring on any of the wireless apps and services. That said, it may be able to fix the Facebook app that's glitching on your iPhone.
Solution #3: Reboot your iPhone (soft reset).
The next factors that you should rule out are minor system errors that may be causing Facebook problems on your iOS device. And the recommended solution is to reboot the iPhone.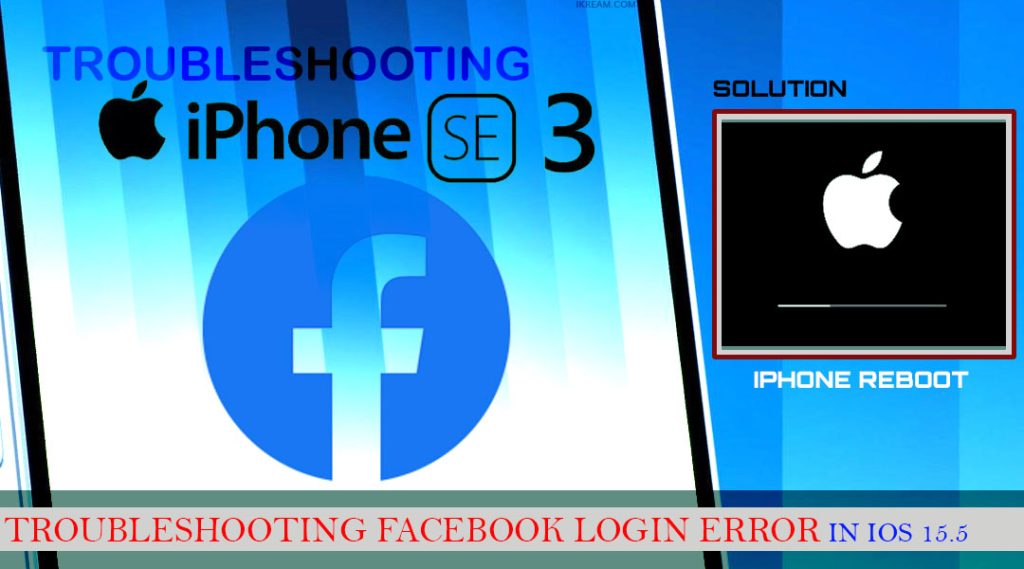 Rebooting an iPhone is also a way to clear out system cache including residual data fragments that have gone corrupted and eventually caused conflicts to other apps and system functions.
If your iPhone is responding normally, performing a soft reset is recommended. Otherwise, a forced restart would be necessary.
To restart/soft reset the iPhone SE 3, press and hold the Power button for a few seconds and then release it when the Power off slider appears. Drag the slider to the right to power off the device completely.
After 30 seconds, press and hold the Power button and then release when the Apple logo appears.
To force restart the iPhone SE 3, press then quickly release the Volume Up button then quickly press and release the Volume Down button. Finally, press and hold the Power button until the Apple logo appears.
Allow the phone to finish rebooting and re-establish a stable internet connection.
As soon as it gets back online, relaunch Facebook and retry logging in to see if the error is gone.
Solution #4: Install pending updates for Facebook app and iOS.
Software updates are also considered potential solutions to various types of system errors, particularly those that are triggered by software bugs and malware.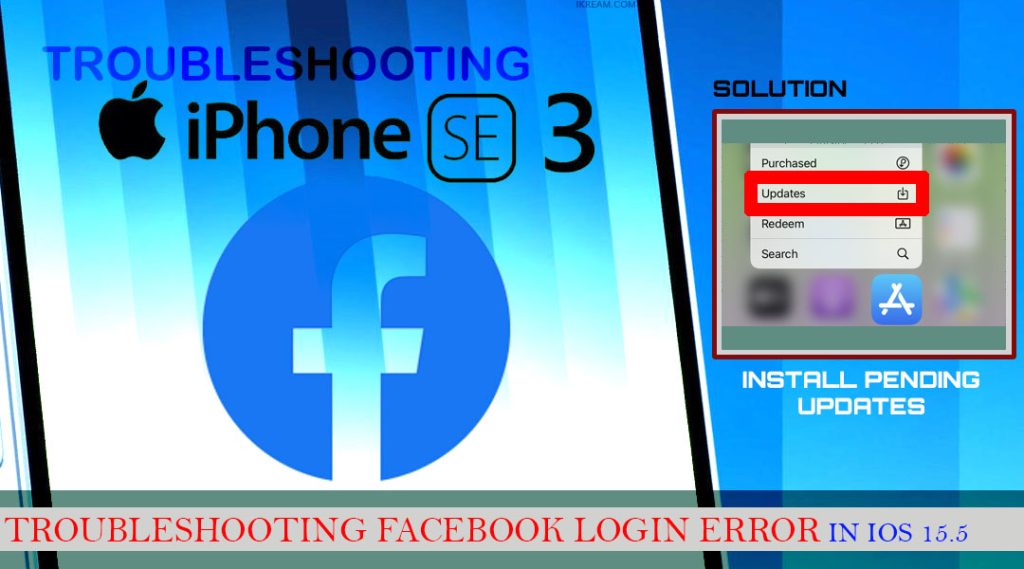 That said, installing the latest version available for the iOS Facebook app is recommended.
To check for pending app updates, you will need to open the App Store on your iPhone and then go to the Available Updates section. To update individual apps, tap the Update button next to the name of the app. To update all apps at once, tap Update All instead.
Aside from app updates, installing the latest iOS version available for your iPhone is also encouraged as these updates may contain critical patches that are designed to get rid of stubborn bugs.
To check for new iOS updates, go to your iPhone Settings-> General-> Software Update menu and wait for your phone to scan for new updates. If available, tap Download and Install then follow the rest of the onscreen instructions to finish updating the iPhone.
Your phone may instigate automatic system reboot after updating so just wait until it's finished rebooting.
Just make sure that your phone is sufficiently charged, has ample storage space and stable internet connection to ensure successful updating.
Solution #5: Manually offload Facebook then redownload the app.
Some in-app glitches are inflicted by corrupted temporary files that are stored in the app's cache. To clear this out, manually offloading the app can help.
Offloading deletes the app from the system without affecting the app's data and other relevant documents. That said, you would still be able to use all your saved information on your Facebook account the next time you redownload and install the app on your phone.
Should you wish to give it a shot, just go to Settings-> General-> iPhone Storage menu and then select Facebook from the list of apps. While on the Facebook app's info screen, tap Offload App, read the pop-up message and then tap Offload again to confirm.
To redownload the app, just go to your Home screen then tap on the offloaded Facebook icon. Doing so instigates automatic re-downloading of the application.
As soon as the app is finished installing, launch it and try logging into your Facebook account to see if it's already working.
Still unable to sign into Facebook and getting the same error message?
If the error continues after doing all the aforementioned solutions, then there must be something else from the iPhone system that's triggering it.
At this point, try to verify the date and time settings and ensure that the information is correct. If necessary, set your device to use Automatic date and time information so it will use the same date and time information on your current location's time zone. Online apps may not be able to work as intended when the date and time is incorrect as it couldn't synchronize with the main server.
If configuring the date and time information doesn't do any good, then you may resort to performing the iOS reset options.
There are different reset options available on an iPhone but you only have to execute the most relevant. In this case, the most applicable resets are the reset network settings and reset all settings commands.
A. Reset network settings
This reset works by deleting all recent custom network changes you've made to your phone's settings including saved Wi-Fi networks, Bluetooth devices and cellular data options. Any system errors tied to invalid or incorrect network configurations will likewise be removed and so will the associated symptoms. Performing this reset will therefore solve the problem if the Facebook login error is due to some errant network configurations on the iPhone. It does not affect any user data from the iPhone storage so all your downloaded contents and saved files remain intact.
B. Reset all settings
This reset works by deleting all system settings including personalized apps settings, custom networks, default apps and preferences.
Performing this reset is often deemed among other potential solutions to recurring system errors and in-app glitches tied to settings conflicts from recent system alterations as well as automatic update overrides.
This reset however is different from a factory reset as it does not affect any user information from the internal storage of your iPhone. This means that all your important files will not be deleted.
After the reset though, you will need to re-enable necessary features that are disabled by default and set default apps to process certain file types or data protocols.
C. Uninstall then reinstall Facebook
A drastic solution is to completely uninstall the Facebook app from your iPhone. This is usually needed if corrupted app fragments are the root cause of the problem. The same goes when the Facebook app itself got corrupted as the only way to get it back up and working properly again is a fresh install.
To uninstall Facebook app on the iPhone SE 3, press and hold on the Facebook app icon from the Home screen and then release when the quick menu options appear. Tap Remove App from the menu items then tap Delete App from the pop-up warning to confirm.
To reinstall the app, just head over to the App Store and search for Facebook. Tap Facebook app from the search results and then tap the Get icon next to it to instigate download and installation procedures.
Unlike offloading, uninstalling deletes everything from the app including your saved Facebook data, images, videos and other added files from your account. In return, you'll have a fully functional, smoothly working Facebook app on your iOS device.
Could it be a service outage?
If the error continues after applying all the given solutions, there's a good chance that it's a meta server issue.
Check the Facebook's server status or search the web for new reports about Facebook site outages. You can do a quick service outage search using free platforms like down detector or Google search.
Despite how stable the Facebook platform is, there's always a time for unexpected technical difficulties to arise from the main server resulting in service outages. When this happens, Facebook and other related services may not be able to work as intended or totally become inaccessible.
On a positive note, service outages are immediately addressed and thus, Facebook should be back up and running in no time.
Please keep posted for more comprehensive iOS tutorials and troubleshooting guides on this site. Or you can check out this YouTube channel to view more comprehensive tutorial and troubleshooting videos including recent iOS devices.
You Might Also Want To Read: