Network problems, App Store glitches, server downtimes, and memory problems are among the common factors to consider when dealing with problems on app downloading or updating. But in the case where your iPhone won't download apps or update them after iOS 13, update bugs are likely the main culprits.
iPhone Won't Download Apps?
Simply follow these 3 steps to fix your Phone with ReiBoot, No data loss, FREE
Click to download ReiBoot to your PC or MAC
Connect your device
Run ReiBoot to resolve the issue
Work for iPad & iPhone 14/13/12/11/XS/XR/S/8/7/6/5s/5
Highlighted below are potential solutions to a similar issue on the iPhone that is suddenly unable to download or update apps following the iOS 13 implementation. Read on to learn what to do in case you'd bump into the same issue after updating your Apple iPhone to the latest iOS version.
For those who are looking for a solution to a different problem, drop by our troubleshooting page for we have already addressed some of the most common issues with this phone. Browse through the page to find issues that are similar with yours and use the solutions we suggested. If they don't work for you or if you still need our help, contact us anytime through our iOS issues questionnaire.
What to do if iPhone won't download apps
Before you start troubleshooting, check your iPhone's memory status and make sure that it still has ample of storage space left to allocate new contents including update files. One of the main reasons as to why you won't be able to download new apps or install new app updates is insufficient storage space. To check the available memory of your iPhone, simply head on to Settings-> General-> iPhone Storage menu and then see how much is the available storage. If it's below 1 gigabyte, then insufficient memory is likely the underlying cause of the problem. In that case, freeing up space is the key solution. You can free up space by deleting old and unwanted contents from your iPhone.
If memory is not the problem, then you can go ahead and rule out other factors that might have prevented your iPhone from updating or downloading new apps after the iOS 13 update. You may start whenever you're ready.
First solution: Quit the App Store, then restart your iPhone.
Not only third-party apps could go rogue after a major system transition. Even pre-installed apps could act up too. This usually happens if you've left the app opened or running in the background during the iOS update installation. Apps in this state usually ended up being corrupted. And the Apple Store app on your iPhone is no exception. Typically, the transpiring symptoms are just minor and so they can easily be remedied by restarting the app. So here's what you can do first:
Head on to the

Home

screen, to get started.

Then, swipe up from the bottom of the screen and pause slightly in the middle of the screen.

Swipe right or left to navigate through app previews.

Then, swipe up on the

App Store

app's preview to close it.
Do the same to clear all the rest of your background apps to prevent them from causing conflicts to the App Store.
If you're using an iPhone with a physical Home button, follow these steps to end all or force close background apps instead:
Go to your

Home screen

and press the Home key twice to view recent applications.

Swipe up on the App Store

app preview

to close it.

Do the same to close other background apps.

Then tap anywhere on the

Home screen

or press the

Home key

to go back to the Home screen.
After clearing all background apps, restart/soft reset your iPhone to clear its memory cache and to refresh the apps. Here's how:
Press and hold the

Top button

and either

Volume button

until the

Power Off

slider appears.

Drag the slider to power off your device completely.

After 30 seconds, press and hold the

Top button again

until the Apple logo appears
To restart/soft reset iPhones with physical Home buttons, follow these steps instead:
Press and hold down the

Power/Top button

for a few seconds until the

Power off

slider appears.

Drag the slider to power off your device.

After a few seconds, press and hold the

Power/Top button

until the Apple logo appears.
Allow your device to finish its boot-up sequence and re-establish Wi-Fi internet access. Once it's connected, open the App Store again and retry downloading or updating your apps.
ALSO READ: Apple iPhone iOS 13 update gets stuck on Resume Download
Second solution: Clear App Store cache.
Junk files, particularly corrupted temporary data that are stored among other App Store caches can also cause conflicts to the App Store and thereby results in download or update failure. In cases like this, clearing the app cache will likely solve the problem. Unlike other apps on your iPhone, there's a trick to clear App Store cache without deleting or offloading the application. Here's how it's done:
Tap to open the

App Store

app from your Home screen.

From the App Store main screen, scroll down to the bottom until you reach the different tabs.

Tap

10 times

(consecutively) on any of these tabs.
After the 10th tap, you should notice that the screen somehow refreshes. That's an indication that the App Store cache has been cleared and refreshed.
Give your iPhone another reboot afterwards and then see if the problem is fixed.
Third solution: Toggle Wi-Fi off and on again.
Network connectivity issues from slow Internet to intermittent connection can also be the main reason as to why App Store downloads and updates failed. To clear this out, try to refresh your Wi-Fi internet connection by toggling the Wi-Fi switch on your iPhone off and on again. Here's how:
From the Home screen, tap on

Settings

.

Select

Wi-Fi

.

Then toggle the switch to turn Wi-Fi off.

After a few seconds, toggle the switch again to turn Wi-Fi back on.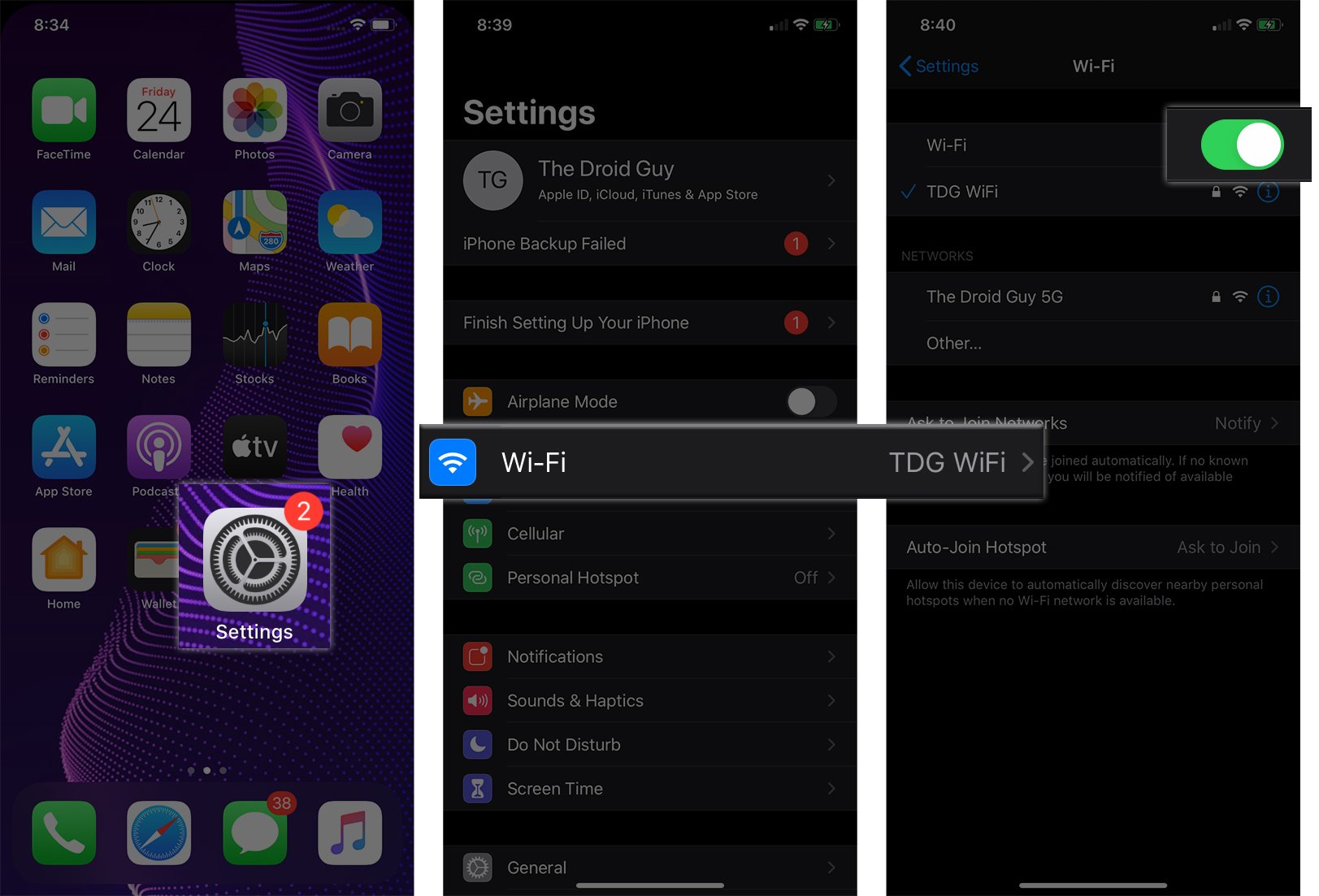 If that doesn't solve your Internet problem, then you can try forgetting the Wi-Fi network and any other saved networks from the phone's Wi-Fi network folders. And then add it back like the first time you set up Wi-Fi network on your phone. Here's what you should do then:
Go to

Settings-> Wi-Fi

menu and then make sure that the Wi-Fi switch is turned on.

Navigate to the list of available Wi-Fi networks.

Select the Wi-Fi network that you want to forget.

Then tap the

information "i" icon

next to the name of the Wi-Fi network to forget.

Tap

Forget This Network

to continue.

Then confirm that you want to

Forget Network.

If you see any other saved Wi-Fi networks, delete them all using the same procedures to prevent any of them from causing conflicts to your Wi-Fi network.

After deleting Wi-Fi networks, reboot your device and then go back to

Settings-> Wi-Fi

menu.

Toggle the Wi-Fi switch off and on. When the list of Wi-Fi network shows up, tap to select your preferred Wi-Fi network to use and then tap

Join

or

Connect

.

If prompted, enter the correct Wi-Fi password to proceed.
Wait for your device to establish a stable connection to Wi-Fi internet and then see if that solves the problem with your App Store downloads and updates.
ALSO READ: How to fix iPhone battery draining faster after iOS 13 update
Fourth solution: Toggle Airplane Mode on and off.
Another old trusted trick that's been known to resolve various types of problems affecting wireless services is the so-called Airplane mode trick. It works by simultaneously turning off the phone's wireless radios and relevant functions and then turning them back on again. Here's how it's done:
Go to the Home screen then tap

Settings

.

Select

Airplane Mode.

Then toggle the switch to turn Airplane Mode on. Doing so disables wireless radios and relevant features simultaneously.

While Airplane mode is turned on, reboot/soft reset your iOS device to clear out junk files and any corrupted temporary network data.

Wait for the device to finish booting up.

Once the reboot is finished, go back to

Settings-> Airplane Mode

menu.

Then toggle the Airplane Mode switch to turn the feature

OFF

again. This will re-enable the wireless radios and functions on your iPhone.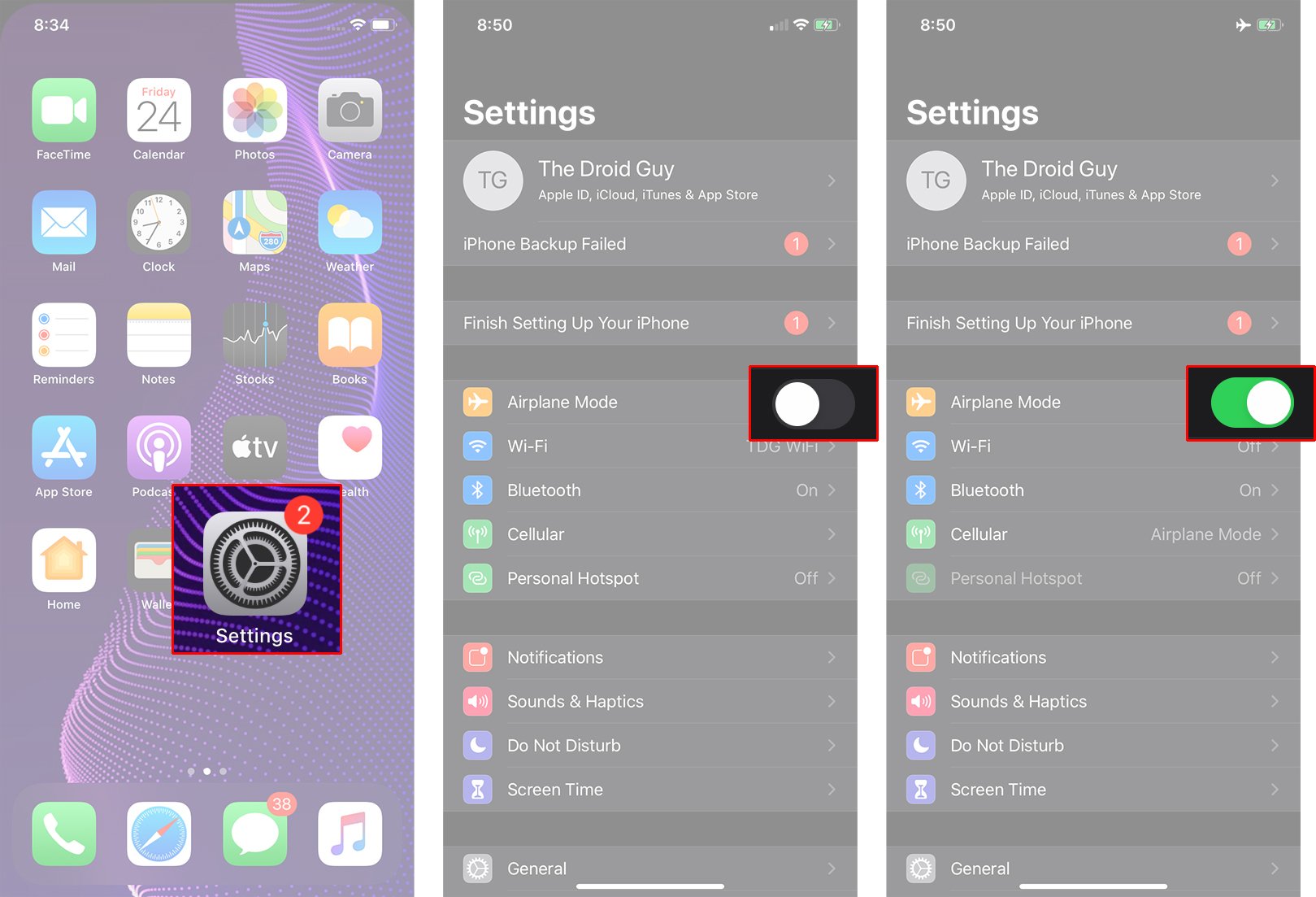 Reconnect to your Wi-Fi network and once the Internet resumes, open the App Store and retry downloading or updating apps.
Fifth solution: Disable restrictions feature on your iPhone.
When enabled, restrictions can also halt app downloads and updates via App Store. To make sure that this isn't the underlying cause, check and manage your iPhone settings and disable restrictions, if necessary. Here's how to get there:
Tap

Settings

from the Home screen.

Select

Screen Time.

Tap to turn off the switch next to

Content & Privacy Restrictions.
Restrictions to apps and services are now lifted.
Sixth solution: Reset network settings on your Apple iPhone.
If the previous methods failed to resolve the issue, then you may have to resort to performing resets. To eliminate network-related errors from the recent iOS 13 update that caused problems to network services including App Store downloads and updates, you can carry out a network settings reset. This will erase all your recent network settings and then restores the original network values. Here's how you do it:
From the Home screen, tap

Settings

.

Select

General

.

Scroll down to and tap on

Reset

.

Choose the option to

Reset network settings.

Enter your device passcode when asked to proceed.

Then tap the option to confirm that you want to reset network settings on your iOS device.
Your phone restarts automatically when the reset is finished. As soon as it boots up, set up your Wi-Fi network to reconnect to the Internet and use online services including the App Store.
Last resort: Erase and restore factory default settings on your iPhone (master reset).
This might be a complex system error that's halting the App Store from executing app download and update requests. In that case, performing a master reset or factory reset is likely needed. This will erase everything from your Apple iPhone system including complex system errors and iOS bugs. But before you do, be sure to back up your important files from the iPhone storage to iCloud or iTunes. Failure to do so will result in permanent data loss. If you wish to proceed and have secured the backup, then follow these steps to instigate factory reset via settings menu:
From the Home screen, tap on

Settings

.

Tap

General

.

Tap

Reset

.

Select the option to

Erase all content and settings.

Enter your passcode to proceed.

Tap the option to confirm full system reset or factory reset.
Follow the rest of the onscreen instructions to finish the factory reset.
Alternatively, you can use iTunes to erase your Apple iPhone and restore it from a recent iOS backup. This is usually needed to determine whether or not the problem is with the newly installed iOS 13 platform on your phone.
On your computer, launch or open iTunes. Be sure to use the latest version of iTunes app on your device to avoid facing system conflicts.

Then connect your iOS device to the computer using the original USB cable while pressing and holding down the

Home

button.

Release the

Home button

when the

Connect to iTunes

screen appears.

At this point, iTunes will prompt you with a message saying that it has detected your iOS device in recovery mode and that you can restore your device. If you see this message, just click the

Restore [Device name]

button to instigate recovery mode restore through iTunes.
Be sure to let the restore process finish before disconnecting your Apple iPhone from the computer. Otherwise, you could end up corrupting your iPhone system. Just follow the rest of the iTunes commands until it tells you that it's safe to disconnect your device.
Still can't download or update apps on your Apple iPhone iOS 13?
All applicable procedures are already applied but for some reason, you still can't download or update apps on your iPhone. If you've reached this point but to no avail, then chances are that the problem isn't rectifiable by end-users. With that said, you can seek further recommendations from your carrier or Apple Support. Or you can also visit the Apple Support status page to view the current status of the App Store. It's possible that the App Store server is currently down and thus downloads and updates are temporarily unavailable.
On the other hand, a dedicated fix patch is most likely needed if the problem is found to be inflicted by an iOS 13 bug. In that case, you may have to consider downgrading or restoring from a previous iOS backup you've got just to get the App Store to work as intended.
Connect with us
We are committed to helping our readers fix the problems with their phones as well as learn how to properly use their devices. So, if you have other issues, you may visit our troubleshooting page so you can check by yourself the articles we've already published that contain solutions to common problems. Also, we do create videos to demonstrate how things are done on your phone. Visit our Youtube Channel and please subscribe to it. Thanks.