It would be great if unlimited, high-speed Wi-Fi access were everywhere—especially outside large metropolitan areas. And it would be even better if 4G cellular internet access were a commonplace—both in this country and around the world. Unfortunately, the reality is quite different.
Slowdowns, connection drops, strict data limits, they're all part of the daily reality of on-the-go internet use. As it is, the best tactic is to prepare well ahead and download a wealth of movies for offline use, and this article will teach you how to do it.
Google Play Movies
One of the best ways that you can download movies for offline viewing is with Google Play Movies. Google Play Movies gives you access to a massive library of movies and TV series.
Google Play Movies allows you to purchase or rent content. After your purchase, you can download it for offline viewing to watch at a later point where you might not have WiFi or a cellular connection.
One of the cool things about Google Play Movies is that they regularly run promotions where you can rent or download movies for free, even on your iPhone or iPad.
The really cool thing about Google Play Movies is that they pretty much have all of the latest content — even seasons from Game of Thrones.
YouTube Red
YouTube Red is another awesome choice. With YouTube Red, you have access to exclusive content, but it also opens up the ability to download videos for offline viewing.
So if you're going on a long trip, and discover a new YouTube channel that you want to catch up with, you can download as many videos as you'd like to watch offline. It's perfect for the long plane trip, where you might not have access to WiFi.
And like we mentioned, it opens up a bunch of exclusive YouTube Red content as well, which can also be downloaded for offline viewing.
Rip Your Own DVDs
You also have the option to rip your own DVDs or Blu-Ray movies. You'll have to use a program like Handbrake, but it's a fairly easy way to watch movies offline. You'll just need to make sure that your iPhone or iPad has plenty of storage space to hold the larger files that are often associated with DVD-length movies.
The other option is that many DVDs and Blu-Ray copies today come with digital copies. If you find that code in your DVD or Blu-Ray case, you can usually redeem it, and then download it for offline watching that way, too.
Download Amazon Video Titles for Offline Use
Amazon Prime subscribers have it great. They get to enjoy fast, free shipping on over 50 million products, have instant access to millions of songs, movies, and TV shows, can read unlimited books and magazines, and have unrestricted access to audio books from Audible, and much more.
They can also download select movies and shows to watch offline through the Amazon Prime Video iOS app. To download Amazon Video titles, simply open any movie or TV show you find interesting and tap the Download option in the video details section. Downloaded movies and TV shows will have a check mark icon displayed in the video details section, and you'll be able to find them in the Downloads section located in the Amazon Video menu. Downloaded video content can be played at any time even without internet access.
If you aren't an Amazon Prime subscriber, you can sign up for a free Amazon Prime trial to see whether the service is worth your money.
Download Netflix Movies and TV Shows for Offline Use
Near the end of the last year, Netflix has finally allowed users to download movies and TV shows for offline use. They started with a smaller selection of content, including Orange is The New Black, Narcos, and The Crown, making more and more movies and TV shows available for download over time. Right now, the chances that your favorite comedy movie or action flick will support the offline mode are pretty high.
All smartphones, computers, and tablets running iOS 9.0 or later, Android 4.4.2 or later, and Windows 10 Version 1607 or later can download titles from Netflix to watch without an Internet connection. Titles that are available for download have a small download icon next to them, and they're also conveniently located in the Available for Download section located in the Netflix menu. Downloaded titles appear in the My Downloads section of the app. To squeeze more movies onto a smaller SD card or flash memory, you can lower video quality from Higher to Standard.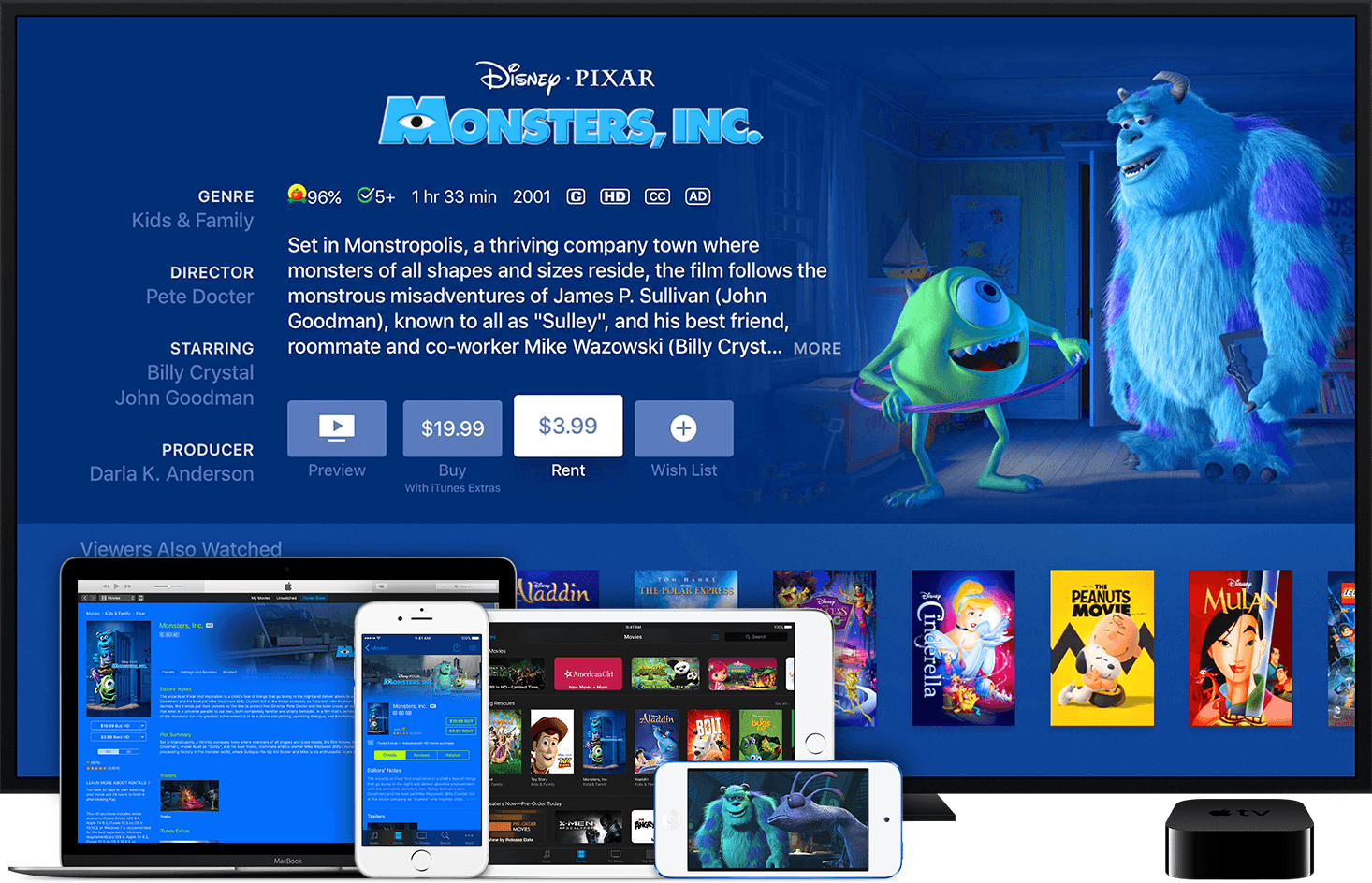 Rent movies from the iTunes Store
iTunes customers can also enjoy some video entertainment without internet access, but not for free. Movies can be rented, with many promotions and discounts starting available all the time. A rented movie is valid for 30 days from renting. Once you hit the play button, you have to finish watching the movie within the next 24 hours otherwise it expires (customers outside the United States have 48 hours).
Because movie rentals from iTunes download progressively as you watch, it's best to rent movies on a computer and synchronize them to your iPhone or iPad for offline viewing. The synchronization process is identical app or music sync with iTunes.
Verdict
As you can see, there are a lot of ways that you can watch movies offline without Internet. Most streaming platforms today allow you to download select content for offline viewing, but one of the best ways to watch movies offline today is by redeeming those digital copies.
Of course, if you can't, ripping a DVD through a program like Handbrake is a little bit of work, but ensures that you have the entertainment you need to get you through those times without an Internet connection.