Apple's tablet lineup can be confusing, especially with the introduction of the new 10th generation iPad 10.9. On the surface, it looks very similar to the existing iPad Air 5. But there are some key differences that are important to understand before deciding which one to buy.
This comprehensive guide will compare the iPad 10.9 vs iPad Air 5 across all the major features and specs. We'll help you determine which iPad model is the better choice based on your needs and budget.
* If you buy through links on our site, we may earn an affiliate commission. For more details, please visit our Privacy policy page.
Introduction
The iPad 10.9 and iPad Air 5 share a very similar design with flat edges, slim bezels, a side mounted Touch ID sensor, and a 10.9-inch display. But the iPad Air 5 has a faster M1 processor, better display, and supports the 2nd generation Apple Pencil.
The iPad 10.9 starts at $449 while the iPad Air 5 starts at $599. That $150 price difference may seem small considering their similarities. But each model targets a different type of user.
This guide will break down their differences to help you decide if the cheaper iPad 10.9 or pricier iPad Air 5 is a better fit.
Design and Display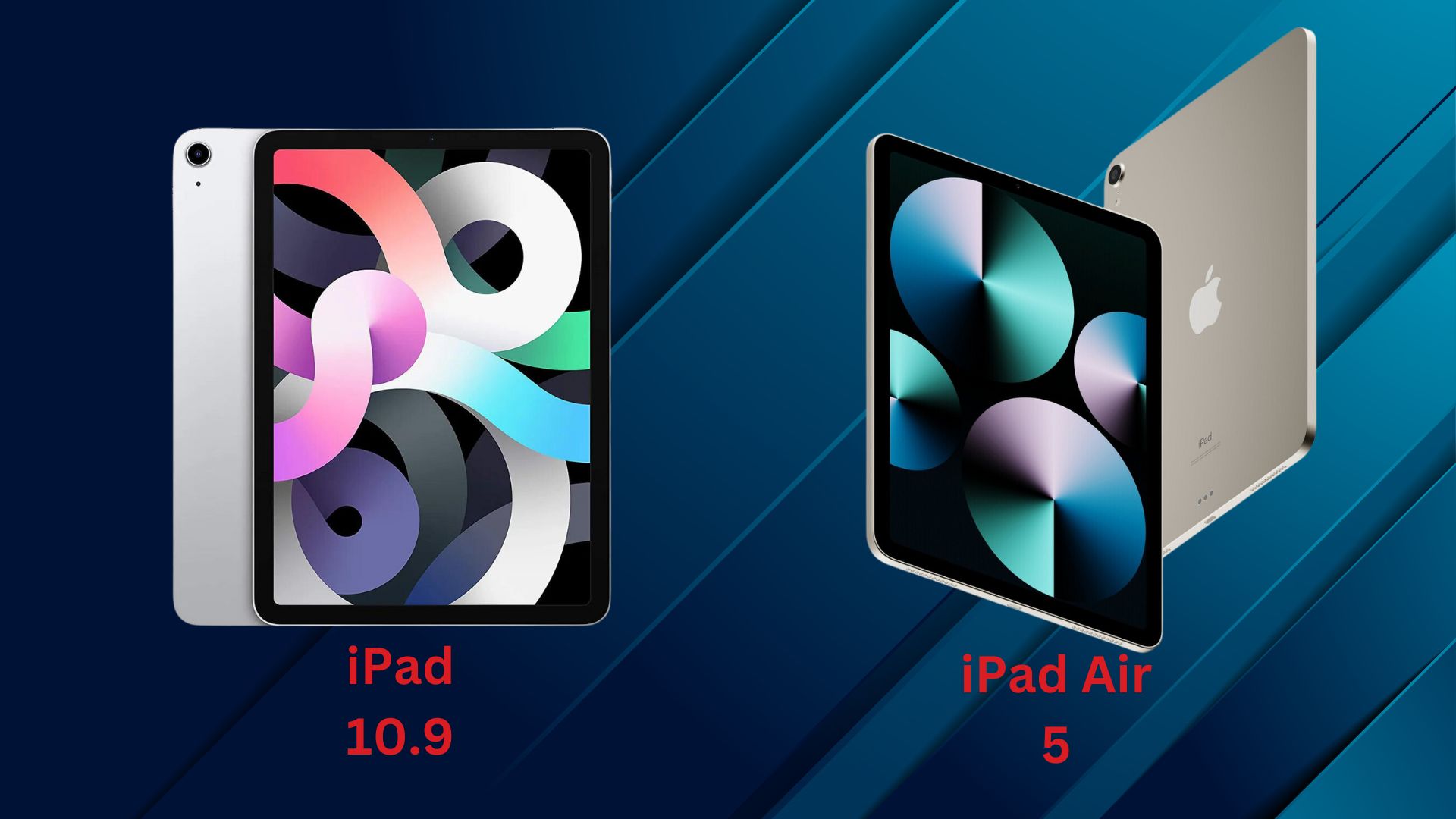 The iPad 10.9 and iPad Air 5 look nearly identical at first glance. They both have:
10.9-inch screen
Flat edged industrial design
Uniform slim bezels all around
Side mounted Touch ID power button
USB-C charging
However, the iPad Air 5 is ever so slightly thinner at 0.24 vs 0.28 inches thick. It's also a hair lighter at 1.02 vs 1.05 lbs.
In real world use, these minor size and weight differences are imperceptible. Both tablets feel comfortable to hold and portable enough for use anywhere.
Display Quality
Both displays are 2360 x 1640 resolution with up to 500 nits max brightness and support for True Tone ambient color temperature matching.
But the iPad Air 5 display has a few advantages:
Fully laminated panel improves image quality
Anti-reflective coating reduces glare
Supports P3 wide color gamut for more vibrant images
The iPad Air 5 simply has a nicer display, especially for viewing photos and videos. But the iPad 10.9 screen is perfectly fine for most users.
Performance and Battery Life
The biggest internal differences come down to performance and storage capacity.
Processing Power
The iPad 10.9 uses Apple's A14 Bionic chip with a 6-core CPU and 4-core GPU. The iPad Air 5 packs the far more powerful M1 chip with 8-core CPU and 8-core GPU.
Benchmarks show the M1 chip makes the iPad Air 5 around 60% faster than the A14 iPad 10.9 for both single and multi-core performance.
But just looking at benchmarks doesn't tell the full story. The A14 Bionic is still plenty powerful for web browsing, streaming videos, using social media, playing games, etc.
You'll only notice the performance gap when pushing the iPad harder with tasks like editing multiple 4K video tracks or using professional creative apps. For most casual users, the iPad 10.9 has all the speed you need.
Memory
The iPad Air 5 also doubles the memory with 8GB RAM vs 4GB in the iPad 10.9. More memory allows you to keep more apps and browser tabs open without slowdowns. Again, casual users are unlikely to notice any benefit.
Battery Life
Both iPads are rated for up to 10 hours of web browsing or video playback. Real world battery tests show fairly similar results with the iPad 10.9 lasting around 30 minutes longer.
For most people, battery life should not be a deciding factor between these two. They both last comfortably through a full day of mixed use.
Cameras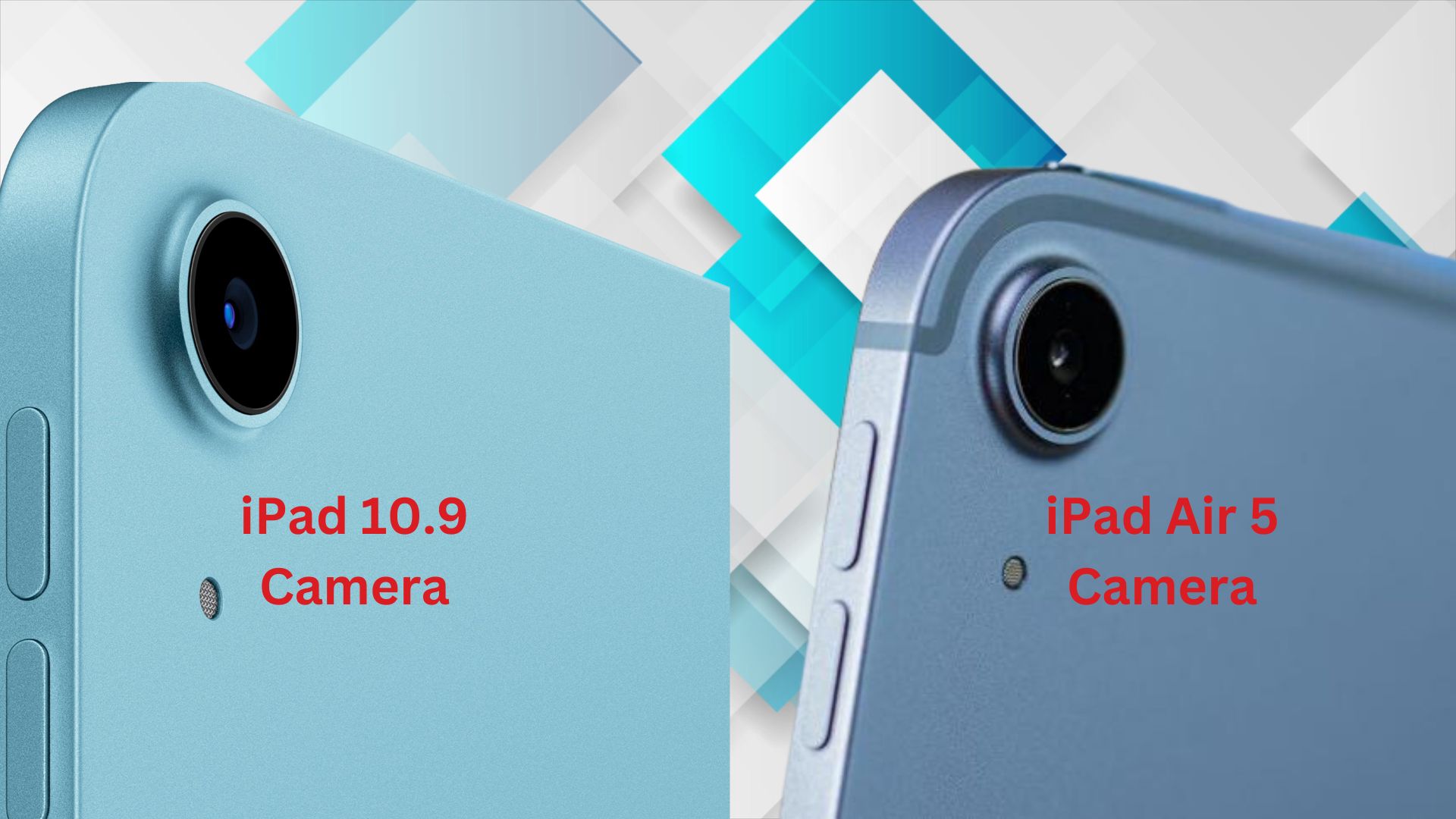 You'll find nearly identical camera hardware on both tablets:
12MP f/1.8 main rear camera
12MP f/2.4 front facing ultra wide camera with Center Stage
The lone difference is the iPad 10.9 has its front camera positioned along the landscape edge. This gives you a more natural video call experience when the iPad is in a case or stand.
Overall camera quality will be very similar between the two. Neither tablet should be your primary photo or video capture device.
Connectivity
The iPad 10.9 and iPad Air 5 offer the same connectivity options:
WiFi 6
Bluetooth 5.2 vs 5.0
Optional 5G cellular
Bluetooth 5.2 is slightly newer but makes no practical difference right now. Both iPads also have a USB-C port for charging and data transfer.
One advantage of the iPad Air 5 is faster USB 3.1 Gen 2 speeds up to 10Gbps. The iPad 10.9 maxes out at USB 2.0 speeds around 480Mbps.
This means the iPad Air 5 can transfer data to and from external drives much quicker. Again, this only matters if you regularly handle large files.
Apple Pencil Support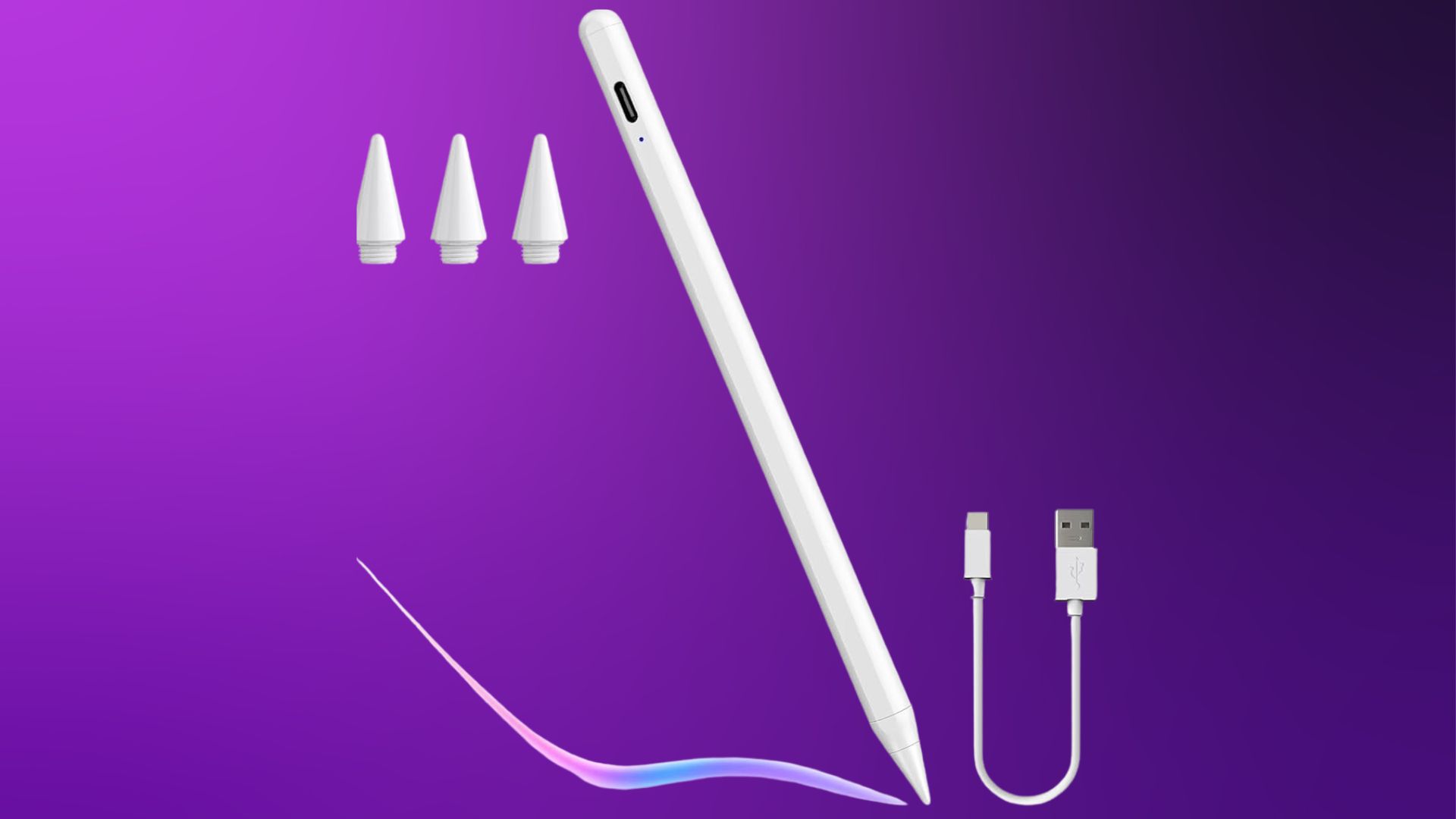 This is one area where the iPad Air 5 has a clear and significant advantage – it supports the 2nd generation Apple Pencil vs the 1st gen on the iPad 10.9.
The Apple Pencil 2 magnetically attaches to the side of the iPad Air 5 for charging and pairing. The 1st gen Pencil uses an outdated Lightning connector and requires an adapter to charge on the iPad 10.9.
The 2nd gen Pencil also supports gestures, has a nicer matte finish, and won't easily roll off smooth surfaces. For artists and note takers who draw a lot, the Apple Pencil 2 experience on the iPad Air 5 is vastly superior.
Accessories
Both tablets work with Apple's Magic Keyboard folio case with built in keyboard and trackpad. However, they each use a slightly different model.
The iPad 10.9 Magic Keyboard Folio has a row of function keys while the iPad Air 5 simply uses the regular Magic Keyboard with no function row.
The regular Magic Keyboard also feels a bit more stable and premium than the Folio version. But both offer a very capable laptop style experience.
Storage Options
Apple offers both iPads with a choice of 64GB or 256GB of internal storage. Many users will find even the base 64GB capacity sufficient.
But if you plan on installing lots of apps and games or working with large media files, the 256GB upgrade may be worthwhile, especially on the iPad Air 5.
iPad 10.9 vs iPad Air 5: Which Should You Buy?
The iPad Air 5 is undeniably the technically superior tablet. But that doesn't automatically make it the best choice for everyone.
Here is a quick summary of what type of user each model is ideal for:
Get the iPad 10.9 if you:
Want basic functionality at the lowest cost
Don't need maximum performance
Plan to use Apple Pencil infrequently
Get the iPad Air 5 if you:
Have a flexible budget
Value maximum performance and premium features
Will use Apple Pencil regularly
Require lots of storage capacity
The iPad 10.9 provides tremendous value and will easily meet the needs of casual users. But if you can afford to spend a little more, the iPad Air 5 does offer more power and a better screen, especially for creative work.
Either one is a phenomenal tablet that will serve you well for years to come. But understanding their differences will help you zero in on the best choice.