Having trouble connecting your new special edition iPhone to iTunes? This post highlights potential solutions to a relevant issue in which the iPhone SE 3 won't connect to iTunes. Read on to learn what causes the problem and how to fix it.
What prevents iTunes from recognizing your iPhone?
There are many different scenarios when you would need to connect your iPhone to iTunes. First and common is when your iPhone is disabled due to successive incorrect passcode entries.
When your iPhone is disabled, you will need to use iTunes to erase it and remove the lock and passcode. The same thing when you need to sync files, back up and restore your iOS devices to a computer.
The basic requirement for you to connect your iPhone to the computer is the Apple-supplied (USB) lightning cable. Just plug one end of the cable into your iPhone's charging port and the other end to the computer's USB port.
For as long as the USB cable and ports are functional, your iPhone should connect to iTunes in an instant.
However, there are some instances when iTunes just couldn't detect or recognize an iPhone even when it's already plugged into the USB port.
Oftentimes, the problem is inflicted by some random glitch in iOS or iTunes. In other cases, a faulty USB port or cable is the underlying cause.
When troubleshooting, ruling out software-related factors beforehand is recommended. This denotes the need to troubleshoot both the iOS device and the computer system to rule out any system conflicts that might have halted the syncing process.
And if the problem continues after ruling out all software-related factors, scrutinizing the hardware would be the next to address.
Troubleshooting iPhone SE 3 won't connect to iTunes
Outlined below are basic tweaks that can help eliminate common software-related factors that hinder iTunes and iOS device connection. These methods are applied on both the iOS device and computer system.
Before you proceed, make sure that your iPhone is turned on, sufficiently charged and unlocked.
Also ensure that the date and time information on both the iPhone and computer system is correct. If necessary, adjust the date and time settings or set it to automatic on both devices so that they both have synchronized date and time information.
Once you've got everything set, you may go ahead and try the following tweaks. Don't forget to reconnect your iPhone to the computer after completing each method to determine whether or not the problem is fixed. Proceed to the next applicable solution if needed.
Solution #1: Quit then Restart iTunes.
If this is the first time you're trying to connect your devices and it failed, it's probably just a random system glitch in iTunes. To clear this out, quitting and restarting the iTunes app on your computer will likely fix it.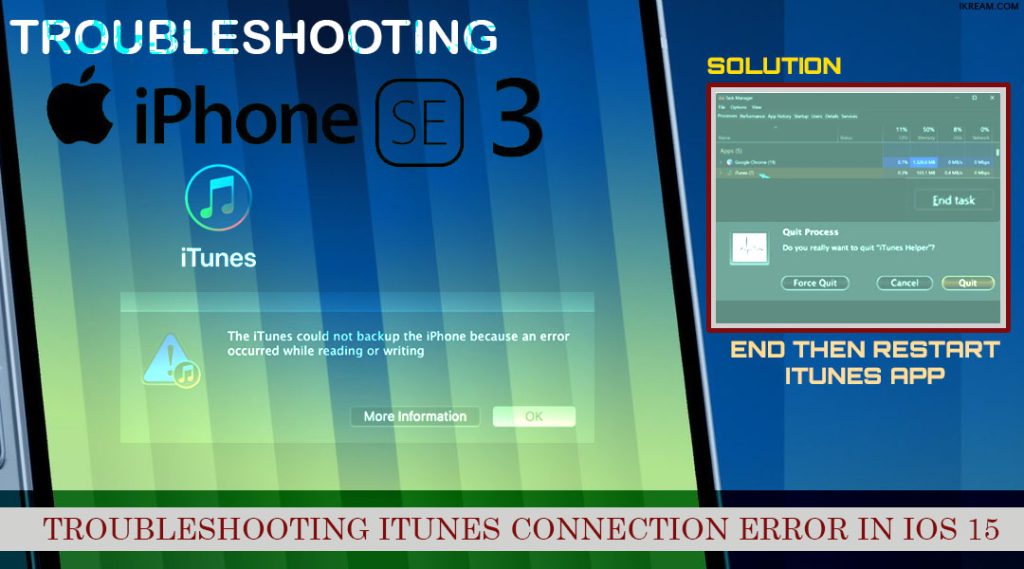 Thus, restarting iTunes on the computer is the first recommended solution for you to try on.
Before restarting iTunes, disconnect your iPhone from the computer. Just unplug the USB cable from either end.
When disconnected, exit iTunes on the computer and then launch it again. Connect your iPhone to the computer and see if iTunes already detects it.
You can also try connecting the iPhone to your computer first and then launch iTunes to see if that will make a difference.
Make sure that both ends of the lightning cable are securely plugged in to establish firm contacts.
Solution #2: Reboot the iPhone and computer.
Another simple potential solution is to reboot the iPhone and the computer. This will help clear out any corrupted residual system data that are stored among other cached files in iTunes or iOS.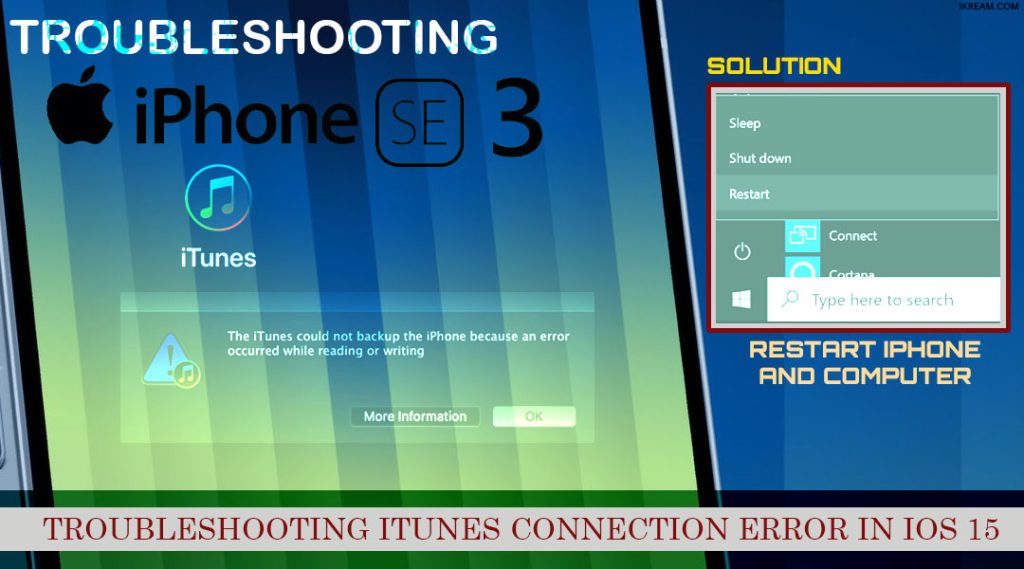 A system reboot also corrects any minor system glitches that might have caused conflicts and ruined the syncing process between iTunes and iOS.
To reboot the iPhone, just follow the usual restart process. Either turn the iPhone off completely for a few seconds and then turn it back on again or perform a soft reset with these steps:
Press and hold the Side button on the top-right edge and then release when the Power off slider appears.
Drag the Power Off slider to the right. Doing so powers off the device.
After a few seconds, press and hold the Side button until the Apple logo appears.
On your computer, just follow the typical restart procedure depending on the type of computer you're using and the operating system it's running on.
Solution #3: Install new updates for iOS and iTunes (if available).
Installing the latest updates available for your iPhone and iTunes app can likewise potentially fix the problem if system conflicts are to blame.
Just like any other updates, new updates rolled out for iTunes and your iPhone may also contain critical patches to clear out existing bugs to enhance and optimize system functions and services.
Any bug-inflicted errors including those that's ruining the iOS and iTunes connection will likewise be rectified with an update and therefore solves the problem.
To manually check for, download and install pending updates on both devices, they would need to have a stable internet connection preferably through a Wi-Fi network.
Both devices must also have ample storage to allocate the new update files. Also ensure that your iPhone is sufficiently charged.
To manually check for new iOS updates on the iPhone SE 3, just head over to Settings-> General-> Software Update menu and wait for your device to check for new updates. If a new iOS version is up for grabs, follow the rest of the onscreen instructions to download and install the update.
Checking for new updates on your computer may vary depending on the type of computer in use as well as the operating system it's currently running.
In Windows, just go to Settings-> Update & Security-> Windows Update menu and then click the button to Check for Updates.
If available, you'll see a feature update to Windows 11. Just follow the rest of the onscreen instructions to download and install the new update.
On a Mac computer, just access the Apple menu then go to System Preferences-> Software Update menu.
You can also click the Apple menu and then go to System Preferences. The number of available updates, if any, is typically shown in this menu.
Solution #4: Reset all settings on iPhone.
To eliminate invalid settings from the iOS that might have caused conflicts with iTunes, you may resort to an iOS reset called reset all settings on your iPhone SE 3.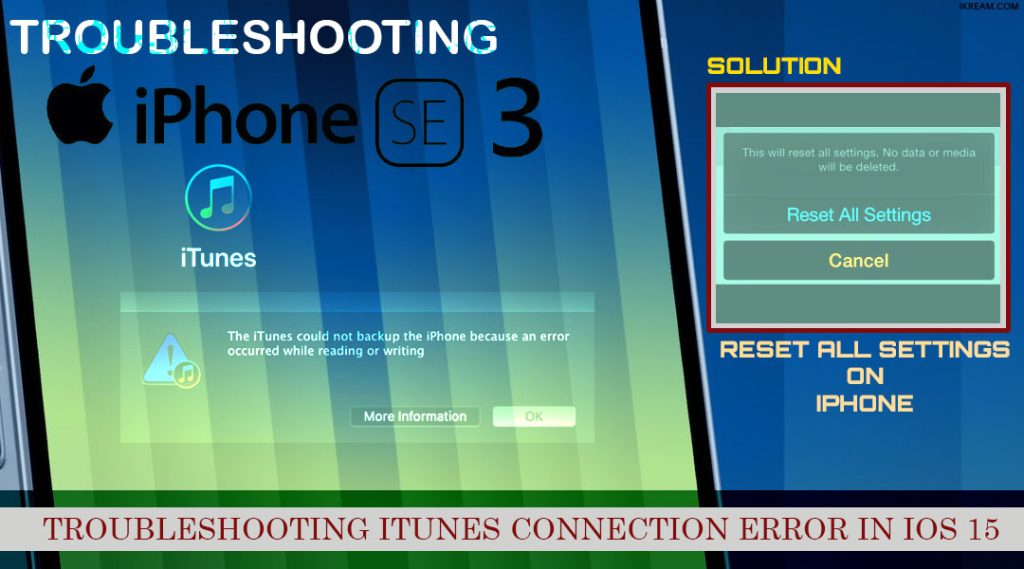 Doing so will delete all custom settings on your iOS device including personalized networks and app configurations, preferences, permissions, restrictions, locations and other relevant information. After the reset, all system defaults are restored.
But unlike a factory reset, resetting all settings does not affect any user data so you won't lose any personal information and downloaded contents from the iPhone storage.
To reset all settings on the iPhone SE 3, just go to Settings-> General-> Transfer or Reset iPhone-> Reset and then tap Reset all settings on the succeeding menu. Read the reset details on the next screen and then tap Reset settings to confirm.
Wait for your iPhone to finish resetting. As soon as it's done, automatic system reboot follows. After that, all the default settings are restored.
This means the need for you to re-enable necessary features that are disabled by default. And this would include enabling Wi-Fi, Bluetooth or Cellular data networks for you to be able to use them again on your iPhone.
Solution #5: Check firewall/antivirus settings on the computer (if applicable).
Another factor that can block the connection between the iPhone and your computer is a firewall or antivirus software.
If any of these security services is activated or enabled on your computer, then there's a good chance that it blocks the iPhone from accessing the computer system for security or privacy concerns. As a result, iTunes couldn't detect or recognize your iOS device even when it's already connected.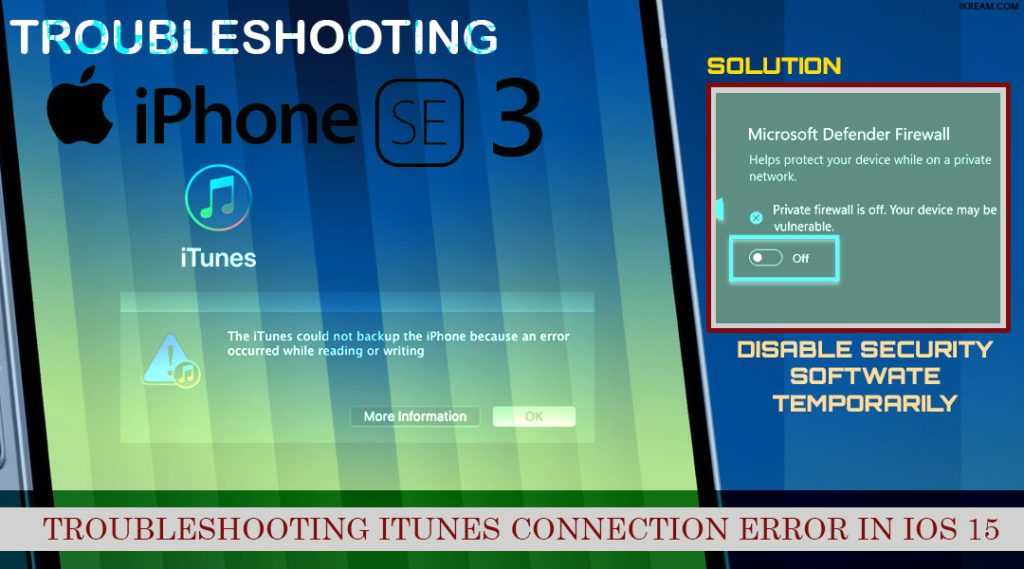 To clear this out, try to disable the firewall or antivirus software on your computer temporarily and then retry connecting your iPhone to see if that will work.
The process of disabling antivirus or firewall may vary between computers and operating systems.
In Windows 11, you will need to access the Control Panel and then go to System and Security and click on Windows Defender Firewall. From the left pane, click on the Turn Windows Defender Firewall on or off option.
You can also turn off Windows Defender Firewall under the Private network settings section.
On a Mac computer, you can change the firewall preferences by heading to the Apple menu-> System Preferences menu. Click Security & Privacy and then click Firewall.
Don't forget to re-enable your security software after using iTunes to keep your computer protected again.
For further assistance on how to manage antivirus or firewall settings on your Mac computer, you may contact Apple Support. For Windows firewall, contact Microsoft Support instead for more help.
Is your iPhone still not recognized in iTunes?
Performing the above procedures typically addressed common software-related factors that might have caused conflicts and prevented the computer or iTunes from detecting your iOS device.
If none of the outlined solutions worked, then you can try these subsequent workarounds to rule out other possible culprits.
1. Check the Lightning cable
Another reason as to why iTunes couldn't detect your iOS device even when it's already connected is because of a faulty or damaged cable. Scrutinizing the lightning cable is therefore recommended especially if you've been using it for several times already. The capable might have already been depreciated and obtained some physical damage.
If you have a spare Lightning, try replacing the one you're currently using and see if that other will work.
2. Check the ports
Check the charging port on your iPhone and make sure nothing is barring the connection. If you've installed a protective iPhone case, remove it and then retry connecting your phone to the computer.
Some protecting casing, particularly those made by third-party manufacturers aren't actually a perfect fit for the iPhone and therefore could hinder the ports and physical connections.
Also consider checking your computer's USB port and ensure that the cable is plugged into the port that's working. You can try plugging your iOS device into another USB port on the computer if available to see if that would fix the problem.
3. Verify driver (Windows only)
In some cases, faulty drivers are to blame. For a Windows computer to sync with your iOS device, it needs to have the updated Apple Mobile Device USB driver installed. If this driver gets corrupted on your computer for some reason, then updating the driver software or reinstalling the driver would be necessary.
To access and manage drivers on your Windows computer, just access the Device Manager then locate the Universal Serial Bus Controllers.
If the Apple Mobile Device USB Driver isn't there, try to access and view Imaging Devices, Portable Devices or Other Devices.
If you have another available Mac computer or Windows PC with the latest version of iTunes app, try to connect your iPhone SE to that computer and see if that makes a difference.
Reinstalling iTunes on the computer can also be deemed among the last options if you suspect that iTunes is at fault. This is usually needed if the iTunes app or any relevant iTunes data gets corrupted and is no longer working.
Seek More Help
As your last resort, you may contact Apple Support for further assistance in troubleshooting more complex iOS and/or macOS issues that might have caused the connection error. If you're using iTunes on a Windows computer, then you may contact Microsoft Support for more advanced Windows OS troubleshooting procedures.
If you see any error code or message, relay that information to the support team so that they can use it as reference on where to start troubleshooting.
Please keep posted for more comprehensive iOS tutorials and troubleshooting guides on this site. Or you can check out this YouTube channel to view more comprehensive tutorial and troubleshooting videos including recent iOS devices.
You Might Also Want To Read: