This post will walk you through fixing a third generation special edition iPhone that doesn't power on. Here's what to do if your Apple iPhone SE 3 (2022) won't turn on.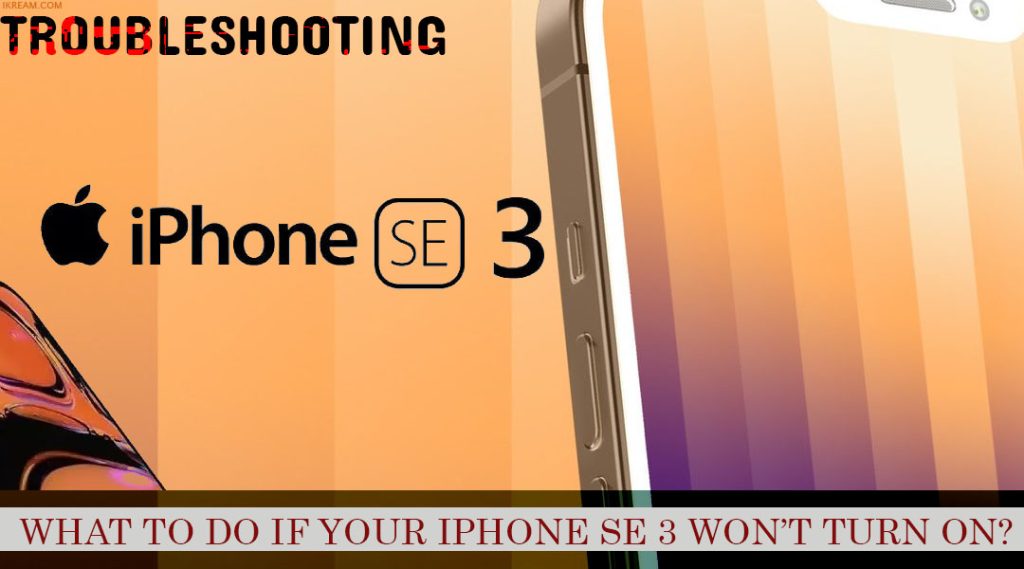 Is your new iPhone SE 3 stuck on black screen and not turning on? It could be due to a critical system error inflicted by corrupted applications. Read on to learn how to deal with it using the basic workarounds.
iPhone SE 3 power issue
Seldom you'll hear of a new phone that's not turning on but it happens to any device in high-end or midrange category. Most of the time, the underlying cause is a faulty system while some are due to defective hardware.
A recommended approach to resolve booting issues is to start with the ruling out of software-related culprits. Since this problem is not new, most of the software-related underlying causes have already been determined.
These would include but not limited to the following:
Random software glitches. Just like computer systems, smartphone OS may likewise be halted by some random software glitches. As a result, some critical functions including the normal booting sequence would suddenly stop working as intended. On a positive note, random software glitches are usually easy to deal with.
Rogue apps. When you download and install an app on your phone, it becomes part of the system. That said, any app irregularities may likewise inflict trouble to any of the system services. In this case, it's possible that a glitching app is halting the iOS from completing the boot sequence and therefore it's unable to power on completely.
System bugs and malware. These are often the case if the iPhone system was perfectly working until you downloaded or installed something like a file or document that contained some malware that was programmed to ruin the iPhone system.
Data corruption. If a critical system data becomes unusable, unreadable or in some way inaccessible to an application, data corruption occurs. When this happens, a data element or instance loses its base integrity and that makes it useless for the application accessing it. Should data corruption occur to any data in the iOS boot system, there's a higher chance that the device won't be able to execute the normal booting sequence.
Faulty updates. Although software updates are primarily designed to bring good system outcomes, some updates confer the opposite. If the phone suddenly refuses to power on from an update, then that's likely due to a post-update bug. The chances of resolving post-update issues depend on whether it's a minor or complex system error.
There are also some cases where an iPhone is unable to power on simply because it runs out of battery. Although it's an apparent cause, some people may still fail to consider ruling it out firsthand especially if battery draining issues are transpiring.
Troubleshooting Apple iPhone SE 3 (2022) that won't turn on
The following are potential solutions to software-related booting issues in recent Apple devices, particularly the recently released 3rd generation iPhone SE. Try these before taking the unit back to a service center.
Solution #1: Force restart.
One of the possible reasons as to why your iPhone does not power on as it normally does is because it's actually turned on but only stuck on black screen due to some apps or system conflicts.
Should this be the case, forcing the system to terminate and restart would be necessary. This is when performing the so-called force restart comes in handy.
As the name implies, this process forces all stuck apps and services to end and the operating system to reboot.
For starters, just follow these steps to force restart your iPhone SE 3:
Press and quickly release the Volume Up button then press and quickly release the Volume Down button.
Finally, press and hold the Side button until the Apple logo appears on the screen.
It may take a little longer for the Apple logo to show up especially if the device has been totally drained. That said, give it a little more time until you see the Apple logo and the system bootup finally instigates.
Performing a forced restart does not affect any user data and documents, so you won't lose any important content and downloads from the iPhone storage.
What it does is to give the system a clean fresh start without any applications and processes running in the background.
It also clears out residual system files including those errant caches that might have caused unexpected system conflicts.
Solution #2: Charge your iPhone.
As mentioned earlier, a totally drained battery could actually be the main reason as to why your iPhone doesn't power on. This is usually the case if your device is experiencing massive power drain due to some errant applications. As a result, the device has completely run out of battery.
To clear this out, plug your iPhone into the power source and let it charge for at least 10 to 15 minutes. That should be enough time for the device to accumulate sufficient battery life to get back up and running.
After the elapsed time, perform the forced restart while the phone is charging. Just repeat the steps outlined above to force restart the iPhone while charging.
If the phone successfully boots up, try to eliminate the possible triggers of massive battery drain. It could be any of your downloaded apps or some enabled features and settings that need to be disabled.
Meanwhile if the phone doesn't show any charging indicator or does not charge, it's likely a charging issue. The problem might be with the charging equipment and not the iPhone itself. In this case, ruling out the possible causes such as a dysfunctional charger, adapter or power source would be necessary.
Be sure to use the recommended charger/adapter for the iPhone SE 3 that is, a 20W-30W USB-C power adapter. Also ensure that the USB-C lightning/charging cable has no sort of damage. Also ensure that nothing is barring the iPhone's charging port.
If you've got a compatible Qi-certified wireless charger for wireless charging, try using it as an alternative. If none of these helps, try the next workaround.
Solution #3: Connect your iPhone SE 3 to a computer with iTunes.
If you have an available computer with the latest version of iTunes app installed, you can use it to determine whether or not your iPhone system is accessible.
Using the OEM or Apple-supplied USB-C lightning cable, connect your iPhone to a computer and see if the computer detects it. If the computer managed to see your iPhone in iTunes, you can use iTunes to restore it.
But before you do, try any means possible to back up all your iPhone data before restoring. It's also worth noting that while doing an iOS restore in iTunes will help fix major system issues including those that hindered the iOS devices from booting up, it also wipes all your data. That said, back up all your important files in iTunes if possible beforehand.
Once you've secured the backup files, you can proceed with the standard iTunes reset to erase all your iPhone data and restore its factory default settings.
To deal with complex system errors, restoring the iPhone in recovery or DFU mode can be deemed among the last options.
These two iOS restore methods are known to resolve major system flaws that caused the entire iPhone operating system to freeze or stop working. Nonetheless, these should only be considered as the last resort given that both these restore methods would erase all data from your iPhone storage.
Is your iPhone still not turning on?
The above procedures should be able to resolve the problem if software-related factors are the underlying cause. But if you could get your iPhone to turn on after performing all the above solutions, then what you're dealing with is more likely a hardware issue.
So here's what you can do next.
Remove the SIM card.
Some iPhone users who faced the same issue have managed to correct it by removing the SIM card from the device.
It turned out that a corrupted SIM card installed on the phone had hindered the normal boot sequence and made the device stuck on black screen instead. To make sure that this isn't the underlying cause of the problem, try to remove the SIM card from your iPhone and then turn it on without the SIM card installed.
Take it to a service center.
If all else fails, then your remaining option is to take your iPhone to the nearest authorized Apple service center in your area and have it scrutinized by an authorized technician.
Your device will likely need a physical repair if there were prior incidents of accidental dropping or liquid exposure that eventually damaged some critical components like the Power button or the iPhone screen itself.
Avail for warranty.
If your iPhone is still covered by warranty (be it for service or new unit replacement), then it would be better to use that warranty instead. Talk to your carrier or the Apple store where you purchase the unit to discuss the warranty terms and how to avail it.
Contact Apple Support
If this happens to be a post-update issue like when your iPhone was perfectly working and then suddenly it shuts down and refuses to turn on after an iOS update, there's a higher chance that a complex iOS bug is the root cause and therefore you're dealing with a post-update issue. Escalating post-update problems to the Apple Support team is recommended to let them know that such a problem occurs from the recent update and that they would be able to look into it.
Please keep posted for more comprehensive iOS tutorials and troubleshooting guides on this site. Or you can check out this YouTube channel to view more comprehensive tutorial and troubleshooting videos including recent iOS devices.
You Might Also Want To Read: