This post will walk you through setting up a contact number for emergency calls on the 3rd generation special edition iPhone. Here's a quick guide to add emergency contacts on Apple iPhone SE 3.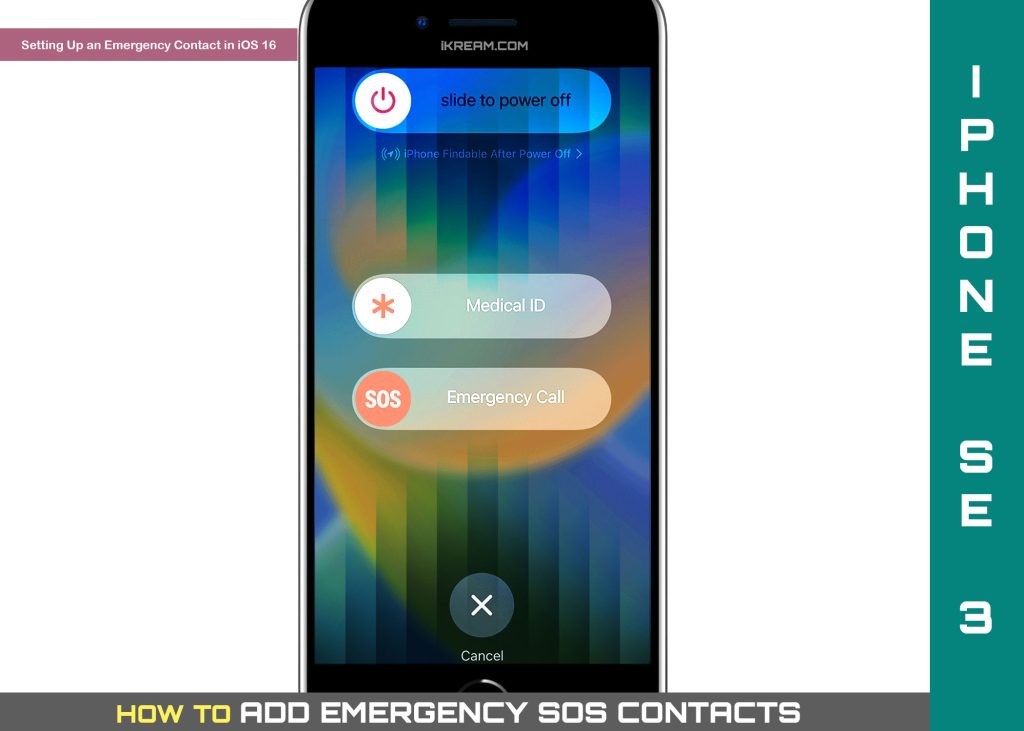 iPhone Emergency (SOS) Feature
One of the useful features entrenched in every new iPhones including the iPhone SE 3rd generation is the Emergency SOS.
With this feature, you can easily and quickly call for help and send alerts to your emergency contacts whenever a critical situation arises.
Enabling this feature on your iPhone will let the device contact the local emergency number automatically and alert your emergency contacts with a text message. Embedded in the SOS text message is your current location and the period of time after you enter SOS mode. When your location changes, your emergency contacts also receive updates.
If you're new to iOS and wondering how to set up the in-built Emergency SOS feature and add an emergency contact, you can refer to the outlined steps below.
Steps to Add Emergency Contacts on Apple iPhone SE 3
Performing the following steps will let you access the iOS settings where you can add and set emergency contacts for your phone to send alerts to whenever its Emergency SOS function is triggered.
If you haven't already, feel free to refer to this guide to add and set emergency contacts on your iOS device.
Step 1: Open the Health app on your iPhone to begin. Just find the Health app icon from the Home screen or Apps Library and then tap on it to launch the app.
Step 2: In the Health app's main screen, tap on your profile picture.
Step 3: On the succeeding window, then tap Medical ID.
If you haven't already, set up your Medical ID in the Health app. This is imperative so that the first responders to your emergency calls will be able to access your critical information from the Lock screen without having to use your passcode.
Otherwise, proceed to the next step if your Medical ID is already set.
Step 4: Step 4: On the Medical ID screen, tap Edit. Doing so will switch the screen to edit mode, allowing you to make necessary changes to the current details.
Step 5: Scroll to the Emergency Contacts section then tap the Add (+) button.
Step 6: On the following screen, select/tap a contact that you'd like to set as an emergency contact then add their relationship.
Step 7: After adding all important details, tap Done to save recent changes.
The specified contact will then receive emergency alerts whenever you trigger the Emergency SOS feature on your iPhone.
Deleting Emergency Contact on iPhone
Your iPhone also allows you to remove an emergency contact when needed.
To do this, just launch the Health app on your iPhone and then tap your profile picture. On the succeeding window, tap Medical ID then tap Edit to enable edit mode. While in Edit mode, scroll towards the Emergency Contacts section then tap the Delete button next to the contact that you want to delete.
Once the contact is selected, tap Delete then tap Done to save recent changes.
The selected contact will then be removed from the list of emergency contacts on your iPhone.
If you wish to add another contact to get your emergency call and text, just repeat the above steps to get back to the Emergency contacts menu in the iOS Health app on your iPhone.
Emergency SOS on Apple Watch
New Apple Watch series also integrates the same Emergency SOS feature that you can use whenever you find yourself in trouble, medically or any other circumstances.
Similar to the iPhone's, triggering the SOS feature on the Apple Watch also calls the emergency services department in your area and automatically notifies the emergency contacts.
Adding Emergency Contacts on Apple Watch
To add or set an emergency contact for your Apple Watch, you will need to use the iOS Health app. This denotes the need for you to set up your Medical ID and add emergency contacts through your iPhone.
To do so, simply head over to your iPhone Settings-> Health-> Medical ID and then tap Edit. On the next screen, enter your birth date and other important health details.
To add/set an emergency contact, simply tap the Plus (+) or Add button under emergency contacts, select a contact then specify your relationship. Don't forget to tap Done to apply and save changes.
By then, your Apple Watch is already set to call emergency services by dragging the Emergency SOS slider. Your Apple Watch will automatically call your local emergency services and then share your location. After calling the local emergency services, an alert will be sent to your emergency contacts in the form of a text message that contains your current location.
Important Note:
Making prank calls using the iPhone's or Apple Watch's Emergency SOS feature is highly discouraged as most EMS departments do not take prank calls lightly.
And that's how you add emergency contacts on the new iPhone SE 3rd generation.
Please keep posted for more comprehensive iOS tutorials and troubleshooting guides on this site. Or you can check out this YouTube channel to view more comprehensive tutorial and troubleshooting videos including recent iOS devices.
You Might Also Want To Read: