New iOS devices including the latest iPhone 13 series have a dedicated menu that stores details about how you use the apps and the device itself. The information shown in this menu can be beneficial when trying to rectify random iOS flaws. Read on to learn how to access and view analytics data on iPhone 13.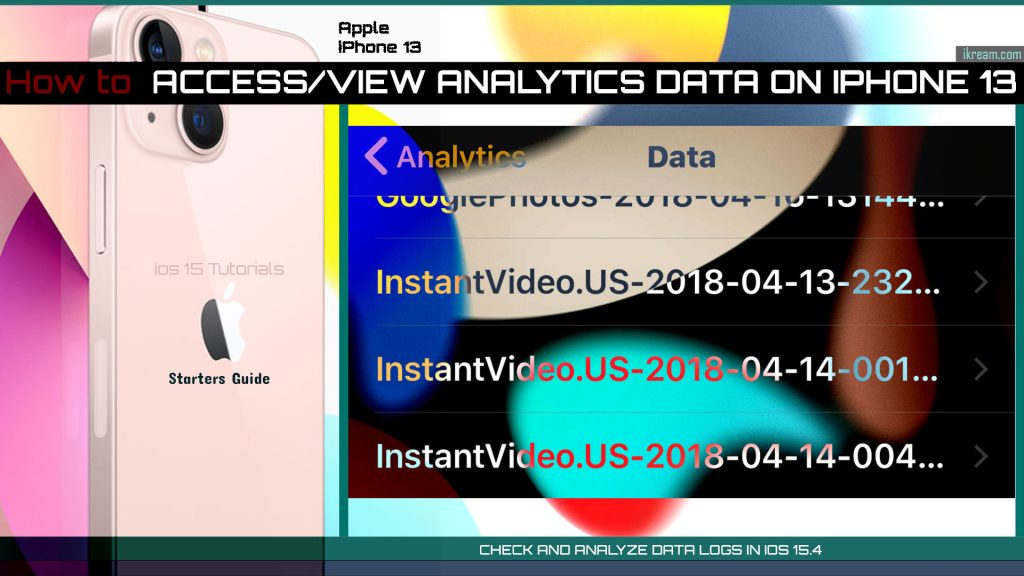 Apple iPhone 13 Analytics
Looking into the details shown in the iOS device analytics can help when troubleshooting app-related issues and tracking trends on an iPhone.
Through iPhone Analytics, you will get to review more details about your device and apps usage. It also contains more details about the operating system specifications, hardware, performance statistics and data.
The iPhone Analytics however does not log personal data as data log is subject to privacy preserving techniques.
In case you're wondering how to access this information on your new iPhone, you can refer to these subsequent step-by-step instructions.
Steps to Access and View Analytics Data on iPhone 13
The following procedure is also applicable when viewing analytics details on other iPhone models that are running in iOS 15.4.
Actual screens and menu items may vary between device models and wireless service providers so individual device's user interface may differ slightly. Rest assured, all key features and menu options are present for as long as your iPhone software is up-to-date.
Feel free to start whenever you're all set to access your iPhone 13's data logs.
Step 1: From the Home screen, tap Settings to launch the main settings app menu.
Step 2: While in the settings menu, tap Privacy.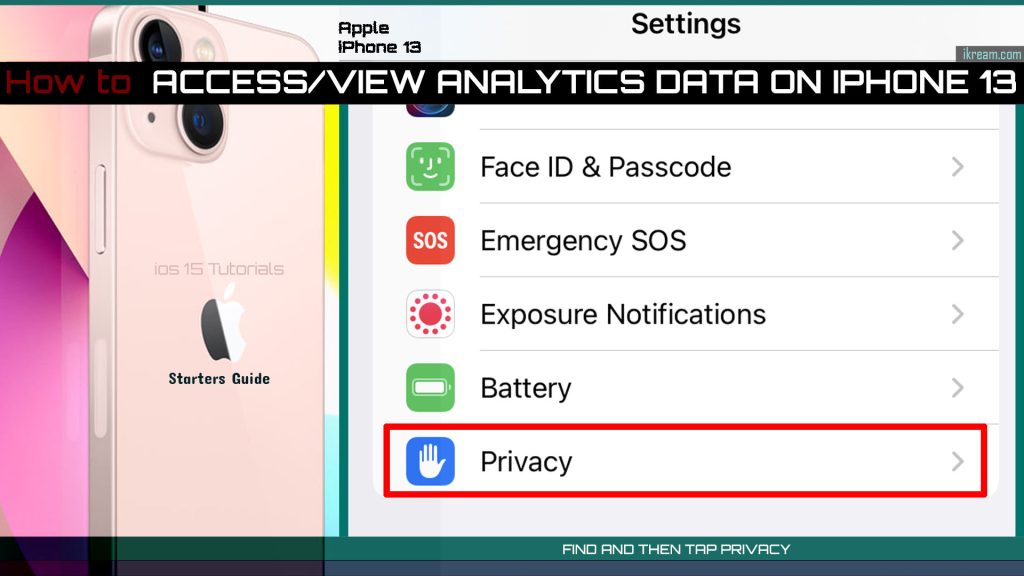 Step 3: Tap Analytics & Improvements on the next screen to proceed.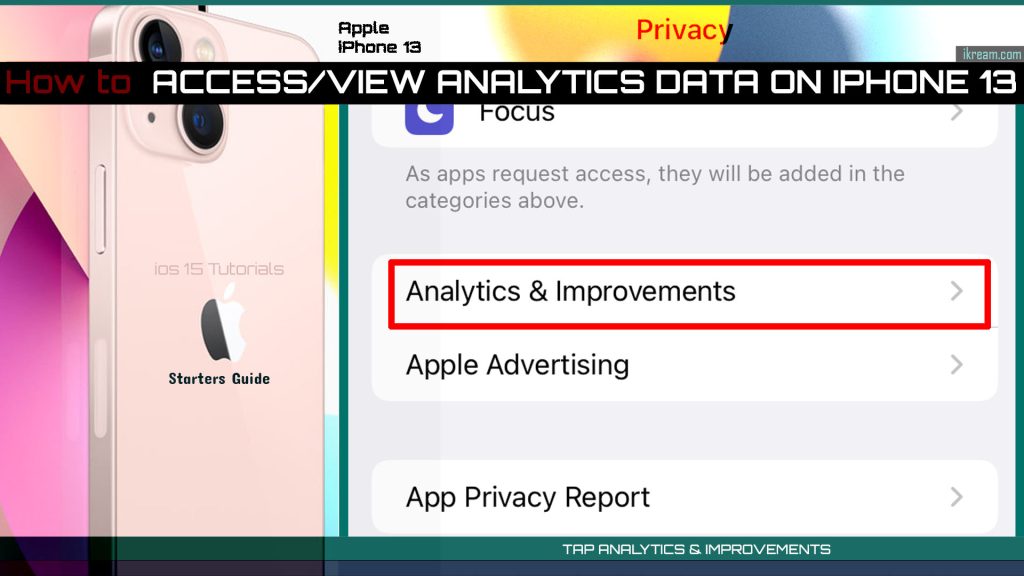 Step 4: Finally, tap Analytics Data.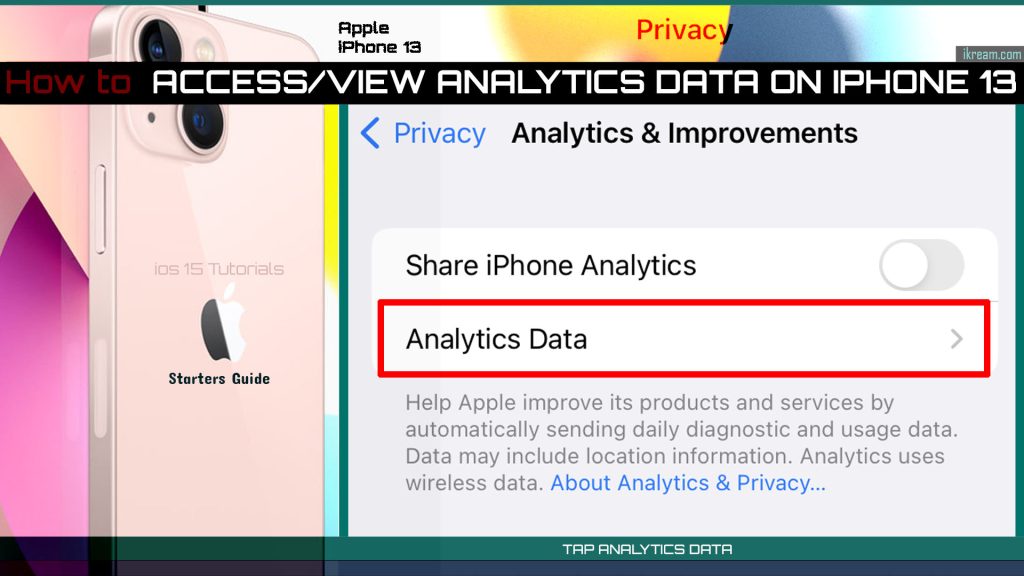 The iPhone 13 Analytics Data menu will launch and generate the recent apps and data logs.
iOS Data Analytics Details
Among the data logs you'll see in this menu include crashing logs, low memory warnings and other performance issues.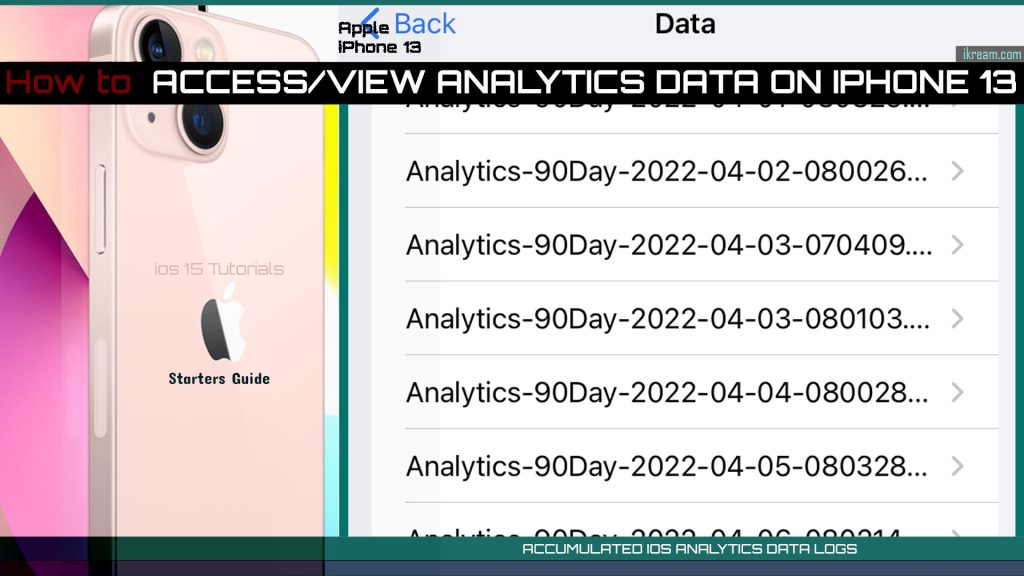 Basically, it contains information about how a certain app was used and why it stops working. It doesn't show specific app usage data such as visited websites and prior activities or actions made on the device. What it generally contained are primarily analytical data that can help Apple in investigating issues, whenever needed. This consolidated information is beneficial for Apple to improve their products and services.
For end-users, the data analytics details can be used as hints to identify faulty apps that need to be fixed.
Depending on existing permissions, the information that's gathered in the iOS analytics can automatically be forwarded by end users to Apple support if necessary.
To do this, permission to send diagnostic and usage data to Apple must be granted beforehand, particularly during the initial iOS device setup. The diagnostic logs can also be deleted from your device completely.
Disable iPhone Analytics
You may also opt to stop your iPhone from storing data analytics. All you have to do is disable Device Analytics on all your Apple devices altogether by heading to Settings-> Privacy-> Analytics & Improvements menu and then turn off the option to Share iPhone Analytics.
Deleting Diagnostic & Usage Data logs
To clear out the diagnostic data, you will need to sync your iOS device to iTunes. When your device is synced, it will delete the diagnostic information from the iOS storage and then transfer it to iTunes.
Moving or deleting diagnostic and usage data is imperative especially if your iPhone is already running low on storage. The more usage data are accumulated the more storage these logs are utilized.
It is therefore recommended to move or delete the generated diagnostic logs on your iPhone from time to time, especially if there are no problems to troubleshoot or trends to track.
And that's all about viewing the analytics data log on the Apple iPhone 13 and other iOS devices running in iOS 15 and later versions.
Please keep posted for more comprehensive iOS tutorials and troubleshooting guides on this site. Or you can check out this YouTube channel to view more comprehensive tutorial and troubleshooting videos including recent iOS devices.
You Might Also Want To Read: