This post will walk you through configuring the default auto-lock settings on an iPhone to make the screen on even when idle for too long. Here's a quick guide to stop the iPhone screen from turning off.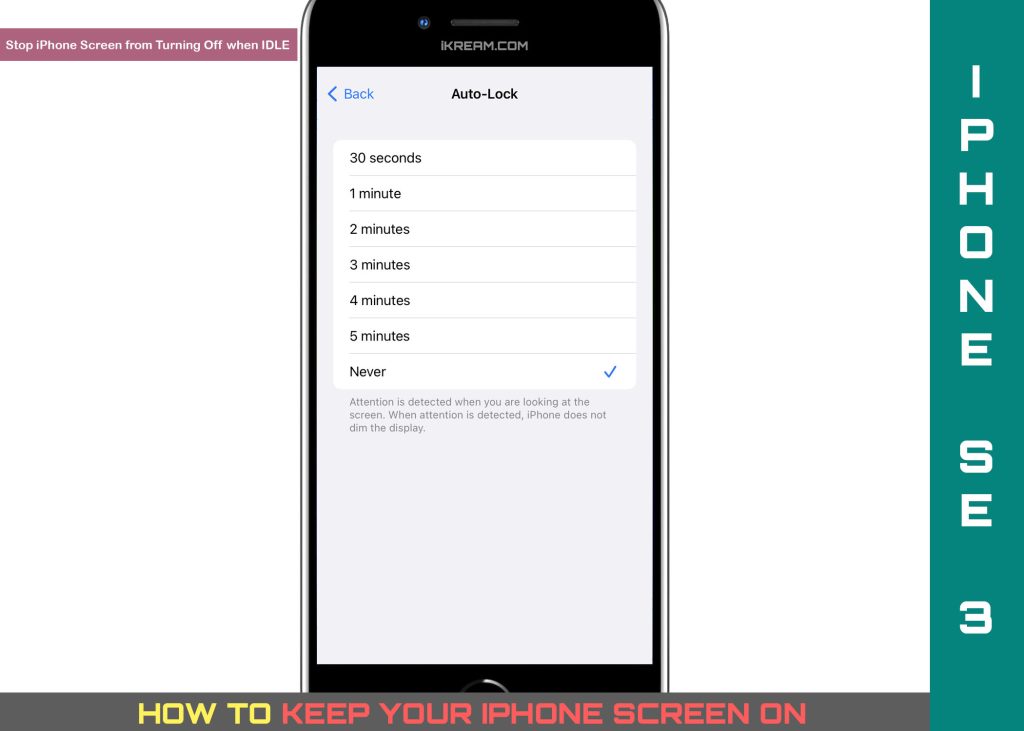 iPhone Auto-Lock Settings
The default auto-lock settings on a brand new iPhone is set to 30 seconds. This means that the phone will automatically turn the display off after 30 seconds of being idle (half a minute of inactivity). When the auto-lock takes effect, you will notice that your iPhone screen dims down and then locks automatically.
So if you want to use it again, you will have to enter your device passcode or unlock it with your Touch ID or Face ID (whatever feature is supported by your iPhone).
Not only that auto-lock saves your iPhone's battery but also keeps anyone from snooping around your device.
If you think the 30-second interval is too short, you can always alter this setting on your iPhone. The entire process is relatively easy.
For starters who aren't yet familiar with the iOS interface, a step-by-step guide is outlined below to help you get this done. Just scroll down for more detailed instructions.
Steps to Stop iPhone Screen from Turning Off
The following steps will take you to the iOS settings where you can find and configure the iPhone's Auto-Lock feature. These steps are based on the updated interface of an iPhone SE 2022 (3rd generation) and therefore also applicable to other iPhones running on the same iOS version.
This process does not affect any other display settings on your device so it definitely won't mess up other features.
You may go ahead and start whenever you're all set to configure your iPhone's display:
Step 1: Open the Settings app by tapping on the Settings icon from the iPhone's Home screen or Apps Library to begin. Doing so takes you to the main iOS settings menu listing all the preloaded features and services.
Step 2: Find and then tap Display & Brightness to continue. Another menu opens with another set of items, particularly the iOS display features and relevant options.
Step 3: To access and manage the default auto-lock configuration on the iPhone, tap Auto-Lock.
Step 4: On the following menu, you will see different auto-lock options with the current selection having a blue checkmark on it.
Among the available Auto-lock intervals include 30 seconds (default), 1 minute, 2 minutes, 3 minutes, 4 minutes, 5 minutes and Never.
To prevent the iPhone's screen from dimming and turning off after a period of inactivity, change the default Auto-Lock setting to Never.
Doing so will prompt your iPhone to keep its display on regardless of the idle time.

Pros and Cons of Keeping iPhone Screen On
The main advantage of keeping an iPhone screen turn is that you don't have to keep unlocking it with your passcode or Face ID every time the display locks from being idle for too long. However, there's also a downside from having this setting as it contributes to constant power consumption given that your iPhone screen is always turned on.
If you find the need to save battery life and reduce power consumption, then switching the auto-lock option to a shorter time duration would be a sensible option.
Suspending apps from checking for new content by turning off Background App Refresh will also help preserve your iPhone's battery life.
And that's how you configure your iPhone to stop turning the display off whenever you don't use it for a long period of time.
Please keep posted for more comprehensive iOS tutorials and troubleshooting guides on this site. Or you can check out this YouTube channel to view more comprehensive tutorial and troubleshooting videos including recent iOS devices.
You Might Also Want To Read: