This post will walk you through organizing contacts list in iOS 15.4.1. Here's a quick guide on how to sort contacts on iPhone 13 with the latest iOS version.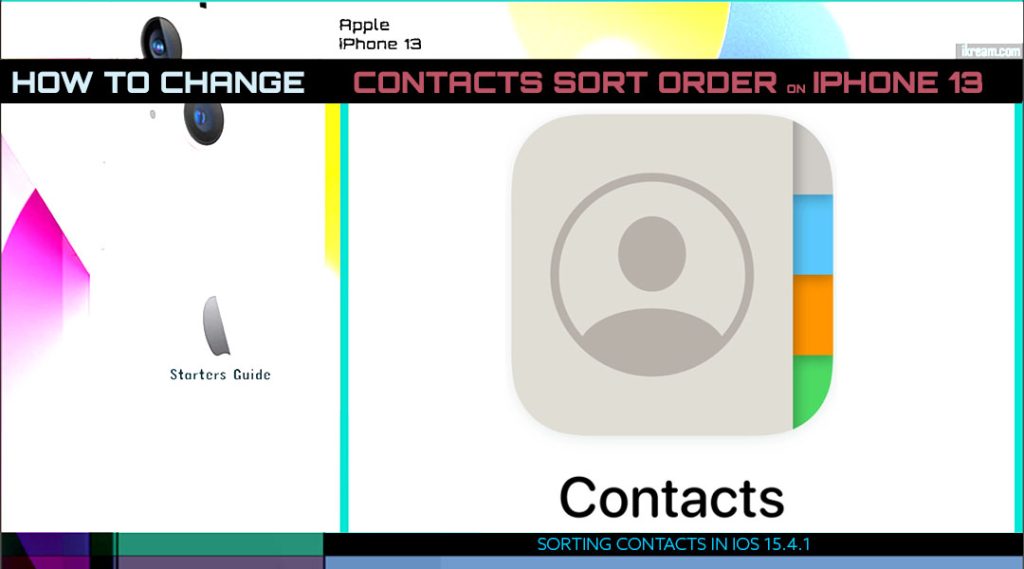 Already saved numerous contacts on your iPhone and need help sorting it out? If so then you can refer to the outlined steps below.
iOS 15 Contacts
Unlike many prior Android phones, iOS devices like the iPhone 13 store contacts based on the selected default account. Recently added contacts are stored on the internal storage and the device will then sync these contact details with the selected account given that iCloud is activated and set.
Although iPhone users can import contacts from the SIM card, the new contacts added are not saved to the SIM.
Every iPhone and iPad device comes with a built-in Contacts app. This app is considered as the central storage of information of important people to get in touch with.
Newer iOS devices are now preloaded with a later dedicated version of the Contacts app that offers the same functionality with that of the Contacts tab embedded in the Phone application. This gives users more options to access contact details, either through the Phone app or straight from the Contacts app itself.
Contacts in both the Phone and Contacts app can be viewed, edited and sorted by groups.
If you're new to iOS and need help organizing your iPhone contacts, the following steps will help you do so.
Steps to Sort Contacts on iPhone 13
Sorting contacts or sorting the order of people in your Contacts app can help speed up the process of finding contact details faster.
The default sort or display order of iPhone contacts is by Last Name.
So when you're scrolling through your contacts list, you will see that the contacts are sorted based on whatever you've entered in the Last name field when you added those contacts information on your phone.
If the default sorting method doesn't suit your preferences, then you can configure your iPhone settings to change the default sort order or display order of your contacts.
To change it to your preferred sort order, just follow outlined steps.
Step 1: From the Home screen, tap Settings to open the iOS settings menu.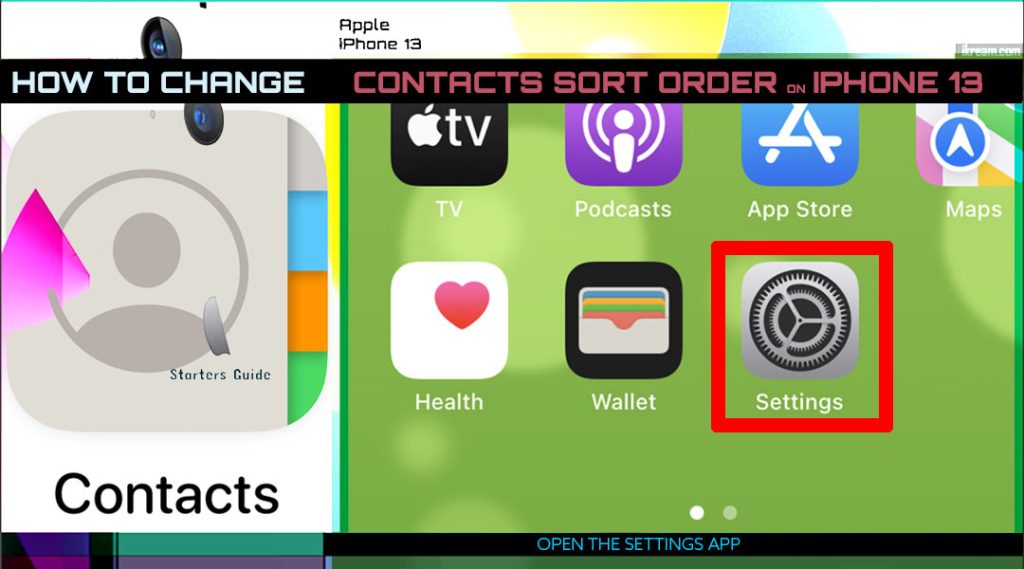 Step 2: While in the Settings app menu, scroll to find and then tap Contacts. Doing so opens the Contacts menu with a list of relevant options.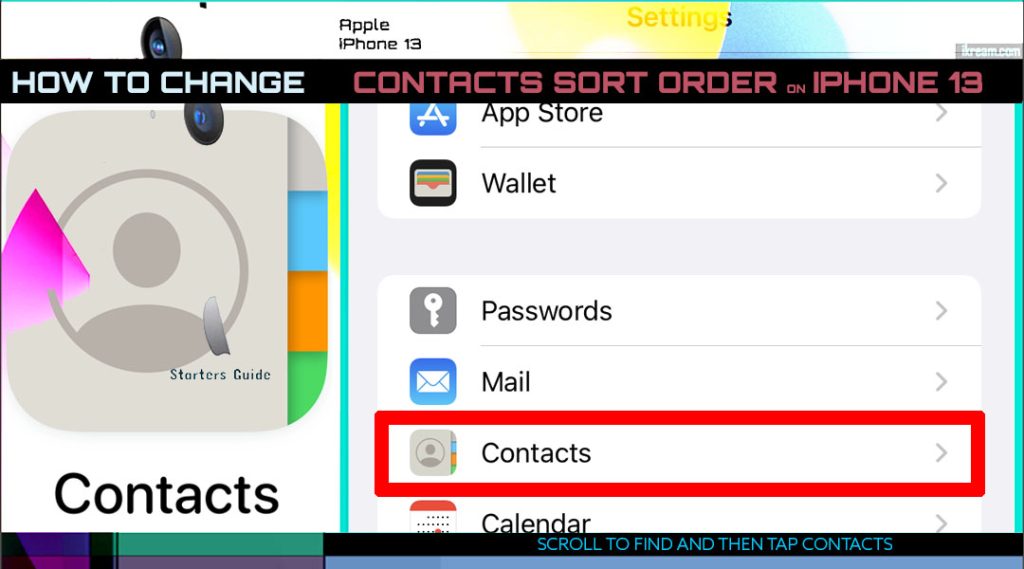 Step 3: Find and then tap Sort Order to continue.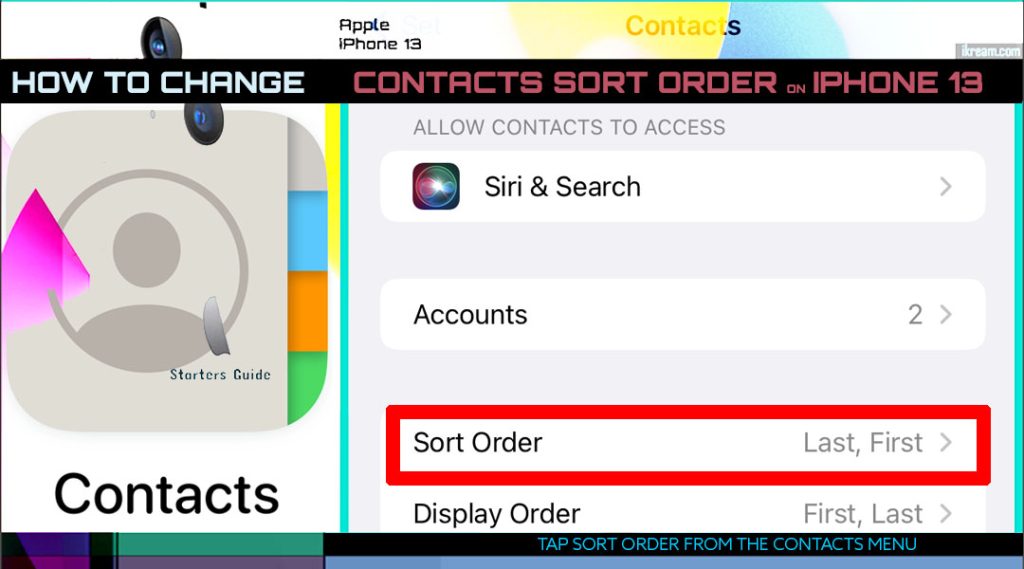 Step 4: On the succeeding screen, tap to mark your preferred sort order. Among the available choices include First, Last and Last, First.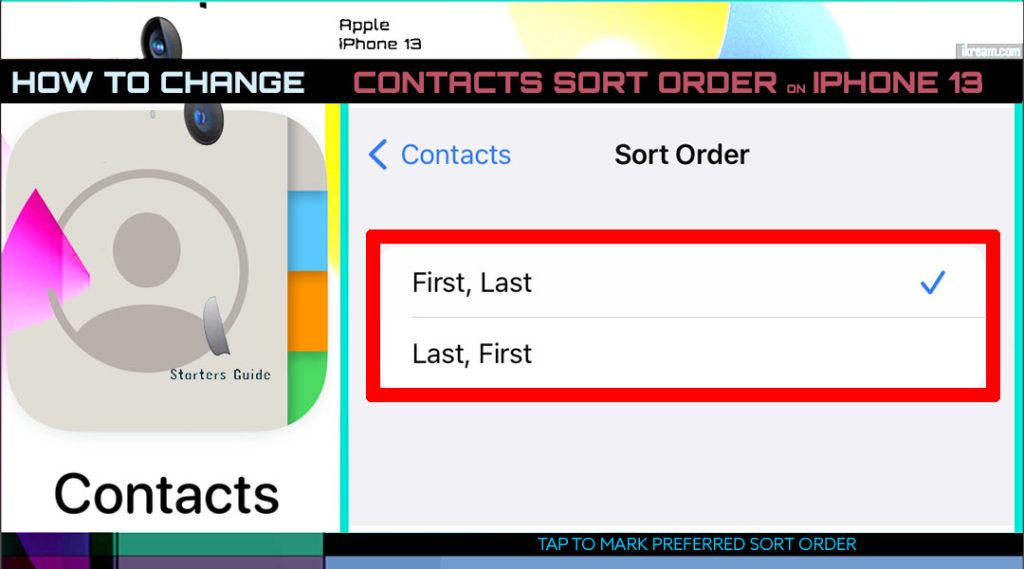 Choose First, Last if you'd like to sort contacts alphabetically with a First name-Last name format. Otherwise, choose Last name-First name.
Contacts Display Order
Aside from altering your contacts sort order, you can also customize your iPhone contacts by changing the display order.
Here's how it's done on the iPhone 13 and other iOS 15 and later devices: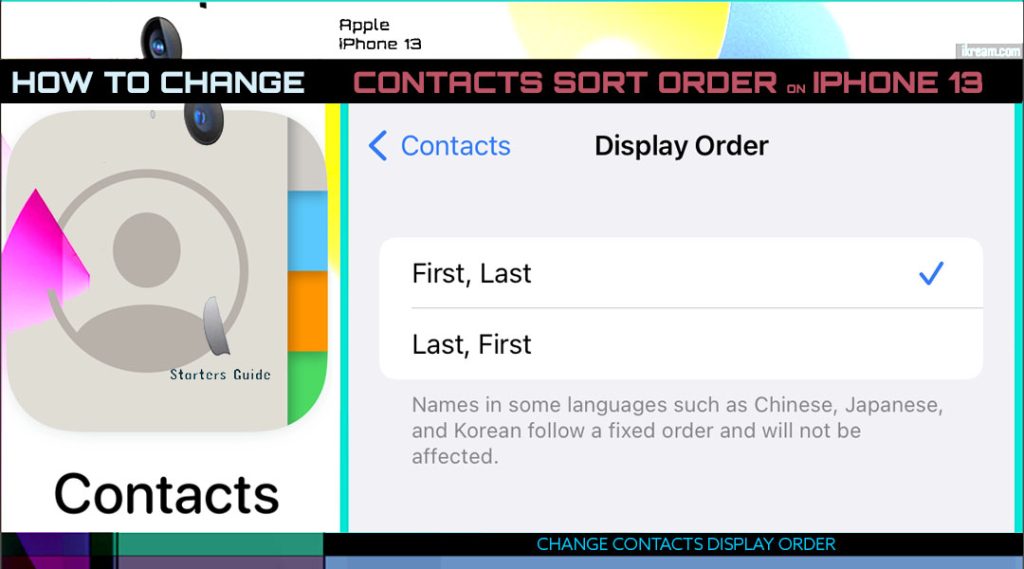 Navigate to Settings-> Contacts menu and then tap Display Order.
On the succeeding screen, tap to mark your preferred display order option according to your preferences.

To change how your contact's name appears in other iPhone apps like Messages, Phone, Mail and more, just configure the Short Name option from the Contacts menu.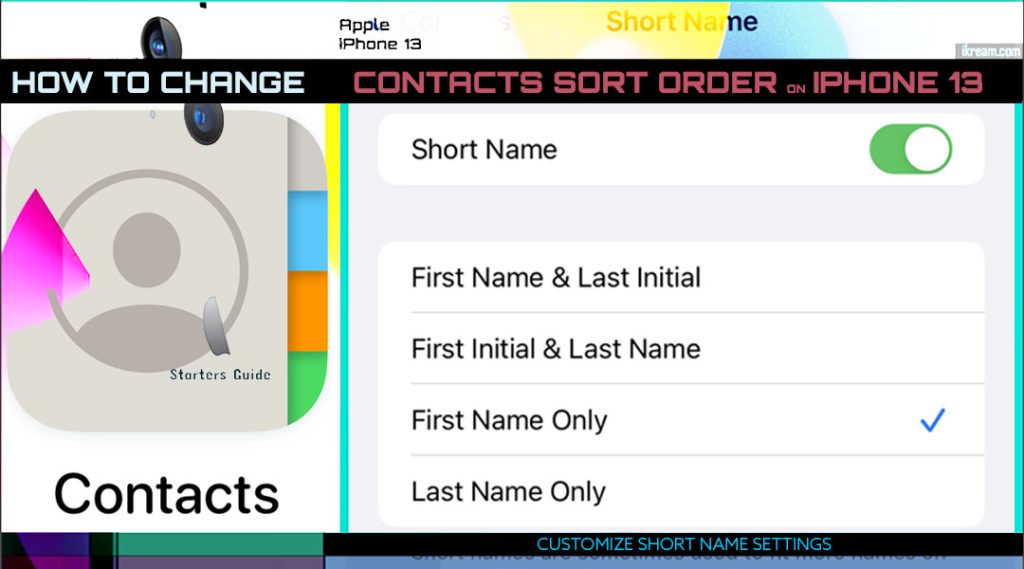 The above procedure is also applicable when customizing the sort order of contacts on other iPhone models that are running on the same iOS version with that of the iPhone 13 series.
Actual screens and menu items may vary between network operators and device models and therefore expect some slight differences on every device user interface.
Just keep your device software updated to ensure all key features and menu options are present.
Other Ways to Customize Contacts Settings in iOS 15
You can set up your email account to sync and share contacts with the Contacts app on your iPhone.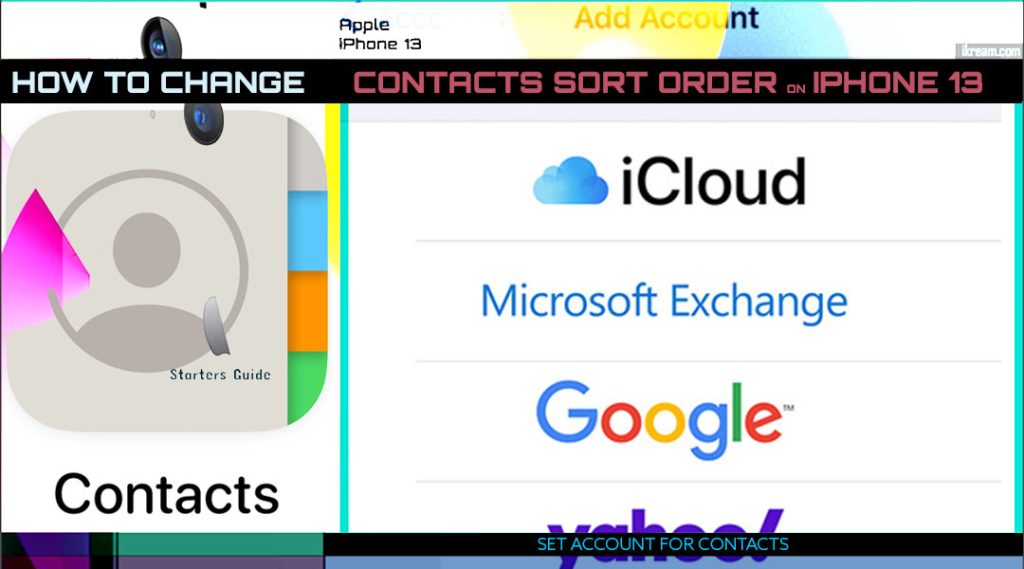 To do this, go to Settings-> Contacts-> Accounts menu and then select the option to Add Account. If prompted, choose your email service provider and then follow the rest of the onscreen instructions to set up the email account that you'd like to sync with the Contacts app.
If you've set up multiple accounts in the Contacts app and you'd like to view contacts for a specific account, simply open the Contacts app and then tap Groups in the top-left corner of the screen.
You can also set a default account to add new contacts to. Simply go to Settings-> Contacts-> Default Account and then select your preferred account to set as default.
All new contacts that you add will then be stored on that account.
And that's all about customizing the sort order of contacts on an iPhone 13 and other iOS devices running on the iOS 15.4.1 platform.
Please keep posted for more comprehensive iOS tutorials and troubleshooting guides on this site. Or you can check out this YouTube channel to view more comprehensive tutorial and troubleshooting videos including recent iOS devices.
You Might Also Want To Read: