Snapchat is one of the most popular apps among iPhone users. Its developers roll out multiple app updates regularly to make sure it works properly.
However, there are times when issues occur and among the most common problems you might encounter while using it is when it starts to crash.
App crashes are often minor issues. In fact, you might even be able to fix them by doing the most basic procedure, but there are instances where you really have to do more than one solution to make the app run perfectly again.
Fix Snapchat Crashing Issue on iPhone 13
The Snapchat app is one of the online apps that requires constant Internet connection to download information from its servers. Thus, it's also possible that the crashes are caused by slow, intermittent or no connection at all.
Among the things you have to look into is your Internet connection. You simply have to make sure that it's stable and fast. Then, you'll have to look into the app's settings as well as rule out the possibility that it's just due to a minor firmware glitch.
Here are the things you should do to fix Snapchat that keeps crashing on iPhone 13:
First solution: Close Snapchat and other apps
The first thing you have to do is to stop the Snapchat service from running. There are times when the app just crashes but its service continues to run in the background.
This causes the app not to run no matter how many times you tap the Snapchat app icon. So try force stopping the app's service and all other apps that are left running in the background.
Here's how you do it:
Step 1: Swipe up from the bottom of the screen and stop at the middle.
This will show you the apps that are still running and possibly including Snapchat.
Step 2: Swipe up on each app preview to close them one after another.
Once you've closed all apps that run in the background, launch the Snapchat app once again to see if it works properly.
Second solution: Force restart your iPhone
The next thing you have to do is to refresh your device's memory as there's a chance that it's just because of a minor system glitch.
Many Snapchat users found success in fixing a problem like this doing the forced restart. So it's worth a try. Here's how it's done:
Step 1: Press and quickly release the Volume Up button.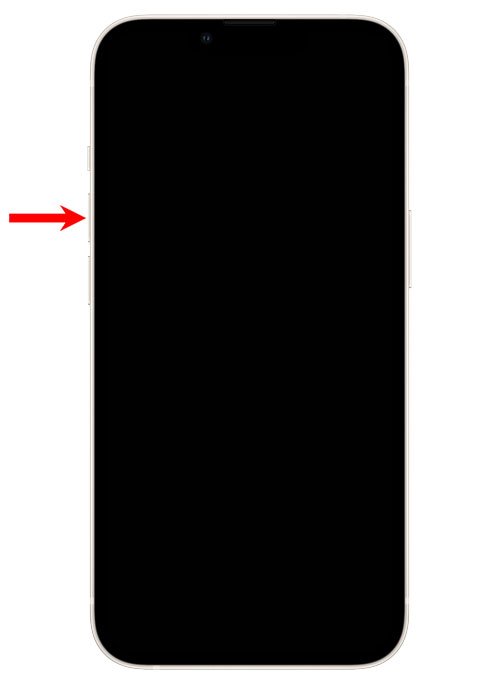 Step 2: Press and release the Volume Down button.
Step 3: Immediately after releasing the Volume Down, press and hold the Power key for 8 seconds.
This will trigger your iPhone 13 to shut down and power back up.
Step 4: When the Apple logo appears on the screen, release the Power button and let your iPhone continue the boot process.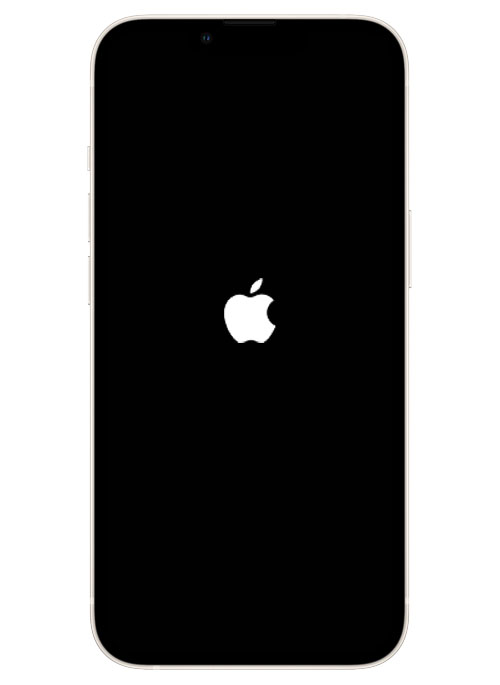 Once the reboot is finished, launch Snapchat again to see if it still crashes at some point.
Third solution: Check Snapchat's servers
After doing the first and second solutions and the app continues to crash, then it's time to check if it's a server-related problem.
If the server is down or having some issue, it will affect the app's performance on any device. That might be the case here.
It's important to check the status of the servers because it might save you from the trouble of doing all the other troubleshooting procedures.
Here's how you check Snapchat's server status:
Step 1: On your iPhone, launch Safari.
Step 2: Log on to DownDetector.com.
Step 3: Search for Snapchat and then scroll down a bit to see the most reported problems.
If a lot of Snapchat users reported the same problem as yours, then it's probably a server issue. What you can do about it is wait it out as it will be fixed remotely after several minutes.
However, if there are only a few reports and the problems aren't the same as the one you're currently experiencing, then move on to the next solution.
Fourth solution: Uninstall Snapchat and reinstall it
If the problem is still so persistent that you cannot use the app properly, then you have to remove the app completely from your iPhone. Doing so will also delete all its installation files and caches.
Most of the time, this procedure will fix issues like app crashes, freezes and others. Don't worry about your posts or account information as they won't be deleted.
Here's how you reinstall the Snapchat app on your iPhone 13:
Step 1: Go to the screen where the Snapchat icon can be found.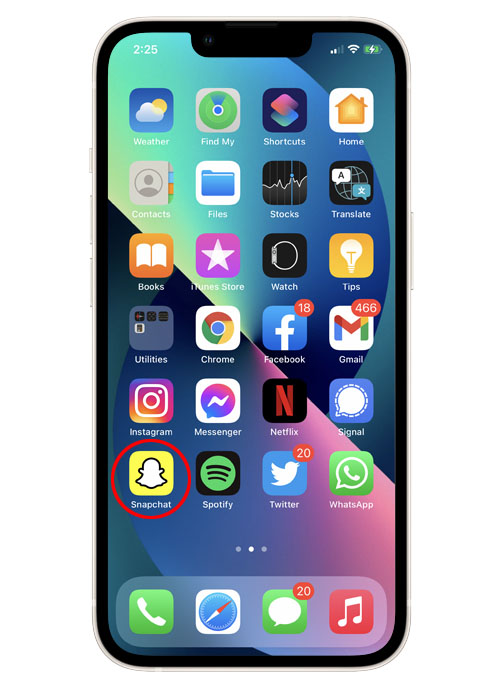 Step 2: Tap and hold on its icon until all the other icons start to jiggle.
Step 3: Tap the Minus (-) sign at the top-left corner of the Snapchat icon.
Step 4: Tap Delete App to confirm you want to uninstall it.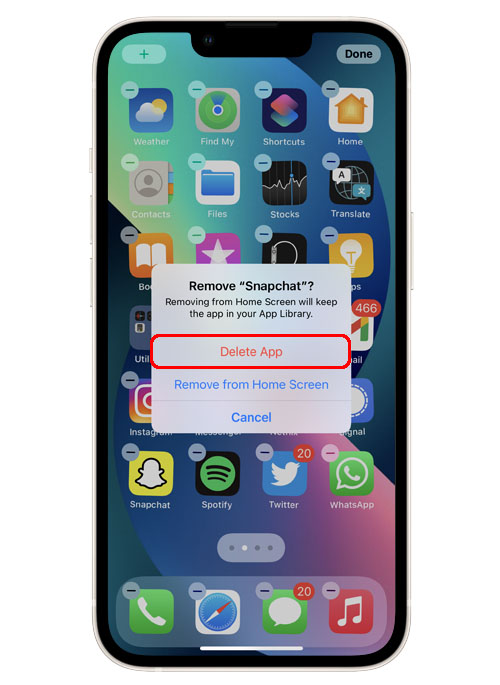 Step 5: Once the app is uninstalled, tap Done in the top-right corner of the screen.
The app and all its files should have already been removed from your iPhone. Now, you're ready to reinstall it.
Step 6: Go back to the Home screen and tap App Store icon.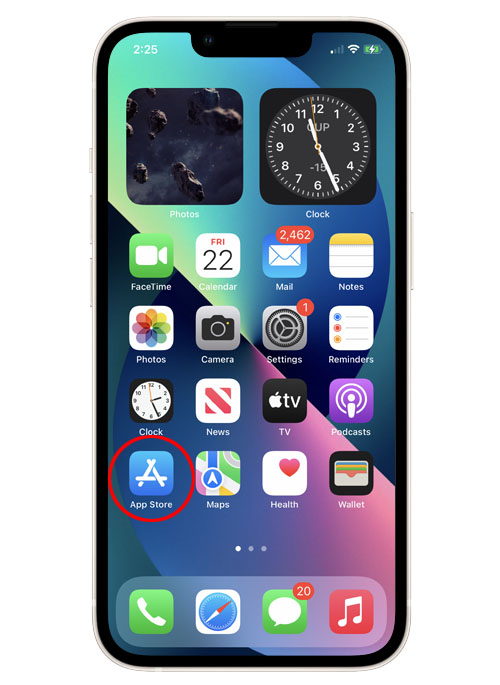 Step 7: Search for Snapchat.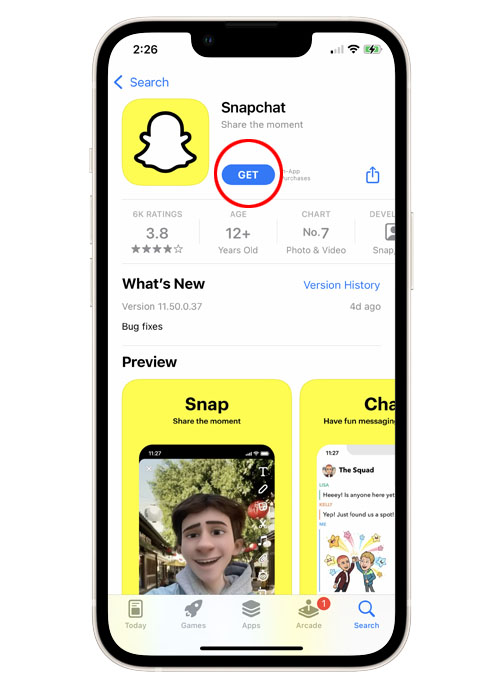 Step 8: Tap Install and then wait until it's successfully reinstalled on your device.
After the installation, launch the app and it should work properly now.
App crashes, like errant Snapchat app, are easy to fix on an iOS device. But to prevent such a problem from happening, make sure your iPhone runs on the latest version of iOS.
You can do so by launch the Settings app, going General, and then tap Software update. This will make sure third-party apps don't crash frequently as new updates bring bug fixes as well.
We hope that this guide can help you.