This post will walk you through restoring the default options and settings on the preloaded keyboard application on the latest Apple iPhone device. Read on to learn how to reset keyboard on iPhone 13 with the latest iOS 15.3 firmware version.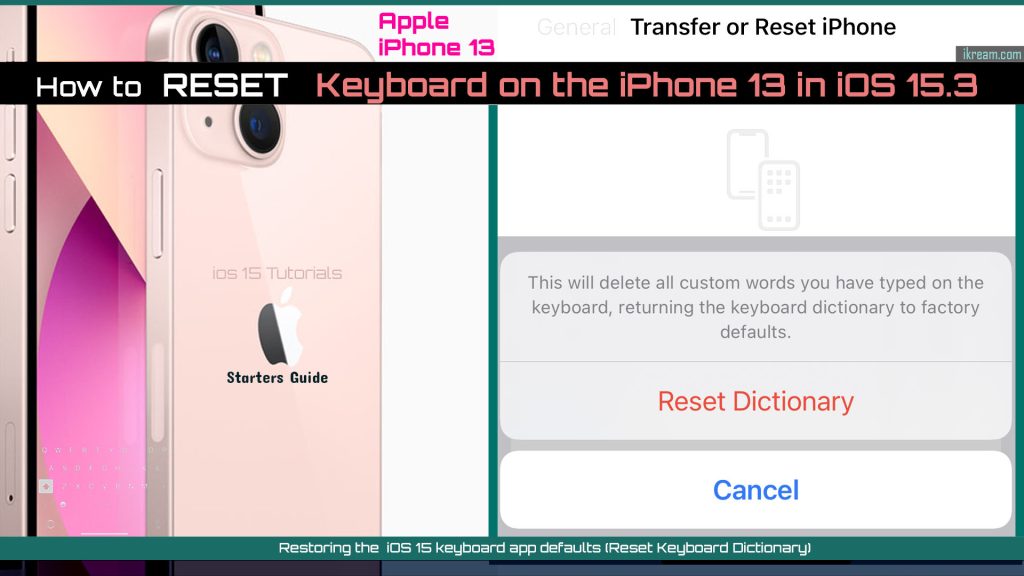 Every iOS device embeds different types of reset options that users can use whenever the need to restore defaults transpire. And one of these is the option to reset the keyboard or reset keyboard dictionary.
Should you need some input on how to access and trigger this reset on the new iPhone 13 device with the latest iOS firmware version, then scrolling down a bit will steer you to the actual process.
iOS 15 Keyboard Reset
Predictive text, auto-correction and text replacement are just three of the many smart features of an iPhone. These input features will help you type in words and phrases with fewer taps.
With auto-correct enabled on the iPhone's Keyboard settings, your device does spell check on the words you're typing in a text field and automatically corrects incorrect or misspelled words.
Predictive text on the other hand will let you write and complete the whole sentence with just a few taps. Relevant choices of words and phrases that the device predicts you will likely type next will appear. Predictions are based on your previous conversations, writing styles and frequently visited sites in Safari.
Meanwhile text replacement allows you to replace longer phrases using shortcuts. So when you enter a certain shortcut in the text field, the device will automatically replace it with the actual or complete phrase based on the text replacement entries you've added to the iOS keyboard.
While all these are handy features, conflicts may likewise possibly transpire when more shortcuts, predictions and auto-correction entries have been accumulated. Should problems like this happen, then restoring the keyboard to defaults is needed on your device.
Easy Steps to Reset Keyboard on iPhone 13 in iOS 15.3
The following are updated steps to access the iOS reset menu that contains all available reset options. These steps are also applicable when resetting the keyboard on other iPhone models that are running on the iOS 15.3.
Feel free to start whenever you're all set to configure your device.
Step 1: To get started, tap Settings from the Home screen to open the Settings app.

Step 2: While on the Settings app menu, find and then tap General.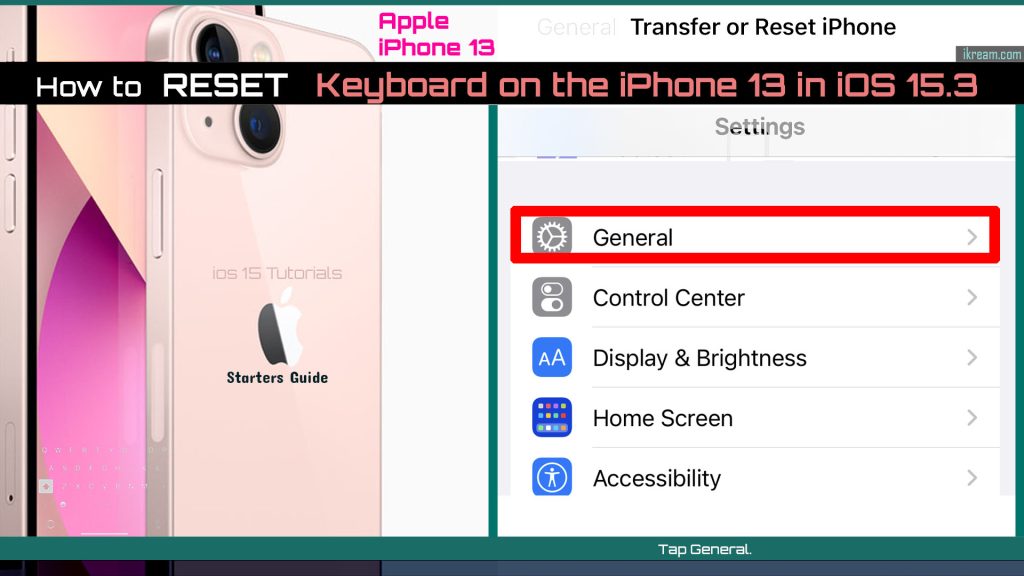 Step 3: Scroll down to the bottom section of the General settings menu and then tap Transfer or Reset iPhone.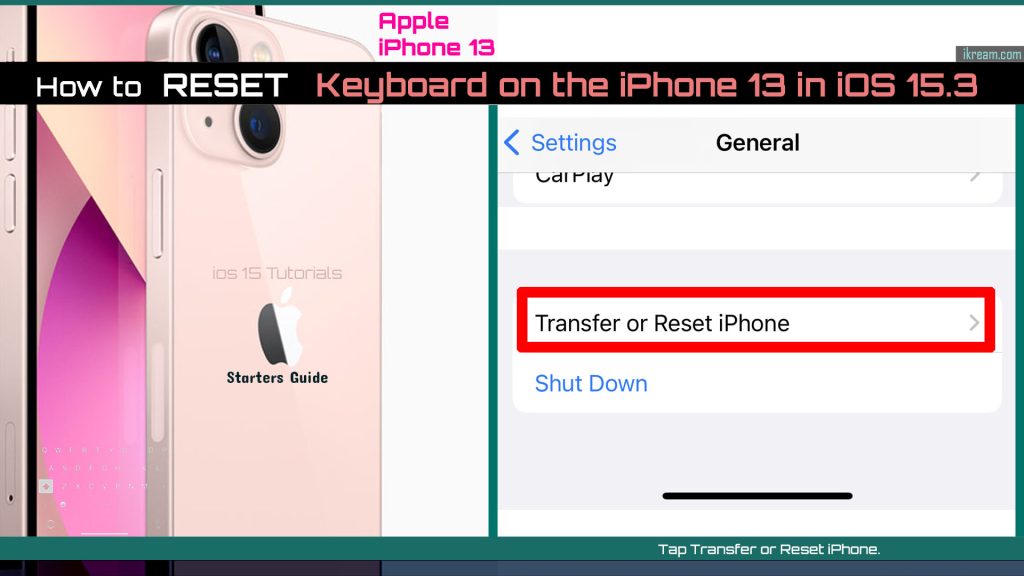 Step 4: To continue, tap Reset. Another screen opens with a list of all iOS reset options.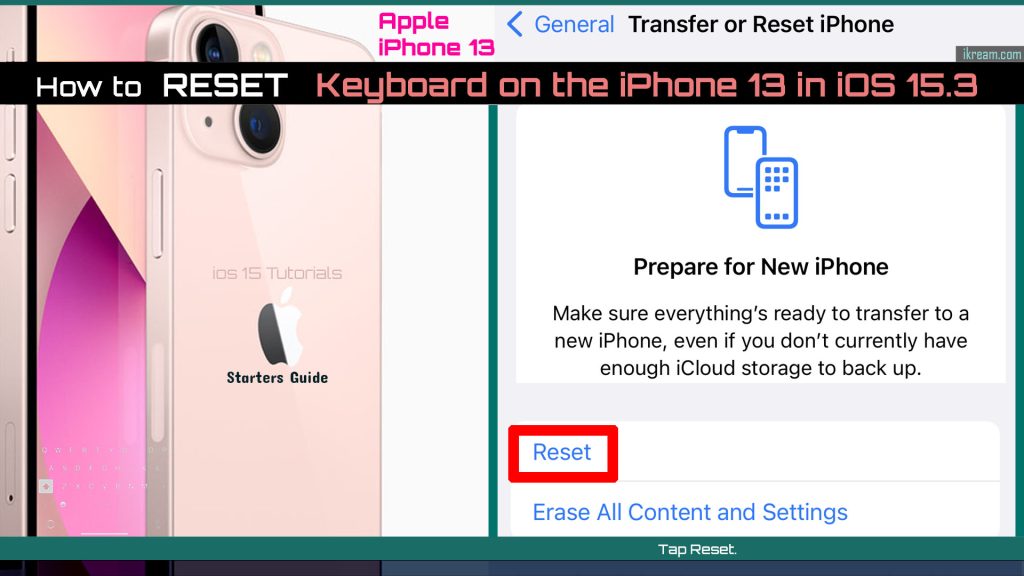 Step 5: Tap Reset Keyboard Dictionary to instigate built-in keyboard reset.
Step 6: Enter your device passcode if prompted.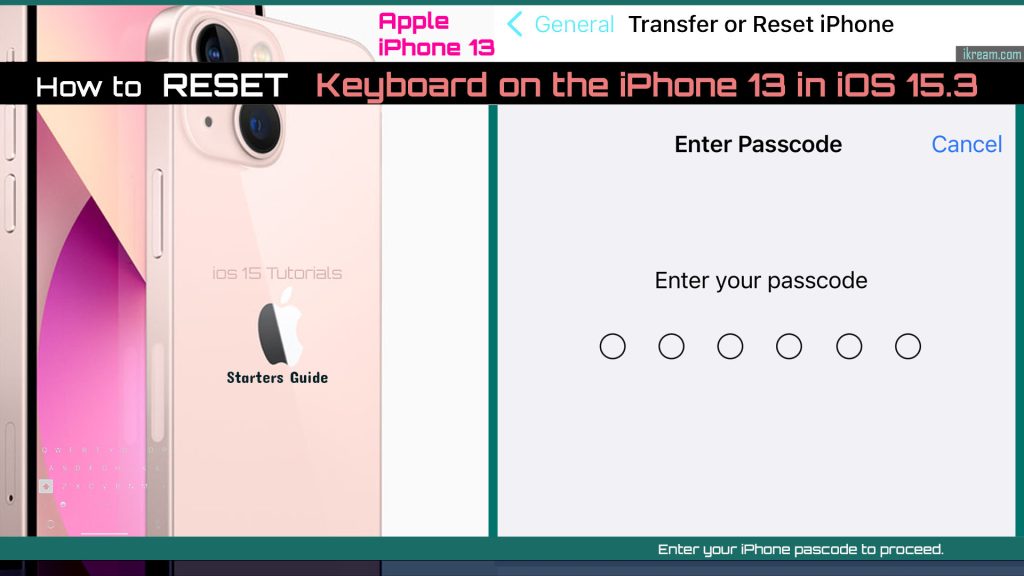 Step 7: Read the final warning and then tap Reset Dictionary.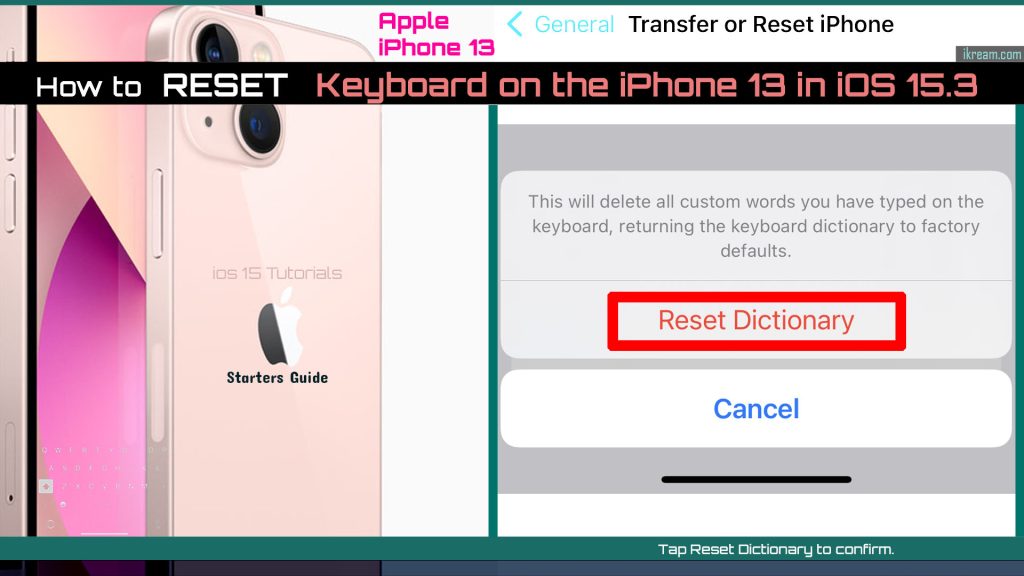 The keyboard reset process will then instigate. It doesn't take so long to finish so just wait for a few moments.
What Happens after Resetting the iPhone Keyboard Dictionary?
After the reset, the default keyboard options are restored. This means that all custom words you've typed on the keyboard will be deleted. Words from the iPhone's predictive text are also removed.
The same goes for your frequently used and recent emojis on the keyboard. Generally, the keyboard dictionary will return to its factory state.
When to Reset Keyboard on the iPhone?
Performing a keyboard dictionary reset can also help rectify random glitches and errors transpiring on the built-in keyboard application on your iPhone like when odd words pop up in the keyboard predictive text suggestions.
The same thing can be done when the iOS keyboard screen is flickering, suddenly stops working or misbehaves from a recent firmware update.
Performance issues that are transpiring when using the Apple iPhone keyboard application including sluggishness and text input delays can likewise be addressed with this reset.
And that's all about resetting the iPhone keyboard dictionary and clearing the iPhone keyboard history on the Apple iPhone 13 smartphone.
This reset only applies to the stock keyboard application on the iPhone. If you're using a third-party keyboard app, then you will need to carry out a separate reset from within the app's settings.
Please keep posted for more comprehensive iOS tutorials and troubleshooting guides on this site. Or you can check out this YouTube channel to view more comprehensive tutorial and troubleshooting videos including recent iOS devices.
You Might Also Want To Read: