Display issues in mobile devices such as screen flickering, white boxes, grey lines, red screen and blue screen are often tied to a hardware damage. However, this is not always the case, especially when it comes to new devices unless of course with previous instances of dropping or exposure to liquid, which may have inflicted physical or liquid damage. But even new devices can still run across these problems for some other reasons. In this post, we tackle a display issue on screen flickering on the new Apple iPhone 7 smartphone.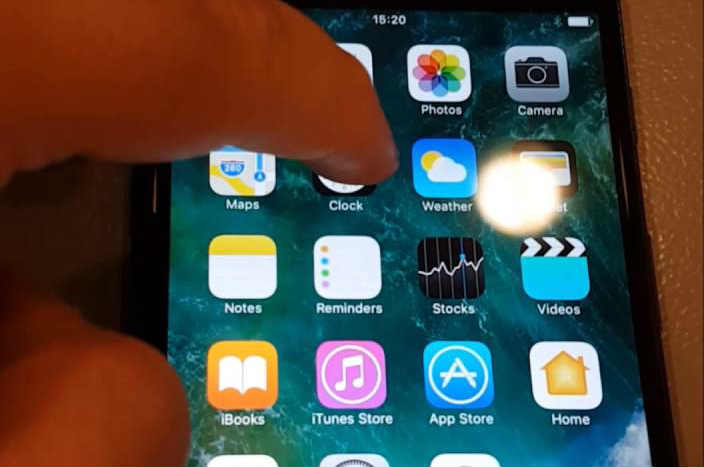 If by any chance you've landed into this page while searching for potential solutions to a similar symptom on the same device, I therefore encourage you to keep reading this entire post. You may also consider giving any of the highlighted workarounds we have compiled based on other iPhone users suggestions as well as standard solutions that are used to deal with screen problems as recommended by the device manufacturer.
Before going any further though, if you have other concerns with your new iPhone, make sure you drop by our iPhone 7 troubleshooting page for we have already started supporting the device. Moreover, if you need further assistance, you can always contact us by completing our iPhone issues questionnaire and providing us with sufficient information about the problem.
Why is my iPhone 7 screen flickering or showing other unusual displays?
Apple's new flagship device, the iPhone 7 sports a number of stunning display specs and features, particularly a multi-touch display with IPS technology, high screen resolution at 325ppi, along with many other features depicting a cutting-edge mobile display technology. But all these can become useless if tinted with some visible symptoms like a flickering display. While many would think that it is unusual for such a well-schemed new iPhone device to show relevant symptoms especially at a very early stage. Nevertheless it is inevitable and in fact, it is already plaguing some of the first few owners of this new iPhone.
So then you would ask if what causes your iPhone 7 screen to flicker suddenly or show other unusual display symptoms?
Two major factors can likely cause screen flickering and other relevant problems on your iPhone. They can be due to hardware damage or software-related issues affecting the iPhone's display-rendering functions.
Setting aside the possibility that hardware damage is present on the iPhone, these symptoms could manifest among other symptoms of random apps malfunction, corrupt files and software bugs. But there are also other cases where a screen problem is tied to an issue on internal storage like insufficient memory on the device. Although this can be deemed a rare case especially because what you have is a new device equipped with high storage capacity. Even so, you might still need to consider this aspect when troubleshooting the problem.
So how can each of these factors possibly inflict screen problems on your new iPhone?
Your iPhone is designed based on the Apple standards both in the software and hardware aspects. Needless to say, devices like this iPhone are thoroughly programmed to meet the users' expectations from such a highest-tiered smartphone. But the actual performance output may vary between users. Some can have it all running smoothly and flawlessly while others wouldn't be lucky enough to have the same positive experience as what happens to those who are troubled with early problems on the display like a flickering display.
Bad apps or corrupted contents are among the common culprits, if hardware damage isn't to blame. When a certain application like third-party app perhaps has encountered some errors while in use, there is a chance that it might as well affect the iPhone's display functions. Sometimes, when an application malfunctions the phone screen can also become frozen or unresponsive to touches. Gaming apps as well as camera apps are more likely susceptible to this problem especially when used simultaneously with other applications. In this case, the problem is isolated to an application and that should be fixed once you've dealt with the bad app. The same thing can happen when corrupted files are downloaded or installed to your new iPhone.
Meanwhile, some owners of the iPhone 7 have noticed a random screen flickering symptom along with some visible grey lines appearing on the upper part of the screen while using the Camera app for recording a video. Although this is just an isolated case, more likely the problem was triggered by some incorrect settings or misconfigured camera options. A possible application bug or program glitch can also be the underlying cause.
Major software update bugs are also among the potential causes. Some instances of screen flickering emerged after implementing or installing the latest iOS update on the iPhone 7. Although software updates are originally designed to offer enhancements and to optimize performance on certain devices, they can also contain some bugs that can make a device or application problematic following the actual software implementation. Post-update issues like those affecting the iPhone 7 display are more likely occurring due to some conflicting settings configuration particularly on the display options.
Memory issues can also trigger an iPhone screen to flicker or show other relevant symptoms like blue screen of death (BSOD) or red/white blank screen when using certain app or multi-tasking with complex apps or multimedia programs. Prior versions of iPhones that were showing similar display symptoms have been found to have insufficient memory.
When a device is running out of internal storage, it can also become more susceptible to performance problems like lagging or not responding touchscreens. But then again, given the fact that your iPhone 7 is still new and that it sports a higher storage capacity, this should not be an issue. Nevertheless, it is still worth checking too.
Physical or liquid damage can also cause your iPhone 7 screen to flicker. In worst case scenarios, an iPhone 7 screen randomly flickers or shows other unusual displays following an instance of hard drops or liquid exposures. Your device might have possibly suffered from hardware damage, liquid or physical. Sometimes symptoms of physical or liquid damage can appear sooner or later than expected.
How to fix screen flickering or other display problems on your iPhone 7?
Setting aside the possible existence of hardware damage on the device, the symptoms can be remedied with any of the applicable workarounds for software-related screen problems. You can give any of the solutions a try on your end and see what happens. However, if you suspect that a hardware damage is present on the iPhone then you can just go ahead and contact your iPhone carrier to avail of warranty or ask for other options. This can help you save time and effort from troubleshooting without positive outcomes.
Step 1. Restart your iPhone
If this is the first time you notice screen flickering on your iPhone 7 while using certain application, then more likely it is just a minor symptom of random apps malfunction. Usually, this can be rectified with a simple restart.
To restart your iPhone 7,

press and hold the Sleep/Wake button until the device completely powers off. After 30 seconds press and hold the same button until the Apple logo appears and the phone reboots completely. After restarting, check and observe your iPhone to see if the problem re-occurs.
If your iPhone 7 screen is not responding and performing the standard restart doesn't help, you can do a force restart instead.
To force restart your iPhone 7

, press and hold the Sleep/Wake and Volume Down buttons simultaneously for 10 seconds until the Apple logo appears.
Your iPhone will then reboot and hopefully that will fix the problem. All contents will remain intact in the process.
Step 2. Verify and configure settings or screen options
In the case where screen flickering or other display problems occur after making changes to certain apps options or device settings, then more likely the underlying cause is an incorrect configuration. Perhaps you have selected an incorrect option (s), resulting to an unusual screen behaviour on your new iPhone.
One effective solution used by others who have dealt with the same screen problems on their iPhone is by configuring the Accessibility settings and enable Reduce Transparency option on their device.
If you want to give this a try on your end, try to navigate to your iPhone Settings-> General-> Accessibility-> Reduce Transparency. Toggle the switch next to it to enable the feature.
Reduce Transparency is an iPhone feature that is used to lighten the graphical workload that your device has to deal with. When enabled, this feature will eliminate some of the transparent aesthetic features of the iOS platform.
Meanwhile, if your iPhone screen flickers or show other display symptoms while using the camera app, you can try to disable Portrait Mode. Some users who have dealt with similar display issues were able to obtain temporary solutions by doing so. Should you wish to take your chances, head over to Settings-> Photos & Camera-> Portrait Mode, and then toggle the switch to turn the feature OFF. Disabling Portrait mode can help reduce the flicker sensor factor while focusing on the object's face and boarders while doing video calls.
Switching between video recording options can also be a potential solution. For some reasons, your iPhone tends to show similar symptoms when using certain video recording options that the default or the other way around. Apparently, this depicts a software glitch that needs to be fixed. As temporary remedy, you may try to change and set to other video recording option and see the result.
Step 3. Verify memory status and manage internal storage if necessary
Although it may sound bizarre for a new device to succumb to memory problems at this very early stage, your iPhone can still possibly suffer from it especially with the presence of faulty apps on your device. There are some third-party apps that tend to take up the most of your iPhone's internal storage space especially with these apps running in the background. To ensure that this is not what is causing the problem, you can head over to Settings-> General-> Storage & iCloud Usage-> Manage Storage, and then carefully check the details on your iPhone's memory usage for certain apps.
If you want to view more information about an apps storage uses, simply tap an app from the list. And should you find something unusual about an app then you might as well consider taking appropriate actions so as to ensure that this is not affecting your iPhone's display functions.
Alternatively, you can use iTunes to check and manage storage on your iPhone 7 when needed. If you would opt for this method, you will need a computer (Windows or Mac) that has the latest version of iTunes installed, in order to get started. Once you've got everything set with your iPhone 7 and the computer, you may proceed with these steps:
Connect your iPhone to the computer using the supplied USB cable.

On your computer, open iTunes.

Select your iPhone 7 on the iTunes list of available devices.

Once your device is selected, you should see a bar that shows how much storage your iPhone content

used divided by the content type.
You can find more significant information by moving your mouse over a content type, including those that are tagged under Other or Apps.
Step 4. Restore iOS
Another possible cause of screen flickering is a buggy software update. You will know if this is the underlying cause if the problem starts after updating the latest version of iOS for your iPhone. Perhaps, the update contains certain bugs that may have affected the iPhone's display functions as manifested by screen flickering or other symptoms. In cases like this, performing an iOS restore can be your last resort, but of course, given that you have backed up your iPhone before updating iOS.
To proceed with an iPhone restore, you will need a computer with iTunes installed. Be sure to use the latest version of iTunes so as to avoid having any issues from possible software incompatibilities.
Once you have the computer ready, connect your iPhone using the original USB connector. When successfully connected, open iTunes on the computer and then navigate to the

Summary

panel on the iTunes screen.

Locate and select the option to Restore to initiate iOS restore on your iPhone.

Wait until the restore process is completed and after that you may proceed with bringing data back to your device manually through iTunes or iCloud.
Aside from iTunes, you can also try using other tools to restore your iPhone 7. The App Store offers you with a lot of options when it comes to iPhone iOS restoration. Typically, these tools also integrate functions to fix any system issues transpiring on an iOS device including the iPhone 7. To increase your chances of success, just be sure to pick the freeware that is compatible with your iPhone 7 system. This denotes a need for you to read on the minimum system requirements for each freeware before you proceed with downloading and installation.
Step 5. Contact Apple Support for further assistance
So you have done everything on your end or tried all recommended workarounds in this post but to no avail. At this point, your next best option is to contact Apple Support or your device carrier for further assistance and/or recommendations. In the case where the iPhone 7 screen flickering or other display symptoms are triggered by hardware damage, you may opt to seek professional aid or take your device to an authorized service center. But if your iPhone is still under warranty, (which is likely the case) then you should consider availing for service warranty instead. It's a wiser option than paying for a hefty repair cost.
Connect with Us
If you need more help with the use of certain functions and features of the new Apple iPhone 7 smartphone, feel free to visit our Tutorial Page. There you can find a list of how-to contents, step-by-step tutorials, as well as answers to FAQs regarding iPhone 7. If you have other concerns or encountered some troubles while using the phone, you can reach us through this form. Just be sure to tell us more details of the problem or device issue(s) you may have and we will be more than happy to assist you further.