Learn more about the 'No Service' or 'Searching Network' error on the #Apple iPhone 6s (#iPhone6s).
Learn about the possible causes of the error so you'll understand it more deeply and you'd know what to do if it happens again.
Learn how to troubleshoot the error message and read more to know what other owners did to solve the problem or how to work around it.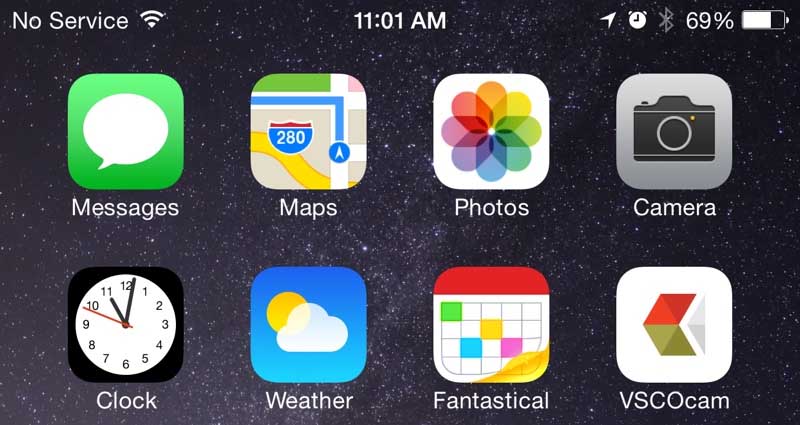 This post highlights the most effective solutions and workarounds used to address an issue on the Apple iPhone 6s, in which the iPhone shows a No Service or Searching for Network error in the status bar and can't connect to a cellular network. As additional outcome, making and receiving calls, SMS and MMS are also affected. If you come here in search for a fix to this problem, you may give any of these methods a try and see the result.
Aside from the standard troubleshooting procedures, I've also included a bizarre trick used by a number of iPhone owners who have dealt with the issue on No Service or Searching network on the same iDevice. Read on to learn more about this optional technique and decide whether to give it a go or not.
ALSO READ: How to fix No Service error on iPhone, cannot send / receive calls and text
Possible Causes
There are many factors that can trigger errors like 'No Service' and 'Searching network' to occur on your iPhone. In most cases, the problem is tied to a faulty SIM card while others are due to some network outages, particularly cellular network. Others have also encountered the same error prompt after performing a software update. Software updates can contain some bugs that may affect device functionalities including its ability to search for cellular signals. Since downgrading is typically discouraged by most carriers and Apple itself, users may just have to wait for the next firmware update containing fixes. But if you can't take 'waiting for the next software update rollout' as an option, then you may resort to any workarounds available in order to obtain temporary remedy.
Recommended Solutions and Workarounds
You can find many different ways to fix the No Service or Searching problems on iPhones populating the Internet sites and forums these days. However, not all these suggested methods will actually work in certain cases. For this reason, you have to persistently search for and try on any other solutions available until the issue is finally resolved.
The troubleshooting methods I recommend in this post are those that have done wonders to many iPhone 6s/6s Plus users who have dealt with the same problem on their respective devices. Thus, I consider these as potential solutions.
Important Notes:
Before you begin, make sure cellular network is available in your area.
If your iPhone can't connect to cellular network, go to your iPhone settings and then check if Cellular is enabled or turned on.
If you think you haven't done any of these methods yet, I strongly suggest you give them a try this time for who knows this could be the fix you've been looking for.
ALSO READ: How to fix an iPhone 6 Searching error, no signal detected
Step 1: Reboot your iPhone. Many issues associated with the firmware can be rectified by a simple reboot on the device. For those who need help, here's how to reboot an iPhone 6s:
Press and hold the Power (Sleep/Wake) button until the red slider shows up.
Drag the slider to power off the iPhone completely.
When the device is powered off, press and hold the Sleep/Wake button again until the Apple logo appears on screen.
Step 2: Remove and re-insert the SIM card. As I mentioned above, many cases of iPhones showing No Service or Searching for network prompt are associated with incorrect SIM card installation, and worst, a damaged SIM card. To determine whether the problem is caused by a damaged SIM card or not, you can try to use the same SIM card on any other compatible phones you may have. If it works fine on the other phones, proceed with re-installing the SIM card on your iPhone 6s.
Here's how:
Turn off your iPhone. (Please refer to the above steps, if necessary).
Remove SIM card. Insert a paperclip or use the SIM-eject tool into the hole beside the tray to pop up your iPhone's SIM tray. The SIM tray is located on the right side of your iPhone 6s.
Re-insert SIM card. Be sure to insert the SIM tray completely and in the same orientation before you remove it.
Turn your iPhone back on.
Step 3: Remove any third-party accessories like casing or covers from your iPhone. Some iPhone accessories of other brands may cause your device to function improperly due to some design flaws. To make sure this is not what's causing your trouble, try to remove any casing or cover from your iPhone and see what happens after that.
Step 4: Disable Airplane Mode. Ensure the Airplane mode is not turned on. Just head on to your iPhone Settings-> Airplane Mode. Toggle the switch to turn the feature OFF, if needed.
Step 5: Reset network settings. Resetting your network settings will likewise reset network information including your Wi-Fi network and passwords, cellular settings, as well as VPN and APN settings you've used. Thus, be sure to create a backup of this information before you begin. To reset your network settings, go to Settings-> General-> Reset-> Reset Network Settings.
Step 6: Check time and date settings on your iPhone. Others have also found that No Service or Searching network error prompt is due to an incorrect time and date settings on their iPhone. In this case, you can manually set the date, or connect to your wireless network and then set the date/time automatically. After doing all these, restart the phone with the SIM card in and see if there are any changes.
Step 7: Perform the drop test or banging trick (optional). This trick involves dropping your iPhone at some height. While I for one really don't consider this method appropriate, many of those who have encountered No Service or Searching issue on their iPhones have claimed this trick has fixed it. You may consider giving this technique a try, if you already ran out of workarounds and that you're all willing to take the risks just to get rid of the error.
Here's how they did the so-called "drop test" or "smack your iPhone on the desk a little" trick to get rid of the No Service prompt:
Put your iPhone in its protective case.
Turn off your iPhone.
Remove the SIM card.
Drop your iPhone on a desk from 6 to 12-inch high.
Re-insert the SIM card.
Reboot your iPhone.
While it sounds crazy, many users have actually found this an effective "temporary" solution in their case.
An explanation behind this trick is that the iPhone's network cable had somehow broke off the board and so dropping or banging the phone would put the cable back to its slot. But then again, considering the risk of damaging the iPhone, you must only resort to this technique if and only if your warranty is out and nothing else could be done to resolve the problem.
If none of these workarounds is able to fix your problem and that your iPhone 6s still shows No Service or Searching Network prompt, most likely it's hardware-related. In this case, your remaining options would include contacting your carrier or Apple Support then escalate the problem for further assistance and recommendations. Otherwise, you can directly take your device to an authorized Apple technician nearby for hardware check and repair, if needed.
Engage with Us
We're here to help you! Should you have other problems with your iPhone and need our support, feel free to fill up this form with the required information and we will do our best to address them in our next posts. Just be sure to provide us with all significant details of the problem, for us to be able to come up with a more appropriate analysis and get back to you with the best possible solution and recommendations. You may also visit our Troubleshooting Pages to view our previous posts containing various solutions to other iOS device problems including those with the iPhone 6s, 6s Plus, and other iPhone variants.