This content highlights simple and advanced workarounds used to fix error 53 on the #Apple iPhone 6 (#iPhone6) and 6 Plus (#iPhone6Plus) devices while attempting to update iOS or restore the device via iTunes.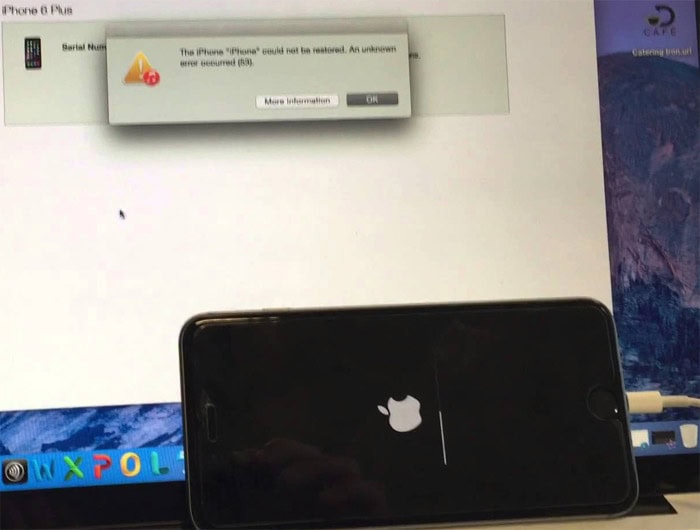 Usually, error 53 appears with a message saying, "The iPhone "iPhone" could not be restored. An unknown error occurred (53)."
If you happen to get the same error prompt, then this content might help you deal with it. Below is an excerpt of a relevant issue we received from an iPhone 6 owner who is facing the same error while attempting to update his iPhone to iOS 9.1.
Problem Description
"My Apple iPhone 6 was accidentally dropped lately, inflicting a minute crack on the upper portion of the device's display. And because the damage wasn't that big, I am still able to use my iPhone normally until the time when I have attempted to update to iOS 9.1.While attempting to update my iPhone, I'm getting the error 53 prompt, and there's no way for me to complete the update process. I wonder what went wrong and how do I get rid of this error so I can update my device?"
What is error 53 and why it occurs on your iPhone?
As explicated on Apple's error code chart, the error 53 occurring on iPhone 6 and 6 Plus indicates possible hardware issue on the device, halting update and restore processes. Experts have later found it a touch ID-related problem. The error may appear while changing the screen of an iPhone 6 when it's still power on as well as if the iPhone is water damaged
Responding to this concern, Apple has provided an explanation of what really error 53 implies. On their error info page, the company has explicated that operating system (iOS) on new iOS devices (like your iPhone 6/6 Plus) with Touch ID feature checks if the Touch ID sensor matches your device's other components during an update or restore. The checking process keeps your both your device and the iOS features related to touch ID secure. In other words, if the Home button or Home button cables are not the ones originally shipped with your device, then there's a bigger chance that this error code appears, as they turned out to be incompatible.
To avoid this error, Apple and iPhone experts highly recommends using only the original (OEM) touch ID sensor, button, and cable when replacing your iPhone display. Upgrading your iPhone OS is also discouraged, especially if you need to replace a Home button or damaged cable.
Recommended workarounds and possible solutions for error 53
A dramatic increase on incidences of error 53 is seen after the official rollout of iOS 9. Fortunately, there are some available workarounds you can try on before taking your iPhone to a technician and pay for repair cost. These workarounds may work best given there is no damage to your iPhone's hardware components. Just try the method(s), which you think most applicable to your situation, so there'll be no time and effort wasted.
Try to unplug extra USB devices from your computer when your iPhone is connected.
When you try to update or restore your iPhone 6 and the said error code appears, ensure you are using the latest version of iTunes on your computer.
You might as well consider installing available updates for your Mac or PC.
Uninstall and re-install iTunes on your computer. This will help rectify any glitches on the iTunes program.
Restart your computer and then try updating or restoring your iPhone again.
Make sure no security software or settings are blocking your iPhone from communicating with the Apple update server. You may need to verify your security software and settings and make sure everything is properly configured.
Try to restore your iPhone two or more times.
Also check and ensure the connected USB cable, computer, and network you are using are all working good.
Try using a different cable and different USB port. You may do this to determine whether the problem is due to a faulty USB cable or port.
Hardware Solution
If none of the preliminary workarounds works, then you may have to proceed with a more advanced solution, which is working with the iPhone's hardware. Nevertheless, this option would already require skills along with a complete set of tools as it involves dismantling your iPhone 6 and replacing the IC from the old Home touch ID button. You would need to remove the IC from the original touch ID and then install it to the new Home button. But if you don't think you can do these stuff, then you better let a professional do it for you.
If your iPhone is within warranty period, you may contact your phone carrier or the store where you purchased your iPhone from and request for a replacement unit or avail for a repair warranty.
Important Note
Accidental damage is not covered by warranty but still you can avail of the so-called "Out of warranty Replacement" program instead, considering your device is still under warranty.
If the error 53 prompt remains after performing all the aforementioned workarounds, your remaining option is to escalate this issue to your carrier or Apple Support for them to take immediate action.
Connect with us
For further inquiries and/or other concerns with your iPhone 6 and/or 6 Plus, or other iOS devices, please visit our troubleshooting page. The page contains various problems relayed to us by other iOS device owners, along with the best possible solutions, troubleshooting methods, and recommendations.
Should you wish to ask help from our iOS support team, simply fill up the form or questionnaires we provide in the same page. Be sure to provide us with as much information about the existing problem you have on your device, so we can come up with the best possible solution or recommendations.