This post will walk you through adding new fonts for the iPhone 13 straight from the App Store. Read on to learn how to download and install new fonts on iPhone 13 with the latest iOS firmware version.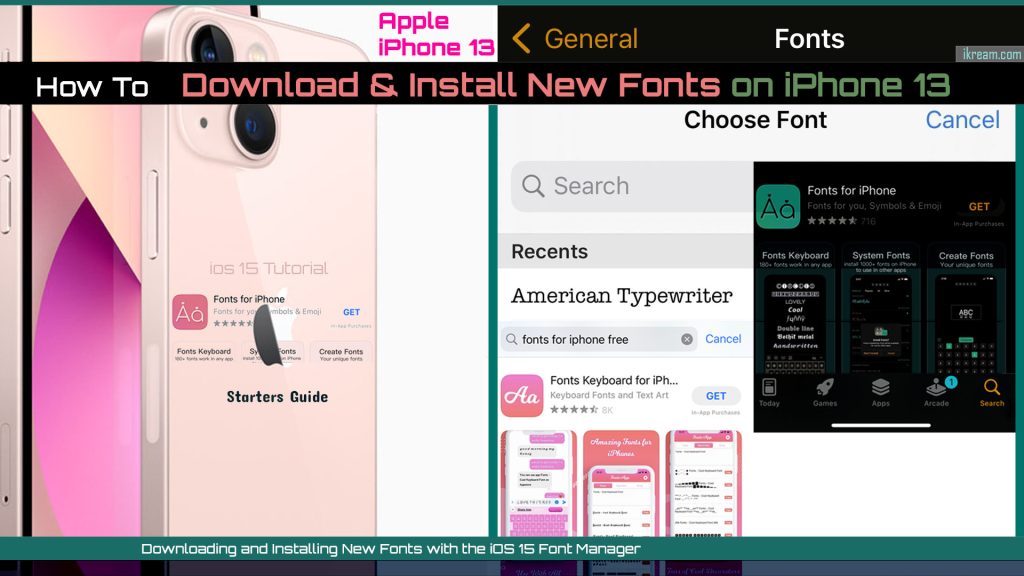 iOS Font Manager
The iOS 13 rollout marked the official support for iOS font installation functionality in multiple iOS devices. That's when iPhone owners were finally able to get their own fonts embedded with the native software — the iOS 13 Font Manager.
With the preloaded iOS Font Manager, you can find and install custom fonts according to your needs and proclivity.
Years later, the Font Manager is still included among other general features in newer iOS devices including the latest iPhone 13 series.
If you own an iPhone 13, you can access and manage the built-in font manager through the general settings menu.
Here, you can find a bunch of custom fonts you can use as a better substitute for the default font in Keynote, Pages, Numbers and Mail app.
Depicted below is the actual process of downloading and installing new custom fonts on an iPhone 13 through the App Store.
Feel free to refer to this quick walkthrough if you need some input on how to access and make use of the iOS 15 font manager to add new fonts for your new iPhone.
Easy Steps to Download and Install New Fonts on iPhone 13 in iOS 15.3
The following steps are also applicable when downloading new fonts on other iOS devices that are running on the same software version (iOS 15 or later) as that of the iPhone 13 series.
However, there may be some slight differences in every device's interface given that actual screens and menu items vary between device models and network service providers.
Before you begin, verify and ensure that your iPhone has fast and stable internet connection preferably through a Wi-Fi network. Also ensure that your iPhone software is up-to-date.
Once you've got everything ready, you may go ahead and proceed with these subsequent steps to download and install custom fonts.
Step 1: From the Home screen, tap Settings to open the iOS settings app menu.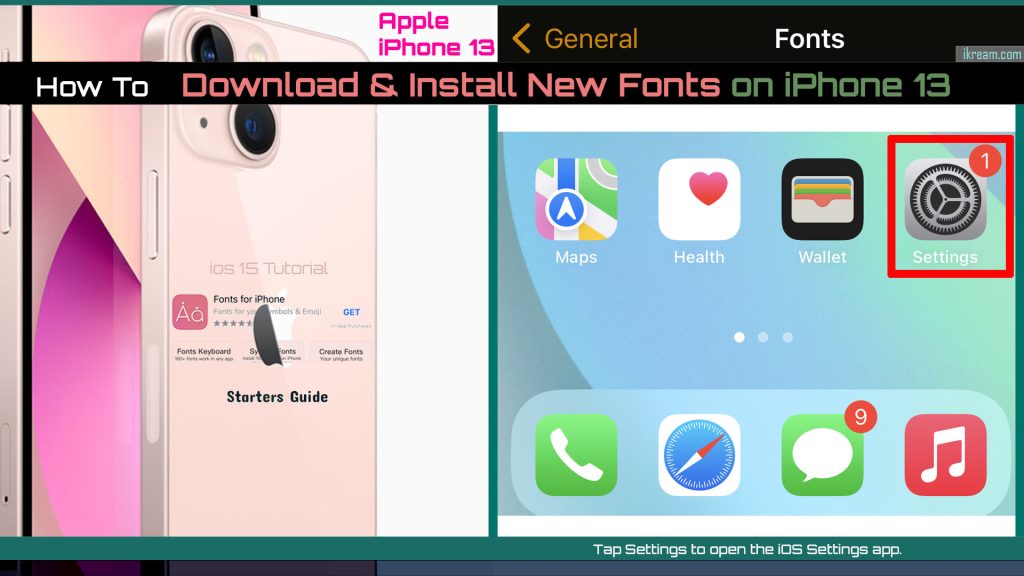 Step 2: While on the settings menu, find and then tap General. Another screen will launch, prompting relevant features and options.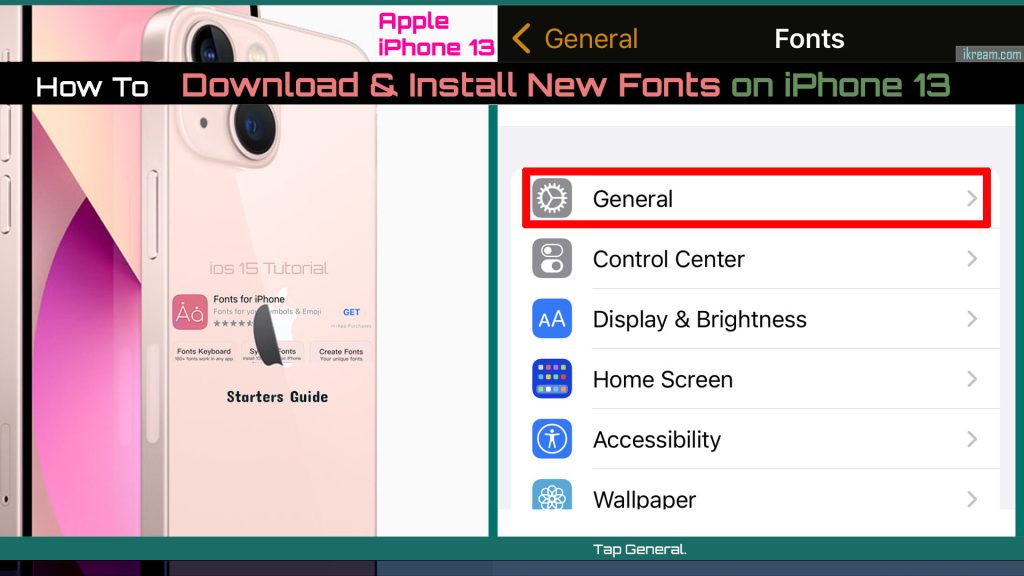 Step 3: Scroll to find and then tap Fonts. Doing so opens the Fonts menu with a list of all installed fonts on your device. If you see no font listed on this menu, then it means no new fonts are added.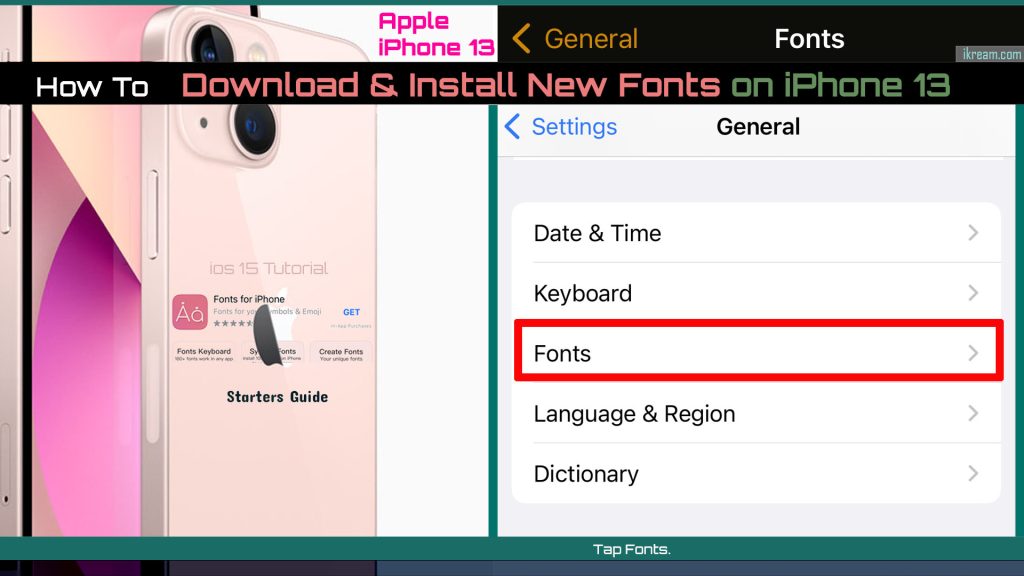 Step 4: To add a new font, tap the option to Open App Store. The App Store menu will load up next.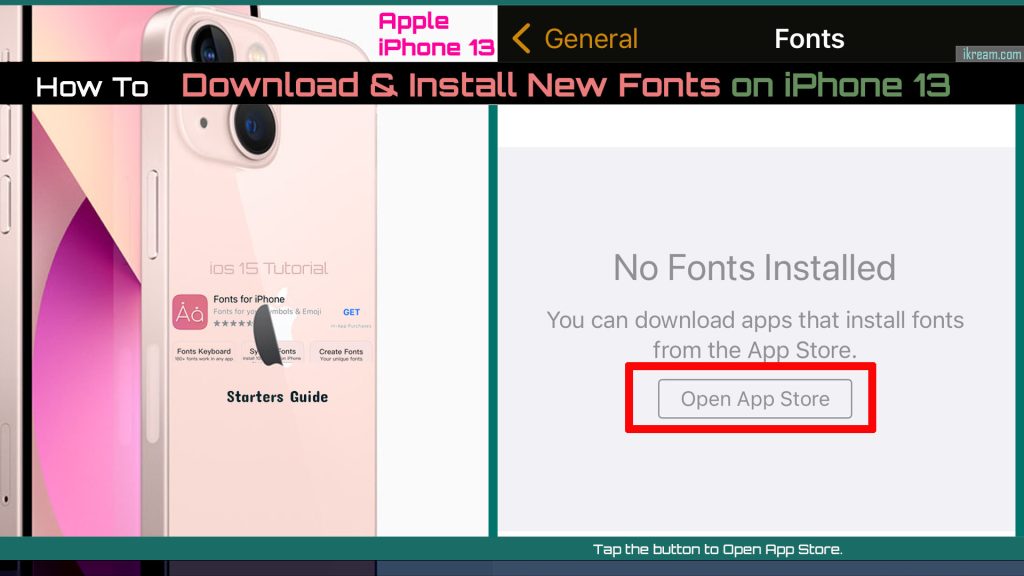 Step 5: While on the App Store, search new fonts available for your iPhone 13. For quick search results, tap the Search command at the bottom-rightmost corner then type "fonts for iPhone," "free font" or any relevant keywords in the search field on top.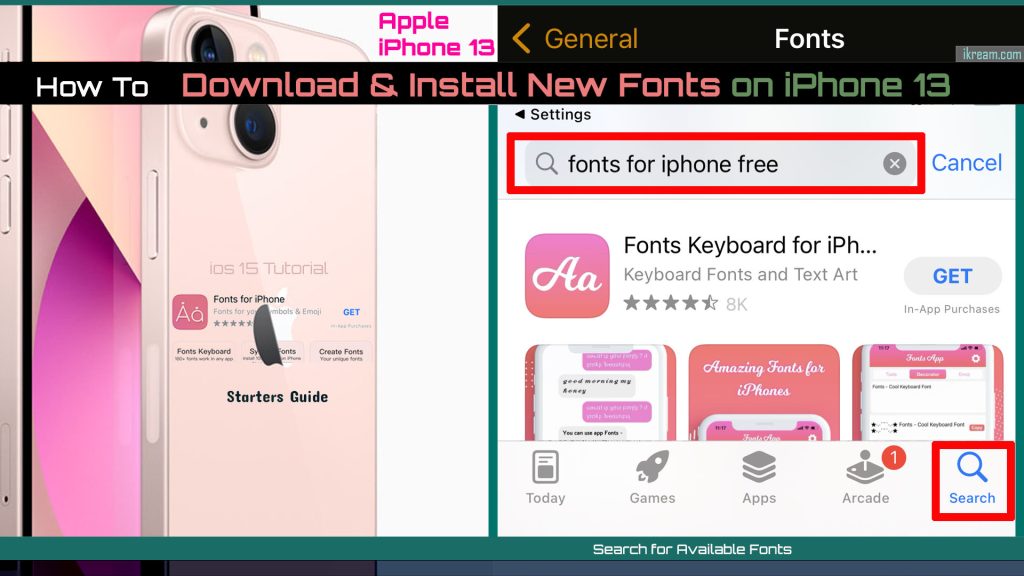 Step 6: Find then tap the Get button next to the desired font.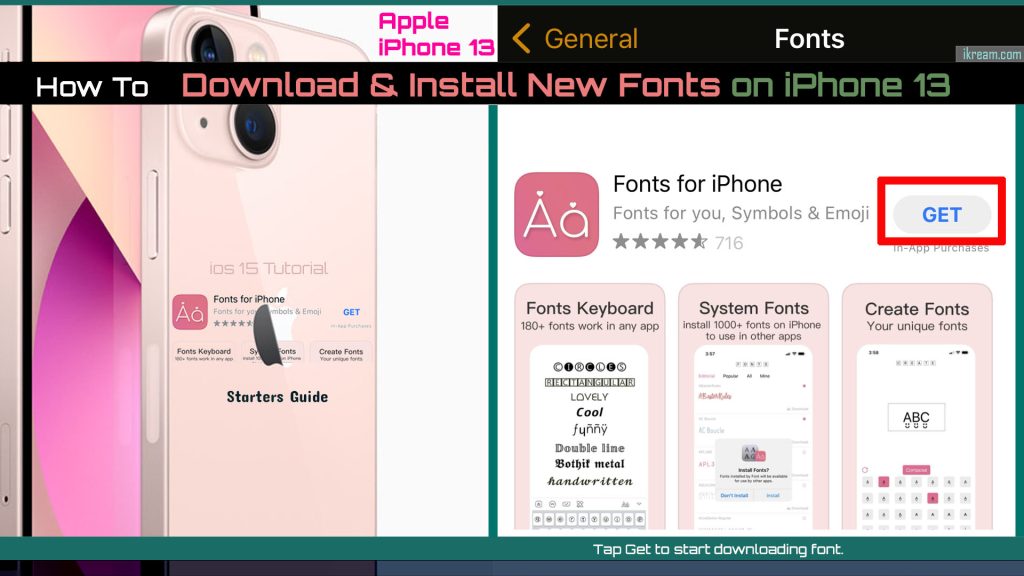 If prompted, enter your Apple ID and password to authorize new font purchase then follow the rest of the onscreen instructions to download and install the new font on your device.
After downloading the app containing new custom fonts from the App Store, you can start installing the fonts package by opening the app. Once the new font is installed, you can set it as the new font for your preferred text-based apps on your iPhone.
To manage recently installed fonts on your iPhone, just head back to Settings-> General-> Fonts menu and select the recently downloaded font from the list.
Deleting Unwanted Fonts from your iPhone 13
You can also delete unwanted fonts from the currently installed custom fonts on your iPhone. To do so, simply tap Edit on the upper-right corner of the screen to switch to edit mode. Tap to mark the font(s) that you want to delete and then tap Remove at the bottom of the screen.
How to Access and Use Recently Added Fonts?
In iOS 15, custom fonts are only available in select apps including Pages, Keynote and Mail. It's also projected to be available in Photoshop for iOS.
To access the fonts manager, you will need to go into any of the compatible apps as mentioned above.
Once you're in the app, you can view the fonts manager through the embedded keyboard, usually through the app's formatting menu.
The formatting menu is typically accessed by tapping on the letter Aa icon in any of the supported applications like the Mail app.
Some fonts are available for free downloads with in-app purchases or via one-time purchase. Available font variants from the App Store are currently limited.
According to Apple in a prior statement, custom fonts are expected to be available from DynaComware Founder, Morisawa, Monotype and Adobe.
Getting New Fonts using Adobe Creative Cloud
Custom fonts can also be installed using the Adobe Creative Cloud app in iOS 13.1 and later devices. Just open the Adobe app on your iPhone 13 then navigate to the Fonts tab. There you should see the option to Install Fonts. Tap Install Fonts then follow the rest of the onscreen prompts to finish installing your preferred fonts.
Getting New Custom Fonts from Third-Party Font Apps
Aside from the App Store fonts, custom fonts can also be downloaded and installed from third-party apps like Font Diner.
Just search for the preferred app then download and install it on your iPhone. Once the font app is installed, just open it to start browsing from a list of multiple fonts that you want to use on your iOS device.
Downloading and installing new fonts from a third-party app is typically easy as all necessary options and commands are provided in the user interface.
And that's all about downloading and installing custom fonts on the new Apple iPhone 13 device.
Should you encounter any problem or error while attempting to download and install a new font, read and review any error prompts or warning messages to figure out what went wrong and what to do in order to fix it.
Please keep posted for more comprehensive iOS tutorials and troubleshooting guides on this site. Or you can check out this YouTube channel to view more comprehensive tutorial and troubleshooting videos including recent iOS devices.
You Might Also Want To Read: