This post contains possible solutions and workarounds to address a problem on the #Apple iPhone 6s Plus (#iPhone6sPlus) screen that won't rotate or is stuck in one screen orientation (portrait or landscape). Read on to learn what causes this problem to occur on your device and how to fix it.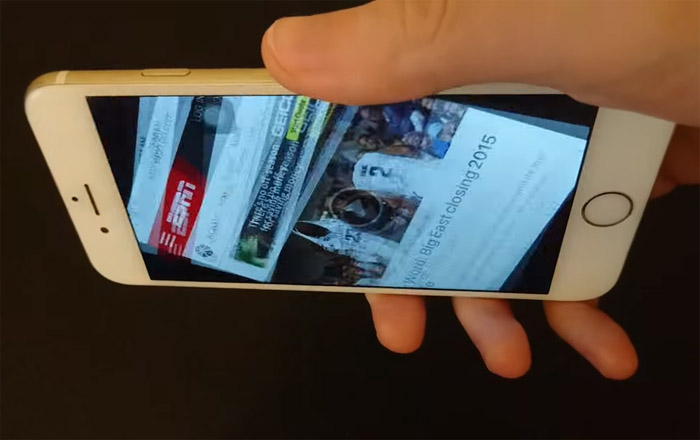 One of the really great #iPhone features is the display that re-orients itself the way you're holding the device. It's especially useful and offers more convenience while reading eBooks, playing games, and taking photos or recording videos with the phone camera. But for some reasons, your iPhone screen won't rotate suddenly. With the screen rotation feature not working, using your device may be a bit difficult especially if you were used to it. Just like what one of our readers has experienced with his iPhone 6s Plus in which he couldn't get the screen to rotate while using certain apps.
Problem: "My iPhone 6s Plus randomly refused to rotate the screen. This usually happens after I captured photos, watched videos, and sometimes, after I checked emails and texts. I also noticed my iPhone screen won't rotate while using Photos and Safari. It's stuck in one orientation or another. Is there a patch for this? If there's none, what should I do to fix this?"
What triggers the iPhone screen not to rotate or switch between orientations?
Screen rotation problems on iPhones may seem to be associated with the accelerometer calibration for the Home screen during the startup process. Accelerometers are devices used to measure acceleration but in smartphones, their main function is to detect changes in orientation and instructs the screen to rotate or switch between up from down and vice versa. If during startup it doesn't calibrate, try to reboot your phone in portrait mode.
Recommended workarounds and possible solutions
Here are a few useful workarounds I've amassed through pertinent forum threads and posts from other iPhone 6s Plus owners who have encountered the same problem with their device.
Step 1: Force Close the application
Sometimes, it's the application itself that is not responding that's why the screen won't rotate as it's frozen. In this case, force closing the application might help. Here's how to force close an app on iOS 9 devices:
Press the Home button twice quickly. Doing so will open the app switcher or multitasking tray where you can see small previews of recently used apps.
Alternatively, firmly press the left edge of your iPhone's screen to switch to the multitasking view.
Swipe until you locate the app you want to quit or force close.
To close the selected app, swipe up on the app's preview.
Step 2: Disable Orientation mode
Swipe up from the bottom of your iPhone screen to open the Control Center.
From the control center, tap Orientation Lock. It's the last icon (rotation lock icon) on the upper-right corner.
After disabling orientation mode, open the Settings
Tap Display & Brightness.
Tap View under Display Zoom.
Tap to select Standard from the given options.
Tap Set on the upper-right corner of the screen.
To confirm action, tap Use Standard at the bottom.
Wait until your iPhone reboots.
Once it's restarted, go to the Home screen and see if it normally rotates.
Step 3: Configure relevant settings and test an application that rotates
Disable Orientation Lock – If the rotation lock screen icon is visible in the status bar, it indicates Orientation Lock is enabled. In this case, you need to disable it. Please refer to the aforementioned procedure on how to turn off Orientation Lock mode from the Control Center.
Disable Display Zoom – Display Zoom lets you select the way you would like to view your iPhone — standard mode or zoom mode. Standard mode allows you to view more information as it fits them on the screen while Zoom mode shows larger controls and text. This feature (Display Zoom) has to be turned off for the Home screen to rotate.
Here's how to disable Display Zoom on your iPhone:
Navigate to Settings.
Tap Display & Brightness.
Tap Display Zoom.
Tap View.
Select Standard.
Wait for your iPhone to completely restart.
Important Note: If your iPhone 6s Plus display is zoomed, the Home screen will not rotate to landscape mode.
Step 4: Force reboot your iPhone
To eliminate the possibility of a software glitch that might be causing your iPhone screen to get stuck in one orientation like portrait or landscape only, try to force reboot your device. To do this, press and hold the Sleep/Wake (Power) button and Home button simultaneously for 20 seconds until the Apple logo shows up.
More workarounds you can try on
Power off your iPhone by holding down the Sleep/Wake button until the power off slide appears.
Position or hold your phone in portrait orientation while it's turned off.
Power your phone on while it's in portrait position. Keep it in this orientation until it is completely booted.
Unlock the phone to get to the Home
While in the Home screen, rotate the phone to landscape orientation.
If the phone screen normally responds and switch back and forth to landscape and portrait as it should, it means you're good. This further denotes that the accelerometer is functioning properly. However, if the phone is stuck on portrait orientation and won't rotate into landscape mode on the Home screen, obviously there's a problem. Turn it off again, and then power it back on in portrait position. You may need to reboot your iPhone several times until it boots up into a non-error state.
Should the problem remain after performing all the recommended workarounds and troubleshooting steps, please contact Apple Support or carrier to escalate your device issue. You may avail for a service warranty or ask for a replacement unit (if eligible), should hardware damage is causing this trouble.
Connect with Us
For more inquiries, relevant concerns, and issues with iPhone 6s Plus or other iOS devices, please visit our troubleshooting page and from there you can just scroll to a specific problem to view our recommended solutions and workarounds. Should you wish to get further assistance from our iOS support team, just complete and submit the form we provide in the same page. To obtain the best possible solution or recommendation to your device issue, please give us more significant details of the problem you're experiencing.