Is your iPhone running slow after an iOS update? This post highlights potential solutions to a post-update slow performance issue on an iPhone 13 smartphone. Read on to learn what to do if your iPhone 13 became extremely laggy after an iOS update installation.
Why does your iPhone lag after an iOS update?
Lagging is one of the commonly raised concerns raised by smartphone owners after installing new software updates.
While updates are purposely rolled out for system enhancements, post-update results aren't always good. As a matter of fact, a device can succumb to various issues after an update. And high-end devices like the latest iPhone 13 series are not exempted.
There are many factors that can cause a device to lag after updating. But on a positive note, the majority of the reported post-update problems are software-related. That said, they are rectifiable by end-users.
Among the known culprits include data corruption, glitching apps, faulty settings overrides and memory-related attributes, to name some.
In the case where the new iPhone 13 suddenly lags after installing the latest iOS version, the problem is more likely due to a glitching app, corrupted files or faulty settings.
Should you need some input on how to deal with post-update lags on the same iPhone, I've mapped a few potential solutions below for you to try on.
Troubleshooting iPhone 13 Became Extremely Laggy after an iOS Update
The following solutions are also applicable when troubleshooting post-update lags on other iOS devices with the same software version with that of the iPhone 13. Actual display interface may differ given the fact that screens and menu options vary between device models and carriers.
Also note that this is going to be a trial-and-error procedure so be sure to test your device after performing each of the given solutions.
Prerequisites:
Before you begin, make sure that your iPhone is sufficiently charged and has stable internet connection. Your device may likewise appear to be sluggish especially when loading up websites and online apps while the internet is unstable or intermittent.
Also ensure that your iPhone is not running low on storage. At least 3GB of available storage is good enough for your device to perform as intended.
Begin troubleshooting whenever everything is set.
Solution #1: End All Background Apps
If this is the first time you notice that your iPhone is lagging from the recent iOS update, chances are that any of the apps that left open during the update had crashed or gone rogue. Unless you've rebooted your iPhone after updating, forcibly ending background apps is needed.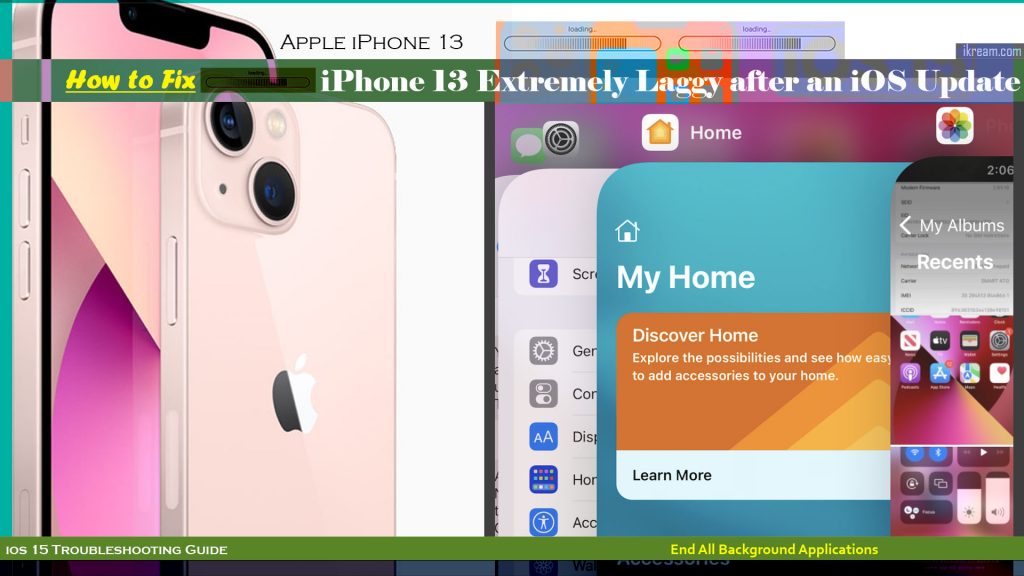 Just follow these steps to access the app switcher menu on your iPhone and end all background applications:
Swipe up from the bottom of the screen then stop when your finger reaches the middle and pause until the app cards/previews show up.
While on the apps switcher, swipe sideways and then swipe up on each app card or app preview.
Doing so will forcibly end the application from running in the background.
Solution #2: Reboot/Force Restart your iPhone
Performing a soft reset or rebooting the iPhone can help fix various software issues including post-update glitches. Thus, you should reboot your iPhone if you haven't already.
This process does not affect any saved data on the iPhone storage so there's no need to back up files. Just follow these steps:
Simultaneously press and hold the Side button and Volume Up button for a few seconds.
Release both buttons when the Slide to Power Off bar appears.
Swipe or drag the bar to turn your device off.
After about 30 seconds, press and hold the Side button and then release when the Apple logo appears.
Alternatively, you can perform a forced restart on your iPhone 13 if it seems to freeze. Here's how:
Press and quickly release the Volume Up button.
Then, press and quickly release the Volume Down button.
Finally, press and hold the Side/Power button for a few moments and then release it when the Apple logo appears.
Performing a forced restart is often needed when an iPhone freezes or stops responding from an update.
Just like a soft reset, user data won't be affected and thus nothing will be deleted.
Solution #3: Install Pending App Updates
Third-party apps that are outdated are more likely to misbehave after an iOS update due to system conflicts. To ensure app stability, software developers also push new updates soon before or after a new iOS version is released.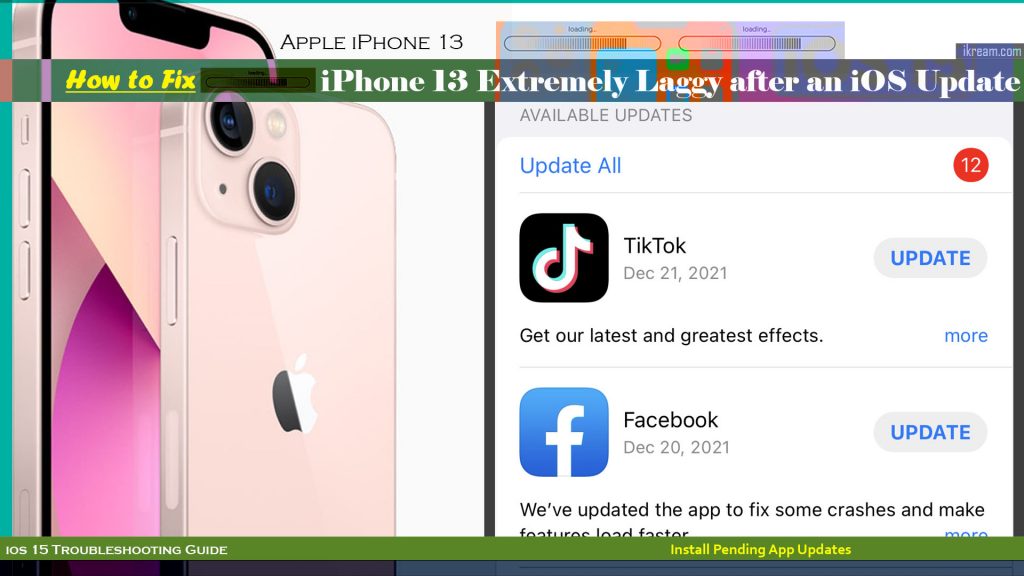 If you haven't set your apps to auto-update, then you would need to install pending app updates manually.
Here's how it's done on the iPhone 13:
Open the App Store by tapping on the App Store icon from the Home screen.
While on the App Store main screen, tap on your profile picture on the upper-right.
Then, pull down to refresh the page and view apps with recent updates available.
To update individual apps, just tap the Update button next to the name of the app.
If multiple updates are available, tap Update All to simultaneously download and install all pending app updates on your device.
After updating apps, reboot or soft reset your iPhone to ensure all recent software changes are properly implemented. This is also imperative to refresh apps and relevant features.
Solution #4: Offload Unused Apps
If the lagging is triggered by some rogue applications or services, offloading unused apps on your iPhone will potentially fix the problem.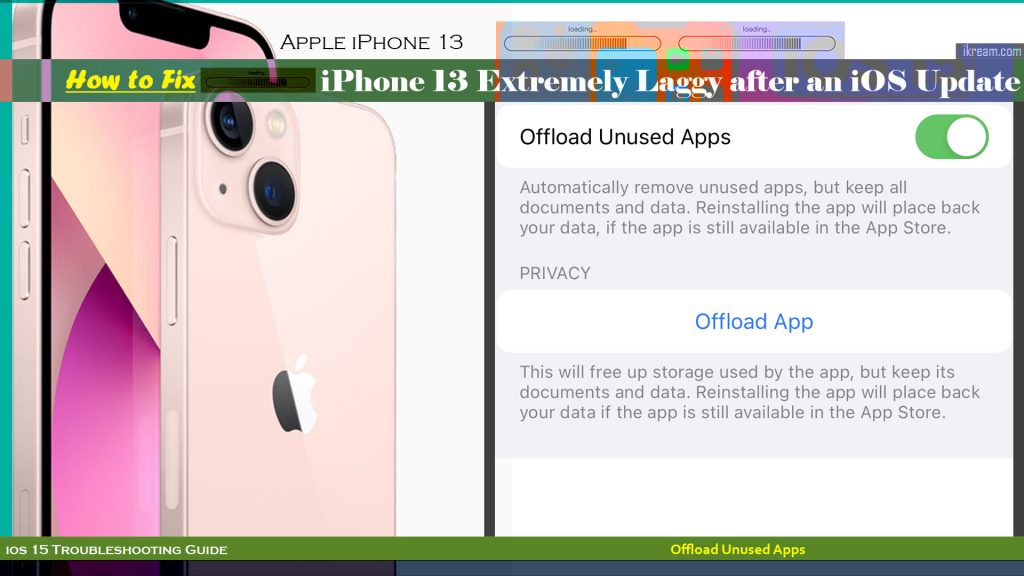 New iOS devices including the latest iPhone 13 series do come with an automatic app offloading feature that can be activated by users when the needs to free up storage and improve the device's performance arise.
You can enable this feature through the iPhone settings menu. Just follow these steps:
Tap the Settings icon from the Home screen to open the Settings app.
While on the Settings menu, find and then tap App Store or (iTunes and App Store).
On the succeeding menu, tap to enable or turn on the switch next to Offload Unused Apps.
All apps that you haven't used for quite some time will then be automatically removed without affecting the app data.
If the lagging occurs only when using a certain app, then you can manually offload the problematic app instead.
Just follow these steps:
Open the Settings app.
Tap General.
Tap iPhone Storage.
Find and then tap the problematic app that you'd like to offload.
On the App Info screen, tap the Offload App command.
Read and review the warning problem and ten tap Offload App to confirm.
Offloading apps also helps in freeing up memory. You can redownload these apps and access your content for as long as they're still available in the App Store.
Uninstalling and reinstalling errant applications can also be a potential solution.
Solution #5: Reset All Settings
Faulty update overrides can also trigger adverse symptoms including sluggish or unstable system performance. To clear this out, resetting all settings on the iPhone can help.
This reset will erase all recent changes made to the device settings and then restore all the default configuration without delete user data. App defaults are also restored.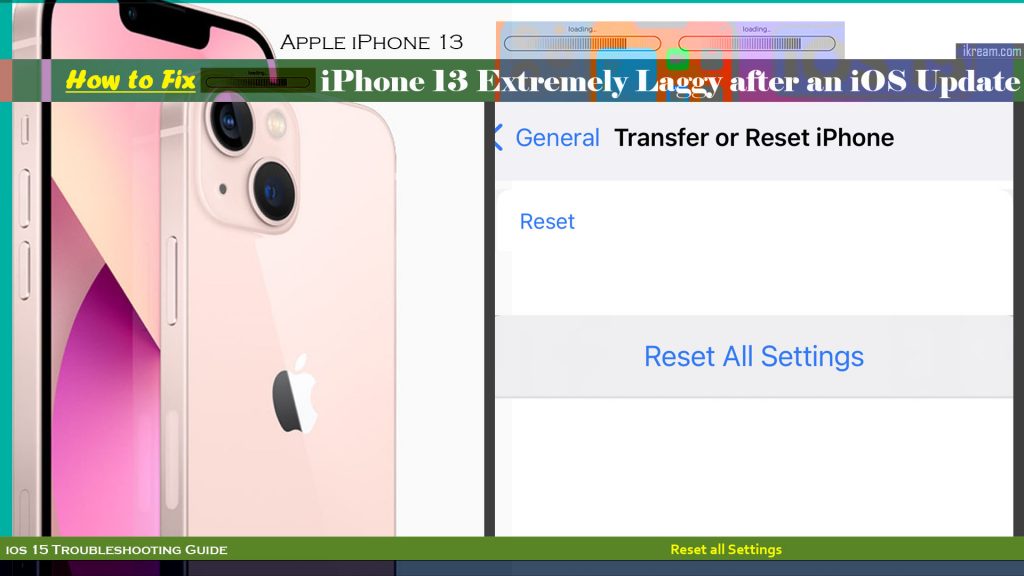 To reset all settings on the iPhone 13, simply follow these steps:
Go to your Home screen and then open the Settings app.
Scroll to and tap General.
Tap Transfer or Reset iPhone to proceed.
Then tap on Reset.
On the succeeding menu, tap Reset all settings from the given options.
Enter your device passcode if prompted.
Tap the option to confirm all system settings reset on your iPhone.
When the reset is finished, automatic system reboot follows. Just wait for your phone to finish rebooting and then load up all the original settings and default options.
After it reboots, you will need to re-enable necessary features, particularly those that are disabled by default. The same thing with app preferences and permissions.
Solution #6: Restore your iPhone (Factory Reset)
Deemed among the last options when dealing with recurring system issues on an iPhone is a factory reset.
This reset is usually needed if fatal system errors occur from the recent update, resulting in unstable system functions.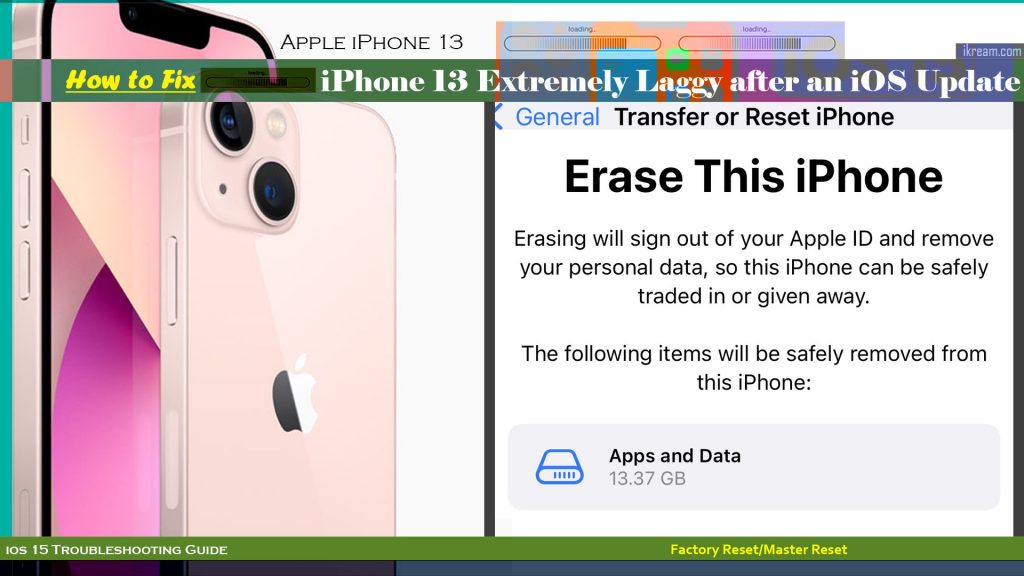 Should you wish to proceed and carry out a factory reset, be sure to back all your important files from your iPhone to iCloud or iTunes beforehand. Failure to do so will result in permanent data loss as this reset wipes everything from your iPhone.
Once you've got everything set, just follow these steps to factory reset your iPhone 13 via settings:
Go to your Home screen and then open the Settings app.
Scroll to and tap General.
Tap Transfer or Reset iPhone to proceed.
Tap Reset and then select Erase all Content and Settings option.
If prompted, confirm that you'd like to erase your device.
Wait for the phone to finish resetting and then restore all default values and options.
When the reset is finished, you can proceed with the initial setup process and set up everything on your device as new.
Alternatively, you can use iTunes to restore your iPhone 13 to its factory state through a computer. This option is recommended when performing a factory reset on an unresponsive iPhone. To get this done, you will need to use the latest version of iTunes application.
Is your iPhone still lagging?
If your iPhone continues to lag after applying all the above solutions, then it's either because a hardware damage is present or critical system files have been corrupted after the recent update.
Before rushing to a service center, you can resort to more advanced iOS restore methods using iTunes.
A. Recovery Mode Restore
If you have a Mac and Windows computer with the latest version of iTunes app, you can use it to restore your iPhone 13 in recovery mode.
A recovery mode restore works by putting your device in a recovery state and then restoring the system through iTunes. This is often deemed a more drastic solution to fatal iOS errors including those that are inflicted by a firmware update. Everything from your iPhone system will be deleted in the process. After that, you may restore your iPhone from a previous iOS backup or set it up as a new device.
B. DFU Mode Restore
DFU stands for Device Firmware Update Mode, a more advanced state that an iOS device can be put in to get it back into working order.
Many people would resort to a DFU mode restore when dealing with complex iOS problems and errors that could not be resolved even with a recovery mode restore in iTunes.
A DFU mode restore works by putting your iOS device in a state where it's still able to communicate with iTunes even without activating the bootloader or operating system.
Fatal system errors including those that made an iPhone stuck on the Apple logo and black screen of death are often resolved with a DFU mode restore unless hardware damage is present.
Third-party Repair Tools
Resorting to some third-party iOS repair tool can also help resolve post-update lagging issue on an iPhone. These tools can be downloaded for free or via one-time purchase. Just pick your preferred tool, download and install it on your computer and then try repairing your iPhone using the tools preloaded commands.
iPhone Repair
If all else fails to fix the problem and your iPhone 13 is still lagging, then perhaps you're dealing with hardware damage.
At this point, you may consider taking your device to the nearest Apple Genius bar in your area and have it thoroughly assessed by an authorized technician.
If your iPhone is still under warranty, then you better contact your carrier and ask help on how to avail for service warranty or new iPhone replacement (if possible).
Please keep posted for more comprehensive iOS tutorials and troubleshooting guides on this site.
You Might Also Want To Read: