This post highlights a few workarounds that will help resolve the annoying display issue on the iPhone green lines (green lines of death). Read to learn what causes the green lines to show up on your iPhone display and what to do in order to get rid of them.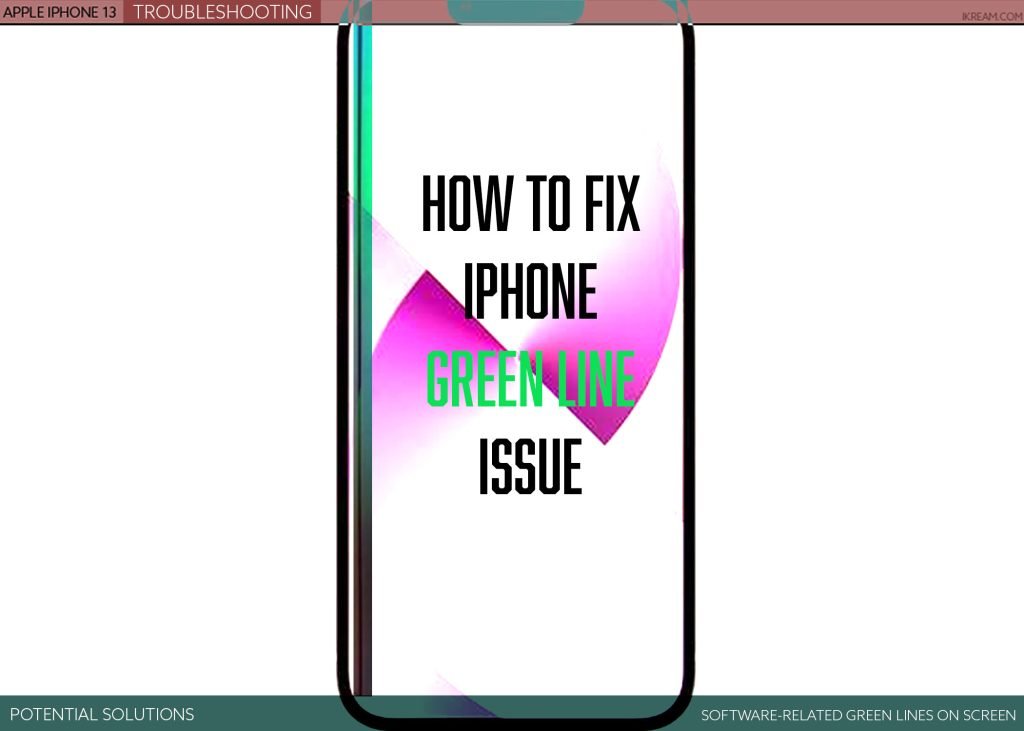 What triggers green lines on iPhone screen?
The green line issue emerged among the prominent display problems encountered by many users of iPhone X. As previously stated, the occurrence of this problem was tied to a problematic connection between the iPhone's digitizer and LCD. That said, it's often a hardware issue.
But in some cases, the occurrence of green lines may likewise be attributed to some random firmware flaws like update bugs that trigger data corruption and in-app glitches.
The easiest way to determine the underlying cause is to know when the problem started or what has happened before the green lines started to appear.
For example, if the green lines show up after you dropped your iPhone or got it wet, then it's more likely a hardware issue. But if the lines appear following an update, app installation, external downloads, or system settings alteration, there's a good chance that the problem is software-related.
Before heading out to an Apple genius bar, performing some applicable tweaks is therefore recommended to rule out software-related factors that might have triggered the iPhone screen to show some green lines.
Workarounds to deal with green lines on iPhone screen
Outlined below are basic workarounds that can be used to resolve software-related display issues on iPhones including those that are depicted by the green lines. These methods are only deemed generic solutions as the underlying cause is still not determined or identified.
Before you begin, check and ensure that your iPhone screen or any of its physical components is not wet. Any sort of liquid getting into your iPhone may likewise result in display problems including green lines symptom.
Solution #1: Restart/force restart your iPhone.
If everything on your iPhone display was good and then suddenly the green lines appear without dropping or getting your device wet, then it could be just due to a random glitch affecting the display system. Should this be the case, restarting the device should fix it.
There are two types of restart you can do on your iPhone. If the device is responding properly, doing the usual reboot (soft reset) will do. But if it isn't responsive, you will need to carry out the so-called force restart.
As the name suggests, a forced restart forcibly shuts the phone down and then instigate a system reboot. This method is recommended when rebooting an iPhone that's stuck on the black screen, Apple logo, or any screen.
To soft reset an iPhone, press and hold either Volume button and Side button until the Power off slider appears. Drag the slider to power off the device. After 30 seconds, press and hold the Side button until you see the Apple logo.
Wait for your iPhone to finish rebooting and then see if the green lines are gone.
To force restart new iPhones without a Home button, press and quickly release the Volume Up button then press and quickly release the Volume Down button. Finally, press and hold the Side/Power button until the Apple logo appears.
Both methods don't affect any saved information from the iPhone storage so you won't lose any important data including saved documents and downloaded contents.
If the green screen reappears after restarting the iPhone, then it's an indication that something else from the system is making the iPhone display flawed.
Solution #2: Adjust your iPhone's display settings.
Some iPhone users have managed to get rid of the green lines by tweaking the display settings of their device.
If your iPhone screen is still responding properly despite the presence of the green lines, try to adjust the screen brightness.
It turns out that adjusting the brightness of the screen addresses software-related display issues including screen burn and green lines particularly in iPhone X models.
Enabling the iOS display feature called True Tone also found to be helpful as it prompts the device's screen to automatically adapt and adjust according to the ambient lighting conditions.
Adjusting the auto-lock settings, particularly the length of time the iPhone screen goes to sleep after being idle for a long period also helps. Try to shorten the auto-lock time duration and see if that solves the display's burn-in issue.
Also try to change your wallpaper from regular (still) to dynamic images. Wallpapers with darker colors are also recommended.
Solution #3: Reset all settings on your iPhone.
If the green lines started to show up after installing a new app, software update, or changing the iPhone settings, then it's likely due to some settings conflicts. To clear this out, restoring the default options is recommended.
To restore default settings without erasing your iPhone data, you can trigger the iOS reset command called reset all settings.
This reset works by deleting all recent changes made to the system including automatic update overrides that result in some display conflicts. After the reset, all default values and options are restored. But all your downloads and saved files in the iPhone storage remain.
To reset all settings on an iPhone, just head over to Settings-> General-> Transfer or Reset iPhone-> Reset menu then tap Reset All Settings. Enter your device passcode if prompted then tap Reset settings on the next screen. Read the final warning then tap Reset to confirm.
The phone will then start deleting all recent changes made to the system settings and then restores the default options.
This denotes the need for you to re-enable apps that are disabled by default including Bluetooth, Wi-Fi and cellular data connections.
Solution #4: Restore your iPhone to its factory state (factory reset).
If the previous reset doesn't fix the problem and the vertical green line (green line of death) continues, there's a good chance that you're dealing with a fatal system flaw.
Should you wish to troubleshoot further and fix green line on iPhone screen, your next option is to perform a factory reset.
A factory reset wipes everything from the iPhone storage including your downloads, custom settings, saved contacts, files, documents and other contents. After the reset, your iPhone will return to its factory state.
To factory reset an iPhone, just go to Settings-> General-> Transfer or Reset iPhone-> Erase all content and settings. On the next screen, tap Continue then follow the rest of the onscreen instructions to finish resetting your iPhone.
After the reset, your iPhone returns to its factory state and the latest iOS version will be installed.
Any fatal system errors tied to some malware and update bugs will be rectified and your iPhone should be working properly again unless hardware damage is present.
Solution #5: Perform a recovery/DFU mode restore.
Aside from factory reset, fatal iOS flaws that result in recurring display issues can also be addressed by performing an iOS restore.
To do this, you will need to use iTunes on a Windows computer or Finder on a Mac.
There are two types of iOS restore methods you can do namely the Recovery mode restore and the DFU mode restore.
Recovery mode restore works by putting your iPhone in a recovery state and then attempts to finish the flawed system using the built-in restore commands in iTunes or Finder.
DFU (Device Firmware Update) mode restore on the other hand is deemed as a more advanced iOS restore method as it puts your device in a state that's still able to communicate with iTunes even without activating the bootloader or operating system.
A DFU mode restore is usually carried out by iPhone technicians when attempting to fix a dysfunctional iPhone from fatal system errors or data corruption.
Both these restore methods delete everything from your iPhone system and then put the device back to its factory state.
Should you wish to proceed, back up all your important data beforehand if possible. Otherwise, you will lose them permanently.
Still seeing green lines on your iPhone screen?
Third-party iOS repair tools can also be considered among the last hopes when dealing with recurring display issues that are tied to complex system flaws. You may resort to any of these tools if the iTunes app failed to fix your iOS device either through recovery or DFU mode restore.
Hailed among the latest best iOS repair tools you can use to fix major system issues in iPhones and iPads include Tenorshare ReiBoot, UltFone iOS system repair, AnyFix iOS system recovery, PhoneRescue for iOS – iOS repair tools, Dr. Fone – Repair iPhone issues, and iMyFone – Fixppo, to name a few.
These iTunes app alternatives can be downloaded and installed on a compatible Windows or Mac computer. Once you've got your preferred iOS repair tool installed, connect your iPhone to your computer using the USB/lightning cable, launch the iOS repair tool then use its in-built commands and controls to diagnose and fix the green lines showing up on your iPhone's screen.
Please note though that some of these tools are programmed to wipe or delete everything from the system while trying to fix the transpiring problem. That said, be sure to back up all your important data beforehand.
Be sure to read every software's description and system requirements to ensure that your iPhone device is supported.
iPhone Repair
If none of the given solutions worked, then there's a good chance that you're dealing with a hardware issue that's causing the green line. Some display components of your iPhone must have been damaged from previous dropping incidents or liquid exposure and the green lines happened to be the late emerging symptoms.
To clear this out, you can take your iPhone to the nearest Apple-authorized service center and have it diagnosed thoroughly by an iPhone technician.
Avail Warranty (if applicable)
Meanwhile, if the green lines appear on your new iPhone, then it must be a result of a manufacturing defect. In this case, it should be covered by warranty.
Talk to your iPhone carrier or the store where you purchase your iPhone to avail for warranty be it for service or new unit replacement.
And those are some tweaks that can potentially fix and get rid of the iPhone green lines that are tied to software glitches.
Please keep posted for more comprehensive iOS tutorials and troubleshooting guides on this site. Or you can check out this YouTube channel to view more comprehensive tutorial and troubleshooting videos including recent iOS devices.
You Might Also Want To Read: