This post will walk you through resolving an issue on the watchOS Spotify app that crashes or stops working unexpectedly. Read on to learn what to do if your Apple Watch 7 Spotify app keeps crashing.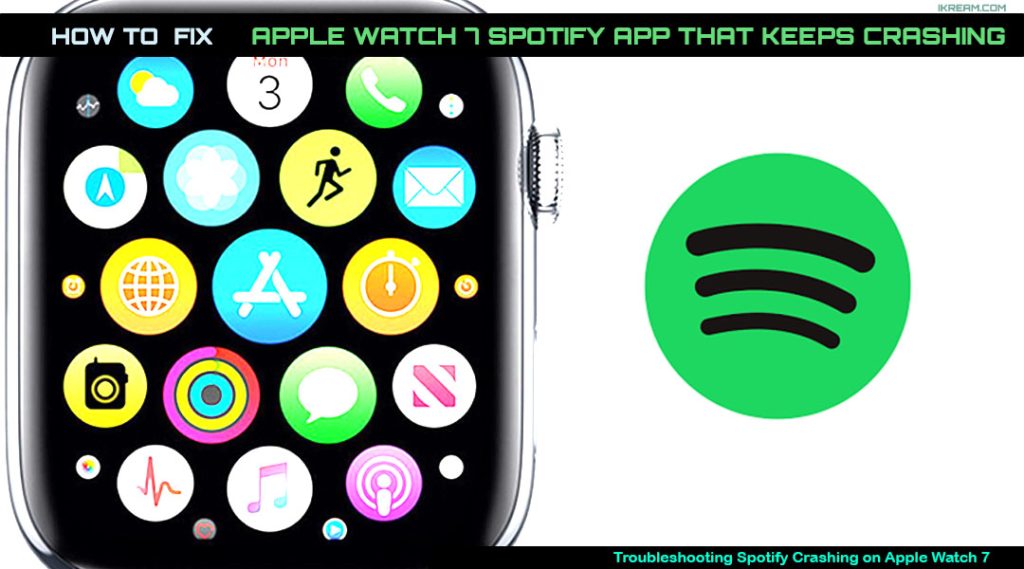 watchOS App Crashes
With a Premium Spotify account, you can download songs and podcasts to listen on your Apple Watch even when your watch is not connected to your iPhone.
Music streaming with Spotify Premium subscription on an Apple Watch is pretty simple. All it requires is a stable internet connection on top of a Spotify account premium subscription.
But just like in iOS, watchOS apps may also encounter random hiccups and suddenly stop working as intended. Even the ones that are tagged in the moored apps category like Spotify aren't exempted.
There are multiple factors that can trigger an app to crash and stop working in mobile and smart devices. Oftentimes, the underlying cause is software-related.
Among the common factors that are tied to app crashing issues in both Android and iOS smartphones and watches are as follows:
Random in-app glitches. Bumping into some random glitch is inevitable in every app. Thus, facing unexpected issues while using Spotify on the watch is very likely. Most of the time, the transpiring issue is just minor and therefore easily rectified by restarting the app.
Software bugs and malware. In-app glitches are usually tied to some software bugs and malware infiltrating and eventually razing the entire system. These culprits are usually found embedded in downloaded media files including songs or audio tracks from other platforms.
Faulty updates. These are usually the unforeseen bugs coming from an iOS or watchOS update that Apple rolls out periodically. Post-update in-app problems are usually addressed by updating the problematic application.
Settings conflicts. App problems that suddenly occur after altering the default settings are usually due to some settings conflicts. These can therefore be rectified by reverting back to the previous settings otherwise, restoring defaults.
Data corruption. Any attempt to play a corrupted audio file may likewise result in unexpected errors that can make Spotify unstable.
Network connectivity issues. A fast and stable internet connection is a key requisite for internet-based apps like Spotify to work as intended. If your device is having problems with the network connection, then online apps are the first to be affected.
Server-related issues. Scheduled server/system maintenance and unexpected technical difficulties transpiring on the Spotify server are also among the possible causes. Unfortunately, there's not much that can be done on the user's end but to wait until the problem is fixed for the service to resume.
A common approach to resolving app-related issues is to identify and eliminate the suspected triggers.
This methodology applies when troubleshooting an errant Spotify app on the Apple Watch.
Feel free to try the given workarounds below whenever you need some input on how to fix an unstable Spotify app on your Apple Watch 7.
Troubleshooting Apple Watch 7 Spotify app keeps crashing
Performing the following procedures will help rule out common factors that can trigger random app crashes on an Apple Watch.
Any of these outlined solutions is very likely to resolve the issue unless the problem is from within the main app server.
Before you begin troubleshooting, make sure that your Apple Watch is sufficiently charged and connected to a stable Wi-Fi network.
Once you've got everything set, you may go ahead and start troubleshooting your Apple Watch.
Solution #1: End/restart Spotify app.
For first instances, random in-app glitches are typically the main triggers. Should this be the case, ending and restarting the Spotify app will likely fix the problem.
So here's what you should do first:
To force quit Spotify app on your Apple Watch, just follow these steps:
Press the Digital Crown to show all apps then tap Spotify.
While Spotify is selected, press and hold the Side button then release it when the Power Down menu appears.
Finally, press and hold the Digital Crown until the Spotify app goes away and the Watch face returns.
Stopping any other running apps is also recommended to prevent any of these apps from interfering with Spotify when you relaunch it.
Solution #2: Restart/soft reset Apple Watch/iPhone.
Again, a simple reboot/restart can help fix various types of software problems including those that cause an app like Spotify to crash.
That said, restarting both the Apple Watch and its paired iPhone is among the first recommended solutions that you should try.
Here's how to restart the Apple Watch:
Press and hold the Side Button.
Keep holding the button till you see the Power Off slider.
Now, drag the Power Off slider.
After the Apple Watch turns off, press and hold the Side Button again till you see the Apple Logo.
Restarting does not affect any saved data from the internal storage so you won't lose any important files and documents.
Solution #3: Refresh the internet.
Turning Wi-Fi and Bluetooth off and on can also help clear out random network glitches that caused online apps to misbehave.
To do this, just head over to the Wi-Fi and Bluetooth settings menu on your iPhone and Apple Watch and then toggle turn the Wi-Fi and Bluetooth switch Off and On.
This will refresh internet and Bluetooth connections on the iPhone and Apple Watch.
Alternatively, you can perform the Airplane Mode tweak to simultaneously restart wireless features on both devices.
To do this, simply head over to the Airplane mode settings or go to the Control Center then toggle the Airplane mode icon on and off.
Wait for your devices to re-establish wireless connections and once connected, retry loading up Spotify to see if the problem is gone.
Solution #4: Install new updates for Spotify.
Installing new software updates for third-party apps is also a potential solution as updates also contain essential bug fixes.
If you haven't enabled automatic app updates on your device, then you will need to manually check for new updates on the App Store on either device.
If there are pending updates for Spotify, just follow the onscreen instructions to update the app.
Installing other pending app updates is also recommended to keep all your apps optimized and free from any sort of bugs and malware. This can also help prevent any other apps from causing conflicts with Spotify.
Solution #5: Reinstall Spotify.
If none of the above solutions worked, then it's possible that the Spotify app got corrupted and therefore needs a fresh install. This also denotes the need to uninstall or delete the app from the Apple Watch.
To delete Spotify app from the Apple Watch, just follow these steps:
Bring up the Apps screen on your Apple Watch.
Find Spotify from the app icons. Once you see the app, tap and hold its icon until it starts to wiggle and the X icon appears in the top-left corner of the app icon. Tap on that X icon to delete the app and confirm by tapping on the Delete App button from the warning prompt.
Alternatively, you can uninstall Spotify app from the iPhone that's paired with your Watch with these steps:
Open the Watch app on your iPhone then navigate to the apps section. Find and select Spotify then toggle to turn off the Show App on Apple Watch button.
The 'Uninstalling' message will appear and disappear shortly. That's an indication that the Spotify app is already uninstalled from the Apple Watch.
To reinstall the app on your Apple Watch, simply go back to the Watch app on the iPhone then scroll past the Available Apps section. Find Spotify then tap the Install button next to it.
Wait for the progress bar to complete and the Spotify app should already be installed on your watch.
Is Spotify still crashing on your Apple Watch?
Resorting to more advanced procedures like settings reset on the iPhone and Apple Watch is usually regarded among the last options when dealing with recurring in-app problems. So here are your next options should you wish to troubleshoot further.
Reset all settings.
If your Apple Watch is paired with your iPhone, resetting all settings on the iPhone can potentially fix the problem if iOS settings conflicts are the potential triggers. This reset will delete all custom settings and then restores the original options and default apps.
Update iPhone/Apple Watch software to the latest version available.
Software updates for both iOS and watchOS apps also embed essential fix patches to get rid of certain bugs and malware that are adversely affecting downloaded apps and system services.
To check for available updates for your Apple Watch on your iPhone, just follow these stepsL
Open the Apple Watch app on your iPhone then tap the My Watch tab.
Next, tap General-> Software Update.
If a new update is available, follow the onscreen instructions to download and install.
Alternatively, you can update directly on your Apple Watch by heading to the watch Settings-> General-> Software Update. If a new watchOS version is available, tap Install then follow the onscreen instructions to finish updating.
Wait for the progress bar to show up on the watch. The entire updating process usually takes several minutes to an hour to finish so just wait for it to complete.
Make sure that your Apple Watch is next to your iPhone, has at least 50 percent battery life and is connected to Wi-Fi. If necessary, connect your watch to its charger while updating.
Check Spotify Status
If none of the given solutions worked and Spotify is still not working on your Apple Watch, it's possibly a server issue. You can check online for real-time reports about Spotify issues affecting iOS and watchOS device users.
You can also contact Spotify Support via Twitter @SpotifyCares or send a message to the Spotify Customer service team.
Another option is to visit the Spotify Community and ask help from the most knowledgeable Community members called Stars.
Please keep posted for more comprehensive iOS tutorials and troubleshooting guides on this site. Or you can check out this YouTube channel to view more comprehensive tutorial and troubleshooting videos including recent iOS devices.
You Might Also Want To Read: