This post will walk you through restoring an Apple iPhone 13 to its factory state using the built-in reset commands in the iOS 15 settings menu. Read on to learn how to factory reset iPhone 13 via settings.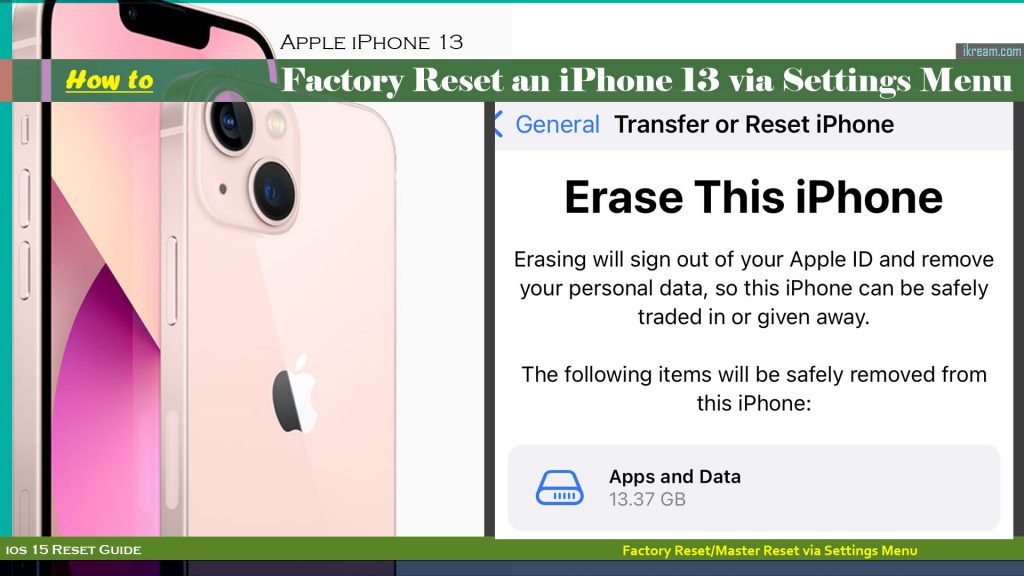 When the iOS 15 update was rolled out, a slight revamp was made to the general settings menu, particularly on the reset options. As a result, a new menu is added prior to accessing the stock reset options.
All reset options listed under the updated Reset menu are still the same as the previous such as reset network settings, reset all settings among others, except for the option to erase all content and settings or factory reset.
iOS 15 Factory Reset (Master Reset)
A factory reset works by deleting all data from the iPhone storage including downloaded apps, saved photos, videos, audio files, contacts, call logs, notes, documents, custom network settings and other data stored on your device. Basically, a factory reset wipes everything from your device.
This reset is typically deemed among the last options and potential solutions to complex system errors including post-update bugs that cause iOS malfunction.
Performing a factory reset is also recommended before trading your iPhone to save some cash, selling or giving it to someone. This way, you can be assured that all your personal information is safe as the device returns to factory settings.
The steps outlined below depict the updated process of performing a master reset or factory reset through the iPhone 13 (iOS 15) settings app.
Feel free to refer to this guide if you need some input on how to carry out a master reset on the iPhone 13 and other devices running on the latest iOS platform.
Easy Steps to Factory Reset iPhone 13 via Settings
These steps are also applicable when performing a factory reset on other iOS devices that are running on the same software version with that of the iPhone 13 series. However, there may be some slight difference on the actual interface given that screens and menu options vary between device models and service providers.
Prerequisites:
Before you begin, be sure to back up all your important content from the iPhone storage to your iCloud account or to a computer drive through iTunes. This is highly recommended so you would still be able to retrieve your files afterwards. If you erase your iPhone without creating or updating your backup, you may lose some important data that are not yet uploaded to your iCloud account.
Also ensure that your iPhone is sufficiently charged. At least 50 percent of battery life is recommended to ensure that the entire factory reset process will be completed. If necessary, you can connect your iPhone to its charger and let it charge while doing the master reset.
Once you've secured all your important data, you may go ahead and start wiping your Apple iPhone 13 with these steps.
Step 1: Go to your Home screen and then tap Settings to open the Settings app.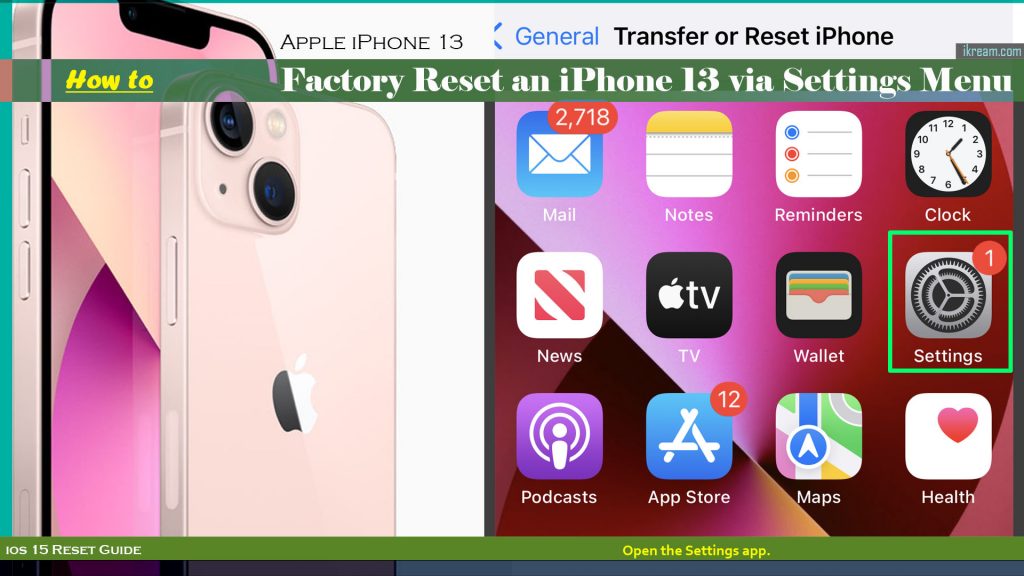 Step 2: While on the settings main screen, scroll to find and tap General.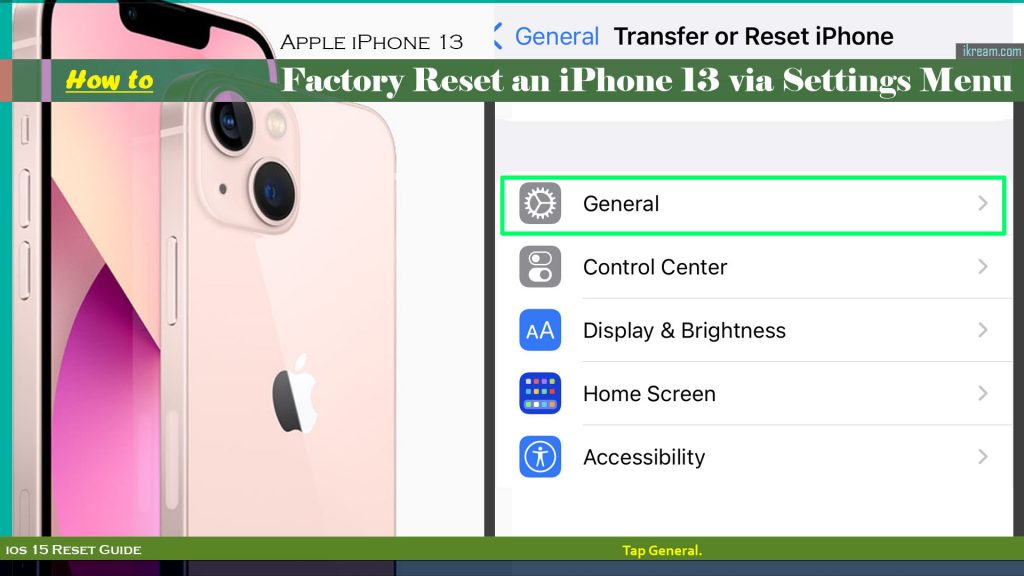 Step 3: Tap Transfer or Reset iPhone on the succeeding menu to proceed.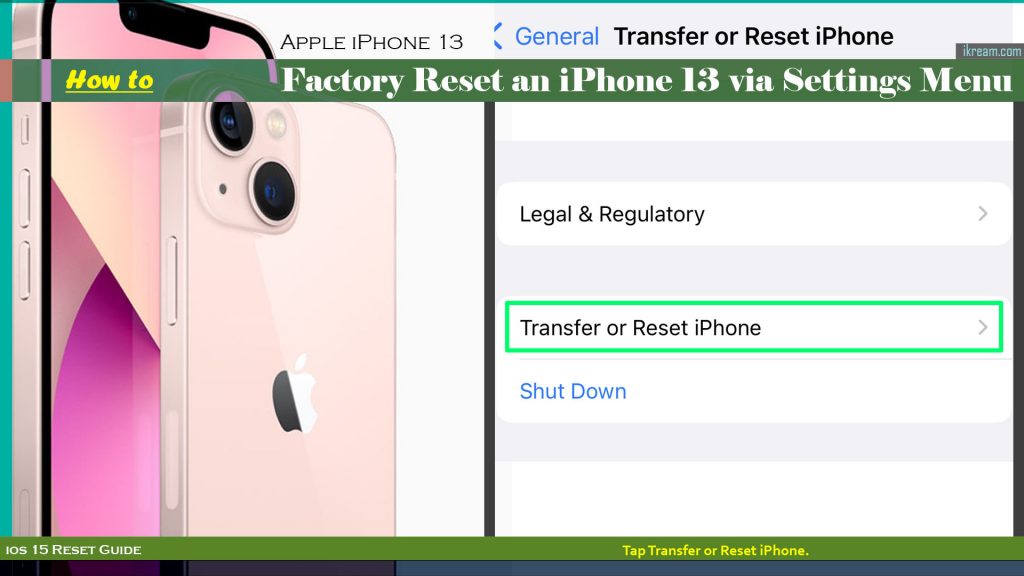 Step 4: Tap Erase all Content and Settings from the given options. 
Step 5: Read the Reset details on the next screen and then tap Continue.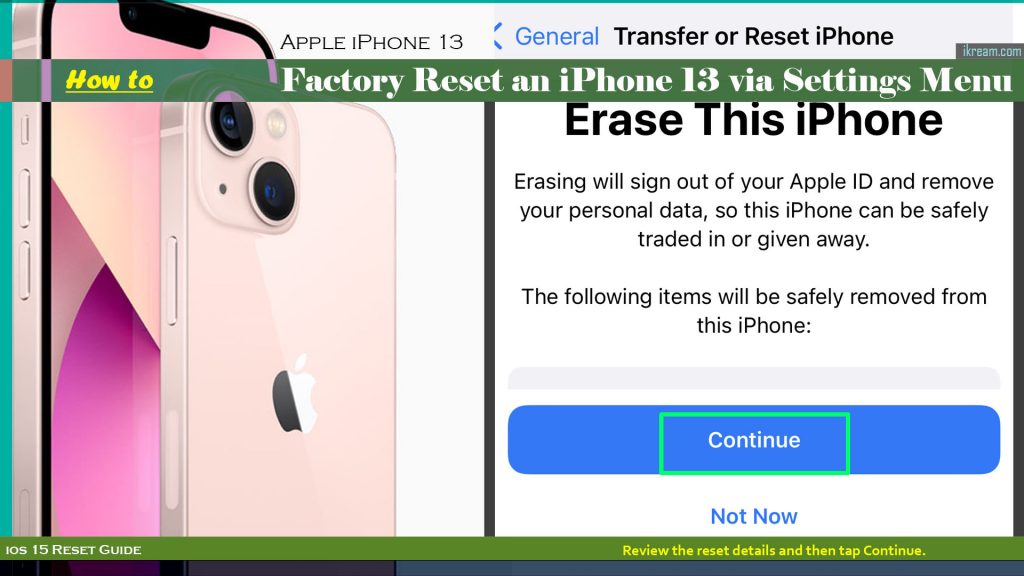 Step 6: Enter your iPhone passcode, if prompted.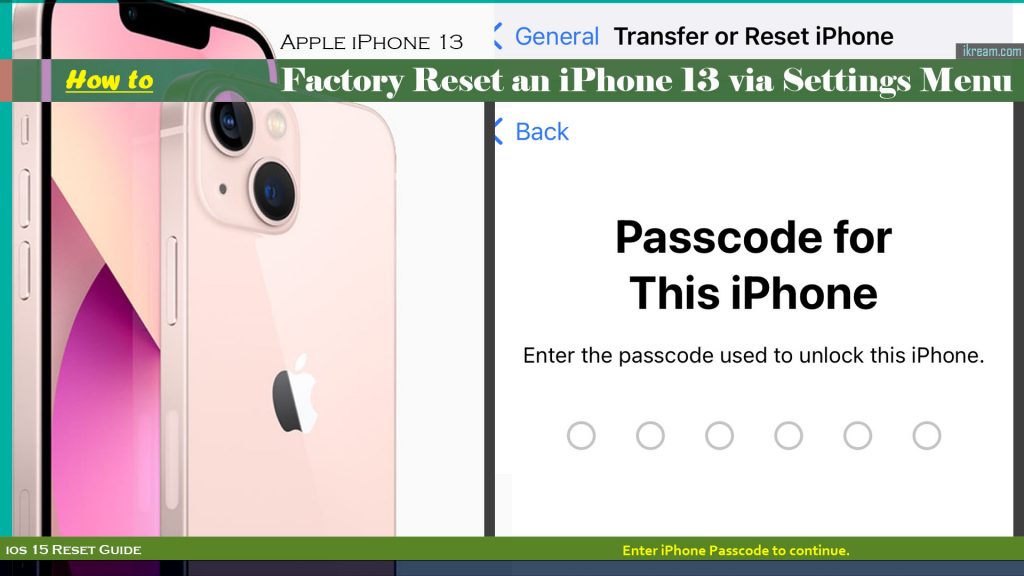 Step 7: Finally, tap the option to confirm that you'd like to erase your device and follow the rest of the onscreen instructions.
Wait for the phone to finish resetting and then restore all default values and options.
Factory Reset iPhone 13 using a Computer
Alternatively, you can factory reset iPhone 13 using a Windows or Mac computer via iTunes app. This method is highly recommended and applicable when doing a master reset or factory reset on an unresponsive or frozen iPhone.
To get this done, you will need to connect your iPhone to the computer using the Apple-supplied USB/lightning cable. Once your iPhone is connected, launch the iTunes app and then wait for it to recognize your iOS device. When your iPhone appears in iTunes, select it and then click Restore iPhone.
There is also an option for you to back up your iPhone before restoring. Just follow the onscreen instructions to create a backup of your iPhone data.
An indication that the factory reset is complete is when the iPhone reboots and returns to the setup screen. By then you can proceed with the initial setup process to set up your iPhone as new or restore it from a backup.
And that's all about erasing all data on the iPhone 13 using the iOS 15 settings factory reset command.
Please keep posted for more comprehensive iOS tutorials and troubleshooting guides on this site.
You Might Also Want To Read: