Content restrictions must always be enabled on your iPhone 13 especially if your children use your device for browsing or YouTube streaming.
Doing so will limit access to explicit contents as well as their screen time. We don't want our children to be exposed to contents that aren't appropriate for their age.
That's why Apple made sure that your iPhone has a feature to allow you to limit specific apps and websites as part of parental controls.
Here are the steps in enabling content restrictions on your iPhone 13.
Step 1: When you're ready, go back to the Home screen and tap the Settings app.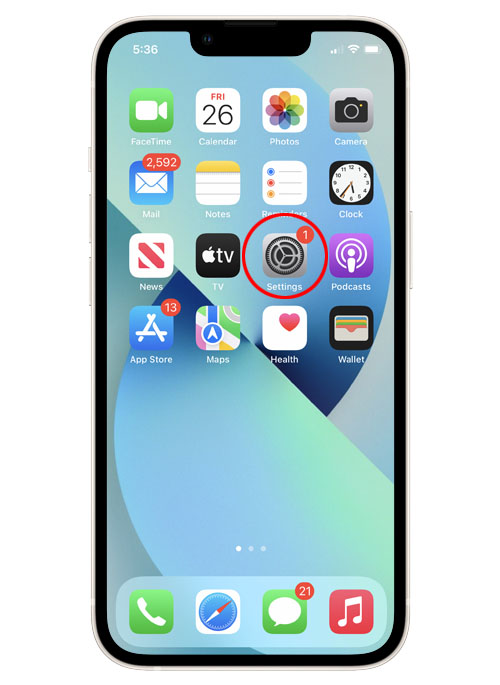 Doing so will launch the iOS settings menu, highlighting all the basic and advanced features you can use and manage.
Step 2: Find and then tap Screen Time.
The Screen Time menu will launch. Here, you will see all screen time activity with other relevant features and information.
Step 3: Scroll down to the bottom of the list and then tap Content & Privacy Restrictions to proceed.
This will show the list of all content and privacy restrictions.
Step 4: To activate the feature, simply toggle to turn on the switch next to Content & Privacy Restrictions.
After enabling the switch, you can start setting restrictions to individual content.
Step 5: Tap iTunes and App Store Purchases, this is to set restrictions for store purchases and downloads.
Step 6: To restrict specific apps from running on your phone, tap Allowed apps and then look for the apps you don't want your children or other people to use while using your iPhone and tap the switch next to them to disable them.
Step 7: To restrict specific content, tap Content Restrictions and then select the content that you'd like to restrict. To do so, select Don't Allow instead of Allow.
Step 8: To block specific websites, tap Web Content and then tap Allowed Websites Only.
Now you can add the websites that you want your children to have access if they're using your iPhone. Or you can add a specific website you never wanted your children to visit.
As you can see, there are actually a lot of options and content restrictions you can enable but among the most important is the content restrictions.
You need to spend more time to restrict explicit content and visit only approved websites. You can also protect your settings by using a screen time passcode. It must be different from the passcode you use to unlock your iPhone with.
Try to go through all the restrictions on your iPhone 13 so you can learn what they're about and how you can use them to protect your children.
We hope that this tutorial can be helpful.