The Facebook app for iPhone stores cached data to improve performance. This includes images, videos, and components of the app itself. Over time, this cache can build up and take up space on your device. If the Facebook app is acting sluggish or you're low on storage, deleting the Facebook cache can help. Here are some simple ways to clear the Facebook cache on an iPhone.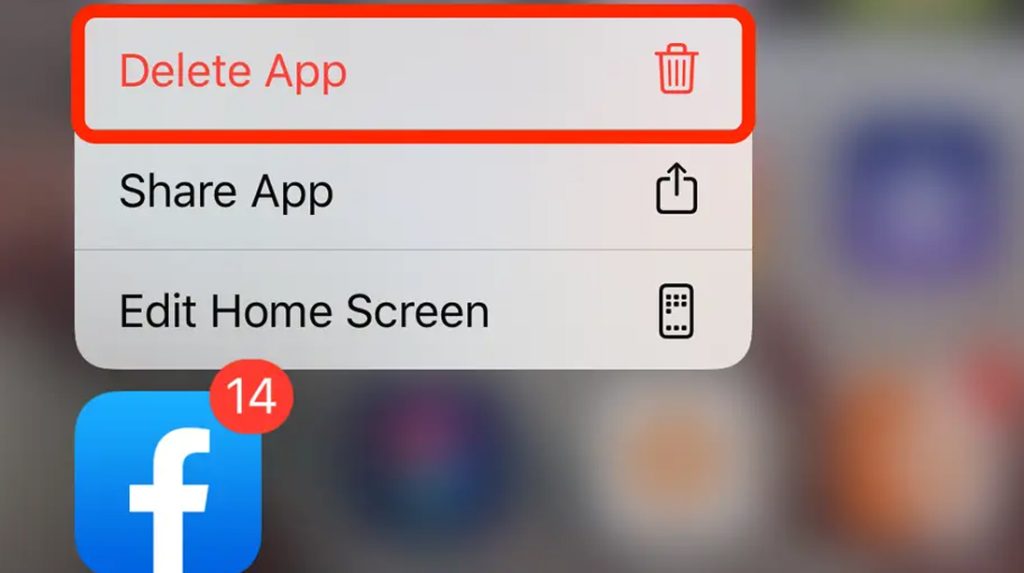 First Method: Delete and Reinstall Facebook App
The easiest way to clear all Facebook cache is to delete and reinstall the app completely.
When you delete an app from your iPhone, it provides several performance benefits that enhance the device's overall functionality. First and foremost, it frees up valuable storage space, enabling the iPhone to operate more efficiently. With more available storage, the risk of slowdowns or crashes due to insufficient space is significantly reduced.
So here's what you should do first:
1. Hold your finger down on the Facebook app icon until the icons shake.
2. Tap the X icon on the Facebook app to delete it.
3. Confirm you want to delete the app when prompted. This will remove all cached data.
4. Open the App Store and reinstall the Facebook app. It will be like a brand-new install without any cached files.
This gives you the cleanest slate by wiping the app data and starting fresh. Just make sure you remember your login details beforehand.
Second Method: Offload the App
Offloading apps on an iPhone is a useful feature to optimize performance. It not only clears up storage space but also allows the device to focus its resources on the apps you're actively using, leading to a smoother and more responsive user experience.
For a less drastic approach, you can offload the Facebook app on your iPhone with these steps:
1. Go to Settings > General > iPhone Storage.
2. Select Facebook and tap "Offload App."
3. This will temporarily remove Facebook and its cached files.
4. When you reinstall Facebook from your home screen, the cache will be cleared.
Offloading removes the app but retains your data and documents. It's easily reversible if you still want Facebook installed afterward.
Third Method: Clear Cache in App Settings
Like many other apps, Facebook also has an integrated cache-clearing function that you can use whenever you need to clear out accumulated temporary files and app data.
Here's how to access and use the Facebook app's built-in option to clear stored cache:
1. Open Facebook and tap the menu (three-line icon).
2. Scroll down and select Settings & Privacy > Settings.
3. Tap "Storage and Data Usage."
4. Select "Clear Cache" to delete any temporary usage files.
This will free up space without deleting the app itself. However, the cache will gradually build up again with extended use.
Fourth Method: Enable Auto Cache Clearing
The auto-cache clearing feature on the Facebook app functions by automatically removing cached data from the app's temporary storage at regular intervals. This cached data includes images, videos, and other temporary files that the app downloads to improve loading times and user experience.
In the Storage section of Facebook Settings, you can enable the following:
– Auto Cache Clearing – This automatically deletes the cache after one week.
– Auto Log Ins – Removes login info from rarely used accounts to save space.
Enabling these gives you some ongoing cache management, whereas manually clearing is a one-time purge.
Doing so also ensures that the app does not accumulate excessive data over time, which can help free up storage space on the user's device and improve the app's performance.
Fifth Method: Update the App
When the Facebook app updates from the App Store, the installation package wipes the local cache before reinstalling. Be sure to install Facebook updates when available to start fresh.
Here's how to update the Facebook app on iPhone:
Open the App Store app on your iPhone.
Tap on the Profile icon in the top right corner.
Scroll down and tap on Available Updates.
If the Facebook app is listed, tap on Update.
The app will start updating. Once the Update is complete, tap on Open to launch the app.
The Facebook app doesn't store an excessive amount of cached data, but clearing it periodically can optimize performance and storage, especially on phones with limited capacity. Use a combination of reinstalling, offloading, built-in settings, and app updates to keep the cache lean.
Deleting Facebook Cache on iPhone FAQs
Q: What is the easiest way to clear all Facebook cache on my iPhone?

A: The simplest method is to delete the Facebook app, then reinstall it from the App Store. This completely wipes the cache and starts you fresh.

Q: Can I clear the Facebook cache without deleting the app itself?

A: Yes, you can use the Offload App option in iPhone Settings to temporarily remove just the cached data. Or use Clear Cache in the Facebook app settings.

Q: Does deleting and reinstalling Facebook cause me to lose my login info?

A: No, your Facebook login, profile info, and feed will be restored as long as you sign into the same account after reinstalling the app. Only the cache is deleted.

Q: Is there a way for Facebook to auto-clear cache on my iPhone?

A: In Facebook Settings, enable Auto Cache Clearing, which will automatically delete cached files every seven days to free up space.

Q: When I update Facebook from the App Store, does that clear cache?

A: Yes, installing Facebook updates from the App Store will wipe the local cache as part of the upgrade process, allowing it to start fresh.