This post will walk you through inserting a date on iPhone photos captured using the built-in camera app. Here's a quick guide to date stamp photos on an iPhone.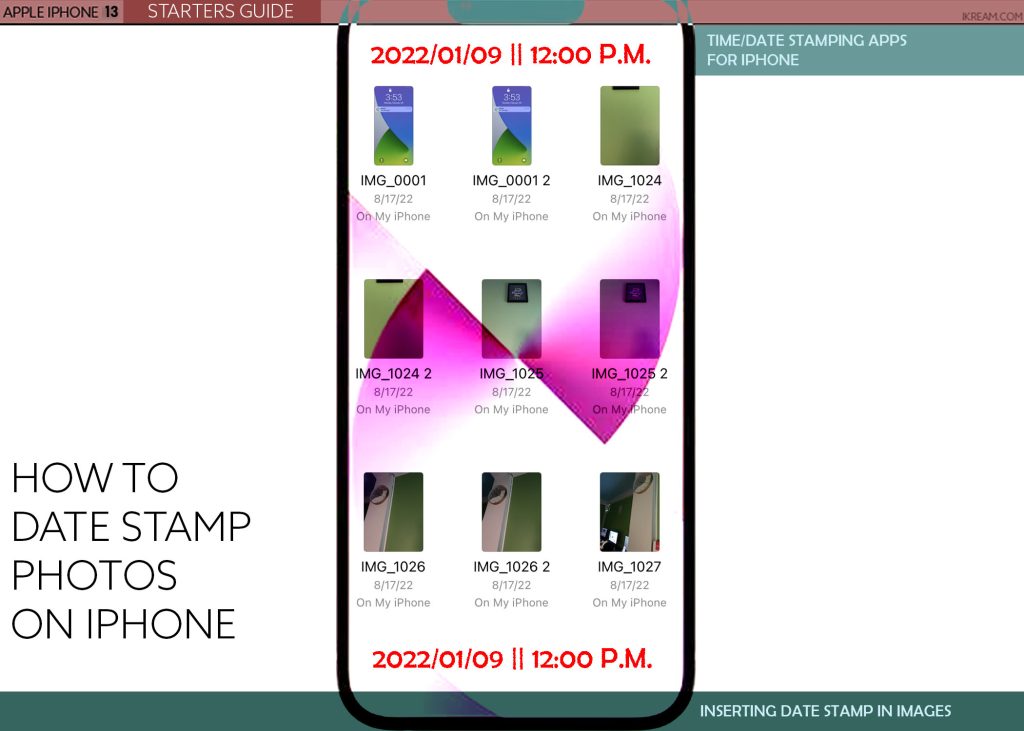 Time/Date Stamp iPhone Photos
One way to keep track of when your photos were exactly taken is to add the date and time when they're captured. This is when date and time stamping comes in handy.
Date and time stamping is also one way of securing proof of your professional activities, documenting progress or just adding some vintage appearance to your photos.
The stock Photos app on an iPhone does not support date stamping and neither does it have a dedicated application with such functionality. That said, you cannot insert dates on any of the photos taken with your iPhone's camera.
However, the App Store has a lot of great alternative applications you can use to serve such functions. Many of these apps come with user-friendly interfaces and easy-to-use features that make your date and time stamping job easier to accomplish.
To give you some input on which app to choose and how to use them to date stamp your iPhone photos, you can refer to the subsequent procedures.
Best Apps to Date Stamp Photos on iPhone
The following are tagged among the best date stamp and time stamp apps for iPhones running on iOS 15 and later version.
1. Timestamp Camera Date Stamp
It's a free timestamp and date stamp app for the iPhone that comes with a simple design and user-friendly interface.
Aside from date stamping, you can also use this app to add watermarks to your photos using a distinct logo. It works as a photo editing application that supports importing of photos from your iPhone gallery. Time and date stamps can be arranged according to your preferred style, position and font.
To add a date stamp on your iPhone photo using this app, just open then select the desired photo on your iPhone gallery. Once the photo is selected, choose a style of time stamp or date stamp you'd like to use.
You can also edit the color and font according to your proclivity. Once you're done editing, save your photo with the time and date stamp on it.
2: Auto Stamper: Stamps on Photos
This app is deemed among the few free timestamp camera apps that has a very simple and interactive user interface. Time and date stamping photos with this app is done using the stock iOS camera app.
It supports a palette of colors and font styles that you can use to edit the transparency and position of the timestamp, making it look like merging with or popping against the background subject.
To make use of this app, you will need to enable the Date & Time Stamp through its settings. You can access and manage this information by launching the app then tapping on the Settings icon at the bottom menu. Find then tap Date & Time Stamp then turn it on.
If you wish to add a Signature Stamp, you also can by turning the Signature Stamp switch on from the app's settings.
Other stamping features you can use include GPS stamp, logo stamp and sequence stamp. Live Stamp Preview is also supported.
3. Timestamp It Photo Stamper
It's another simple app for time stamping and date stamping photos. This app is originally designed for use by food bloggers/vloggers, event managers, photographers and those who are fond of documenting stuff by order.
To use this app, just take a photo or choose any from your saved photos. After selecting the photo, you can add your own custom stamp or use any of the preset stamp settings. If you opt to use a preset stamp, you can just edit it according to your liking.
After making all necessary edits, save your time stamped photo.
Aside from adding date and timestamp, you can also use this app to add captions to your images, customize stamp colors, use a unique font style for your stamp, place the stamp anywhere you want and use multiple photos to stamp.
You can also use this app to send or share stamped photos with iMessage, via text message, email or social media platforms.
4. PhotoMarks
It's another easy-to-use time stamping app for iPhone photos. Using this app, you can load photos from your iPhone's gallery or use the iPhone camera to capture a new photo to time or date stamp on.
You can also adjust your stamp like rotate or scale it, choose your preferred color, transparency and use fonts according to your preferences. Special effects such as strokes and shadow are also supported.
After customizing your stamp, you can use the app to share your stamped photo directly on Facebook, Twitter, Instagram or send it to your friends through email.
You can also add fully customizable text and logo marks using this app without altering the original photos. This is made possible with the PhotoMarks' non-destructive editing feature.
5. Timesnap
This app was originally designed to record different activities and events in time by adding the date and time into the pictures.
It's simple to use and allows you to choose from diverse formats, adjust the date/time stamp accordingly, change the location of the photo and use a stylish font.
Timesnap also allows you to enhance photos using in-built decorating features such as frames, fun stickers, text notes and various types of color filters.
Photos you've edited using Timesnap can be sent and shared through email or social media platforms.
6. Timestamp Camera Pro
This app supports time/date stamping for both photos and videos. It automatically adds the date and time to new photos and videos in real time, insert other useful information such as the current location where the photo/video was taken, GPS coordinates, a compass, a map or the altitude.
You can also adjust the date and time stamp information using different formats. You can choose any from more than 80 stamp formats it supports.
Multiple fonts with the option to import fonts, different colors, opacity and 7 preset placements are also available.
Aside from date/time stamps, you can also use this app to add tags to your photos and videos, add your own custom logo and change the video/image resolution accordingly.
7. DateStamper for iOS
With this stamper app, you can add date stamps to your photos with other customizable features such as font style, font size, color, and effects.
The app also allows you to use the current date or custom date and change the date and time format.
You can also add location and caption to your stamp, change the background color and stroke without ruining the original image.
And that's how you date stamp photos on iPhone using seven of the many apps that you can use to date stamp photos on your iPhone based on the latest iOS version. More apps of these types are available for free or through one-time purchase via App Store.
Just be sure to review the app's minimum system requirements to ensure system compatibility. Reading previous reviews from iPhone users and ratings can also help you gauge an app's functionality, stability, quality and credibility.
Please keep posted for more comprehensive iOS tutorials and troubleshooting guides on this site. Or you can check out this YouTube channel to view more comprehensive tutorial and troubleshooting videos including recent iOS devices.
You Might Also Want To Read: