This post will walk you through accessing and editing the saved password for the email account set up on the Mail app straight from the iOS settings menu. Here's a quick guide to change email password on iPhone SE 2022 and other iPhone models running on iOS 15 and later versions.
Access/Change Email Password On iPhone?
Simply follow these 3 steps to fix your iPhone with ReiBoot, No data loss, FREE
Click to download ReiBoot to your PC or MAC
Connect your device
Run ReiBoot to resolve the issue
Work for iPad & iPhone 14/13/12/11/XS/XR/S/8/7/6/5s/5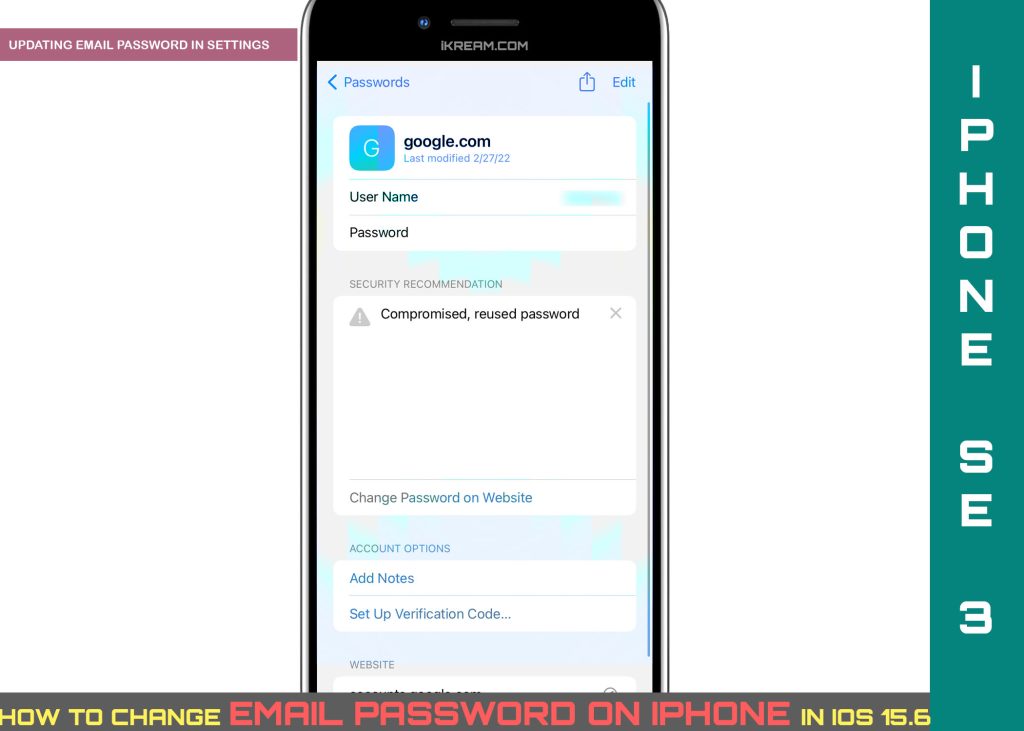 iOS 15 Mail Password
Regular updating of email passwords is highly recommended to prevent any potential account breaches. There are different ways for you to update your email password. You can update passwords straight from your smartphone or through the email provider's password reset page.
Newer iPhones allow you to update your email password(s) and Apple ID password straight from the settings menu. This makes it easier for every iPhone owner to update their account credentials and keep their accounts secure.
With the updated iOS Passwords settings, you can reset your email password whether or not it's linked to the iOS Mail app, directly from the iPhone.
If you're wondering how to get this done on the new iPhone SE 3, you can refer to this step-by-step guide for free.
Steps to Change Email Password on iPhone SE 2022
Performing these outlined steps will take you to the iOS Passwords settings where you can access and edit password for the email account that's set up on the iOS Mail app. This method is also applicable when changing the email password on other iPhones running on the same iOS version with that of the 3rd generation special edition iPhone.
Before you make any changes, verify and ensure that the correct email account (username) is selected.
Feel free to start whenever you're all set to edit your email password in the settings app.
Step 1: To begin, open the iOS Settings app. Just find the Gear icon from the Home screen or App Library of your iPhone and then tap on it.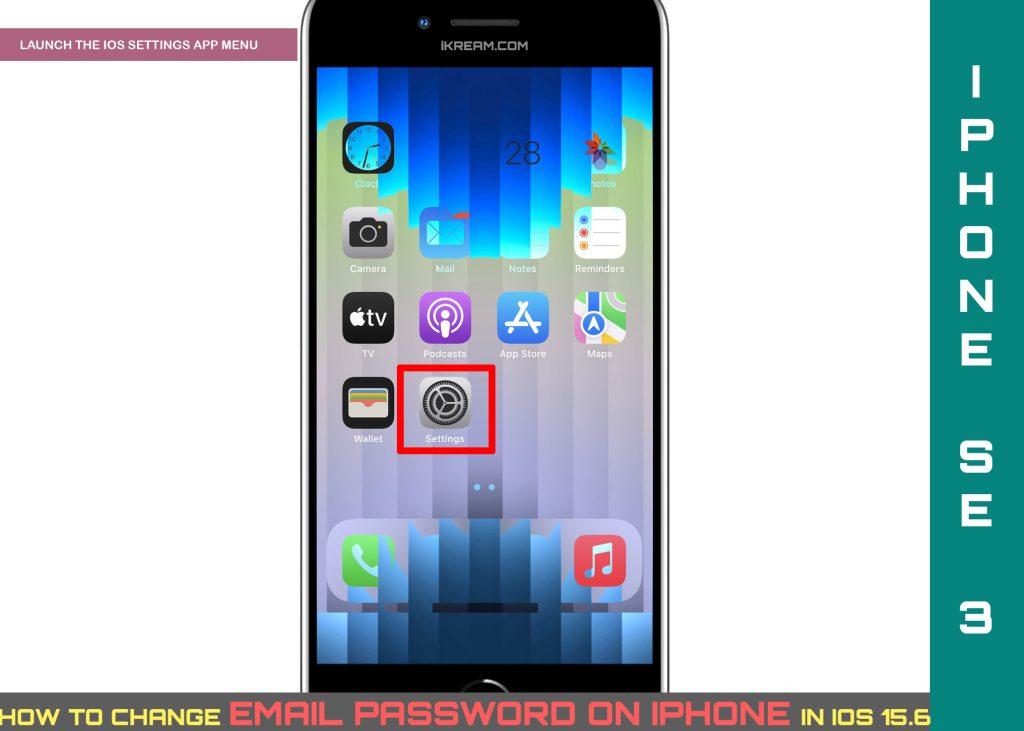 Step 2: While in the Settings app menu, scroll down and then tap Passwords. If prompted, enter your iPhone passcode, Touch ID or Face ID to authorize access to saved passwords.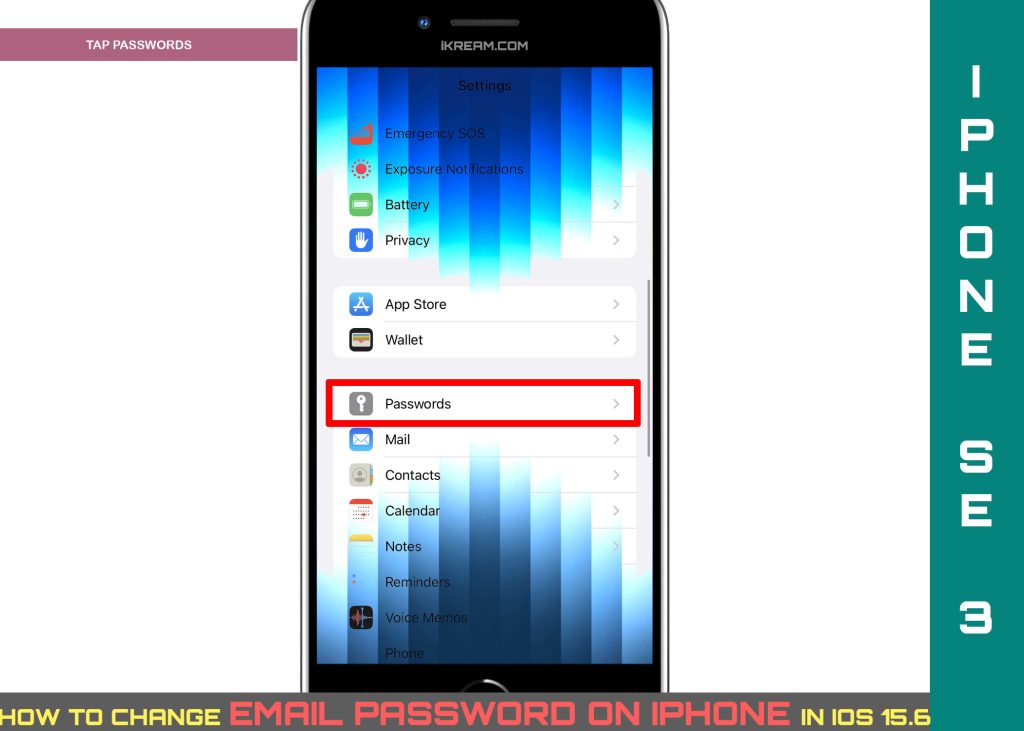 Step 3: On the succeeding menu, you will see a list of all saved accounts. Tap to select the email address or account that you want to update or change password for. All saved accounts and website credentials are listed under the Passwords menu.
To proceed with this guide, let's just choose a Google account (Gmail) that's setup on the iPhone Mail app, as an example.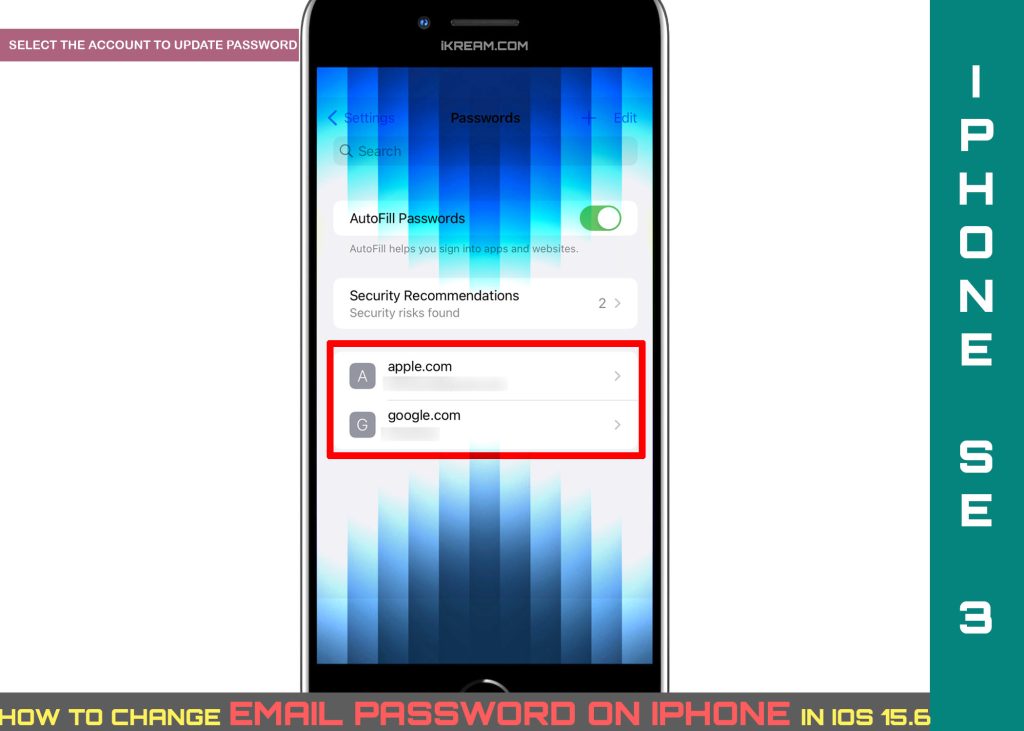 Step 4: Then, tap Edit on the top-right corner of the screen. Doing so switches the interface to Edit mode.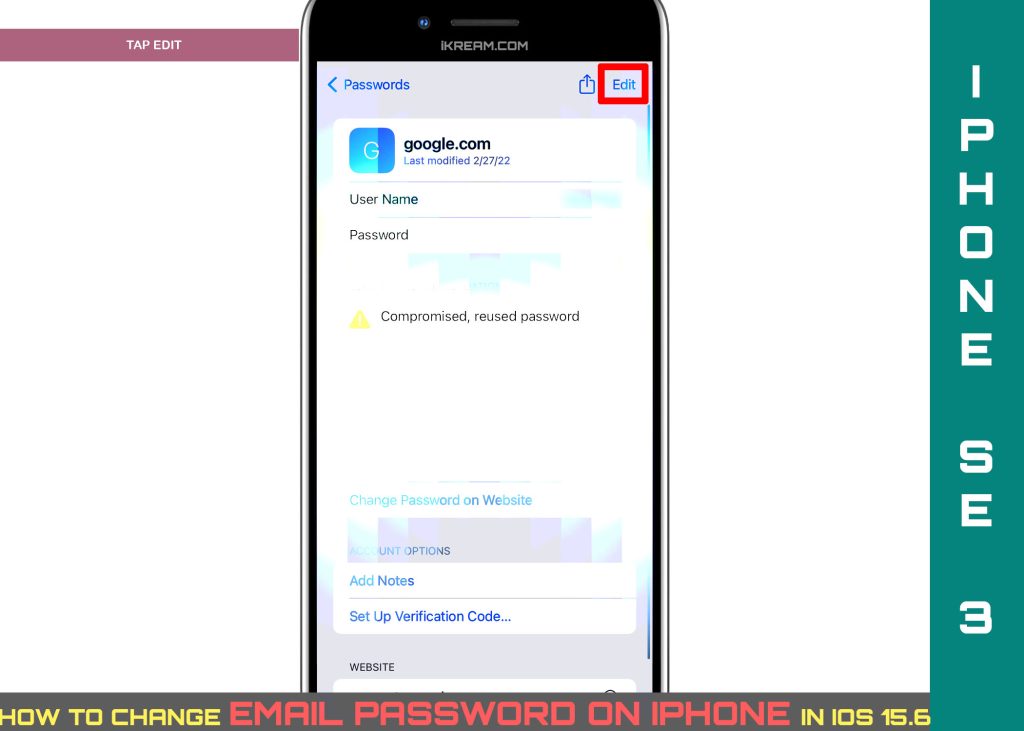 Step 5: Delete the current password and enter the new password in the Password field.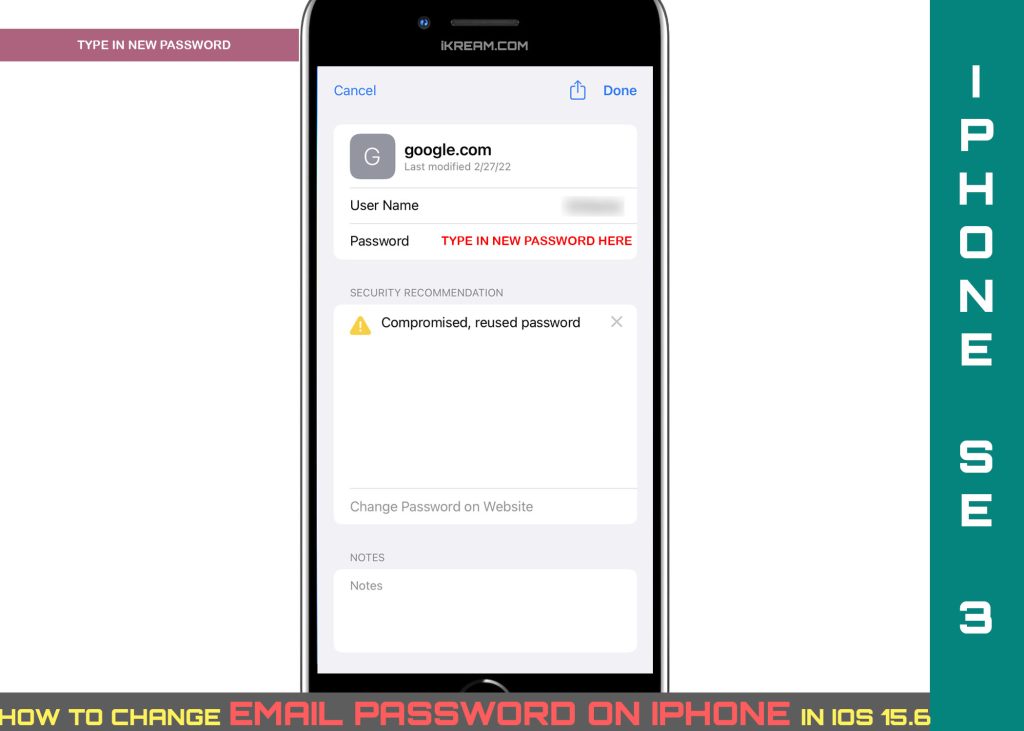 Step 6: After making necessary changes, tap Done.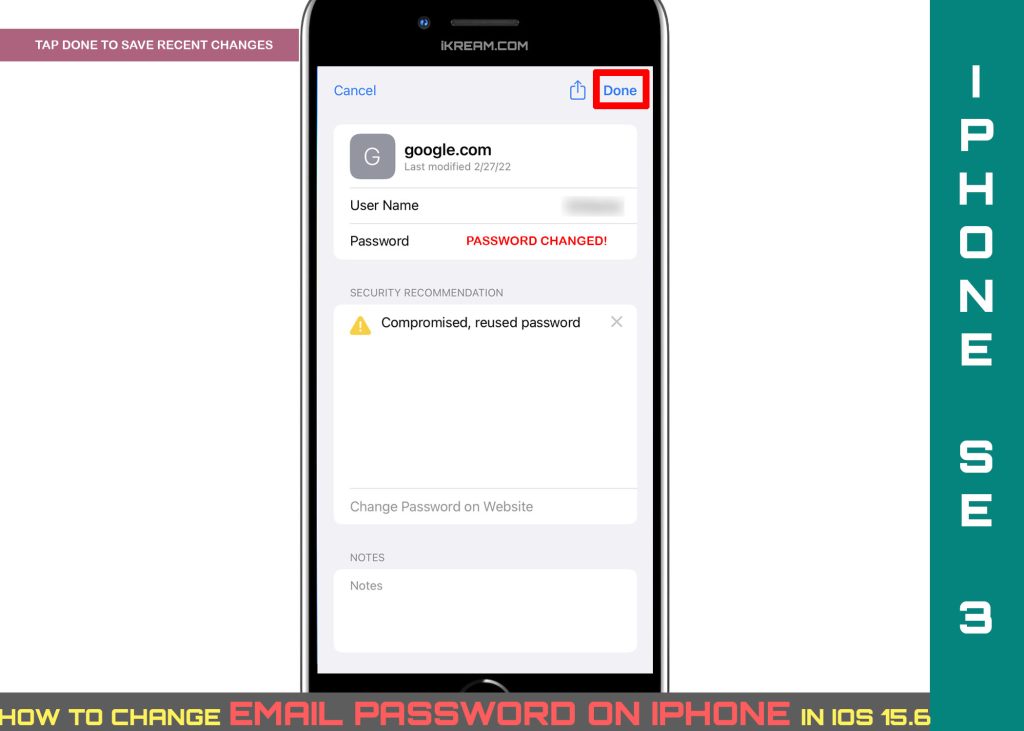 The password for your email address/account set up in the iOS Mail app is now updated.
The next time you sign into your Gmail or google account on your iPhone or any other device where you're logged in using the same email address, you will need to enter the new password.
Be sure to take note of the updated password to avoid bumping into logging in problems with Mail.
To check and see if the new password works, open the Mail app on your iPhone and log in using your updated email credentials.
To edit or update password for your other accounts saved on the iPhone, just go to Settings-> Passwords menu, select the desired account and repeat the same steps to enter the necessary information.
Adding New Account to Update Password For
If your account is not shown in the list of sites or email accounts, tap the Plus (+) icon on the top-right corner of the Passwords menu then enter the required details for website, username and password. After adding the account, tap Done.
Once the account is added, select the account site under the Websites section then follow the rest of the onscreen instructions to finish updating your password and other account information that you'd like to update.
Third-party Password Manager Apps for iPhone
Aside from the iOS 15 Passwords settings, you can also use third-party apps to reset your email password. Among the widely used apps that serve such a purpose are PortalGuard Password Reset , 1Password, RoboForm, Avira Password Manager, Keeper, Dashlane and Specops Password Reset, to name some.
You can also set your email password straight from the email service provider's website.
And that's how you access and change your email password straight through the iOS settings menu of your new iPhone SE 3.
Please keep posted for more comprehensive iOS tutorials and troubleshooting guides on this site. Or you can check out this YouTube channel to view more comprehensive tutorial and troubleshooting videos including recent iOS devices.
You Might Also Want To Read: