Paris. The City of Love. An excellent city for traveling around with your significant other, it's also a prime area for business and work. People commute into Paris on the regular for business and work, and it's also densely populated. Suffice to say, navigating around Paris by vehicle is an extremely difficult task, particularly during rush hour.  And that's why many — even tourists — take full advantage of Paris' metropolitan rapid transit system instead. Not sure how to get started on the subway? Well, there's an app for that! If you follow along below, we'll show you the best options for navigating the Paris mass transit system with a Subway Map app for iPhone! Let's dive right in.
Best Paris Subway Map App for iPhone
Coming in at number five on our countdown is the Paris Metro Map. If you're looking for a map of Paris — and the surrounding Metro areas — Paris Metro Map will be right up your alley. This one is free, and works entirely offline. The app is interactive, so you can see all of the subway lines and where their arrivals are. There are metro maps for Paris, Bordeaux, Lille, Lyon, Marseille, Montpellier, Nantes, Nice, Strasbourg and Toulouse, all inside this app. On top of that, it has the ability to give you regular Paris metro traffic reports to help you plan your trip better.
Download it now: iTunes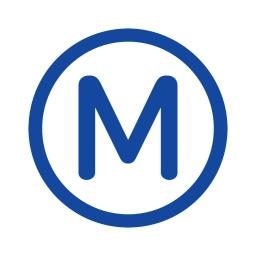 Next up, we're looking at a popular one: Metro Paris Subway. This is the number one application for navigating around Paris' transit system, whether by subway, bus, train, or another mode of transportation. Metro Paris Subway uses the latest transit map of Paris to show you all of the individual subway lines and their destinations. Metro Paris Subway uses GPS tracking to give you precise locations of stations. It's even capable of giving you real-time estimated arrival and delays, as well as any potential service outages or notifications you need to know. On top of that, there's a built-in route planner for travelers. There are real-time directions, showing you all possible stops as well.
Download it now: iTunes
Mapway has done it again, offering up Paris Metro Map and Routes for free for iPhone users. This app will help you identify all of the major modes of transportation within Paris, and even show you information on each one of the individual rail ways and bus lines. The app will let you select your route with Intelligent Route Planning, and plan a trip! It can even show you estimated arrival times. That's because the app pulls real-time data, and can even give you real time status information on individual subway lines. You can search for station names, search for stations by landmark, and even search for a station by nearby location.
Download it now: iTunes
In number two place on our countdown, we have Citymapper. Acting as a beautiful and easy to use Subway Map app, as well as a transit navigation tool, it's a must have for any person who regularly ventures out of their hometown. Citymapper will show you information for Paris, as well as the surrounding metropolitan area. Citymapper comes with plenty of international support — offering transit information for most major EU, South American, and United States major cities as well.
No matter where you are, as long as the city is supported, Citymapper has downloadable subway and bus maps. Citymapper has all the usual transit features like bus, subway and train routes and real time departure and arrival times as well.
Download it now: iTunes
If you travel a lot, you don't need to download a separate Subway Map app — that's just needlessly filling up your smartphone's storage space. With Transit, you can just adjust your Transit location, and it'll show you all of the necessary transit and subway information for that new city, whether you're in Paris, New York City, or Seattle. Transit's highlight really is its versatility — Transit supports many more cities across the world, such as in the Asian regions. Transit will put subway and bus arrival times at planned routes right at your fingertips. You'll be able to see any delays, as well as the service status of the transit system that you're using. Transit has a number of Subway Maps and transit system maps that you can download for offline viewing as well.
Download it now: iTunes
Best Paris Subway Map App for iPhone Verdict
Here we've shown you all of the top applications for navigating the complex system that is Paris' mass transit. Any one of these will help you identify the proper Subway rail lines, where they go, and which you need to hop on. However, if you're a regular traveler, you might want to consider downloading Transit or Citymapper, which are versatile in that you can use them for almost any major city — just change your location within the app!
Do you have a favorite transit application for iPhone? Let us know what it is in the comments section below!