There are a ton of food games available on the App Store, so it may be hard to narrow down which are the best ones. Whether you're looking to hone your own digital chef skills, or looking for an app suitable for your kids, today we're sharing with you our top seven cooking game picks for iOS in 2023.
Best Cooking Games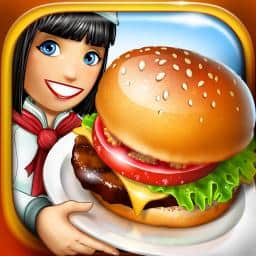 Cooking Fever has more than 20 locations for you to cook at and more than 400 dishes you can serve, from your regular meal to an extra oyster bar and even fancy desserts!
You will also have more than 150 ingredients to play with in your diner/kitchen. Worried about there being to much content for a young child? Not to worry: Cooking Fever is set up so that everyone from age 4 and up can easily play, without having to memorize each and every recipe.
This game also features more than 400 levels to play so you'll have no shortage of fun, or exciting levels. But don't be fooled, because even though this game is rated 4+, there are plenty of challenging levels for those who are older than that. Cooking Fever can also connect to your Facebook account so you can share all the delicious food you make online with your friends!
Download it now: here
Unlike other games, Cooking Mama not only lets you interactively make the food, but you also get to serve it! You can share your fun cooking adventures with your friends on Facebook, so they can see just how fun cooking can be.
This game features short films to share how Cooking Mama lives her day to day life. You can even decorate your kitchen with money you make from all the different delicious dishes you make and serve. Cooking Mama also lets you grow your own ingredients and raise your own animals, so you'll have no shortage of ingredients to make all kinds of fun and exciting food.
You can make anything from burgers to fancy meals and desserts. And if you get bored while waiting you can easily play one of Cooking Mama's mini games, to help keep you or your little ones preoccupied.
Download it now: here
My Cafe lets you decorate your cafe however you want, whether it be a coffee place, a diner, or even a professional dining place. Basically, this game has all the decorations you'll need to make your dream cafe. My Cafe also lets you hire staff, set food and drink prices, and more, so you'll be able to make money even when your offline!
Just like in real life, you'll get to meet lots of your customers and even become friends with the regulars if you so choose. Like to play online with other real players? You can play with friends and even compete against other cafe owners.
My Cafe even lets you join friends to create towns together, so there's plenty of ways to play, whether offline or on.
Download it now: here
In this fun, fast-paced game, you'll have to cook and serve fast to reach the top of the leaderboards, and especially make sure Eat-Mor Fast Food restaurants don't take over! Diner Dash lets you connect with friends, to send each other gifts to help get ahead or you can compare scores to see who's better!
This game also lets you hire people to increase your food service speed, so you can make more money faster, or you can purchase special speed boosts to make sure you're at the top of the leaderboard. Diner Dash also lets you strategically seat customers so you can more easily serve them to get better and bigger tips!
Watch out because this game also features troublemakers who will try to mess you up or make you go slower in order to put you out of business.
Download it now: here
Food Truck Chef has been featured in the "New Games We Love" category on iOS so you can be sure this is one quality game!
This game lets you travel the world in your food truck to serve people everywhere in a variety of different scenarios. Keep those customers happy and feeding and you'll be able to unlock several other trucks, including BBQ trucks, pizza trucks, Tex Mex, and many more!
Download it now: here
If you're looking for some fun, you can't go wrong with Star Chef. In Star Chef, you're thrown into running your own café and 5-star restaurant. You'll experience both the joys and pains of running a restaurant. In Star Chef, you will be dicing fresh ingredients alongside experienced chefs, fulfilling orders, and more.
The game is addicting, but one of the nice things about it is that you only need a few minutes to play a game. You don't have to sit down and wade your way through hours of missions.
Download it now: here
In Cook It!, players will explore a city where they will be unlocking new restaurants and cafes to try. You'll run into things like Queen's Bakery, the Sushi Shack, and even the Donut Den. In each foodie destination, you'll have a kitchen to upgrade, and a restaurant to design and decorate to your personal taste. You can customize just about anything you see!
With Cook It!, you'll be able to play games almost anywhere, because it doesn't require an Internet connection!
Download it now: here
Best Cooking Games Verdict
There are plenty of cooking games out on the market; however, we're confident that these are five of the best that you can download for your iPhone or iPad today.
Do you have a favorite? Let us know in the comments section.