We know that you probably don't choose a GPS tracker every day, which is why we've selected the top seven best car GPS trackers with no monthly fee that you can buy in 2023.
And without further ado, here they are:
Best Car GPS Tracker No Monthly Fee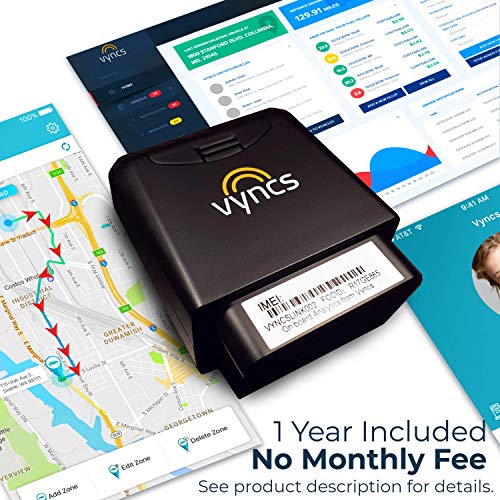 The Vyncs GPS tracker is a hit product. This smart GPS tracker comes with a 1-year free data plan, which you can renew for a fee. By default, the Vyncs GPS tracker updates the location of the monitored vehicle every 3 minutes, but you can change the refresh rate to 60, 30, or 15 seconds if you purchase the Vyncs Pro.
Because the Vyncs GPS tracker features a state-of-the-art accelerometer, it can accurately detect unsafe driving, such as when rapid acceleration or braking occurs. It reports these events on a map to show exactly where they happened.
We like that the Vyncs GPS tracker can double as an OBD-II scanner, collecting vehicle diagnostic information to help you understand why your check engine light is on. If you're a business owner or are in charge of a commercial fleet, you should consider VyncsFleet, which provides an intuitive dashboard where you can see the activity of all vehicles in your fleet at a glance.
Buy it now: here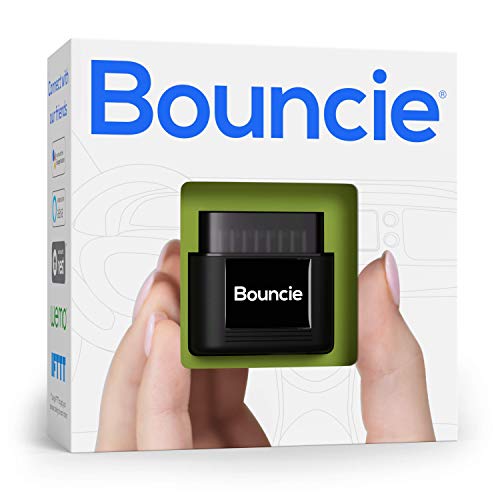 Bouncie's Connected Car GPS tracker is up next. This is one of the more unique ones out there, as it works directly with Amazon Alexa and even Google Assistant.
The software itself is quite nice. You get 1-minute updates with it, as well as notification for driving in-progress, acceleration, braking, speed, curfew, and more.
Bouncie has some excellent, pinpoint accuracy to it. One of our favorite parts is the records that you get to keep, such as mileage, reports, statistics, the ability to tag your trips, and even vehicle health diagnostics that you can monitor.
Unfortunately, Bouncie isn't free. It's challenging to offer a service like this and give it away for free when it costs so much to deliver a digital and Cloud infrastructure. That said, Bouncie is easily one of the cheaper ones on the market at a monthly fee, primarily just covering their expenses. There are no cancellation fees either.
Buy it now: here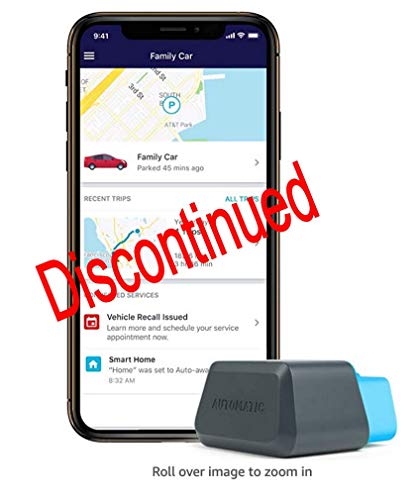 If you're looking for a no-frills GPS tracker with no monthly fee, the Automatic PRO AUT-350 is an excellent choice. It comes with a no-fee 3G service, and it may just be the only GPS tracker with support for Amazon Alexa. If you own an Amazon Echo device, you can learn about the current whereabouts of your car simply by asking, "Alexa, where's my car?" If that's not convenient, we don't know what is.
The Automatic smartphone app can connect to IFTTT, a free web-based service to create chains of simple conditional statements, or any of the dozens of apps available in Automatic's app gallery. You can set up all sorts of crazy automation rules with minimal effort. For example, you could turn on your internet-connected lights when you get home or start your AC on your way back from work so you can enter without feeling like you've just stepped inside a hot oven.
Buy it now: here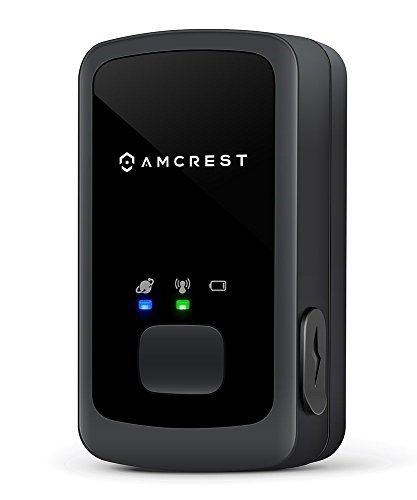 Amcrest AM-GL300 V3 is a modern GPS tracker designed to help you track any vehicle from anywhere. You can use it even without a monthly subscription, but you won't be able to enjoy unlimited GPS location updates and unlimited SMS and email alerts. We don't consider any of those features to be essential because you can always use your PC, Mac, or even an iOS or Android smartphone to see where the monitored vehicle is.
The Amcrest GPS app lets you define specific zones that you want to monitor or avoid, and it features an intuitive user interface that makes everything from activity monitoring to reporting a breeze. On a full charge, the Amcrest AM-GL300 V3 can last up to 10 days, and you can see how much battery power you have left right from the Amcrest GPS app.
Buy it now: here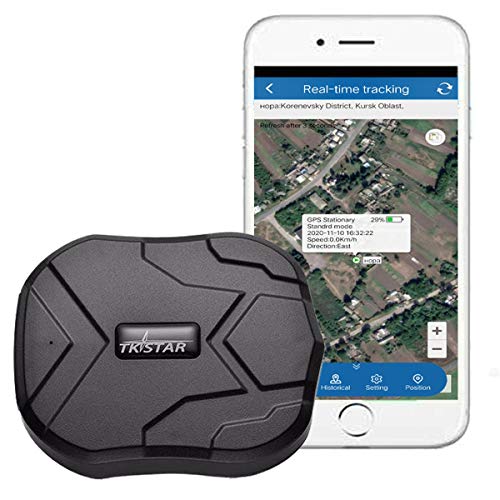 The TKSTAR TK905 is a self-contained magnetic GPS tracker with a SIM card slot. The tracker is designed to work with the TKSTAR app, and it has a plethora of useful features that make it worth its price. For starters, it lasts up to 120 days on a full charge thanks to its 10,000 mAh battery. It's IP65 waterproof, so you can magnetically attach it to the bottom of your car and not have to worry about it.
Because the TKSTAR TK905 GPS Tracker has a built-in induction sensor, it can detect when someone removes it and send a notification. The tracker is accurate up to 5 meters, and it supports real-time tracking as well as history route playback.
Buy it now: here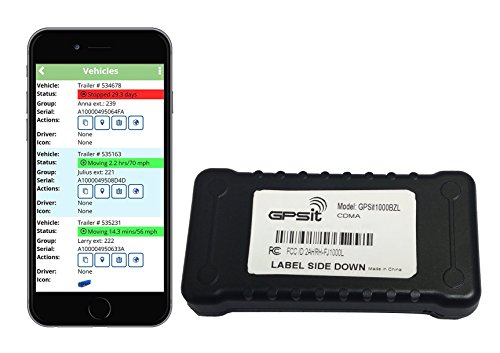 The GPSit1000BZL LTE Vehicle Tracking Device describes itself as the most affordable fleet tracking solution in the market. It doesn't come with any monthly fees or service charges, and the manufacturer gives you a 1-year hardware warranty.
This well-rated GPS tracker is fully compliant with the ELD (Electronic Logging Device) rule, and its installation could hardly be easier. You can view all the data collected by the GPSit1000BZL LTE Vehicle Tracking Device directly in Google Maps. From speed to moving time to total miles, you would be hard-pressed to find any essential piece of information the GPSit1000BZL LTE Vehicle Tracking Device doesn't collect.
Buy it now: here
7. Eilimy Mini GPS Tracker
Next up, we're looking at the Eilimy Mini GPS Tracker. It's magnetic, so you can easily use it to track teens, seniors, assets, your car, and, really, anything. There's no SIM card included, so you will have to buy your own.
Eilimy allows you to use the companion app and real-time tracking features for free; however, if you want other bells and whistles, you will have to pay a subscription fee.
This GPS tracker can store up to a year of tracking history, allowing you even to collect data on, say, regular places that one of your teens might visit.
It does have a 600mAh battery, which is pretty small; however, it can last quite a while in standby mode. You can set intervals for location refreshing — between 30 and 120 minutes — which can affect battery as well.
Best Car GPS Tracker No Monthly Fee Verdict
As you can see, there are a lot of excellent GPS trackers for cars. Some of these have no monthly fees that you have to worry about, and others have small or discounted monthly fees. It's hard to find one without monthly fees, largely because providing a large tracking infrastructure like this is expensive on the business side.
That said, many of these "free" options do have upgrade options that unlock more features.
What car GPS tracker are you picking up?
* If you buy through links on our site, we may earn an affiliate commission. For more details, please visit our Privacy policy page.