In many countries around the world, including the United States, Canada, the UK, New Zealand, and Australia, KYC (Know Your Customer) laws and regulations were enacted to prevent banks and other financial institutions from being used by criminals for money laundering activities.
Best Anonymous Cryptocurrency Exchanges without KYC Verification
Editor's Choice
We highly recommend the world's largest crypto exchange, Binance, if you are looking for an exchange without the stringent KYC verification. These accounts are perfect for casual investors looking to own a small amount of cryptocurrency.
With Binance, you can withdraw up to 0.06 BTC per day with an unverified account, all you need is an email address.
To a great surprise of many cryptocurrency investors, these laws and regulations also extend to cryptocurrency exchanges. This often means that, in practice, withdrawing money from an exchange with KYC verification is far more complicated and time-consuming than sending money to the exchange. Such exchanges often require their customers to submit two or more pieces of personal identification, and the submission itself doesn't guarantee verification.
If you plan on cashing out of your cryptocurrency investment in the near future or would rather keep your personal information to yourself, we have for you a list of 5 best anonymous cryptocurrency exchanges without KYC verification that would be more than happy to do business with you in 2018.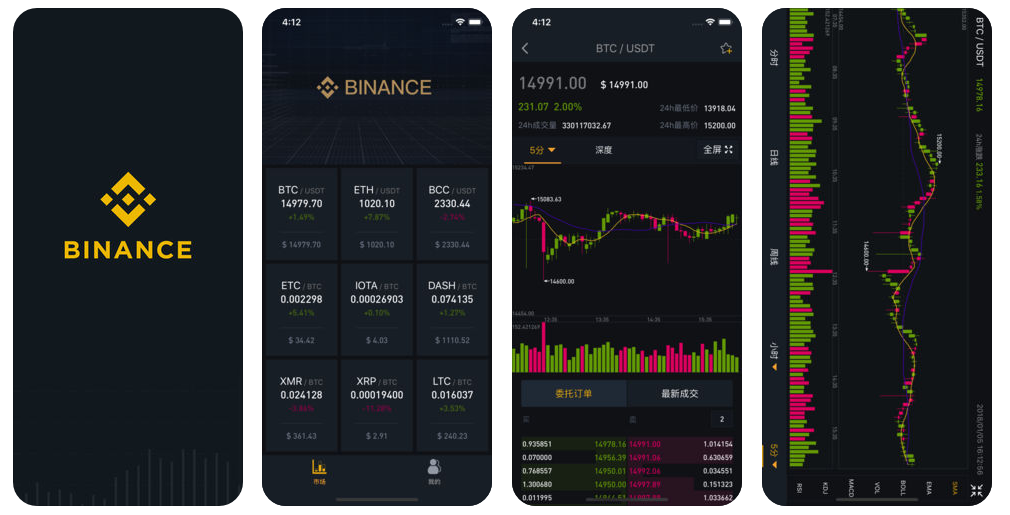 With over 6 million users, this relatively young Hong Kong-based exchange has recently become the most popular cryptocurrency exchange in the world, overtaking Bittrex and boasting a 24-hour trading volume of $4 billion.
Binance is led by Changpeng Zhao, who is known for his relentless pursuit of innovative features, which include the creation of Binance Coin (BNB) token on the Ethereum blockchain to give a 50 percent reduction in fees, and they also include a daily withdrawal limit of up to 2 BTC worth of cryptocurrency for users with basic verification. To make the exchange even more attractive, Binance allows its users to earn BNB tokens and various other rewards by referring new users to the platform.
There are currently two ways how you can install the Binance mobile app on your iOS device. You can either install it directly from App Store, or you can download the Binance iOS install file using the Safari browser. If you choose the latter method, you will have to tell your iOS device to trust the install file, which can be done in Settings → General → Device Management. The main advantage of the manual installation method is its complete independence on App Store. Even if Apple ever decides to delete it from their store, you'll be able to keep using it without any limitations.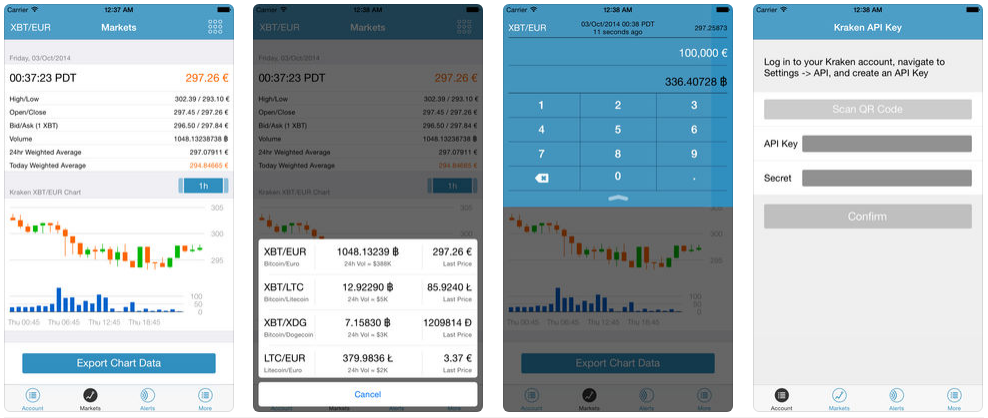 The prominent US-based cryptocurrency exchange Kraken introduced its official iOS app back in 2014. All Kraken customers can use the app to trade Bitcoin and other digital assets on the exchange, read cryptocurrency news, and manage their personal account information. Unfortunately, the app hasn't been much improved since it was first released, which is evident from its poor rating of only 1.3 stars out of 5. But despite the numerous harsh reviews the app has received, it covers all the basics, and its outdated design isn't impossible to get used to.
Kraken has five verification tiers: from Tier 0 to Tier 4. Users who belong in Tier 0 are only required to submit their email, but they can't do anything else besides looking around. Those who submit their full name, date of birth, country, and phone number are instantly promoted to Tier 1, which means they can deposit and withdraw in digital currency only. To get into Tier 2, users are additionally required to provide their address. Tier 2 enables deposits, withdrawals, and trades in digital currency to all users and fiat currency funding to users living in certain countries.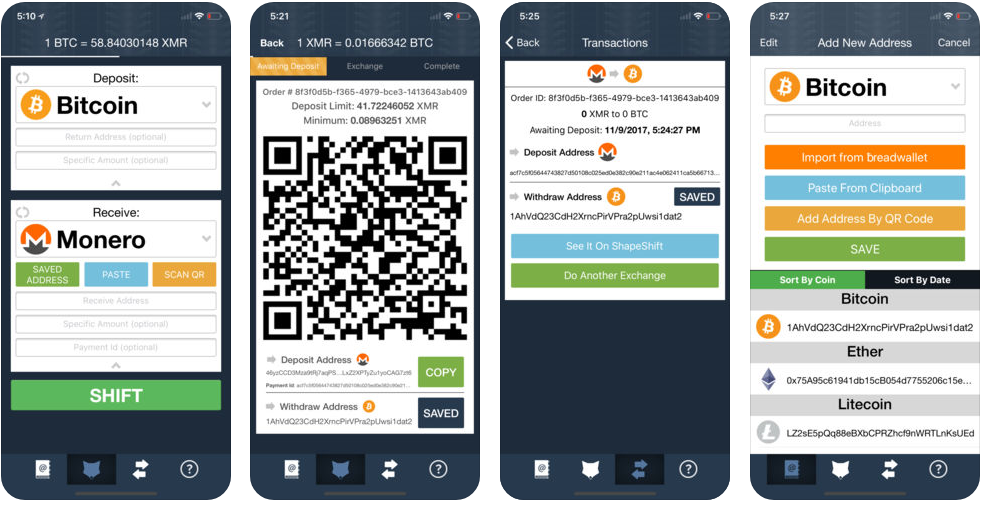 Shapeshift differs from the previous two exchanges on this list because you're not even required to create an account to use it. Not only that, but the company behind it doesn't collect personal data on its customers. The downside to this privacy-first approach is the fact that ShapeShift will keep all user assets unless the affected user makes a refund claim within 90 days of an exchange fail.
ShapeShift can instantly and very affordably swap Bitcoin and dozens of other blockchain assets. You simply select one anonymous cryptocurrency exchanges as the input and another one as the output, provide your addresses, click on "I agree to Terms," and then click the Start Transaction Button.
ShapeShift's mobile app has the same functionality as the website but in a format that can fit inside your pocket.
Download it now: here
Just like ShapeShift, Changelly is an anonymous cryptocurrency exchanges service that allows for instant transfers from one cryptocurrency wallet to another across various cryptocurrencies. Changelly has a reasonable fee of only 0.5 percent, and its commitment to protecting the privacy of its users is evident from the fact that it requires its users to only submit an email address, and Changelly doesn't even verify whether the address is fake or not.
Changelly doesn't have its own iOS app, but it is integrated into the Stratis app. With the app, you can buy and sell $STRAT in a few clicks with Changelly right on your mobile device. $STRAT is a cryptographic token that fuels the Stratis blockchain and is freely traded on open exchanges as one of the top cryptocurrencies by market capitalization.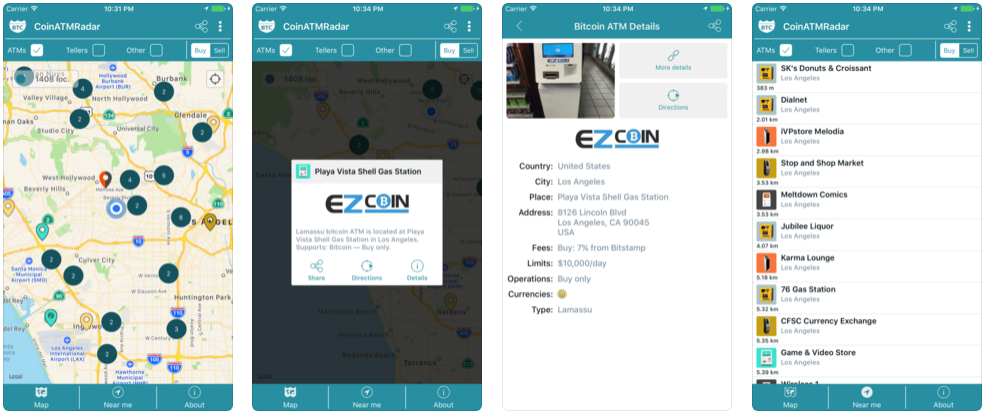 5. Bitcoin ATM
If you're lucky and live in a country that is bullish on Bitcoin and other cryptocurrencies, Bitcoin ATMs might be the best option how to exchange your cryptocurrency assets while avoiding KYC verification, provided you can live with relatively high exchange fees. To find the nearest Bitcoin ATM, we recommend the Coin ATM Radar iOS app. The app doesn't cost anything, and it features a comprehensive and regularly updated map of Bitcoin ATMs from a variety of companies.