When your Apple Watch is stuck on black screen, it could mean that it has completely ran out of battery and therefore has powered down or it could still be up but just couldn't get past the black screen. In short, battery issues and software-related errors that caused the watch to become unresponsive are generally the underlying cause of the problem.
Solving the Mystery: Fixing a Black Screen on Apple Watch
If the black screen symptom is attributed to no charge, then your Apple Watch only needs a recharge. But if the black screen is inflicted by some software glitches, then you've got to rule out the main culprits that made it become stuck on black screen. Mapped out below are possible solutions to a similar issue on the Apple Watch 4 that's stuck on black screen for some reason. If you've landed into this page while searching for additional input in resolving the same issue on the same Apple Watch, then this post might be able to help. Read on and get help.
Before moving on, if you have issues with your smartwatch and are trying to find a solution for it, visit our Apple Watch 4 troubleshooting page for we have already addressed some of the most common issues with this device. Find issues that are similar to yours and feel free to use our solutions. If you need more help, fill up our questionnaire so we can help you.
Troubleshooting Apple Watch 4 that's stuck on black screen
Unless your watch is completely drained, it should turn on in just a few moments after carrying out the following procedures.
First solution: Force your Apple Watch to reboot.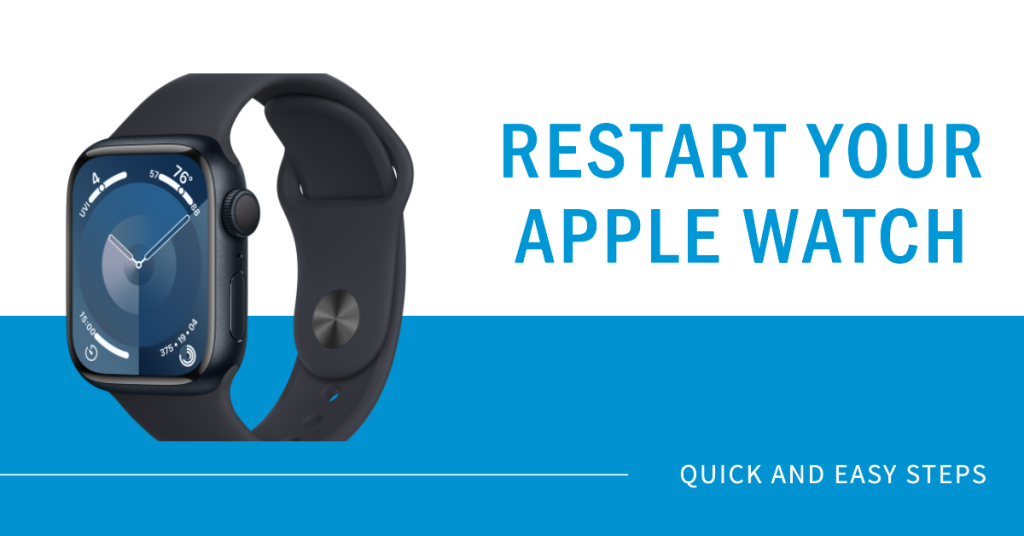 Like any other smart devices, the Apple Watch can also give into random software issues and like firmware crashes that could result in black screen symptom. If you're certain that your watch is sufficiently charged and yet it doesn't render any display than a black screen, then consider a forced restart as the first workaround to apply. Here's how it's done:
To get started, hold down both the

Digital Crown

and the small button just beneath the crown on the side of the watch.

Keep holding down both crown and side button until the Apple logo shows up on the display.
If the Apple logo appears, then your watch is restarting and it should be back up and running in no time. The reboot process usually takes 10 to 30 seconds. If nothing happens to your watch after the elapsed time, give it another 30 seconds before giving up on the forced restart. If it's able to boot up to the main screen, perform the second solution to adjust some settings on your watch that would prevent it from being stuck on black screen again. If your watch isn't able to boot up from a forced restart, skip to the third solution.
Second solution: Check and manage Screen Curtain feature of your Apple Watch.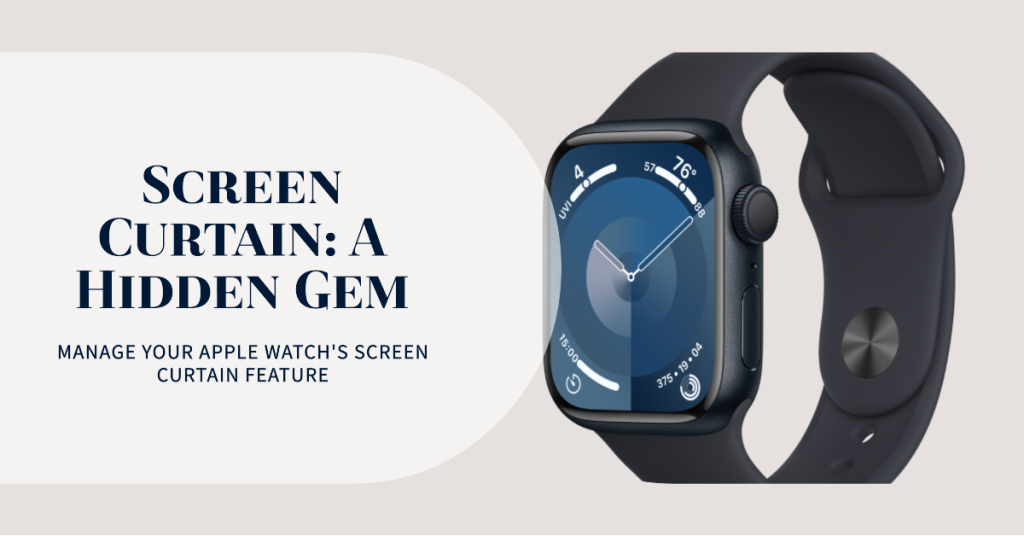 Your Apple Watch has an accessibility feature called Screen Curtain. With this feature enabled, your watch display can be turned off for added privacy. You won't be able to see anything on your watch display. When Screen Curtain is enabled, you will only be able to use the watch by listening to voice over.
To make sure that this isn't making your Apple Watch seems stuck on black screen, turn it off through your watch settings. Just follow these steps:
Tap the gray and white gear-shaped icon on the watch's Home screen to access your watch's settings.

Tap

General

.

Select

Accessibility

.

Scroll to and tap

VoiceOve

r under

Vision

menu. Toggle the switch off it if you don't use it.

On the same menu, scroll down to

Screen Curtain

. If it's turned on, toggle the switch to turn the feature

OFF

.
You can also access and manage your watch settings through its paired iPhone. Just follow these steps:
Tap to open the

Watch app from your iPhone Home screen.

From the

My Watch

screen, tap

General

.

Then, tap

Accessibility

.

Tap

VoiceOver

under

Vision

menu. Make sure the switch is turned off.

Scroll down to

Screen Curtain

and see if the switch is turned off. If it's turned on, toggle the switch to turn

Screen Curtain

off.
After making necessary changes, reboot or forced restart your Apple Watch. Then check to see if that changes your Apple Watch display.
Also make sure that your Apple Watch isn't set to power reserve mode. If Power Reserve mode is enabled, just press and hold the Side button on your watch until the watch reboots.
Third solution: Charge your Apple Watch then force restart while charging.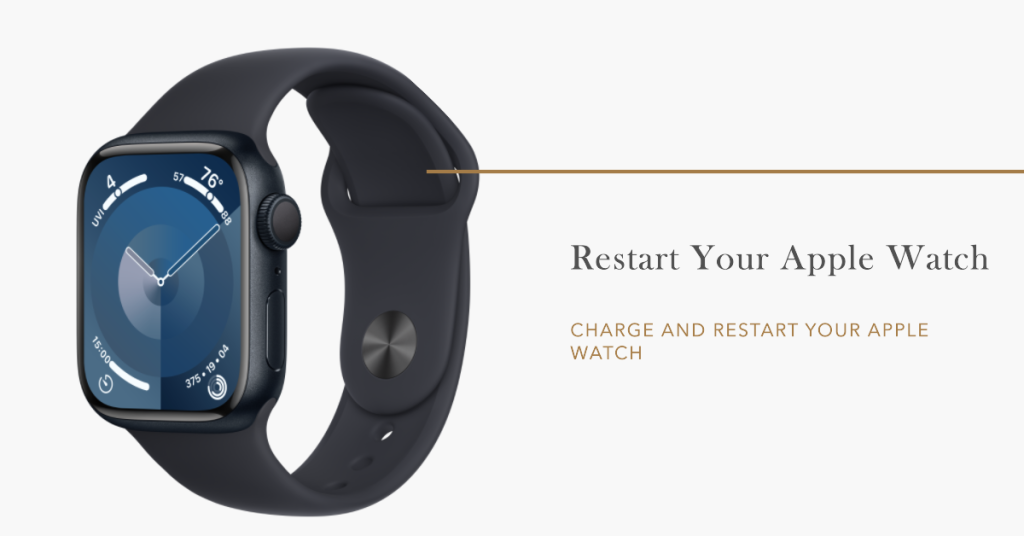 Your watch's battery might have been totally drained and so it needs to recharge until it accumulates enough battery life to power on. With that said, connect your Apple Watch to its original charger and let it charge for about 30 minutes. A charging indicator should show up on the watch display. If you don't see the charging indicator, verify and ensure that the charging station is plugged into the wall outlet.
If you're using a charging pad, check the bottom of the watch and make sure there is no plastic wrap that's stuck. Anything stuck on the bottom of the watch can cause a problem as the Apple Watch utilizes induction to power up.
Also examine the cable to ensure that there are no damage like cuts or worn-out spots. If you have a spare Apple Watch 4 charger at home, then you can try using the other charger to determine whether or not the problem is due to a defective charger.
Performing a forced restart while your Apple Watch is plugged into the charger is also handy especially if your watch is stuck on black screen due to minor firmware crashes.
Just refer to the highlighted steps on the first solution to force restart your Apple Watch while it's charging.
Is your Apple Watch 4 still stuck on black screen?
If you've charged your Apple watch properly or based on the charging instructions and yet remains stuck on black screen, then you must consider contacting Apple Support or make a service appointment at the Genius bar.
Connect with Us
We are committed to helping our readers fix the problems with their phones as well as learn how to properly use their devices. So, if you have other issues, you may visit our troubleshooting page so you can check by yourself the articles we've already published that contain solutions to common iOS problems. Also, we do create videos to demonstrate how things are done on your phone. Visit our Youtube Channel and please subscribe to it. Thanks.