The smart speaker competition has never been as fierce as it is now. One the one hand, there are compact standalone products that prioritize voice assistant functionality and affordability over everything else. On the other hand, there are now several premium smart speakers that offer better sound quality to those who are willing to pay extra for it.

Product
Brand
Name
Price
Sonos
All-new Sonos One - Smart Speaker with Alexa voice control built-In. Compact size

Buy on Amazon

|

$175.42

(Price as of 08/23/2019 03:49 ET)
In this article, we compare two members of the latter category of smart speakers: the Apple HomePod and the Sonos One. In fact, you can get two Sonos One smart speakers for the price of one HomePod, making this battle of music lovers' smart speakers especially interesting.
Design
Standing 6.8 inches tall and being 5.6 inches wide, the HomePod is a little bigger than the Sonos One, but it's still a very compact speaker that doesn't attract too much attention. The fact that the HomePod is so discreet is probably a good thing because its design has been compared to a roll of toilet paper.
We let you decide for yourself whether the HomePod really looks like one, but one thing is certain: no roll of toilet paper packs so much delicious technology as the HomePod. Under its mesh grille, which elegantly wraps around the entire speaker, are eight speakers (seven tweeters and a four-inch woofer) and seven microphones (six of which are for voice control and one helps with the quality of bass frequencies).
Powering the HomePod is Apple's A8 chipset and custom software. The speaker relies on the power of the A8 chipset to constantly analyze the music you're playing and to fine-tune it to make it sound as good as possible.
The Sonos One looks like a modern version of the Play:1 home speaker. Its smooth matte finish looks modern and stylish, and its durable metal grille with rectangular holes gives the speaker slightly futuristic appearance. Unlike the Play:1, the Sonos One has touch controls, allowing you to tap or swipe along the roof to control music playback.
Inside the Sonos One are six microphones with adaptive noise suppression, one tweeter, and one mid-woofer. Because there's only one tweeter, all mid-range sounds come through the same channel, which suggests weaker instrument separation.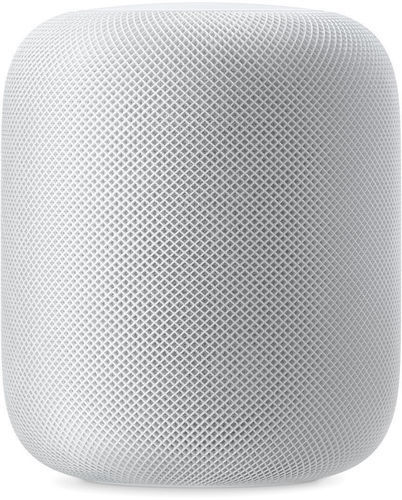 Setup
Apple may have missed the mark with the design of the HomePod, but they nailed the setup. You simply plug it in, take your phone, hold it near the speaker, go through a few screens, and you're done. If only the Sonos One was so easy to set up.
To get started with the Sonos One, you first need to download the companion app, go through several screens, walk around the room and wave your phone around for around 45 seconds to optimize the sound of the speaker. To use Alexa, you have to download and set up another app, which also takes some time and effort.
One reason why the Sonos One is so complicated to set up is the fact that it's not limited to Apple's ecosystem. Instead, the Sonos One can play music from Amazon Music, Spotify, Google Play, Apple Music, Pandora, TuneIn, and other popular services. The HomePod, on the other hand, officially supports only Apple Music, and using other services like Spotify and Deezer feels like a chore. What's more, the Sonos One allows you to control all music services through Alexa, whereas Siri only supports Apple Music.
Sound Quality
The HomePod has received many compliments for its sound quality, and Apple's sound engineers have apparently been working on the speaker for over six years. For the most part, we believe the praise is completely justified.
Using technology known as beamforming, the HomePod is able to essentially create virtual speakers in the room and assign different parts of the music to them. While the virtual soundstage projected by the HomePod doesn't quite compare with two Sonos One speakers playing in stereo, it's much wider and more spacious than we would expect it to be.
The HomePod has no shortage of bass, which it constantly optimizes with its proprietary tech wizardry. If you're used to and like the sound of Beats headphones, you'll probably instantly fall in love with the HomePod and its bass presentation.
It's only when you compare the HomePod with the Sonos One when its flaws become clear. Perhaps the biggest flaw of the Sonos One is how it presents vocals. Whereas the HomePod lacks clarity and makes vocalists sound as if they were singing through their fingers, the Sonos One presents voices with ease and plenty of separation.
The Sonos One also beats the HomePod when it comes to maximum volume. When you pair two Sonos One speakers together and play music in stereo mode, you can reach up to 94 dB of loudness, compared to only 88 dB for the HomePod. A single Sonos One speaker can reach 89 dB, but it becomes quite distorted when playing at the maximum volume level.
Software
Of course, the real features to look out for in the HomePod vs Sonos competition is the software. Software is ultimately what makes or breaks these smart speakers.
When it comes to the HomePod, you have Apple's own built-in software. It's designed to work with Siri, allowing you to ask it things like "Siri, how's the weather?" or "Siri, play this song" or "Siri, call Home," and etc. The HomePod has tons of microphone built into it, allowing you to ask it something from way across the room. It'll still hear you, too.
On the other hand, the Sonos One comes with Alexa built-in. You can essentially use it with all the things that Alexa can do — all of your classic functions, like texting, calling, weather, etc. But on top of that, you can check the news, set alarms, get most of your questions answered, and more, all with the words "Alexa, [do this]".
We're not sure which one comes out on top in the HomePod vs Sonos round-up here, but we do know that the Apple software is a little more secure, not necessarily storing all of your information and leaking out, similar to what Alexa does.
Verdict
If you love Apple products and subscribe to Apple Music, the HomePod is an easy choice. While expensive, it's effortless to set up and its sound is very likable. But if you don't want to be tied to Apple's ecosystem and would like to enjoy true stereo sound, the Sonos One would be our recommendation.
Product
Brand
Name
Price
Sonos
All-new Sonos One - Smart Speaker with Alexa voice control built-In. Compact size

Buy on Amazon

|

$175.42

(Price as of 08/23/2019 03:49 ET)