This is not your typical list of travel apps, with TripAdvisor, Booking, Google Maps, and other popular apps that everyone already knows and uses. Instead, we want to introduce you to some of the best less-known travel apps available in App Store. Even though none of the apps on this list are as widely used as the staples of the travel app category, the chances are that you'll find them just as useful to have when traveling for business or personal reasons alike.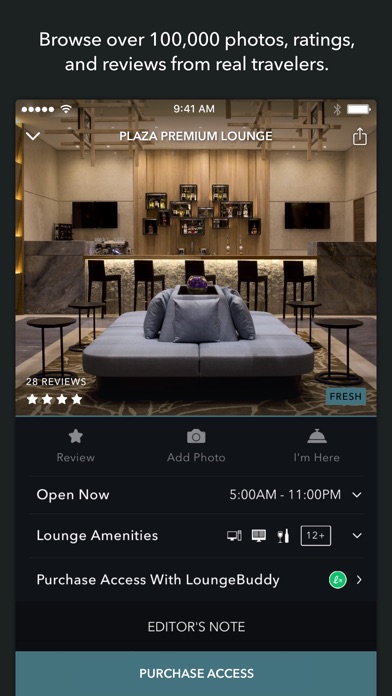 It can be difficult to find a good way how to kill time between flights. There are only so many souvenirs you can buy before you start to question your financial responsibility, and the airport Wi-Fi is seldom fast-enough for buffer-free enjoyment of Netflix or YouTube. Why not visit the airport lounge instead? With LoungeBuddy, you can take a peek behind the frosted glass doors before paying for entry by viewing detailed photos and reading reviews from other LoungeBuddy travelers. The app even allows you to purchase lounge access in seconds with Apple Pay. LoungeBuddy has a large database of over 800 most popular airports in the world, and you can search through it using many different search filters. If you want to, you can share your own lounge experiences with others and earn points and badges.
You may not be comfortable talking about it, but bathroom panic is a real issue when travelling. Public bathrooms seem to love playing hide and seek, and the more you need to go, the better they are at hiding. And even if you manage to find one, the game is far from over because a clean public bathroom is a rarity. Flush Toilet Finder is a handy app with a large database of almost 200,000 bathrooms that you can search even without an Internet connection. Install this app right now, place its icon right next to your favorite CPR guide app, and hope that you'll remember it when sweat starts dripping down your face.
Planes are not always the cheapest, fastest, nor the most comfortable way how to reach your destination. Often, it's better to opt for a bus or train ticket instead. Wanderu helps you compare and book bus and train travel deals to more than 5,000 cities across North America and Europe. The app has partnered with many travel companies, including Amtrak and Deutsche Bahn trains, Greyhound buses, Megabus, Boltbus, Peter Pan Bus Lines, Adirondack Trailways of New York, Turimex Grupo Senda, Red Coach and in North America, as well as Flixbus, OUIBus, National Express in Europe, to deliver amazing deals on tikets, which sometimes start ay just $1.
If you're someone who always worries about packing all the essentials when leaving for a trip, PackPoint is the right app for you. You can tell PackPoint where you're going, how long you're going to stay there, what activities you plan on doing, and even what weather you expect at your destination. Using this information, PackPoint then intelligently creates a list of all the essential items that you absolutely mustn't forget to take with you. The basic version of the app is free, but there's also a premium version, which adds TripIt integration, Evernote sync, custom activities creation, and more.
MyTSA allows you to check crowd-sourced TSA security checkpoints wait times at the airport of your choice, check the delay information and current weather conditions at your favorite airports nationwide, quickly search which items you can bring with you through the checkpoint onto the airplane, and even request live assistance from TSA through the AskTSA social media integration, among other things. The app has been named Best Government Mobile App from the American Council for Technology and Industry Advisory Council, and you can download it from App Store for free.